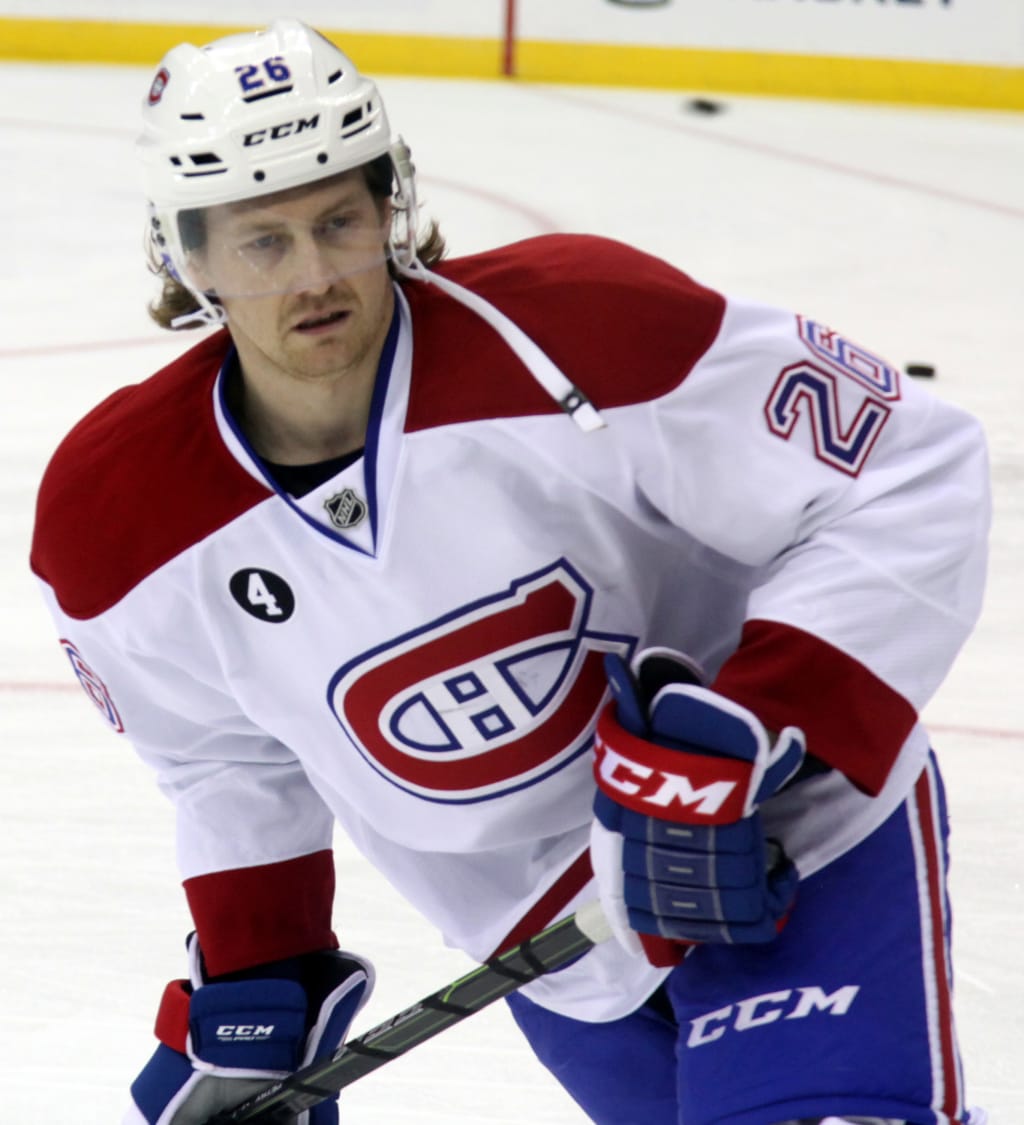 Jeff Petry while playing for the Montreal Canadiens
Kent Hughes acquired a really bad team. But at least he now has some draft picks.
Hughes was hired as GM of the Montreal Canadiens on January 18, 2022 - just 2 months after Marc Bergevin was fired. Hughes was a bit of an unconventional hire, as he had never previously worked in an NHL front office. Instead, he was a player agent - for many Quebec NHL stars including Patrice Bergeron and Kris Letang.
Although this past trade deadline was relatively quiet, Hughes had been very busy last season and during the off-season. Here are the grades for some of his most significant trades.
Trading Away Tyler Toffoli
Tyler Toffoli signed a 4-year contract with Montreal in free agency before the 2020-21 season for a very reasonable $4.25 million cap hit. In his first season in Montreal, he scored 28 goals (for 44 points) in 52 games in the Covid shortened season. In the playoffs, Toffoli helped elevate his line with Caufield and Suzuki to new heights, including scoring the OT winner against the Jets crowning the Habs as the Kings of the North. However, in 2022, with the Habs sitting in dead last in the NHL, it was time for Hughes to be a seller. He traded Toffoli to the Flames for what amounted to essentially a late 1st round pick (Filip Mesar). Mesar did not have the breakout season he was hoping for in the OHL. He will be looking to improve next season. Toffoli had 2 more seasons remaining on his contract at a very reasonable cap hit. Therefore, I would have expected a better return.
Grade: B
Trading Away Ben Chiarot
Ben Chiarot played very well in a shutdown role during the 2021 playoffs, as one of the four defencemen who actually played regularly in those playoffs. Considering he was on an expiring contract, Kent Hughes showed great asset management in trading Chiarot to the Panthers for an unprotected first round pick – which will likely be a mid first rounder. The Habs should be able to acquire a solid prospect, especially considering how deep in talent this draft class is in 2023.
Grade: A+
Trading Away Artturi Lehkonen
Lehkonen scored the most important goal of the 21st century for the Habs – the overtime winner in Game 6 to send the Canadiens to the Stanley Cup Final in 2021. He was traded last season to the Avalanche for a 2nd round pick and young defencemen, Justin Barron. And he somehow once again scored an overtime winner to send the Avalanche to the Stanley Cup final in 2022 and he would go on to win the Cup. Needless to say, the Avalanche got exactly what they were hoping for. The return for the Habs wasn't too bad. The 2nd round pick won't be cashed in until 2024, and Justin Barron, after a disappointing training camp, now appears to be a promising young defenceman.
Grade: B+
Trading Brett Kulak
Kulak was traded to the Canadiens in 2018 and has served primarily as a solid third pairing defenceman. In his three plus seasons in Montreal, Kulak put up 53 points in 215 games. The Oilers, who are known for having a lack of quality defenceman, forked over a second round pick for Brett Kulak to try to solidify their defensive core. But the best part of this trade, was that second round pick wound up being Lane Huston – who in his draft plus one year has absolutely dominated the NCAA – he has now surpassed Hall of Famer Brian Leech for the most points by an U-19 defenceman in the past 35 years. The sky is the limit for this top prospect.
Grade: A
Trading Away Shea Weber's Contract
Shea Weber hasn't been on the ice since the end of the 2021 playoffs due to a lingering left foot/ankle injury, and will likely never play again. After spending last season on the Canadiens LTIR, his contract was traded to Vegas in exchange for Evgenii Dadonov who was entering the final year of his contract. Hughes would have been hoping for a solid season from Dadonov, in order to sell him at the trade deadline. Unfortunately, Dadonov's play left something to be desired. At the trade deadline, he was traded for Denis Gurianov who has surprised many by contributing 5 goals (8 points) in 13 games played so with the Habs.
Grade (Acquiring Dadonv): C
Grade (Acquiring Gurianov): B+
Trading For Kirby Dach
This was a 2-part trade. In the end, the Habs received Kirby Dach (drafted 3rd overall in 2019) while trading away Alexander Romanov (38th overall, 2018) and third and fourth round draft picks. This was a good value trade by Hughes. Romanov excelled at the Junior level, which included being named best defenceman at the 2019 World Juniors. However, this offensive production did not translate at NHL level. In two seasons with the Habs, Romanov scored 4 goals (19 points) in 133 games. Because Montreal has decent depth on defence, the Hughes did well to trade for a centreman, Kirby Dach. Thus far, Dach has scored 14 goals (38 points) in 56 games with the Habs, which has really helped the team offensively. Meanwhile, Romanov has made some strides to improve his game this season with the Islanders. I expect this trade to work out for both parties.
Grade: A-
Trading Away Jeff Petry
I have previously written about how the original acquisition of Jeff Petry was one of the best trades in recent history for the Canadiens. Jeff Petry played incredibly well over his first six plus seasons in Montreal, before father time began catching up to him in the 2021-22 season. Due to some non-hockey related reasons, Petry requested to be traded out of Canada. With Hughes' hands tied, he traded Petry (and former first rounder Ryan Poehling) in exchange for hometown boy Mike Matheson (and a 4th round pick). This season, when healthy, Matheson has played admirably in the top pairing and on the first power play unit, scoring 8 goals (28 points) in just 39 games. It already seems like Hughes was able to directly replace Petry's production, with Matheson, who is 6 years younger.
Grade: A
Acquiring Sean Monahan and 1st Round Pick
The Canadiens were never expected to qualify for these playoffs. Therefore, using their unused cap space to acquire a late first round pick is just good business. Only Monahan's injuries prevented the Habs from acquiring an additional 1st round pick at the trade deadline, because Monahan did put up 17 points in just 25 games before these injuries.
Grade: A-
Considering the Habs were in last place when he was hired, Hughes was expected to initiate a full rebuilt. Thus far he has succeeded. He has completed trades for younger players and acquired many valuable draft picks. Had Hughes been a bit more active at this past year's trade deadline, I would have given him a higher overall grade. But failing to trade Drouin, who is on an expiring contract and currently has 27 points (in 49 games) is a bit of a disappointment. However, his overall grade is an A-.
About the Creator
I'm a young adult who wants to share his experiences and advice about physical activity and sports.
Reader insights
Be the first to share your insights about this piece.
Add your insights