Gerrit Cole Trade Makes the Astros Rotation One of the Best in Baseball
Cole, a former first overall pick, has compiled a 3.50 ERA across five major league seasons with the Pirates.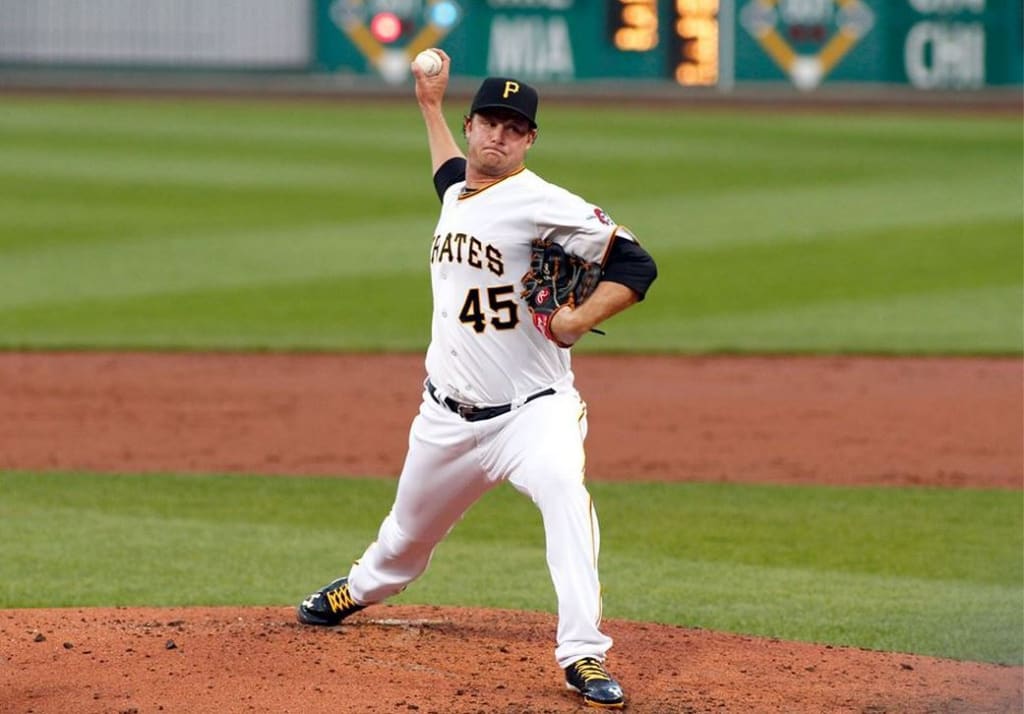 The Houston Astros added another piece to their organization that will certainly help them as they look to repeat as World Series champions in 2018, and that piece is Gerrit Cole. The 'Stros sent three prospects and Joe Musgrove to the Pirates in exchange for Cole. The 27-year-old spent all five major league seasons with Pittsburgh after they selected him first overall in the 2010 draft out of UCLA.
So how exactly will Cole fit in the Astros rotation? Let's take a look.
How Cole Fits into the Houston Rotation
With Justin Verlander and Dallas Keuchel as the one-two punch at the top of the rotation, Cole will slot in as their number three starter. Rounding out the rotation will be Lance McCullers Jr, and the fifth spot between Charlie Morton and Collin McHugh.
The 2017 season was a disappointment for Cole, he had a 12-12 record and a 4.26 ERA, but he does have very good stuff. Cole has five-plus pitches that he can throw for strikes. He features a plus fastball with natural arm-side tail that sits in the mid 90s with the ability to ramp it up to the high 90s. Cole also throws a sinker in the low 90s, a power slider, a power changeup with very good dip, and a knee-buckling power breaking ball.
He has good command and doesn't issue many free passes to opposing lineups. Cole has dealt with quite a few injuries in his career, only reaching over 200 innings in two out of his five major league seasons. But Cole did throw 203 innings last year, which ranked him third in the big leagues. He's right at the peak of his major league career at 27 years old, and does have some electric stuff on the mound. It will be a change for Cole, as he will pitch in a pitcher-friendly ballpark; except for the short porch in left field. Cole will have to be more efficient with his fastball location, as he gave up 15 of his 31 homers last year off the heater. The velocity is there with an average of 95.92 on the four seamer last season. Cole will just have to do a better job of keeping it down in the zone.
Astros' rotation is lights out.
The 'Stros rotation was already very good when they added Justin Verlander, but now they have added a third Cy Young caliber arm in Cole, along with Verlander and Keuchel. They have three guys who can all flat out pitch at the front of their rotation. Lance McCullers Jr., who slots in as the number four starter, emerged as one of their most reliable arms in the postseason last year. As I wrote about during Houston's postseason run, McCullers has one pitch that's made him so dominant; the power breaking ball. A pitch he threw 298 times during the 2017 season while behind in the count, ranking him third in the big leagues. His curveball is a pitch he has such good command with, even more than his fastball. If he can figure out the command with his fastball which sits in the mid 90s, McCullers can emerge as one of the best arms in the game.
Charlie Morton, who will compete for the fifth spot in the rotation, also features an electric fastball in the mid to high 90s. Velocity isn't everything, but Houston has four starters who can bring it. They all came through when it mattered most last year in the postseason, and also had lots of run support from the offense.
I have no doubts the Astros offense will continue to produce in 2018, and with the addition of Gerrit Cole to an already solid rotation, the Astros have a very good chance of repeating as World Series Champions.