Game #5: Winnipeg Jets vs Carolina Hurricanes
A Couple of Cornerstones Temporarily Changed
Laurent Brossoit, the exact second half needed for a Jets' golden one-two goaltending punch
Is it possible that the Winnipeg Jets may be able to smash some conventions with the 2019 NHL awards and have two players up as nominees for the same award?
Certainly, this question most likely went through a lot of people's minds at Bell MTS Centre on Sunday night during the game against the Carolina Hurricanes as the new backup goaltender Laurent Brossoit was introduced to the fans. Brossoit's stellar play, along with the defensive play of the Jets' defensive core being led by Josh Morrissey and Jacob Trouba and the sharpshooting skills of of Patrik Laine, Bryan Little, and Kyle Connor earned the Winnipeg Jets a 3-1 win.
Captain Blake Wheeler was very positive about Brossoit's play as he stated, "He gave us a chance to win, Brossoit was outstanding!"
And certainly, other teammates had a similar opinion about the new goaltender, obtained in the off season from the Edmonton Oilers.
Mark Scheifele was suitably impressed.
"He played awesome," said Scheifele.
"He worked hard, he battled on pucks, he made all the big saves. He was really solid in the net. That's huge, and obviously, (Hellebuyck) has been playing awesome for us. It's awesome to have (Brossoit) as the backup in that he comes in and has that confidence. I'm sure he's happy to get that first win under his belt!"
"That's what we see in practice every day, and I'm sure for him, he's anxious to see his first start, and he was unbelievable," Morrissey said enthusiastically, adding "He is the only reason why we won this game!"
YIKES!!!!
And it certainly didn't come without some crazy distractions, which included, at one point in the game, Morrissey accidentally running into Brossoit's right goalpad during a Jet's penalty. The pad stayed attached at the toe, but was flapping around behind him as he had just made a sprawling starfish-styled save. Players on the Jets' bench, including Laine and Hellebuyck, found the whole sight to be quite hilarious and were having side splitting fits of laughter from their spots on the Jets' bench.
When asked about the play, Brossoit admitted that he had "no idea. I was focusing on the play and then all of a sudden, my leg felt really cold. I looked back and saw the padding, that's never really happened to me before!"
A suggestion was made as to what would have happened had he needed to try and make a save with the goal pad missing. Brossoit laughed, "Yeah, that could have been the end of my career!"
Like many goaltenders who have been put into the role of backup, Brossoit has learned what the mindset needs to be when waiting for their turn.
"If there's one thing I've learned from Edmonton, it's being patient for my starts," said Brossoit.
"I was lucky to have those three starts in preseason. I felt really good in those, and I've been feeling really good in practice. I didn't have too many doubts about today."
Brossoit's glove saves made it look easy.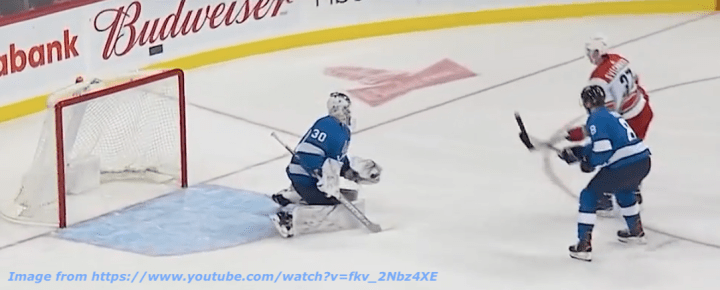 Certainly, Brossoit's style of play was reminiscent of Oiler great Andy Moog, who started out as the backup for another goaltending great, Grant Fuhr. This pair of goaltenders were part of the backbone of the Edmonton Oilers in their dynasty years, with two amazing netminders always available to be in the line of fire as they earned consecutive Stanley Cups. Certainly, what Hellebuyck predicted at the end of the 2018 playoffs about the Jets being in the beginning stages of turning into a dynasty-style NHL hockey team is certainly looking to be just that, given the path the current Jets are taking.
Staying positive, and after having made 42 saves in the game, Brossoit added, "It was a huge character win. We had not a lot of shots, and you had to take your opportunities and capitalize on then. It means a lot for a team going forward and we'll be having a big year for sure!"
However, Hellebuyck was not the only cornerstone player who was absent from Sunday night's game. Veteran defenseman Dustin Byfuglien was out with an upper body injury, allowing room on the roster for Dmitry Kulikov to be added, and also gave the Morrissey/Trouba tandem more ice time throughout the game.
In fact, Morrissey was out on the ice for 25 minutes and 10 seconds. His presence was felt at both ends of the ice as he and his D-partner kept the front clear for goaltender Brossoit. Also, Morrissey helped set up the first two goals for the Jets.
Scoring from his knee, Laine opened the scoring for the Winnipeg Jets.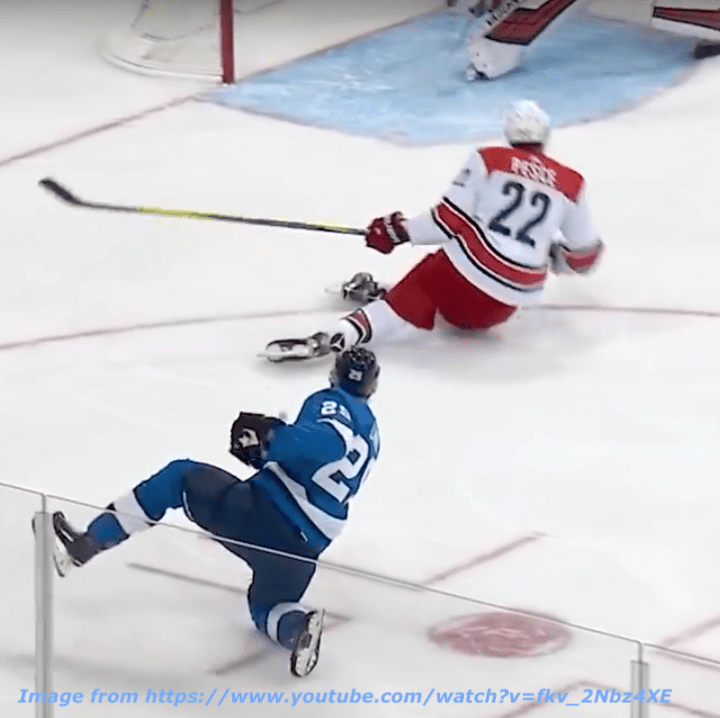 Morrissey was humble about his extra time on the ice, stating, "You don't want to get that opportunity, with Buff getting hurt...definitely, it's a huge opportunity to get called upon to play on that unit. I don't want to do that, at the expense of a guy sitting out, but it was good."
The goaltending duel between the Jets' Brossoit and the Hurricanes' Petr Mrazek was one that saw no scoring until the 4:14 mark of the third period when the Jet's Laine scored on the power play, set up by Wheeler and Morrissey. At 7:53, the Hurricanes tied up the game on an even strength marker by Micheal Ferland, with assists by Dougie Hamilton and Sebastian Aho. After several close calls at both ends, the Jets' Bryan Little was able to dint the twine on a very gorgeous cross-ice pass from Morrissey at the 17:51 mark. The Hurricanes decided to take a gamble and pull Mrazek in exchange for the extra attacker. Instead, at 19:59, Kyle Connor received a pass from Brandon Tanev and made the insurance marker into the empty net, sealing the win for the Jets and also, handing the Hurricanes their first loss of the season.
A "Little" goal goes a long way to victory!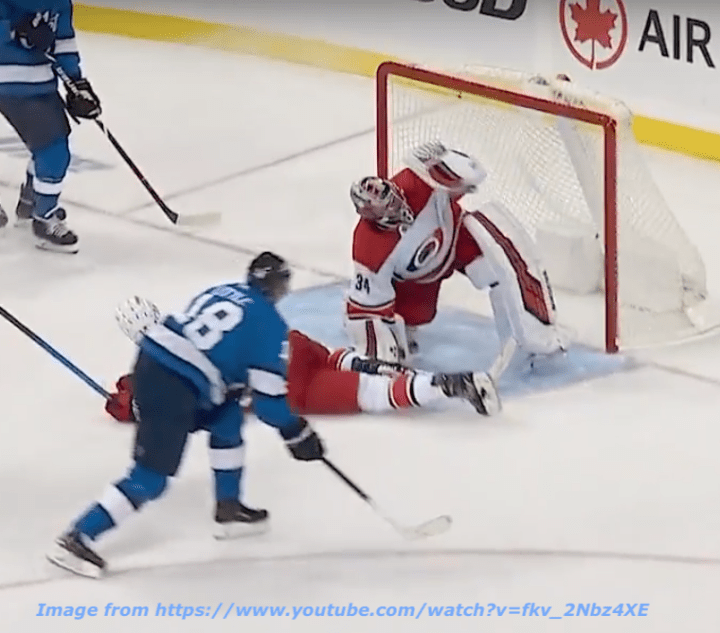 Wheeler kept things in perspective after the game when he said, "Being scoreless doesn't necessarily mean we're not a very good team, we're not playing awesome, we're not doing well. Sometimes the other team plays well, (Carolina has) been playing pretty well right now."
And certainly, this was true going into Sunday night's action, as Carolina had a perfect 4-0 record coming into Winnipeg.
Wheeler added, "I'm not going to pretend like we're playing on all cylinders right now, we're grinding. There's an element of being patient and being positive. Five games into the season, you stay with it and try to get the two points. Tomorrow, we'll try to get better. Hopefully, the next game will be a little bit quicker and we'll continue to search for our game."
That being said, with the goaltending duo of Brossoit and Hellebuyck being so impressive, it does beg the question if the Vezina could be one which could possibly have two players from the same team being nominated for it? Certainly, there is no time like the present to make history in that department!
FINAL THOUGHTS: The Winnipeg Jets won their first game of a six game home stand, with their next action being this coming Tuesday, October 16th as the Jets host the Edmonton Oilers at Bell MTS Place. The puck drops at 7 pm Manitoba time.