Foles Gold!
The critics believed Eagles backup QB Nick Foles had no chance against Tom Brady and the mighty Patriots. Boy, were they wrong.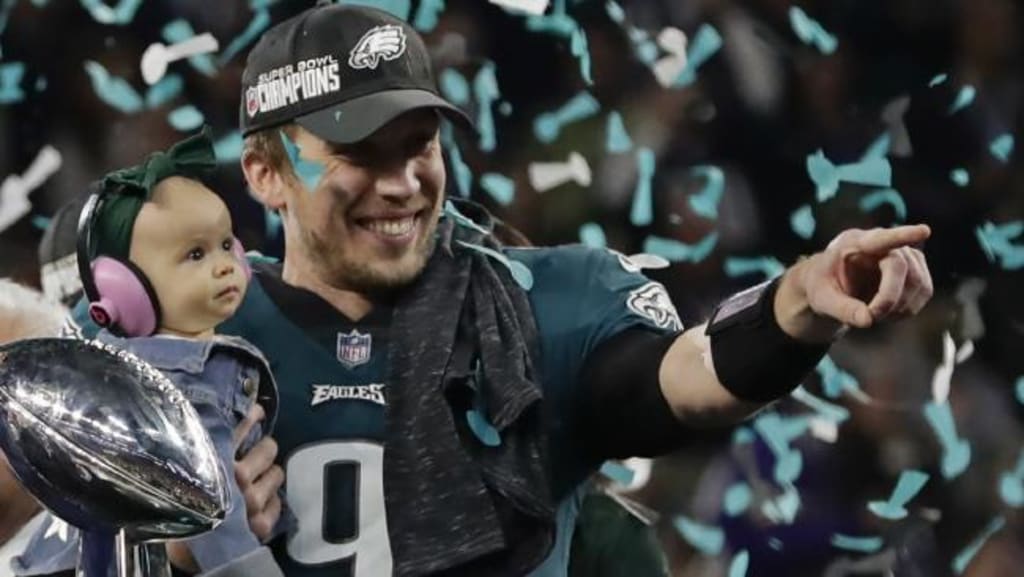 Eagles QB and Super Bowl LII MVP Nick Foles basks in the moment of his unlikely Super Bowl victory over the Juggernaut Patriots.
Here's a little bit of perspective on how unlikely and remarkable this Eagles championship is. In week 14, when superstar quarterback Carson Wentz went down with a torn ACL in Los Angeles against the Rams, a large collective groan was heard from the Philadelphia region. In spite of a sparkling 11-2 record, many believed it was game over. Take this guy, for example.
"Nick Foles doofy as hell, he got two left feet," the overwhelmed fan blubbered. Was he overacting? Hamming it up a bit for the camera? Maybe a bit, but if you check the comments on this Youtube video, you'll find many loyal fans whose heart broke with him. It was a city in premature mourning.
Contrast that with the air of inevitability surrounding New England. As the season went on, there became a stronger-than-usual sense that the Patriots were not only their usual excellent selves, but that they were getting every call in the book, that the referees were their best friends and the league wouldn't allow them to lose. Quarterback Tom Brady, at 40 years old, was somehow still playing his best football and never met a deficit or a tough situation he didn't like. His coach, Bill Belichick, was his usual nasty, mastermind self. He did, after all, bring his team back from 28-3 in the previous year's Super Bowl. He did, after all, bring his team back from a late deficit in this year's AFC Championship Game against the Jaguars. Brady and Belichick were not about to lose to a team with an iffy backup quarterback, regardless of how well Nick Foles delivered in his two playoff wins.
Brady and the Pats were so good, they made us doubt what we saw from Foles in those home games against Atlanta and Minnesota. In two playoff games in which the Eagles were the NFC's #1 seed, the Eagles at home were underdogs both times. The Atlanta Falcons entered the playoffs as a #6 seed, but because they had Matt Ryan, Julio Jones and an explosive offense, and because they had gotten so close to the Super Bowl the previous year, that #6 seed on the road was favored. And they did come within one leaping Julio Jones catch of making good on that bet. But alas, the pass went through Jones' hands and those who watched had to admit that Foles played well and was just as big a part of why they won that game. The Minnesota Vikings had a true lock-down defense that had just come off a miraculous victory against New Orleans. They were healthy and ready to stop Philly dead in their tracks. Foles lit them up like a Christmas tree to the tune of 38-7. Even that wasn't convincing enough for most fans or pundits to give his team a shot against the Patriots.
Nick Foles had had his day in the sun previously. In 2013, he threw an NFL record seven touchdown passes in a victory against the Oakland Raiders. This put his name on the map as he impressed many that season, yet it would start a journey for him that involved being shipped to the Rams and Chiefs with a period where he considered retiring. By the time he had returned as a backup with the Eagles, Carson Wentz was playing so well as the starting QB that no one rooting for Philly wanted to see Foles come on the field for any reason. He was thought to be someone who played just well enough to earn his 15 minutes of fame, not a consistently reliable entity.
Of course, as Chris Berman reminds us every year: that's why they play the games.
From the start, Super Bowl LII was a gunslinger's quarterback duel. Foles was going toe-to-toe with Touchdown Tommy and it seemed Brady was even nice enough to give him a headstart. Foles got the game's first touchdown pass, a rainbow deep in the endzone to Alshon Jeffery. It was 34 yards and a thing of beauty as Jeffery went up and got it over cornerback Eric Rowe (you know, the nondescript guy playing in Malcolm Butler's spot for reasons Belichick still hasn't explained yet?) in the back of the end zone. Thanks to a failed extra point, this made the score 9-3 with 2:34 to go in the first.
Before Brady and co. knew it, the Eagles had a 15-3 lead (thanks to a LeGarrette Blount 21-yard rushing touchdown and a failed two-point conversion attempt) and the script was looking similar to last year's game with a heavy early deficit for the Pats to overcome. But New England fired back with a drive of their own, ending in a 21-yard James White rush with several broken Eagles tackles. An extra point shank of their own made it 15-12 Philly.
The Eagles were not done for the half just yet though, Foles drove the Eagles down to the Patriot goal line before their offense stalled. Facing a 4th and goal at the two, coach Doug Pederson rolled the dice and went for a trick play. It worked and NFL fans nationwide were treated to Foles actually catching a touchdown pass from tight end Trey Burton for a 22-12 Philly lead at the half. If you don't already know, this type of thing just never happens. Especially not in the Super Bowl.
Al Michaels lamented, "They go to the very very very back of the playbook." Foles started in shotgun before suspiciously sliding over to behind the right guard. The ball was direct snapped instead to running back Corey Clement, who ran to the left end, where he pitched the ball to Burton as he was sweeping to the right. Foles sold the fake momentarily, just casually walking before running into the end zone wide open in time to catch a perfect spiral from Burton for an easy but stunning score. Add to this the fact that the Pats had previously drawn up a similar play on their end earlier in the quarter, only for Brady to drop it and the Pats failed to convert on that drive.
When the halftime bell had sounded, Foles playing the part of Rocky Balboa had put quite a scare into the champ's corner. Brady would answer back with a touchdown to indestructible tight end Rob Gronkowski early in the third, trying to play catch up seemingly the whole game. Foles answer was a perfect 22-yard TD dime to Corey Clement in the back of the end zone over the top of three Patriot defenders. Brady had an answer to that, just four minutes later finding Chris Hogan cutting across the middle for a 26-yard touchdown. 29-26 Eagles going into the fourth quarter.
A Jake Elliot field goal would double the Eagles lead to six early on before Brady led the Pats on the drive that would finally give them their first lead on a difficult fade to Gronkowski for a four-yard touchdown. A failed two-point conversion made it 33-32 Patriots with still a breathless 9:22 to go.
With the chips down, Foles responded again, only this time it was a long, time-consuming drive to deliberately eat up clock while getting one first down at a time. After whittling the game clock down to just under three minutes, Foles' Eagles faced a pivotal 3rd and 7 from the Pats 12. He found tight end extraordinaire Zach Ertz on a slant route. Ertz was undercut at the three but dove across the goal line to take the lead back with just 2:21 left.
But for the moment, nothing was certain. The play bore a sharp resemblance to the climax of a memorable Steelers-Patriots game earlier in the year when Jesse James scored falling across the goal line. Because the ball popped out of his hands upon impact with the ground, the catch was ruled incomplete even though he had broken the plane of the end zone. After much deliberation, the referees ruled that in Ertz's case, he had established himself as a runner and therefore the catch was complete, the touchdown stood. For once, and in perhaps the season's most critical moment, the Patriots were not getting the calls.
The score was now 38-33 Eagles after yet another failed two-point conversion. It was Tom Brady's turn once again, and there was little doubt that he would do exactly what he always does. That little doubt may have belonged to the Eagles defensive line. On just the second play of New England's ensuing drive, Brady was hit and strip-sacked by Brandon Graham with a powerful swipe of his left arm directly on the ball as Tom began his throwing motion. Derek Barnett came up with the loose ball cleanly to give it right back to the Eagles, almost a crushing blow to New England's hopes with just 2:09 left.
New England held the Eagles to a field goal, making the deficit eight points at 41-33, but Brady was now left with an impossible task, needing to take his team 91 yards with no timeouts in under a minute's time, and then convert the two point conversion and win the game in overtime.
Yet still, he came a lot closer than any mortal man could be expected to. Brady brought his team to New England's 49 with nine seconds left, broke away from a near-certain sack and unleashed a hail mary for the end zone that would decide the game. Gronkowski was back to make a bid for it but he was out-jumped by too many Eagle defenders and the football pinballed off several of them before bouncing harmlessly to the turf. The clock read zeroes. The impossible had happened.
The Philadelphia Eagles last championship had occurred in 1960. There was no Super Bowl yet, no Vince Lombardi trophy. In fact, Lombardi hadn't even won a title yet and that 1960 title came at the expense of Lombardi's Packers. They had seen many good to great teams find their untimely end, and it was understandable why fans would have such doubt that it would be a backup QB such as Foles to end the streak. And while Brady had the more robust stat line, surmounting a ridiculous 505 passing yards (Super Bowl record) for three touchdowns and no interceptions, Foles threw 28/43 completions, 337 passing yards, three touchdown passes, one touchdown catch, a 106.1 passer rating and yes, one interception (off a pass tipped by a receiver), which was more than enough to secure the Super Bowl MVP award.
And as for that crying Eagles fan I mentioned earlier, he was of course, singing a different tone in his next blog.
There is a rare precedent for backup quarterbacks taking the helm and winning the Superbowl in the fashion that Foles did. Doug Williams of the 1987 Washington Redskins stepped up with only two weeks to go in the regular season and earned a Super Bowl MVP in a 42-10 win over John Elway's Broncos. Jeff Hostetler famously stepped up when Giants starter Phil Simms went down in week 13 in 1990. Hostetler led the Giants over Joe Montana's 49ers and Jim Kelly's Buffalo Bills in two photo finishes.
To a lesser extent, Kurt Warner took over the 1999 St. Louis Rams when starter Trent Green went down to injury in the preseason. Tom Brady himself, took over for Drew Bledsoe in 2001 after a week two injury. Those two cases were different because the backup had ample time to prove he was the guy well before the postseason. Foles, belongs in that first, more unlikely category because the team had already established its identity and the backup had little time to properly adjust accordingly to the offense, let alone lead his team to playoff wins against great teams. But the man the Eagles fans are calling St. Nick, has done just that.
And he broke a drought in Philadelphia that many thought would never end. Now if they could just get those knuckleheads off the light posts in Philly.