Father of cricket
WG Grace was a showman who attracted huge crowds to the game. He undoubtedly served as cricket's first icon. He was simply referred to as the champion and the "Father of Cricket."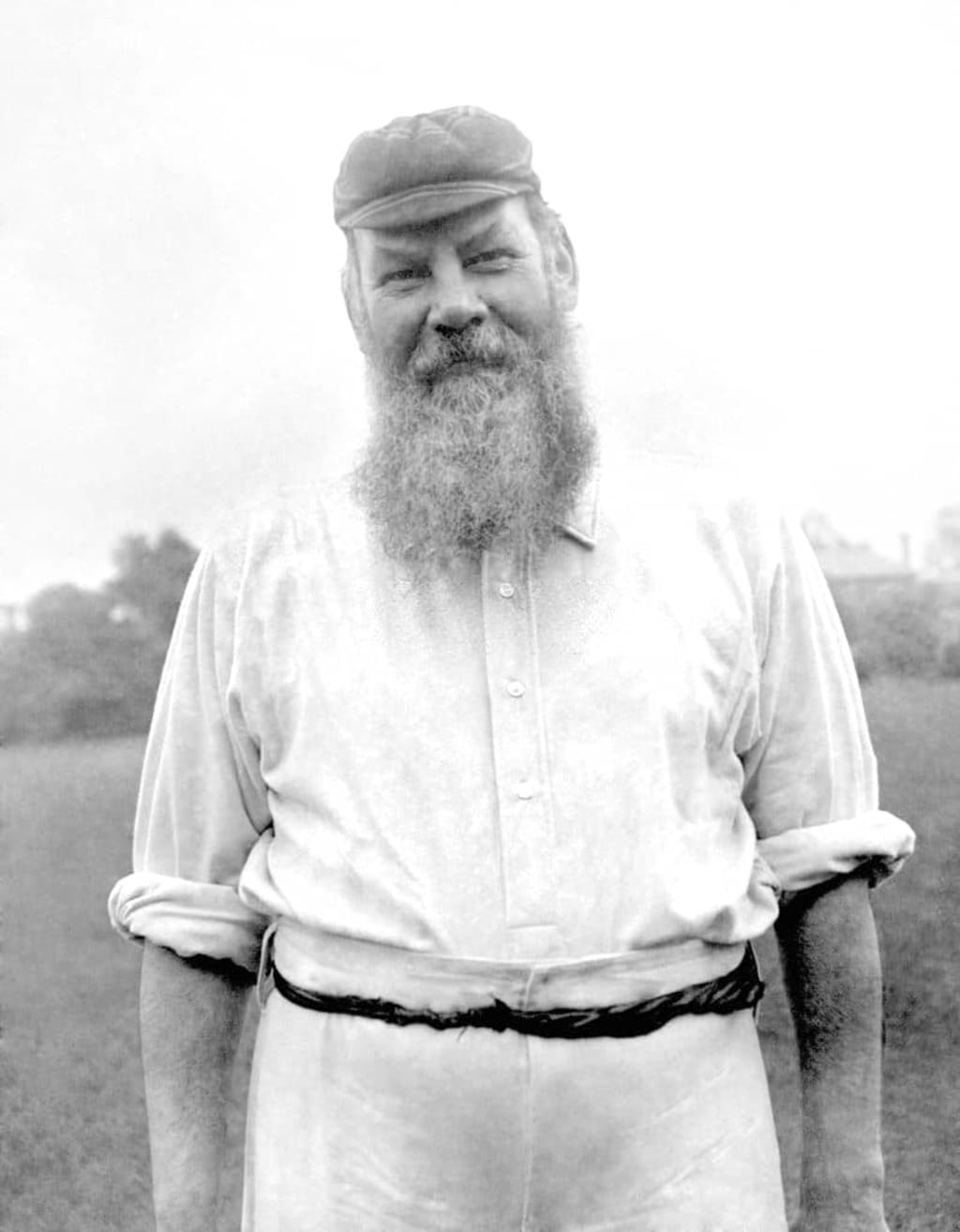 Father of cricket
William Gilbert Grace, 18 July 1848–23 October 1915, an English amateur cricketer, is regarded as the father of cricket. Grace, a right handed batsman and bowler, controlled the game for most of his career. His profound influence and technical discoveries left an enduring legacy. 
WG Grace was a superb all around player who was exceptional at all three key positions of batting, bowling, and fielding, but is most well known for his batting. He is credited with developing contemporary batsmanship. He typically started the innings and was well regarded for his command of all strokes. Modern commentators described his level of proficiency as being exceptional.
WG Grace was a showman who attracted huge crowds to the game. Despite the general public's lack of knowledge of the sport he accomplished more than anybody else to popularise, his name still carries weight with them. He undoubtedly served as cricket's first icon. He was simply referred to as the champion and the "Father of Cricket."
From the village green to Lord's, he ruled cricket, and he was largely responsible for the sport's emergence into the modern era. He became a master batsman at the young age of 16, and his supremacy in 1871 may be recognised by looking at the national averages.
William Gilbert Grace made his first-class debut at the age of 16 in 1865. He quickly rose to fame as the first cricket superstar after reaching 224 unbeaten for an All-England team against Surrey in 1866. At the time, such large scores were incredibly uncommon. He gained widespread recognition as the greatest cricket player ever. From that point forward, he was "the biggest name in cricket and the main spectator attraction'." Only 18 years old, he was already referred to as the champion of cricket.
He consistently had a significant lead in the national batting averages; from 1869 to 1880, he was first in all but two of those years and typically averaged over 50 when few players could even reach the top 30. He amassed 2,739 runs (an average of 78.25) during the 1871 season, a total that wasn't surpassed for 25 years.
His accomplishment was the result of various factors. He invented a method that could demolish even the best fast bowling on fields that were frequently dangerously rough. He was 6 feet tall and solidly built. When many thought it was a style misstep to do anything other than hit the ball directly back where it came from or through the covers, he also opened up the leg side as a scoring location.
He demonstrated how long it was possible to bat by using a decent technique, lots of patience, and complete attention to the task. He scored 344 against Kent in 1876, which was the biggest first-class score ever recorded at the time, 177 against Nottinghamshire, and 318 against Yorkshire. Nobody in cricket had ever been so methodical. Between 1874 and 1886, he recorded 100 wickets in a season nine times and completed the match double of 100 runs and 10 wickets 17 times.
WG Grace was the first man to score 100 hundreds, scored 2,000 runs in a season five times, passed the 1,000 runs in 28 summers, and completed the 1,000 runs and 100 wickets double eight times. He scored more than 2,000 runs and took 100 wickets in 1896, and he had made 1,000 runs in May of the previous year. Without a doubt, WG Grace was extraordinary and phenomenal personality, and he had enormous popularity.
At The Oval 1880, in the first ever test match played on English soil, Grace scored England's first Test century vs australia. He quickly rose to the position of England's preferred captain, serving in that capacity until 1899, when, at the age of 50, he finally conceded that his time had run out. He didn't completely stop playing cricket, though; he continued playing in first-class matches until his 60th year in 1908.
Over the course of his more than 40 year first class career, he scored 54,896 runs, 2,876 wickets, and 887 catches as well as executing five stumpings in occasional appearances as a wicketkeeper.
About the Creator
My name is Manish Nirwal, I live in Delhi, India, and this is my website thevintagecricket.com. I am a digital marketer that's why I have created this website thevintagecricket.com.
Reader insights
Be the first to share your insights about this piece.
Add your insights