Eduardo Nunez's Versatility Has Helped Him Thrive In Boston
Nunez was acquired from the Giants before the deadline, and has added a much needed bang to an already powerful Boston lineup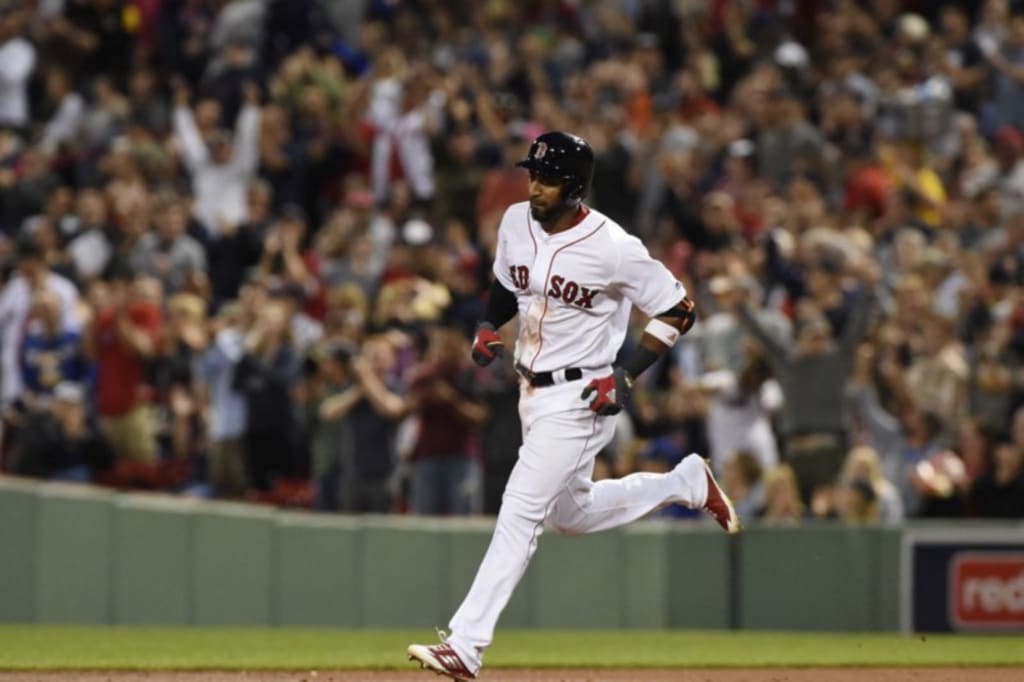 Eduardo Nunez hasn't exactly stuck with one team in his major league career. The 30-year old infielder has played for four different organizations throughout his seven year big league career, but despite that, he's a lifetime .282 hitter. He's been a solid player both offensively and defensively in the majors. For the Red Sox, Nunez was a great acquisition on July 25th because he adds depth to their lineup as a guy who can move around and play all over.
Since the trade, Nunez has had a very hot bat. He's hitting .372 through 17 games for the Sox, with four home runs. Nunez only hit four homers in 72 games for San Francisco before the trade. He currently ranks sixth in the MLB in batting average with a .321 average between the Giants and Red Sox this year.
When he came over to Boston, John Farrell said he would be a great guy that could move around and play different positions and get some regular at bats. That's definitely been the case, but because of the injury to Dustin Pedroia, Nunez has stepped in at second base and played on a daily basis, while hitting in the top half of the Red Sox lineup. Eduardo Nunez is the type of player I wish there were more of in the majors. Guys who can move around and play any position.
Versatility
I honestly believe versatility is one of the biggest assets a player can have. Throughout Nunez's entire career, he's consistently got playing time because he is capable of playing anywhere on the baseball field. For example when he came up with the Yankees in 2010. A true shortstop, it was clear there wasn't much of a spot for him at that position in the Bronx with Derek Jeter still there. He did get some playing time in 2011/12 at shortstop, but he also spent a lot of time at the hot corner, second base, and even at corner outfield spots. If he could only play shortstop would he have stayed up in the big leagues? He hit fairly well, but there are no guarantees he would have stuck in the big leagues with the Yanks. Same with when Nunez went to the Minnesota Twins. He spent a lot of innings in his three year tenure with Minnesota in the outfield. It pays dividends for a player when they can literally play anywhere.
For Nunez this season with the Red Sox, he's come in as a guy they desperately needed that could fill in at whatever position. Before they called rookie phenom Rafael Devers up at third base, Nunez spent a lot of time at the hot corner. If the Red Sox do make a playoff run, and the young Devers does struggle, you always have an experienced Nunez to jump in at third base. The way Nunez has swung the bat for the Red Sox has been outstanding. He's been arguably their best hitter in the last three weeks.
It's no fluke though. Sure, Nunez is versatile, but he's always been able to swing the bat well. He's never hit for a ton of power, but he has a consistent line drive approach with the ability to go deep from time to time. Surprisingly last year was his first season where he actually played on a regular basis, where he split time between the Twins and Giants, hitting .288 with 16 home runs, 40 stolen bases, and his first All-star game selection.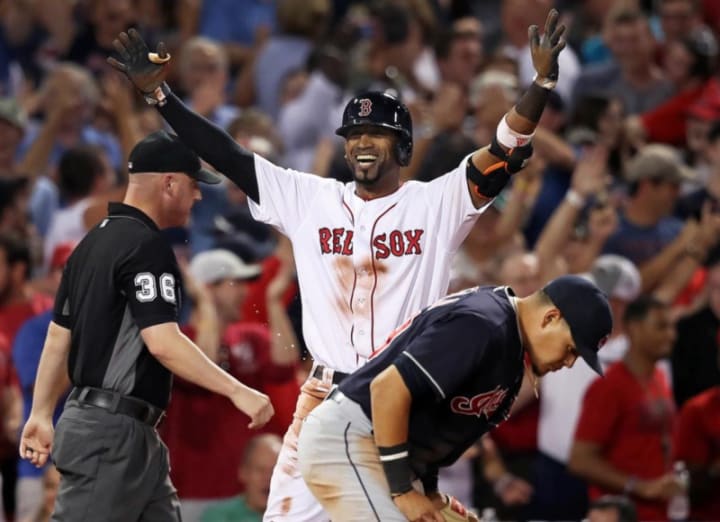 I do believe Eduardo Nunez is an underrated major league player. You don't hear his name very often because he doesn't put up huge numbers like a lot of stars. But he most certainly has a great value to every team he's played on, and the Red Sox are now the team who are benefiting from his impressive abilities. What if Boegarts goes down? There's Nunez to step in at shortstop, his natural position. Devers? Nunez can play third too. Betts, Benintendi or Bradley? Nunez can play the outfield too. I do think the Red Sox fans, and front office are pleasantly surprised with the production they have seen from Eduardo Nunez. Would the Red Sox be in first place in the AL East if it wasn't for the contributions from Nunez? Most certainly not.
He brings experience, versatility, and very solid bat to the Red Sox lineup. It was a great acquisition for Boston, and could pay huge dividends for this team come October baseball.