Don't Look Now, But Russell Westbrook Could Actually Head To LA
He's stuck in OKC for now, but he could, and should, leave for the bright lights of LA.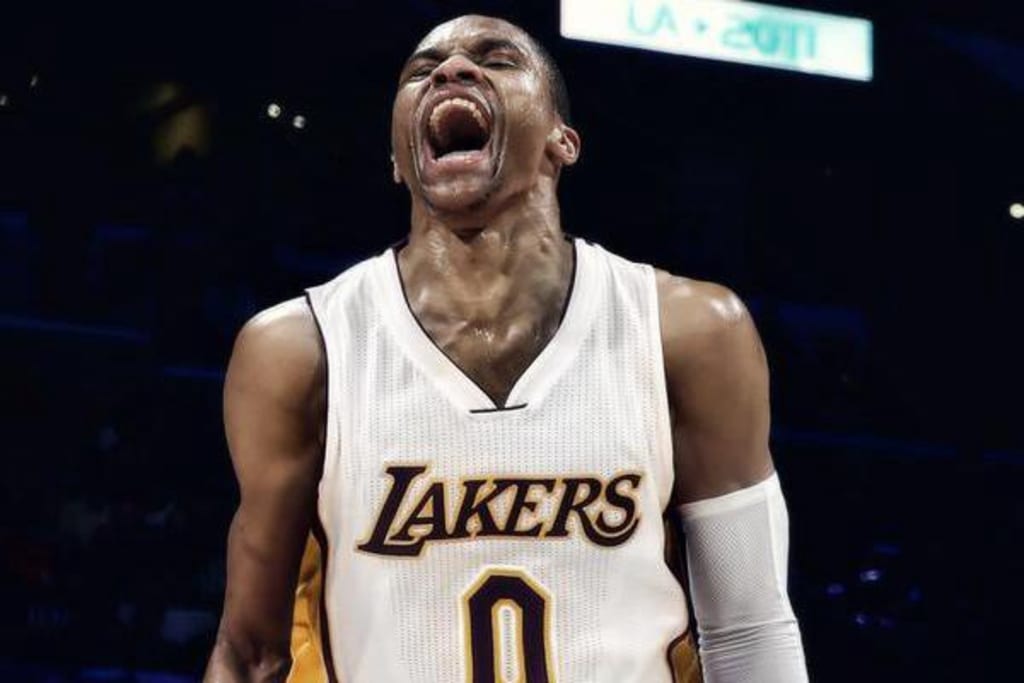 Ever since Westbrook became a one man show in OKC, we've seen him become a one man wrecking crew. We haven't had a player give us so many highlights that make us actually question his human DNA since Kobe was in his prime. Watching his revenge tour has been fun, but no matter how many triple doubles he racks up, you have to wonder if he'll stay with the Thunder for the remainder of his days.
I know what you're thinking, Westbrook just signed an extension, shoving his loyalty in Kevin Durant's face while someone somewhere in Oklahoma City most likely begins to map out the blueprints for the statue of their savior flying over the entire Warriors roster for a dunk. He's a hero in OKC. His immediate future is guaranteed, but you can't completely rule out him exercising his player option in 2018 to move on to greener pastures, specifically those pastures that sit under the Hollywood sign.
Don't be surprised if Westbrook heads home to Cali to join the Lakers.
Fans don't have to acknowledge the rumors. There are more rumors than games in a season, including playoffs. You can't go on Twitter and refresh the feed more than once without finding a new one. That doesn't mean there isn't credibility behind the longshots. Remember when we all laughed at the idea of Durant signing with the Warriors while they were having the best regular season of all time? How'd that end up?
By the time 2018 rolls around, his loyalty high from re-signing after KD walked would have worn off, and he'll have a chance to look at both his current roster, and that of the Lakers. As of right now, Oklahoma City's roster is clearly superior in every way.
Steven Adams is the crony every aggressive human firecracker needs. Victor Oladipo and Domantas Sabonis have a ton of potential. Add role players around him like Taj Gibson, Doug McDermott, Enes Kanter, and Andre Roberson, and you have the background band members to Westbrook's leading act. The Lakers, on the other hand, are the furthest thing from Showtime. Jack Nicholson's court side tickets are more of a prison sentence than a luxury seat now.
The year 2018 is a completely different story. By then, you have to expect D'Angelo Russell and Brandon Ingram to show massive improvements and possibly signs of stardom. Julius Randle will hopefully be a double-double machine, and they'll have another top draft pick to add to the cavalry. Heading there now is a waste of time. Two years from now seems like the Lakers' renaissance. That roster seems like a pretty attractive homecoming for Westbrook.
By the time he'll have the chance to exercise his player option, Westbrook will have been in the league for a full decade. He'll still be under 30, but at that point if you're Westbrook, you have to start about thinking of all the empty space on your ring finger. He'd be joining a team that has a number of possible stars. There are few, if any, rosters in the league better suited for the future than the Lakers.
People believe if Westbrook was going to leave, he should've done so before extended his stay in OKC. On the contrary, he actually helped the Lakers' future tremendously. LA would've had to give up a king's ransom if they wanted to land Westbrook through trade. Instead, he re-signed, keeping him in OKC until he's a free agent. Now, they'll be locked and loaded with all their draft picks, waiting with open arms for Westbrook to take Staples Center by storm.
The seasons have been brutal in LA for a few years now, but you can't compare the bright lights of LA to Oklahoma City. Seriously, you think a guy who's the closest thing to an extra-terrestrial is going to spend his entire career in a city nicknamed "The Big Friendly"?
If you're a Thunder fan, enjoy the Westbrook time while you have it now. Cherish every dunk, every fast break pull up, every pregame dance, and every memory while it's fresh. Before you know it, he'll be holding up a Lakers jersey in the summer of 2018, while you come up with clever signs to parade around during his return.
About the Creator
Staff Writer at The Unbalanced. Aspiring trophy husband. Can be found arguing hot takes and hating Spike Lee. Stay positive, test negative.
Reader insights
Be the first to share your insights about this piece.
Add your insights