Divisional Playoff Recap: 99 Problems, and McCarthy is #1
The Dallas Cowboys suffer another too-early playoff exit in the main event of Divisional Playoff Weekend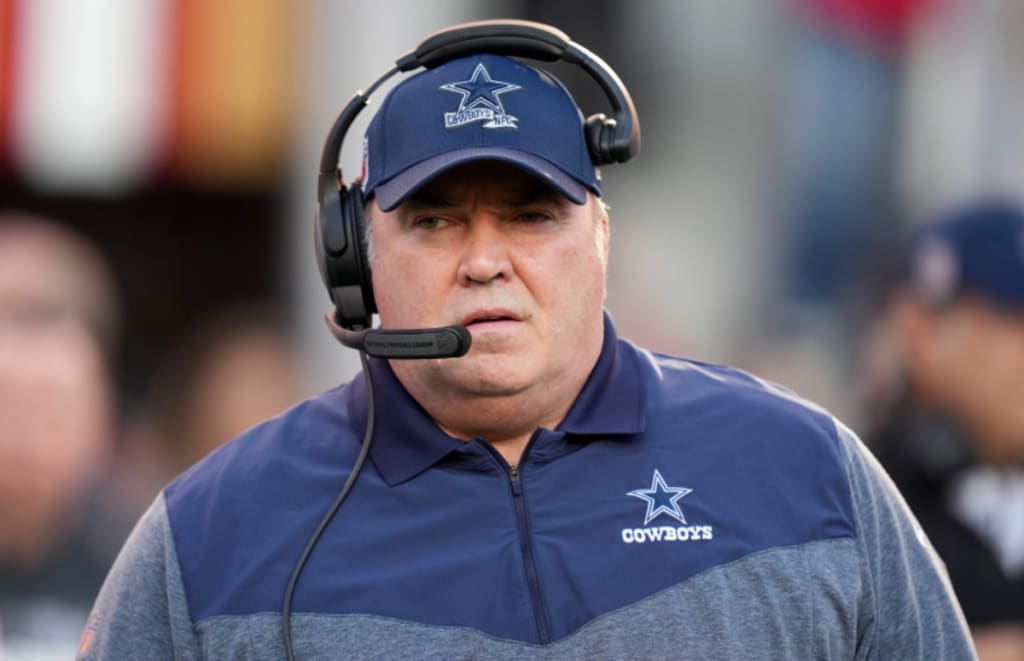 Mike McCarthy is 0-4 against the 49ers in the playoffs
I do love Divisional Playoff Weekend, and I have my reasons. For one, it's the last chance we have to enjoy Saturday NFL action, and secondly, it serves as a hotbed for surprising upsets. The Divisional Playoff once served as the opening playoff round when the leagues merged in 1970, but it has been the second round since 1978, when a second Wild Card was added and resulted in the debut of the Wild Card Playoff. It's the last stop before the Final Four, aka the Conference Championship, and regarding this year, it was quite tame following Super Wild Card Weekend.
The main event was, no surprise, the matchup between the Dallas Cowboys and the San Francisco 49ers, one of the greatest playoff rivalries in the history of the National Football Conference. This was the second straight meeting between the clubs, and we all know how that ended, a bad play call by Mike McCarthy losing the game. This outing was crazy, as Brett Maher was a topic of conversation due to his missed extra points. He had one blocked after Dallas' first touchdown, but they still led 6-3. The Niners ended up leading 9-6 at halftime, though Maher did make a pair of field goals to get back on track, but the Niners found the end zone at the right time. Dallas did get one more chance late, but once again, McCarthy's play-calling was their undoing.
Last week, I had two words for Ravens fans: Pay Lamar. Now I have two words for Cowboys fans: Fire McCarthy. We Packers fans warned Cowboys fans about McCarthy; Aaron Rodgers suffered for years under him, and now Dak Prescott is experiencing that same torment. After last year's loss, I said that Dallas would regret keeping McCarthy for a third year, and look what happened. Plain and simple: Mike McCarthy is Kliff Kingsbury with a lot less money, and he's also Josh McDaniels with a gift ring thanks to the GOAT carrying him. Poor Dak has never had a real coach in his career, but the rumor says that Sean Payton is on Jerry Jones' radar. If he can get Drew Brees (who is vastly inferior to Dak) a ring, imagine how Dak can prosper.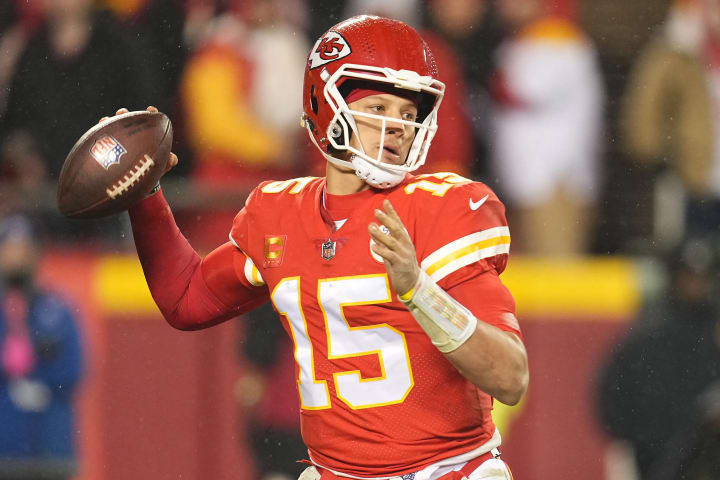 The Elite Eight began at Arrowhead with the Kansas City Chiefs hosting the Jacksonville Jaguars, and this pretty much went as expected. Trevor Lawrence and the Jags gave yet another game effort against the AFC superpower, but no matter what they did, it was not enough. The Chiefs hung on and eked out a 27-20 win, with Travis Kelce leading the way with 14 receptions, 98 yards, and two touchdowns. However, that win may have come at a bit of a cost, as Patrick Mahomes suffered a bit of an ankle injury during the game, but he did play on it. Now he has plenty of time to recuperate a bit before he takes the lead in his fifth straight AFC Championship appearance.
So the Jaguars' big run is over, and there's one thing they should do right now: be immensely proud of themselves. This team was a disaster since they almost reached the Super Bowl five years prior. They survived a lot of hardships and toxicity, and that's just Urban Meyer. They started 2-6, but just when it looked like it would be another disaster, the Jags won seven of their final nine and captured the division, and even survived a 27-point deficit to win in the playoffs. The 2022 Jacksonville Jaguars deserve a massive round of applause, and I expect to see more of that perseverance from this team next season.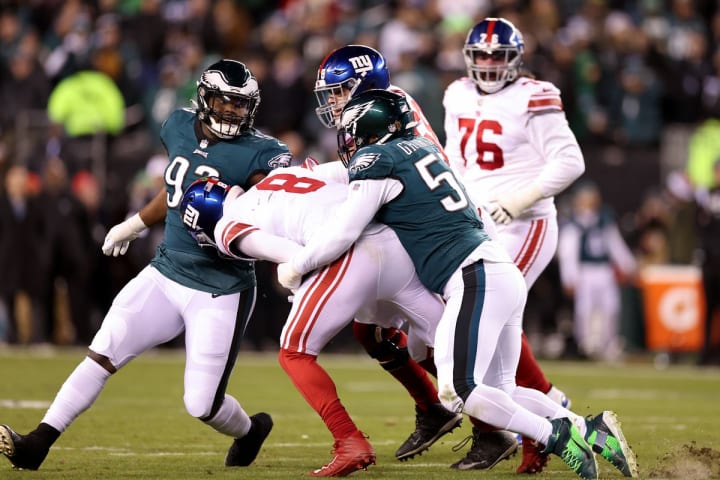 Everything I said about the Jags also goes for the New York Giants. Their playoff matchup with the Philadelphia Eagles was, well, over when it started. Despite the disparity between the clubs, I expected this to be a close game, especially since the Giants nearly beat the Eagles in the final week. However, the Eagles were definitely ready and completely tore down the G-Men, a 38-7 victory. Yes, the Giants were blasted, but even so, this is their best year in a long while. The Giants had so many doubters all season. Even when they were nearly on top of the league, nobody took them seriously. This team was a serious threat this year. Brian Daboll is definitely a shoo-in for Coach of the Year this year. Daniel Jones proved that he can shine at the right time, and most of all, Saquon Barkley showed us what he can do when his health is right. The Giants will be back, too, count on it.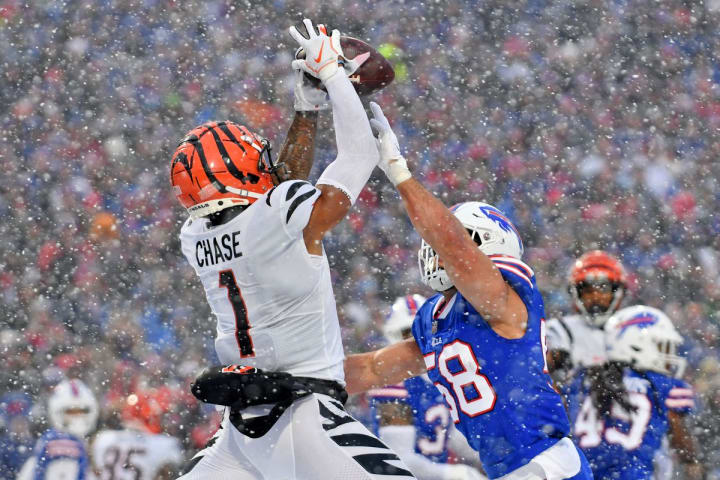 A couple of things ran through my mind during this matchup between the Cincinnati Bengals and the Buffalo Bills. The obvious, first: this was the first time these two teams met since Damar Hamlin's collapse 20 days prior to this game, so the emotional aspects were definitely in play, even with the homefield being different. Speaking of, that leads me to my second thought: the Chiefs had to be caught between a rock and a hard place. KC's homefield was at stake with this game, they retain it if Cincy wins, but lose it if Buffalo wins, as that game would be in Atlanta. Also, Kansas City has problems against Cincy--Joe Burrow's Bengals haven't lost to Mahomes' Chiefs yet.
Speaking of Burrow's Bengals, it was said that they had to have been completely disrespected in all of this homefield drama. It seemed like a foregone conclusion that the Bills and Chiefs would meet yet again, yet what was lost in all of this was the fact that the Bengals outlasted both teams last year and went to the Super Bowl. Apparently, that chip on their shoulder was a motivator--they took over that game and completely held the Bills at bay, all despite Cincy's suspect offensive line actually missing three players!
Cincy won, 27-10, on the road, bringing the Bills' season to a disappointing end. This hurts. This really had to hurt Buffalo. IMO, this was Buffalo's best chance to win the whole thing. The oddsmakers knew that, hence why the Bills entered the preseason as the overall favorites. Despite this, the Bills failed to even reach the Final Four this year, and now, it's time to look within and see what's going wrong. There are no justifiable excuses this time. It wasn't Kansas City who ended their season, and they were eliminated on their own home turf, in regulation. Something needs to be fixed if the Bills ever want to get out of the Chiefs and Bengals' shadows and finally reach the mountaintop.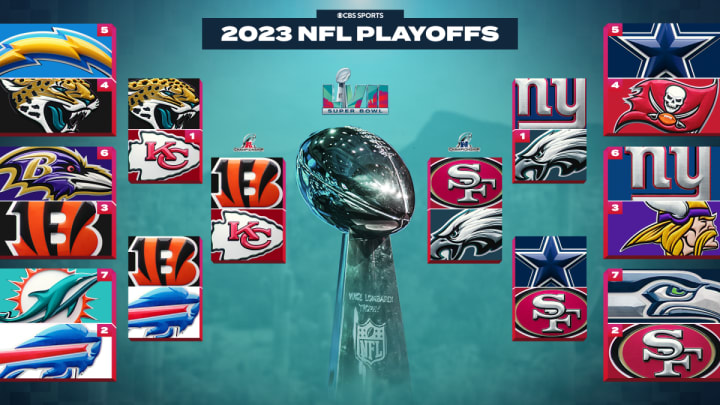 And there you have it. The NFL's Final Four is all set. On the NFC side, the Philadelphia Eagles will host the San Francisco 49ers; the first playoff meeting between these clubs since 1996. That game will be on the early slot on Sunday, January 29. The later game will be the AFC Championship; a rematch from last year between the Cincinnati Bengals and the Kansas City Chiefs. The Bengals won last year's meeting in overtime. This will be quite an interesting Championship Sunday!
If you like this story, click the heart and the subscribe button, and feel free to comment below! Tips and pledges would be greatly appreciated, but only if you want to do so!
About the Creator
Born on March 18, 1985. I am an avid fan of sports and wrestling, and I've been a fan of female villains since the age of eight. Also love movies--especially comedy and horror--and among my favorite TV shows are The Simpsons and Family Guy
Reader insights
Be the first to share your insights about this piece.
Add your insights