Determined to Be the "One"
After a season that changed the dynamics of the NBA, who are the most talented point guards in the league?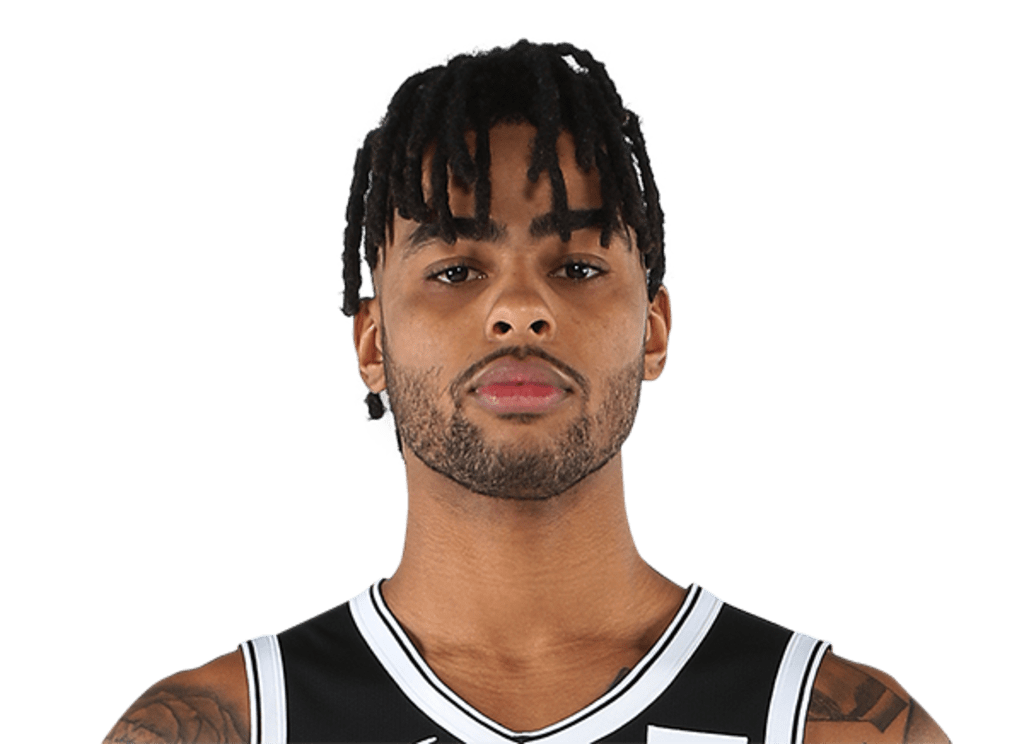 After years of disappointment in Los Angeles, has D'Angelo Russell proven to be a top five point guard?
The 2018-2019 NBA season has finally reached its ending point after the 2018-2019 NBA awards were presented on Monday, June 24, 2019. In a season where LeBron James missed the NBA playoffs, Stephen Curry did not win an NBA title, and Kevin Durant experienced a catastrophic injury, many fans can feel the change in the air. One of the most exciting things about the sport of basketball is that nothing is for certain at any given moment. When players compete and work hard, on and off the hardwood, anything could happen. As a result, the ongoing debate for who the top five performers at each position are is a continuous conversation that has now carried into the off-season. After watching the 2018-2019 NBA season, I believe that the top five point guard rankings in the NBA have been re-ordered. With the 2019-2020 season quickly approaching, I believe that these players will be some of the league's most talked about athletes as they continue to compete for an NBA title.
5. Kemba Walker
During the 2018-2019 season, Kemba Walker was able to show the fans of the Charlotte Hornets that he was still the talented guard the organization drafted from the University of Connecticut. After struggling to adjust the early stages of his career, Kemba was able to grow into the game every fan knew that he possessed. During the 2018-2019 season, Walker was able to receive NBA Honors for his performance on the floor. His 25.6 points per game and 5.9 assists were enough for NBA analysts to name him to the All NBA third team. Although Kemba has not experienced much time in the NBA playoffs, his new team will probably ensure that he gets there much more often. Since Walker is an unrestricted free agent, he is able to sign with any team that deems him worthy of a chance. With his most recent success, and a new location, Kemba Walker could be playing in the 2019-2020 NBA playoffs next year.
4. D'Angelo Russell
After being selected with the second pick in the 2015 NBA draft in 2015, D'Angelo Russell has always been on the grind to prove his worth. After averaging only 14.2 points while wearing a Lakers uniform, Russell changed locations joining the Brooklyn Nets in 2017. Since then, Russell has been working on his game, and it has shown. During the 2018-2019 regular season, D'Angelo Russell was able to finish the year off with 21.1 points per game average, along with a recognizable seven assists per game figure. Russell was also able to lead the Brooklyn Nets into playoff contention after years of failed attempts. With the rumors of landing big talent such as Kyrie Irving, D'Angelo Russell's game can only continue to improve from here on out. As long as Russell continues to make plays, and knock down big shots, he will only become a more elite NBA point guard.
3. Stephen Curry
Although many NBA fans view Stephen Curry as the best point guard in the league, this can no longer be the case. After winning multiple NBA titles back to back, and showing off his unlimited shooting range, it is apparent that Stephen Curry must do more if he wants to be considered the league's best at his position. His stats cannot be ignored. During the 2019-2019 regular season, Curry averaged 27 points per game while also distributing 5.2 assists per game. His 47 percent field goal percentage shows how dominant Curry can be as a scoring option, but what about the other areas of basketball? It is clear that Stephen Curry is not the best defensive point guard. After his performance in the 2018-2019 NBA Finals, fans began to question if Stephen Curry can reach NBA success without the help of two or more superstars around him. Besides his ability to shoot and score the basketball, it is essential for point guards to be able to lead their respective teams to victories, a role that Stephen Curry has not had to do by himself yet in his career.
2. Damian Lillard
After watching the 2018-2019 NBA playoffs, I believe that Damian Lillard has finally proved that he deserves to be considered as a top-five NBA point guard. Lillard has shown his ability to produce numbers in clutch situations throughout his seven-year career. During the 2018-2019 NBA season, Lillard was able to average 25.8 points per game, 5.3 rebounds, and 5.2 assists. His ability as a playmaker showed as his team began to play better as a unit as the season progressed. During the post-season of the same year, Lillard increased his points per game total to 26.9 as he took over the scoring responsibility for his Portland Trail Blazers team. Unlike Stephen Curry, Damian Lillard shows night in, and night out that he is a true playmaking point guard that has the ability to score at will. As a result, he makes his teammates better as he continues to grow into one of the league's most polished point guards.
1. Kyrie Irving
Kyrie Irving has proven that he is the most well-rounded point guard in the NBA on multiple occasions. Drafted one year before Damian Lillard, Kyrie Irving has been a shining star amongst his point guard peers. Playing alongside LeBron James, and obtaining success has been one of the biggest boosts to Kyrie Irving's popularity. When the two shared the hardwood together in Cleveland, it was apparent that both stars could reach success on their own respective teams. When the dynamic duo split up in 2017, Kyrie decided to join the Boston Celtics, and never looked back. During the 2018-2019 regular season, Kyrie averaged 23.8 points per game along with 6.9 assists. Kyrie also had the highest field goal percentage when compared to the other point guards on this list. When it comes down to impact, it is clear that Kyrie Irving is the igniter on any team that he plays for. His teammates can constantly rely on him to help them reach the next level of greatness, and that is what separates him from most NBA point guards. Since Kyrie is an unrestricted free agent, any team that acquires him can become an automatic playoff contender.
In a league where leadership is so important, it is pivotal that teams can rely on the talent of their star point guards. As we see the National Basketball Association continue to undergo change, the need for a dominant point guard will always remain the same.