College Hockey | Quinnipiac's Maddy Samoskevich Is Blazing Her Own Trail
The freshman for the Bobcats' women's hockey team shares about living in a competitive hockey family and what it would be like to have dinner with Cale Makar.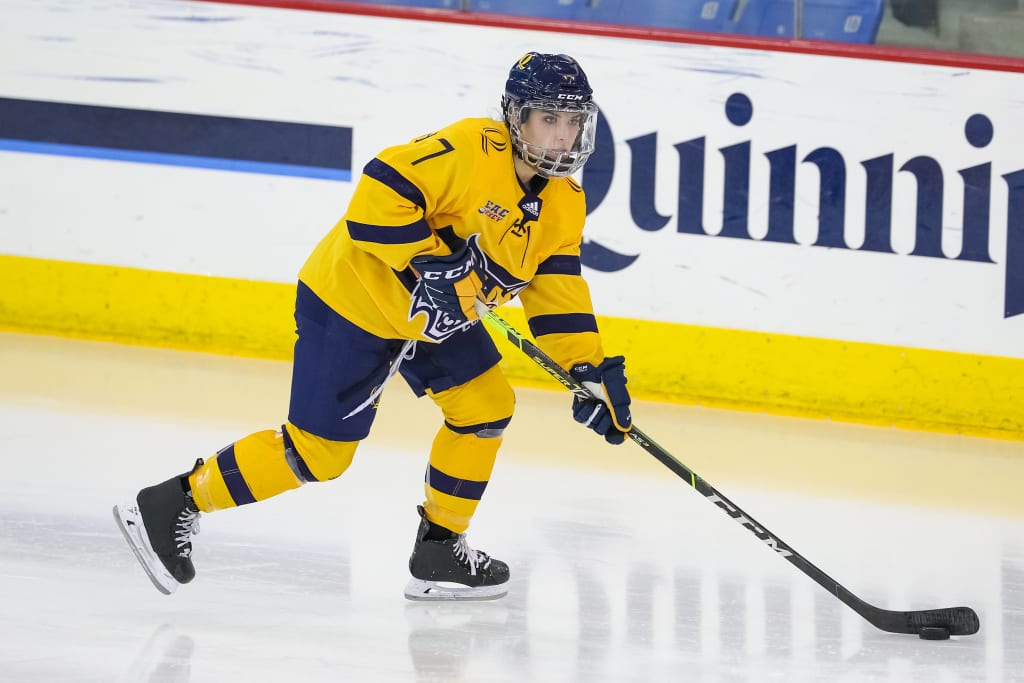 Photo by Rob Rasmussen
Sibling rivalries are a normal part of life in an athletic family. The desire to outdo one another can get rather intense. Quinnipiac Bobcats freshman Maddy Samoskevich has a scar above her eye to prove it.
One night several years ago, Maddy was playing pond hockey with her twin brother Matthew. They had been doing one-on-one drills for hours, and it was getting dark. Maddy was ready to call it quits for the evening.
"No, let's work for a couple more minutes," said Matthew, aka Mackie.
Maddy reluctantly complied. Just as they were about to finish, Mackie made a move to get around her. But he brought his stick up a little too high, accidentally catching Maddy in the face.
"It hit me right on my eyebrow, and I started gushing blood," Maddy recalled. "At first, he didn't realize what he did. He was like, 'get up, come on! We've got to finish the competition.' Then he saw the blood, rushed inside and got my parents."
The cut required stitches, and Maddy still has a scar that she keeps covered up. But she gained something else that night, a realization that if you want to be the best, you have to put in the extra work.
It's a lesson she has seen Mackie and her older sister Melissa practice many times. Mackie, who plays junior hockey for the Chicago Steel of the USHL, has committed to the University of Michigan for next season. Melissa, who preceded Maddy at Quinnipiac, was the second overall selection of the Connecticut Whale in the NWHL draft. She was unable to play in 2020 because of the coronavirus pandemic, and decided to accept an assistant coaching position with the Penn State women's team.
"Growing up and seeing their work ethic, it amazed me," Maddy said. "Being able to watch them made me follow in their footsteps and carry on some of their traits."
The Early Years
A native of Sandy Hook, Connecticut, Maddy first began playing hockey at age four. But she didn't take to the sport at first, and wanted to give it up. Her father Fred, a former captain for his high school hockey team, went along with her decision, even though he believed she would eventually change her mind.
Sure enough, he was right. For the next year, Maddy continued to watch her brother and sister play. She couldn't help but notice how much fun they were having, and it made her feel left out.
"After that year, I told (my dad) I wanted to get back into it," she explained. "I wanted to be as good as them. Every day, they would bring me out to our backyard rink and go through drills with me. Once I put the work into the sport, I fell in love with it."
When Melissa started high school, she enrolled at Shattuck-St. Mary's, an Episcopal boarding school in Faribault, Minnesota known for its innovative academic and hockey programs. She enjoyed the experience, and convinced her parents to let Maddy and Mackie attend. That's when Melissa realized Maddy had what it took to be an elite player.
"When she would come home for the summers, we would train together," Melissa explained. "I'm a pretty intense, very detailed athlete. We would push each other. As she grew up, she started to get better at some things. I (realized) she was catching up to me. She started to take ownership of who she was as a player and as a person."
Off to Japan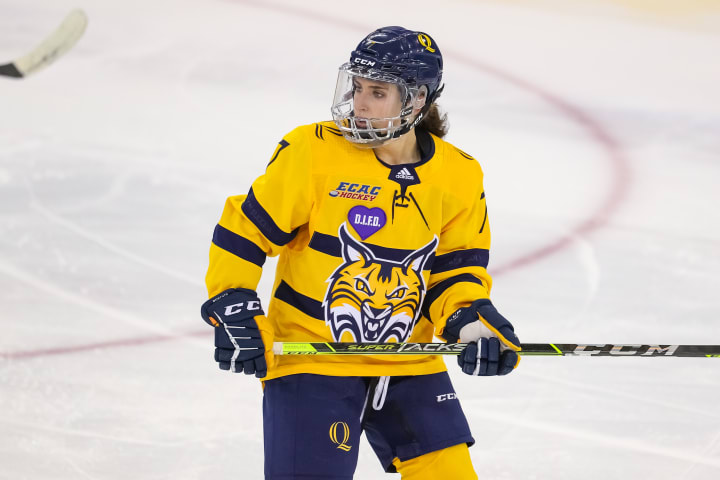 The hard work Maddy put in on the ice and in the gym began paying off. In 2019, she was selected to the U.S. U18 team that competed in the IIHF World Championships in Japan. The squad went to the finals before falling in overtime to Canada.
"The atmosphere, the team, it was an amazing experience," Maddy recalled.
Melissa also played for Team USA, winning a gold and silver medal with the U18 squad at the World Championships. In the 2015 gold medal run, she earned a Media All-Star Team selection. She believes Maddy's U18 experience helped her become a more aggressive player and adjust to the speed of the college game.
"She'll battle," Melissa said. "She'll maybe get beat out of a corner, but her competitiveness and her drive will help her catch up to somebody. She doesn't give up."
Forging Her Own Path
At Quinnipiac, Melissa finished fourth in career points (109), fifth in assists (55), and third in goals (54).
Those are tough shoes for a younger sister to fill. At first, Maddy wasn't sure she wanted to play at the same school Melissa had just departed. But she was drawn to the program's culture, atmosphere, and rich hockey tradition. It would also provide her an opportunity to come back home.
The deciding factor was head coach Cassandra Turner, who assured Maddy she would be able to carve out her own success.
"She talked to me about when I came to Quinnipiac, I was going to be my own person and not be under my sister's name," Maddy said. "I loved hearing that. That made me fall in love with the school."
Turner is in her sixth season as Quinnipiac women's hockey head coach. In 2020, the Bobcats finished 20-14-3, ranking No. 10 or higher in the polls the second half of the season. The team earned its 11th straight postseason appearance, falling to Princeton in the ECAC quarterfinals in double overtime.
The past year has been a roller coaster ride for Maddy. The coronavirus pandemic cut her high school senior season short, and cast doubt on whether the Bobcats would play during her freshman year. The 2020-21 college season began late, but Maddy has either started or dressed for every game.
Through the shutdown, her family was there to provide emotional support.
"They helped me stay positive, and every day I'd work out with them," Maddy said. "They helped me look at the bright side and taught me to be prepared and go into every day and seize the opportunity to get better."
Getting Defensive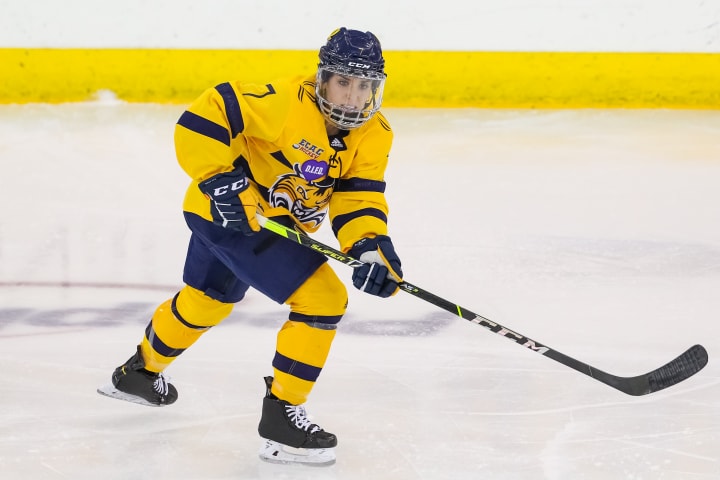 Maddy switched between forward and defense until her senior year at Shattuck, when she began playing defense full-time. She joins a Bobcat team that prides itself on great defense. Prior to the 2020-21 season, Quinnipiac finished among the nation's top three in fewest goals allowed.
Turner echoes Melissa's assessment of Maddy's refusal to give up on a play.
"You put her up against anyone, it doesn't matter the size or skill of that player, she's going to do everything she can to come up with that puck," Turner said. "She moves the puck incredibly well, sees the game fast, and thinks a play ahead."
Most players want to be goal scorers. Maddy is no exception, but she enjoys helping her team win in other ways.
"I love the feeling of when you win a battle in the defensive zone, and making a great breakout pass," Maddy explained. "You're helping your forwards get that offensive momentum."
Giving Back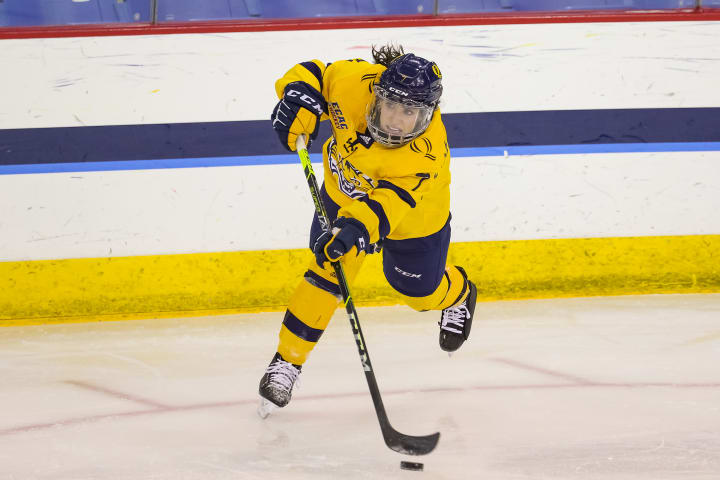 Maddy didn't play on an all-girls team until high school. She's happy to see girls hockey making an impact in recent years, and takes every opportunity to promote the game to young girls.
"Even from when I was little, (girls hockey) has grown so much," Maddy said. "One of my high school years, I went to a younger girls hockey camp. I was able to skate with them and talk to them. After practice, they got to ask me a few questions about my hockey career. I learned a lot from them, and they learned a lot from me."
As competitive as she is on the ice, Maddy is just as personable off it. She's a happy-go-lucky person with a mind thirsting for knowledge. She doesn't annoy easily, but has no patience for negativity. Her teammates call her "Mammal", although Turner still occasionally uses Melissa's old nickname "Samo".
When asked which celebrity she'd most like to meet or have dinner with, Maddy pauses a moment to consider. Her answer isn't all that surprising.
"Cale Makar," she said, referring to the Colorado Avalanche defenseman. "His game amazes me. I'd love to pick his brain and have a conversation with him."
Her ultimate goal is to play professionally one day. Right now, she's focused on improving every aspect of her game. Turner believes Maddy already possesses the characteristics of a team leader, even as a freshman.
"She leads by example," Turner said. "That's always a first step. I'm excited to help Maddy along that journey, because I think she has that. It will be something we're working to help her with as she progresses."
***
If you like what you're reading, feel free to leave me a tip. You can keep up with my latest stories by following me on Twitter: @smkwriter1.
About the Creator
Stephen has covered sports as a journalist for over 30 years. His passion for creating a better sports environment for kids led him to devote his full attention to tackling issues facing youth sports. Follow him on Twitter: @smkwriter1
Reader insights
Be the first to share your insights about this piece.
Add your insights