Coffey, Shaw roll through challenges
East Cleveland school wins first game of 2020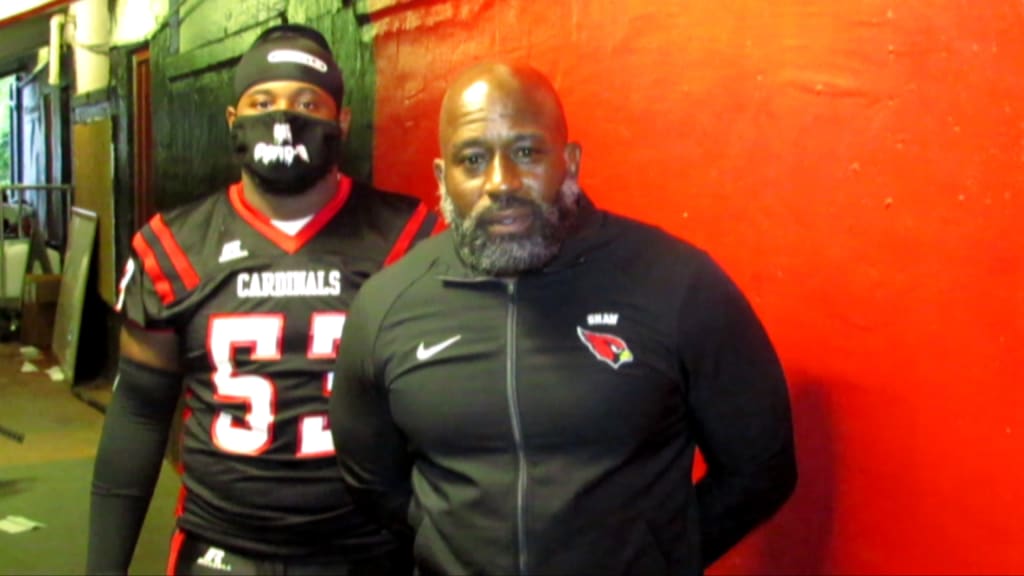 Shaw's Kamarion Gilbert and coach Bruce Coffey Jr.
August 28, 2020 was a historic day for East Cleveland's Shaw High School football program. It was the team's first game during the COVID-19 pandemic. The nation is also dealing with a challenging issue of police brutality and killings towards African Americans. Shaw happens to be a team comprised entirely of black coaches and players.
Along with that, Shaw's legendary stadium that was once home to the NFL's Cleveland Rams isn't being used for games this season and is said to be replaced by a new facility in the future. While the team gets dressed for their first game at its stadium, it's home games this season will be played in another nearby suburb of Cleveland, which is known as Euclid.
Before the team's season opening contest against Youngstown East, Bruce Coffey Jr., who starting his first full season as head coach stood in the hall of Shaw Stadium, where he once prepared for games as a member of the 1989 state playoff qualifying team, to participate in his first interview as head coach of the Cardinals.
First thing's first, 1989 is when you came here and showed out as a player. What's the feeling of being able to come back, be the lead man and guide this program to higher heights.
Coffey: It's a dream come true. I owe the community for this. The community made me. It made everybody before me. We gotta keep this going. It's my pleasure. I'm having fun.
This is a unique time. That doesn't even have to be said. You guys have to play six games this year instead of the normal 10 and then, we have a pandemic. We have social unrest. It's just crazy. How have you guys prepared.
Let alone, the whole country is dealing with the same situation. All we do is abide by the rules of [the Ohio High School Athletics Association]. The parents have been phenomenal. The kids, as you see, stay with masks. We're doing the best that we can. We just love and love conquers everything. That's how we're going to get through this.
What does it mean now to be a Shaw Cardinal under your watch?
The guys know that discipline can always win, once you go out there and play hard. We also have a brand that we must protect here in East Cleveland. We're not going to go out and act like hooligans. We're going to play a tough hard nosed brand of football. We're going to run the ball. We're going to get after you on defense. We're going to be respectful to the referees. Play through the echo of the whistle. The athletes know what that means and that's about it.
There's a load of challenges but what has been the biggest challenge you guys have had to overcome thus far?
Wow. Making parents believe that it's okay for their kids to play football under this pandemic. You know I can understand, I don't know how I would be if my son played here. I have a daughter who plays soccer. She wasn't allowed to play this year. I wanted her to play but she wasn't allowed to play. Getting the parents to believe in the process of what the governor said, and for the most part the parents have done it, but initially that was a problem. The numbers were low.
What's a success today? I know a win is a success, no matter what the score is, but what else are you looking for from this team tonight?
We need to execute. I want those guys to have fun. I want them to celebrate and I want those guys to have fun. Execute, have fun, play hard and win.
You said celebrate? Why is that important to you, because for so long you would see coaches tell there kids to not celebrate.
As long as you celebrate with your team. I don't want to see one guy doing the Funky Chicken or nothing over there but if we're celebrating after a big play, after a big stop, if the team is celebrating I promote that. You got to have fun. Football is a game you have to play with enthusiasm and passion.
Shaw went on to battle through a rainstorm, dominate and celebrate in a 28-14 win over Youngstown East. The Cardinals will play its next contest, Sept. 11, against Howland.
Located in East Cleveland, Ohio, Shaw High School has one of the most long lasting but underappreciated sports histories in all of the United States.
From being the only school in the state of Ohio to have a stadium that hosted actual NFL games to all of the athletes from the 1800's to the present that have gone on to lead productive lives and make history along the way, Shaw sports has a decorated past that most schools could only wish to own.
We invite you to enjoy this continuing series that will introduce you to some of the greatest athletes to ever call themselves Shaw Cardinals. Feel free to join the Shaw Cardinals Sports Group on Facebook: