Britain's 'Miracle on Ice'
One year on: how Team GB stunned the hockey world
GB players celebrate Robert Farmer's tying goal in the decisive World Championship showdown against France in Kosice on May 20, 2019.
It all came to a head 12 months ago. March 20, 2019. Kosice, Slovakia. Great Britain's ice hockey team was approaching the end of its first World Championship campaign since 1994. The equation was simple. Defeat France, and the Brits would remain in the Elite Pool – something the country hadn't achieved since 1950. Lose, and it would be a swift return to the second tier.
The signs weren't exactly encouraging. After back-to-back promotions catapulted the team to the top division, mixing with the big boys brought a reality check. Drawn in an eight-team group that included Canada, the USA, the host nation and the eventual champion Finland, avoiding relegation in last place always looked a tall order. Even one of the theoretically weaker nations, Germany, was on a high after an unlikely Olympic silver in PyeongChang in the previous season. Results were lopsided. On a good day, British pluck ended in defeat; on a bad day, such as the 0-9 drubbing against Denmark, Pete Russell's team looked out of its depth in Slovakia.
"At times, I was a bit shocked by just how far away we were," admitted the man who masterminded Britain's rapid ascent from obscurity. "But we improved with every game and, in the end, people will remember that we stayed up."
According to defenceman Ben O'Connor, one of the key figures on the team as it rose through the divisions, few took the Brits seriously. "We got here and people were joking about us," he said. "We were just these guys from GB. People assumed we'd be up and down, and this was a nice little holiday for us.
"But we never believed that. We believed that we were here, and we could stay."
France had problems of its own. Established in the Elite Pool since 2008, Les Bleus had enjoyed sensational wins over Canada and Russia in the past. But this was hardly a vintage French roster and, for the first time since 2004 the team was without the calming presence of Dave Henderson. The Winnipeg-born head coach was synonymous with French hockey, leading the team to a decade at the top but stepped down after the 2018 Worlds in Copenhagen. Like GB, France had lost every game; unlike GB, it picked up a point after taking the Danes to a shoot-out and had also remained competitive against more powerful opposition.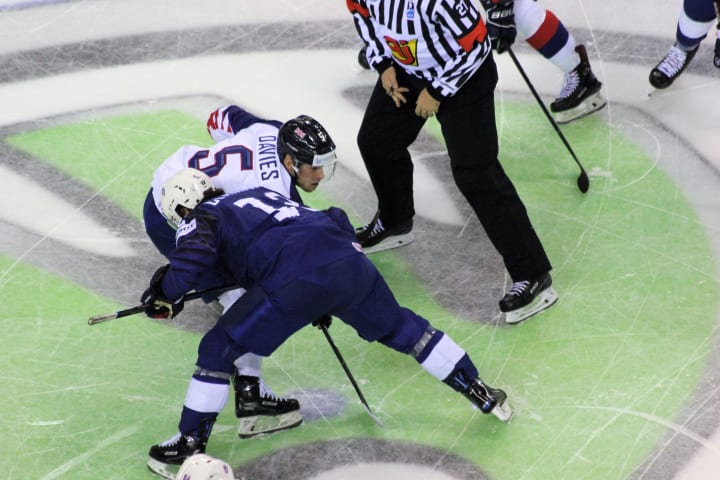 Two anxious teams did battle – and Britain almost made a spectacular start. On the first shift, Ben Davies broke through but, inexplicably, played a pass to nobody when he had a shooting chance on Florian Hardy in the French net. That miss looked costly in the second period as three quickfire goals seemed to secure French salvation. Anthony Rech opened the scoring in the 23rd minute; four minutes later he and Sacha Treille scored twice in six seconds to make it 3-0.
Britain had been up against before. A year earlier in Budapest, the team's promotion hopes were saved by a dramatic tying goal against Hungary with 15 seconds left on the clock. Now, down by three, the Brits dug deep to start the fightback. Head coach Russell called a time-out and instilled fresh belief into his battered players.
O'Connor again: "After that third goal we needed to take a breath, compose ourselves and just re-assign ourselves, get ready. They scored three goals in five shots, we thought we could do the same. And we did. We started with one, we built on that, we got two and they started to panic.
"Their defence was tired. We were making them go back and get pucks all night and they didn't like that."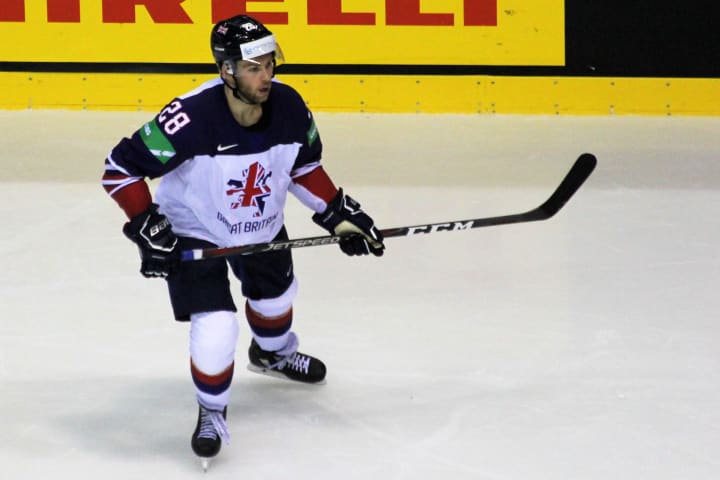 Incredibly, it worked. Late in the second, a broken play presented GB with its first goal, O'Connor providing an assist for Robert Dowd. As the intermission beckoned, Mike Hammond potted his fourth of the tournament to make it a one-goal game – and moved further ahead of one Alexander Ovechkin in the tournament scoring charts. Then, midway through the third, Hammond's line clicked again for Robert Farmer to make it 3-3.
Hammond credited Russell with the instinct to snatch that goal. "Pete's a bit crazy at times, maybe we don't always know what he's doing but he seems to get it.
"On our third goal we were supposed to be third up in the rotation, but Pete just had a feeling. He put us back out there and then Farmer got a big one. I don't know what it is; he has a crazy knack for the game. He just does the right things at the right moments. He was calm tonight and never stopped believing and it paid off."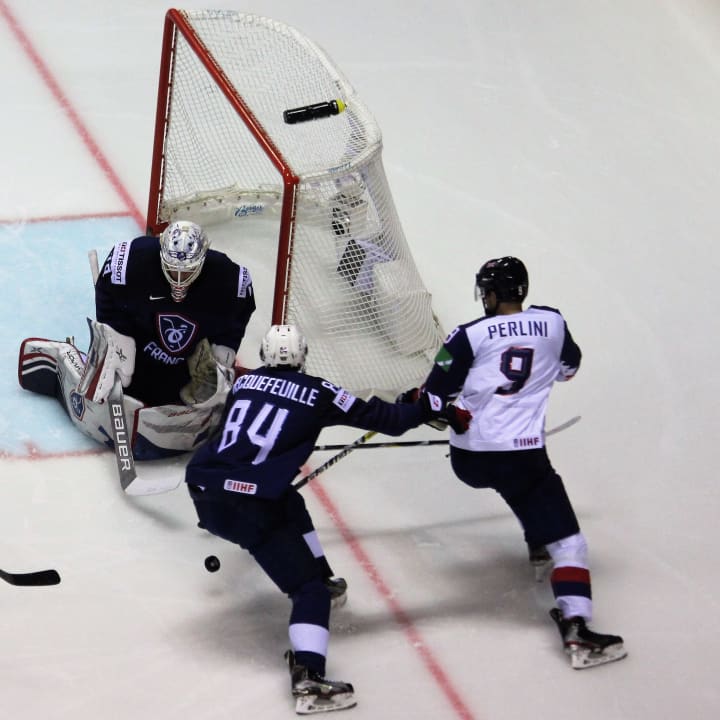 The game had changed. Not only had Britain recovered, it did so by playing composed, measured hockey. No hopeful dump-and-chase stuff, but control of the puck and considered movement. Then came overtime.
This was true seat-of-the-pants stuff. Next goal wins and, with survival on the line, the stakes couldn't be higher for both teams. Behind the net, next to the Zamboni, two teams of flagbearers waited for the post-game ceremonies. One held a Union Jack, the other a Tricolore. For the cluster of journalists gathering before the players came to the mixed zone, the view wasn't great but the atmosphere was tangible. Britain had the momentum in regulation, but France raised the tempo in the extras. Ben Bowns made two huge saves to keep his team alive – taking his personal tally to 230 stops during GB's seven games in the tournament, a World Championship record.
For Britain, it was 'once more unto the breach'. A gap in the French lines emerged and Jon Phillips streaked forward. Sinews stiffened, blood summoned up, he overcame a stumble to force a pass out in front for Davies to redeem his first-minute miss with the game-winner.
"Jonno just told me to put it in front, he's the captain so I have to listen to him," Davies recalled. "I put it in front, he got to the puck first and threw it out, two D-men went to him and I just got a chance on my own in front of the net."
Suddenly, GB's status was transformed. No longer hockey exotica, but a team with a top-level future. A year later, Russell reflected on how the World Championship fairy tale had changed perceptions of British hockey. Before going to Slovakia, the Scot had agreed to swap Glasgow Clan for EHC Freiburg in Germany's DEL-2. Once in the Black Forest, he was impressed with the reaction to Britain's achievement.
"I don't think people at home always realise quite how big it was, getting GB to the Elite Pool and staying there," he said. "When I came to Germany, it was a bit different. Every time I went to a new rink, people were asking me about it – they think it's crazy, and I think it's awesome that we've been noticed over here.
"And that's helping to open it up a bit, especially for the players. We've seen a few coaches go to Germany – Paul Thompson and Corey [Neilson, GB assistant coach] before me – and I think people have been impressed with the national team in the last few years. I think a lot of people in Europe were impressed with how we got to Pool A and then super-impressed with what we did there."
Most quotes in this article were taken from the mixed zone after the game in Kosice. Some were taken in a telephone interview with Pete Russell in March 2020. Many of these quotes were previously used on IIHF.com or on my personal blog