Brent Burns Is Better Than You
And he's going to win the Hart Trophy, too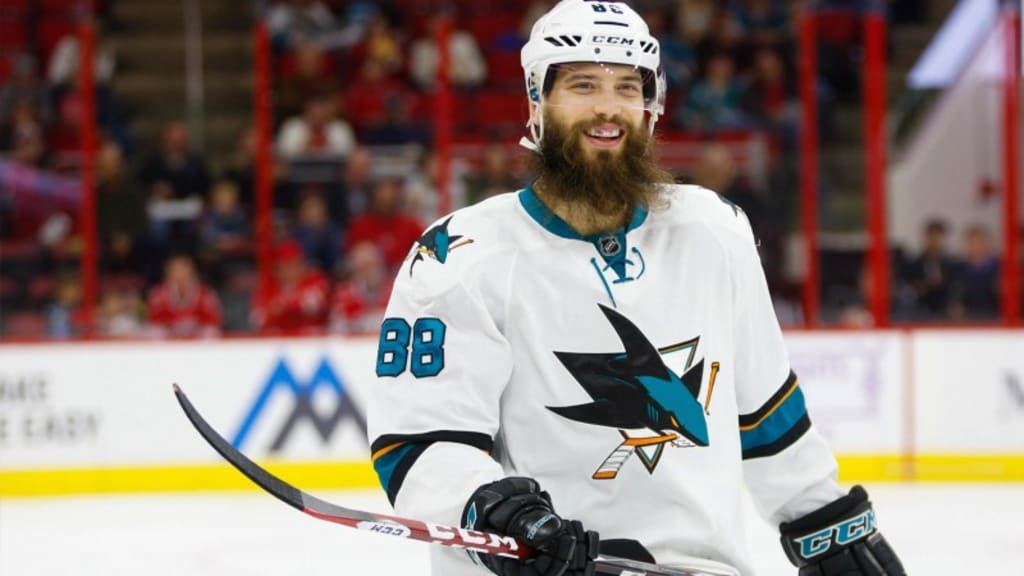 Brent Burns. Image via csnbayarea.com
Forget everything I said.
In an article published back in January, I made the case that Connor McDavid should be considered the favorite to win the Hart Memorial Trophy for MVP. I suggested that he should at least be considered in the same category with Sidney Crosby given his performance through the first half of the year. With where things stood at that point in the year, that's a pretty easy point to stand by.
But please…forget everything I said.
The truth of the matter is that, now, with less than 20 games remaining in the NHL regular season, the most deserving candidate is neither Crosby nor McDavid. In fact, it's not a forward at all. It's 31-year-old, 6-foot-5 defenseman Brent Burns.
Back in December, teammate and NHL legend in the making Joe Thornton bestowed high praise on his equally hairy teammate. "He's the best player in the world. Not just the best defense-man," said Jumbo Joe. "He's the best player in the world." The way Burns has played this season, it's hard to argue with him. Burns currently sits fifth in the league with 67 points and is averaging better than a point per game this season. His 27 goals are only 7 shy of Crosby's league-leading 34. Don't forget, folks, we're talking about a defense-man here. He has already hit career highs in goals and points and doesn't seem to be slowing down anytime soon. The San Jose Sharks sit on top of the Pacific Division and are the defending Western Conference champs. Burns' play has been integral to the team's continued success this year, as he also leads the NHL in point shares at an astonishing 13.9. He is one of only three non-goalies who occupy the top ten in the league in this category, and he is pacing everyone so far this year.
From an offensive standpoint, Burns is second to no other defense-man. He is far and away the best offensive defense-man in the league. But what about Burns' defensive responsibilities? He has clearly established himself as a Norris Trophy finalist as well this year with his play in his own end. He holds 112 blocked shots, which is pretty far behind Erik Karlsson's league-leading 174. But consider this: Burns' Sharks squad has the 4th most blocked shots of any team in the league, and Karlsson's Senators team sits just a few blocks ahead in 3rd. San Jose's defensive structure is among the best in the league, and Burns is at the epicenter of it, much the way Karlsson is in Ottawa. He's averaging nearly 25 minutes per game of ice time, so the San Jose's defense virtually revolves around him. At the very least, his defensive skills have put him on par with the most elite defense-men in the NHL.
We find a lot more to this story when we dissect the rest of Burns' game. His defensive point share stands at 5.7, second only to Ryan Suter's 5.9. On a strong defensive team, Burns is a clear leader. His size and strength make him a force to be reckoned with in the corners and along the boards, as many forwards have learned the hard way over the years. Just ask Chris VandeVelde:
He's got that snarl and old-school tenacity that makes him a dangerous blue-liner to go in against. Burns is proving that he can take care of himself on both ends of the ice, and it has consistently been making his team better over the past two seasons.
Besides his play on the ice, Brent Burns is just downright awesome and incredibly entertaining. He's got that outstanding hair. The beard that flows like a luxurious mane. He's caught hanging out with superstars like Conor McGregor. He's got that unassuming toothless grin and is one hell of a Twitter follow. He makes hilarious commercials with teammates, like the one he recently starred in with Joe Thornton. (Sweet chin curtain!) He's also been a recipient of the NHL Foundation Award for his extensive charity work. None of this necessarily makes him an MVP caliber player on the ice, but it is evidence of another valuable characteristic of a Hart Trophy winner: he's an excellent ambassador for the game of hockey and for the NHL.
So forget anything I might have said before. The most deserving candidate for this year's Hart Trophy is none other than Chewbacca himself, #88, Brent Burns.