Brady Retirement?
My Take on Tom Brady and the 2018 Season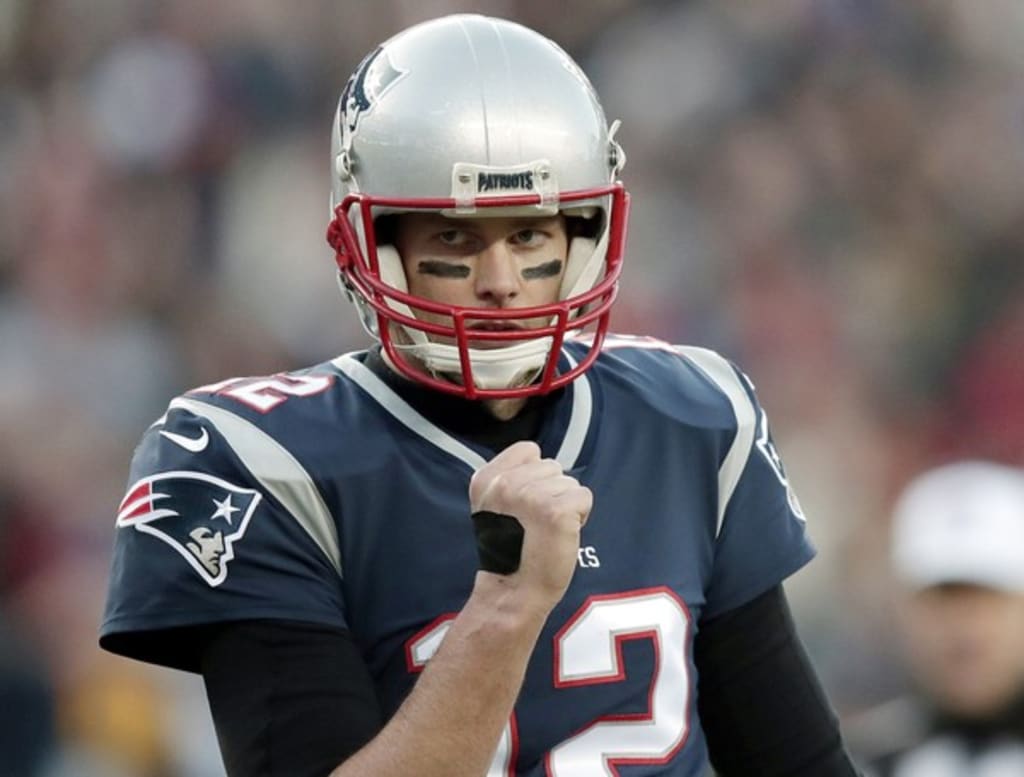 Photo credit: Mass Live
Just a Girl, on the Couch, in Her Football Jersey:
Monday, Brady did not attend the Optional training for the team. He was in Qatar with his family, visiting our troops, and working his Best Buddies Charity. It was optional training, and though it is rare for Brady to miss these OTAs, sometimes life does intercede.
But people freaked out. "Does this mean he is retiring?"
Then, earlier today, Adam Schefter of ESPN opened his laptop and reported a known fact: Tom Brady has not committed to the 2018 season. Being from ESPN, his piece fed into the social media fury, fear, and hunger over the idea of Tom Brady retiring.
Let me tell you what I think:
First, I must say….. ENOUGH ALREADY!
I mean, really. Tom Brady is hands down the GOAT of football, and maybe even sports in general. He has played record seasons, year after year. He has helped make the New England Franchise a household name across the Continental United States and beyond.
Will he be retiring this year? All signs say no. Let's look at some information shared within the last two months.
In March of this year, on Good Morning America, when asked about balancing family and football, Brady stated: "...you also realize the level of commitment it takes to give as much as you can to the team that needs you." He followed up with, "Sometimes it gets out of balance and sometimes you have to bring it back to a point where it feels great for everyone involved."
On April 8th, it was reported by Mike Reiss, in USA Today, that "Tom Brady and Julian Edelman logged a workout on Wednesday." Reiss went on to say that " For so many reasons, that workout bodes well for the New England Patriots' 2018 season."
Mike Florio of Pro Football Talk reported today, " Brady already has made arrangements to get together with some of his teammates between the end of the offseason program and the start of training camp in order to better prepare for the season to come."
Even Christopher Price, writing for Boston Sports Journal said, "The end is going to come, and it's going to come (relatively) soon. But the bottom line is he's not walking away so abruptly for a few reasons."
Price is right ( Yeah, I giggled here). The end is coming, as much as we hate to admit it. But Brady, who loves Robert Kraft as a father figure, and loves his teammates, would never just walk out, leaving them hanging for the season.
They have no quarterback. They lost some veteran players. They need Brady to guide a new quarterback and teach him the ways of the Patriot GOAT. They need his seniority in the locker room, to teach Patriot morals and ethics.
Brady is a 17, now an 18-year veteran. He knows how to work out for his 40-year-old body. He does not need those OTAs, as much as the young guys do.
Looks to this average Jane football fan that Brady has every plan to return to the 2018 season.
So, what does all this hullabaloo mean? Why are sports reporters chomping at the bit to add to the Brady retirement furor?
Simply this: It is clicks and reads.
The off-season is generally slow for the football reporters. They have to dig for something to write about. Just look at other teams in the league. They grasp at straws as well.
The difference is, Tom Brady is a legend. A tiny little article like Schefter's with Brady in the headline can garner a couple thousand clicks and shares in less than a minute. Most without even reading the article. It brings the writer into an instant moment of fame.
Of course, if you actually read the article, you will see that the content is pretty lame and empty. He quotes sources. No names, just sources. I can do the same. His headline was ridiculous if you take a moment to realize that Brady generally does not make a public commitment to play. Most players in the league, which numbers over 1,600, make public announcements of intent.
We typically know that Brady has committed because he restructures his contract. He did not restructure his contract, which is up in 2019, this year. So no public announcement or press release was made. This only makes a 2019 retirement look plausible. It says nothing about 2018.
Today, Adam Schefter simply grabbed a carrot and waved it in front of information-hungry football public. He did what he set out to do, he got clicks and reads. Much like his compatriots at ESPN have done for years.
Could I be completely wrong in my opinion? Absolutely. Do I think I am? Not at all.
Contact me at [email protected]
About the Creator
Christian, ASD mom, and Published Author.
Jesus, my son, and Autism are my life's passions.
Contact me at [email protected]
Reader insights
Be the first to share your insights about this piece.
Add your insights