Best NBA Players of All Time
These are the unparalleled, absolute best NBA players in history.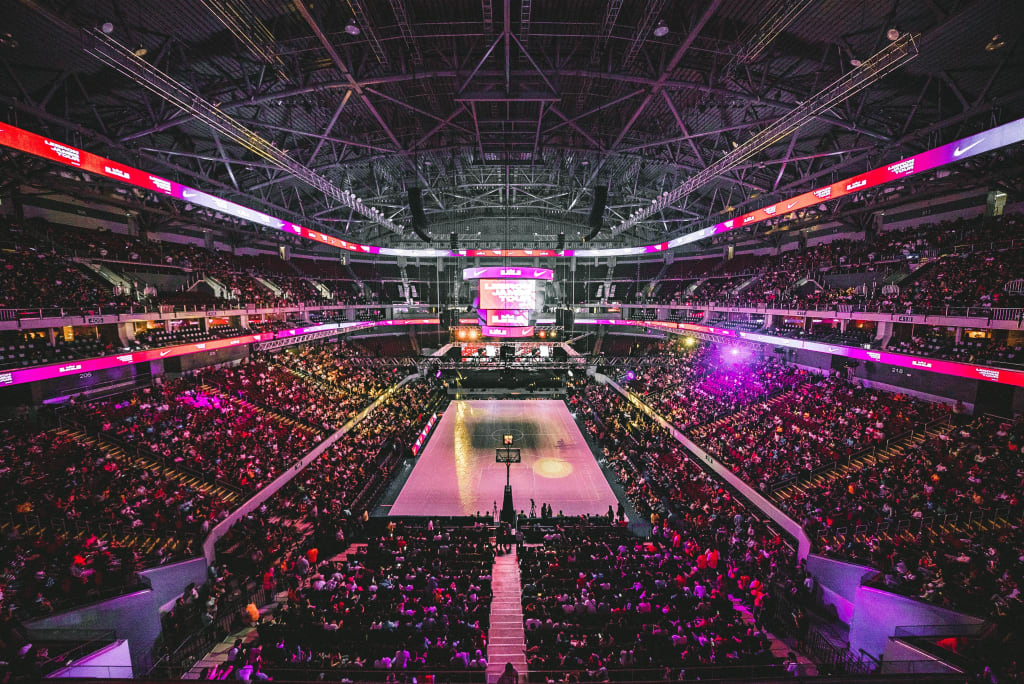 Photo by J.C. Gellidon on Unsplash
When considering the best NBA players to ever hit the court, many names come to mind. While today's game will likely prove to be a golden age of basketball, history has given us many legends on the shoulders of which the likes of Stephen Curry, Lebron James, and other future greats stand. But who are the best of all time? Is Lebron in thatconversation yet? What makes a GOAT? The only real way to tell is to determine who is definitely in it. Here is a list of some of the greatest players ever on the court, and some reasons why they ought to be considered so.
Julius Erving
Let's start our all-time greats list off with Dr. J. Starting his career in 1971 in the ABA with the Virginia Squires, and then the New York Nets in 1973, Erving moved to the Philadelphia 76ers in 1976, where he would make his mark. With a field goal percentage of 50.6, a 3 point percentage of 29.8, and a free throw percentage of 77.7, Erving was one of the great classic stars of the game. Despite only having won 2 ABA titles, and one in the NBA, Erving was a 16 time all-star, and revolutionized the game. In considering the greatest and most influential players of all time, it is critical to acknowledge those whose innovation was key to the progress of the sport. Though he certainly didn't create it, Dr. J. made dunking far more popular. It is hard to imagine what the modern game would be like without the dunk, but at the time, many considered it to be showing off and unnecessary. Erving would be, perhaps, the first to show the strategic advantages of the dunk, forever evolving the sport.
Shaquille O'Neal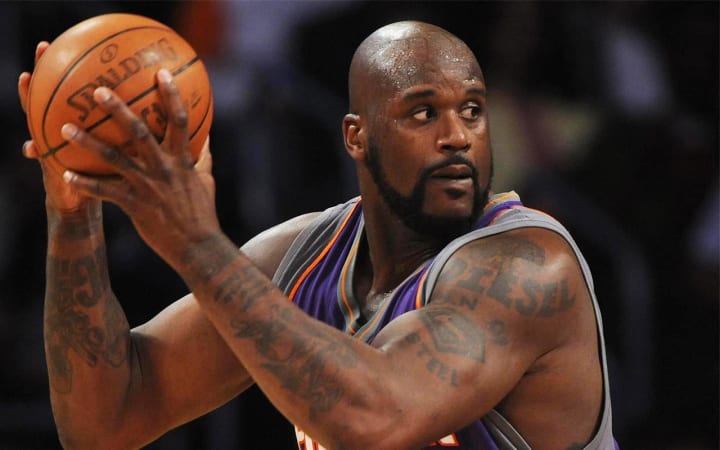 No list would be complete without one of the largest and most well-known men to ever play the game. At 7'1", he is equal in height to Wilt Chamberlain, yet so, so much bigger. In his career, one that spanned a couple of generations, Shaq managed a field goal percentage of 58.2, a 3 point percentage of 4.5 and a free throw percentage of 52.7. Despite such dismal 3 point numbers, an element of the game that will flip the NBA on its head today, Shaq excelled in many other areas. A skilled self-marketer, during and following his professional career, Shaq has become a household name not only for his greatness on the court, but also for his charisma, sense of humor, and general silliness. Before he was one of televisions' most beloved ad personalities, Shaq was a 15 time all-star, 4 time champion, and 14 time All-NBA team member. Shaq was known for his sheer size and brute strength on the court, earning nicknames such as "Diesel" and "Warrior." Though Shaq spent much of his career in, let's say, less than peak physical condition, his sheer size was still a critical tool that he always wielded with great skill.
Kobe Bryant
This one should be controversial for a bevy of reasons. Firstly, (though this has little bearing here) there is the matter of his legal controversy, a problem that only fed what was a contentious PR case to begin with. Moving past that, there are certainly basketball related arguments against Kobe to address. Long considered a ballhog, many will argue that Kobe was more concerned with his own stats than the success of the team, though he was long one of the faces of the Los Angeles Lakers and a legendary shooting guard. Like Kareem Abdul-Jabbar, Bryant is one of the few 20 year players, having been in the league from 1996-2016. Like Jabbar, Bryant's accomplishments are often downplayed due to the length of his career. All considered, Bryant pulled off a career field goal percentage of 44.7, a three point percentage of 32.9 and free throw percentage of 83.7. Whereas this is a solidly unfair assessment for Jabbar, Bryant's image has fanned the flames of his naysayers, keeping the argument alive. Still, it is impressive enough to accomplish a 20 year athletic career, especially while putting up the offensive numbers that Kobe has.
Elgin Baylor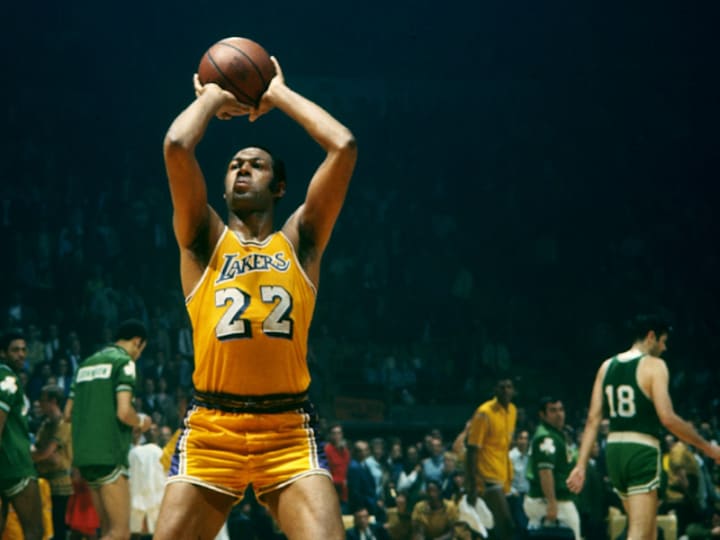 He's so cool that he was a Laker when their name still made geographic sense! Playing from 1958, (when the Lakers were still in Minnesota) to 1971, Baylor, though great in his own right, led the Lakers during a time when the Celtics had essentially hijacked the league, winning 11 titles in 13 years, though he would only appear in the finals 8 times. As such, Baylor never did claim a championship in his playing career (see Bill Russell below), though he managed a career field goal percentage of 43.1 and a career free throw percentage of 78.0. Consequently, Baylor is often regarded as the best player in history to never win a ring. With the Celtics of the time proving to be the dominant force, it is easy to forget the bridesmaids like Baylor and his Lakers who were incredibly influential to the game. Baylor was an 11 time all-star and 10 time All-NBA team member. Considered a great forerunner of the modern game, Baylor moved gracefully and effectively, adapting existing techniques and creating some of his own.
Bill Russell
It would be absurd to establish a list of the greats without recognizing the contributions of the great defensive players of all time. Okay, so defense isn't as sexy as offense. The greatest defensive play will never garner as much excitement as a dunk. Having said that, defense is just as important to the game and should not be fully overlooked. When one thinks of the driving forces behind great basketball dynasties, one usually thinks of some of the legendary offensive greats. However, 11 time champion Bill Russell is not necessarily who comes to mind for many young fans when thinking of dynasties. Though the Celtics are known for holding the most titles, most people think of Larry Bird when the team is brought to mind. If you are able to win 11 championships, there has got to be a reason. If you have been afforded the chance by an organization to win all 11 titles, chances are you probably don't suck. Let's put it this way: Russell played for the Celtics from 1956 to 1969 and in that time won 11 championships! In 13 seasons, Bill Russell and the Celtics were champions every year but 2! It's hard to launch any argument against Bill Russell's greatness as one of the best NBA players when considering this statistic.
Larry Bird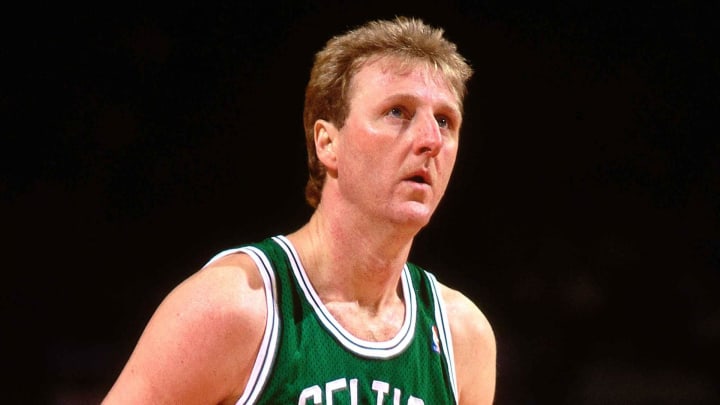 A natural team leader, Bird was also a team player who tried to serve the name on the front of the jersey first and foremost; which must have been refreshing during a time of so many rising and established superstars, as well as future legends. Bird's leadership qualities would earn him a post career coaching job with the Pacers, whom he experienced some success with. At a time of flashiness and individuality, Bird helped to show the importance of maintaining a well oiled machine around him, putting the Boston Celtics back on the map. In his career, Bird put up a field goal percentage of 49.6, a 3 point percentage of 37.6, and a free throw percentage of 88.6. Another of the several 1992 dream team members featured on this list (though his brilliance had somewhat faded by then), Bird was also as iconic as he was dominant and collaborative. Ever neck and neck in rivalry with Magic Johnson and the Lakers, Bird served as his East Coast counterpart, similar in many ways, making them ideal "enemies." While Johnson's lakes were slick and refined, Bird and the Celtic's were the scrappy old-schoolers in town.
Magic Johnson
As one of the games great point guards, Johnson came to prominence in what was perhaps the golden age of hoops. In his illustrious career with the Lakers, Johnson sported a field goal percentage of 52.0, a 3 point percentage of 30.3 and a free throw percentage of 84.8. It is again hard to think of 1980s basketball without the image of Magic and the Lakers going up against Larry Bird's Celtics, one of the great rivalries in the history of the sport. A twelve time all-star, Johnson was always in the public consciousness and almost always at the top of the sport. Though his career was cut somewhat short due to a diagnosis of HIV in 1991, Magic managed to bring the Lakers to 5 championships before bowing out. In the years since, he has been an HIV advocate public speaker. Though his subsequent attempts to return were less eventful, the main body of his career speaks for itself. It is speculated that his dominance may have continued if his career was not cut short; though, as mentioned above, he did try to return to the sport in 1996 with little success.
Kareem Abdul Jabbar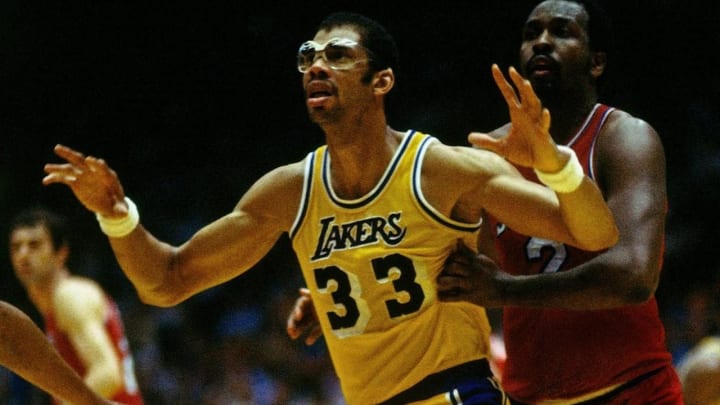 To begin, it seems a tad unfair to discount, as some do, the accomplishments that the 6 time champion achieved simply because he played for so darn long. With a career field goal percentage of 55.9 and a free throw percentage of 72.1, Jabbar certainly brought many assets to the table. Kareem Abdul-Jabbar played in the NBA for 20 years, a record he held until it was beat by Robert Parnish and later Kevin Garnett, who each played for 21. In fact, this longevity should serve as a contributing factor in arguing his greatness, as it is rare that an athlete (especially a basketball player) can remain fit and spry enough to be so effective for so long. At a time in sports where injuries seem more rampant than ever, it is curious that such freakish longevity is not lauded for its rareness. Such resilience is, at the very least, highly admirable and deeply impressive.
Wilt Chamberlain
At number two on this list, it is important to recognize one of the game's great record-breakers and producers. Like the Pete Roses, Ty Cobbs, and Ichiros of baseball, Wilt Chamberlain was the archetype of production and hyperbolic talent, and has a few stories associated with him to boot. Chamberlain set a number of records, many of which are still unsurpassed. This should not be surprising coming from such a gigantic and dynamic human. Wilt "The Stilt" (a nickname he was none too fond of) stood at a daunting 7'1", towering over most people and, indeed, most basketball players. In his career, Chamberlain would pull off a field goal percentage of 54.0 and a free throw percentage of 51.1. An absolute machine, he holds the record for points scored in one game at 100, and holds the record for best single season points average at 50.4 (1961-1962). Yes, he may only have gotten a pair of championships, but he managed to maintain a certain level of production throughout the entirety of his career, managing to never dip below an average of 30 points per game and 20 rebounds in any of his 15 NBA seasons.
Michael Jordan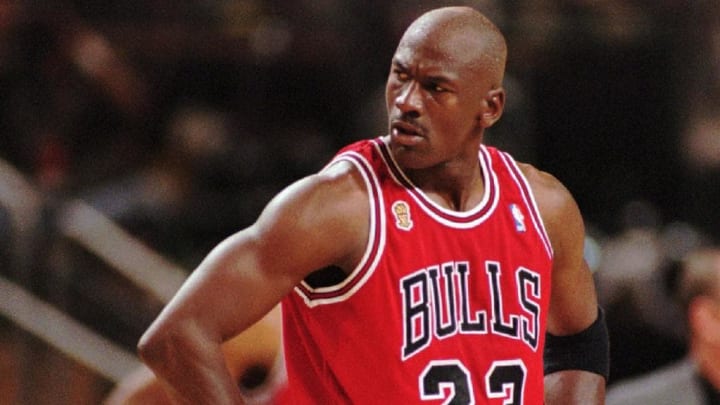 How original, I know. Everybody puts Jordan number one on their list, but that should obviously tell you something. As the expression goes, the simplest explanation is usually the correct one. "His Airness" has rightfully earned a place at the top of this list. With a career field goal percentage of 49.7, a 3 point percentage of 32.7, and a free throw percentage of 83.5. You would have to be the king of naysayers not to place Jordan at least near the top of your list (unless you are making a list of great baseball players). When it comes to basketball greatness, there is Michael Jordan, and then there's everyone else. Let's just rattle off some numbers: 14 all-star appearances, 6 NBA championships, five MVPs, 6 finals MVPs, and the accolades just go on. Accomplishments aside, Michael Jordan was a superstar who was long synonymous with the game itself. At a time when the NBA was flooded with a number of future legends, some of whom were noted above, Jordan managed to stand out as one of the best NBA players in NBA history.
basketball
About the author
Fred Park is a writer, singer and guitarist with a deep passion for music, sports and history. Fred graduated from Purchase College in 2016 with a BA in history.
Reader insights
Be the first to share your insights about this piece.
Add your insights