Best Football Movies Based on True Stories
If it says based on a true story in the opening scenes and it's football-related, chances are I've seen it. Here are the ten best football movies based on true stories.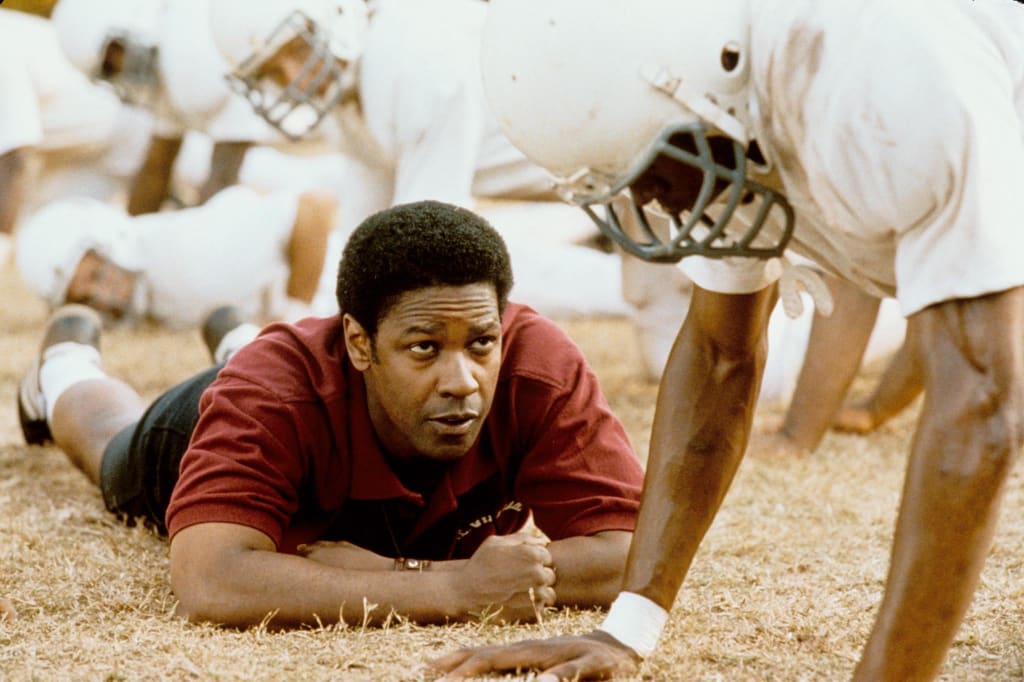 There's nothing better than a sports movie. In my humble opinion, they showcase everything great about watching a movie. They usually include an inspiring journey (accompanied by a fun montage with a great song), adversity, teamwork, and overall, perseverance. That certainly is the case with my favorite subcategory of the sporting film industry, football movies based on true stories.
There are countless movies that fall under that description, but don't worry, I've seen most of them. Additionally, I've decided to use all of those hours spent for a noble cause and will give others a helping hand. I have put together my favorite football movies based on true stories for your viewing pleasure. These are the ten that I think, with my extensive experience in this field, are the best of the best.
Concussion tells the real-life story of Dr. Bennet Omalu's discovery of the link between brain damage and concussions in NFL players. Portrayed by the always impressive and charismatic Will Smith, Omalu's findings were not only shrouded in controversy, they were also actively sought to be hidden and debunked by the NFL.
With concussions and head safety playing such a large role in the game today, there is no more relevant time to watch this than right now. See what all the fuss is about if you weren't aware before and why this has become such a hot-button issue. It will surely open your eyes to a side of the sports world many aren't used to seeing.
Taking place after one of the biggest sports tragedies in history, We Are Marshall is as moving and heartfelt as they come. Following a tragic plane crash in 1970, in which 75 Marshall University football team members including players, coaches, and staff died, the team is rebuilt by an enigmatic young coach (Matthew McConaughey).
In one of his finer roles, McConaughey has you connect with the team, university, and the entire town as they all attempt to pick themselves up and get back in the game. With standout performances also coming from Anthony Mackie and Matthew Fox, you have yourself a great two-hour watching experience the next time you're free. In true McConaughey fashion, I would say this movie is alright, alright, alright (Sorry, I had to).
Want to know a fun fact? The word "inspiration" was actually invented because of this movie. Okay, fine, while that may not be officially correct, what is true is that the story of Rudy has become synonymous with the term. Perhaps the most well-known of all the football movies based on true stories, Rudy is a great lesson in commitment, tenacity, and willpower. It is David vs. Goliath, if there were over 40 Goliaths and all of them wore Notre Dame football helmets (Sorry, stone and sling, no shot that works this time).
Starring Sean Astin from Lord of the Rings, and more recently, Stranger Things season 2 fame, the acting, soundtrack, and dialogue from this masterpiece are all top-notch. I won't spoil the ending if you're one of the six or seven people in the world who hasn't seen this movie (it can't be more, it truly can't), but it's one of the best endings in cinematic history.
One of the more recent films on here, this 2015 sports drama chronicles the college football career of Freddie Steinmark. Based on the book Courage Beyond the Game: The Freddie Steinmark Story by Jim Dent, Steinmark's story is similar to Rudy's. Small, passed over, and tremendous heart are a few of the characteristics the two players and stories share.
However, it is not a simple re-telling of Rudy in a newer version, there are a few notable differences between the two college football icons. What are some? Well, for starters, Steinmark was actually a standout player in college football with the Texas Longhorns, as the name of the movie suggests. Coached by Darrell Royal, who many consider one of the best college football coaches of all time, Steinmark was able to make his... mark (pause for laughter) on the field. The others you'll have to discover for yourself.
What better time to watch this than now? As everyone already knows, The Philadelphia Eagles were the best team in the NFC East last season and ended up winning the 2018 Super Bowl. Before their victory over the New England Patriots this past February, the Eagles had several stories in their history that could qualify as their best. The most notable of these was the curious case of Vince Papale. Other than being the unknown prequel to the Brad Pitt and Cate Blanchett drama two years later, Invincible records Papale's memorable legacy as a football player.
Attending an open tryout and turning in an impressive workout, Papale managed to earn a spot on the Eagles roster at 30, often considered the age where a player begins to decline. A bartender living out his dream of playing football for the Eagles, where else will you see an inspiring true story like that other than in sports? Headlined by the great Mark Wahlberg and Greg Kinnear, this movie does justice to Papale and his long road to stardom and will inspire anyone that achieving your dreams is always possible.
What happens when a 151 game winning streak, the longest streak in American sports history, gets snapped? Well, that's what I wanted to know too. After watching When the Game Stands Tall, I was more than satisfiedwith the answer. TheDe La Salle High School Spartans football program was undefeated for 12 years, spanning from the 1992 season to the 2004 season.
The movie follows what happens after their impressive win streak ends. It goes over the pressure the players, coaches, and everyone involved faced, as well what comes after the loss. A story with various themes that anyone can relate to on some level, this is worth your time.
Break out the tissue boxes and yes, I do mean plural. Radio doesn't just pull at the heartstrings, it rips them out as painfully as possible. Don't worry though, by the end of it they'll be in their rightful place again safe and sound. That's just what this movie does. Starring Cuba Gooding Jr. and Ed Harris, Radio is based on one of the most heartwarming true stories in football history.
Gooding Jr. plays James "Radio" Kennedy, a developmentally challenged man who has earned the nickname by his fascination with the music players. After being abused by some high school footballers, he is taken under the wing of Coach Jones, the team's, you probably guessed, head football coach. Over time, Radio becomes a part of the school and small-town community and remains a central figure there to this day. It is an inspiring and uplifting tale that teaches you not to judge people because of their differences.
Dwayne 'The Rock' Johnson leads a different kind of football team to glory in Gridiron Gang. One of the more unique stories regarding football, this film is based on the true story of the 1990 Kilpatrick Mustangs. Unlike most of the other teams already mentioned, The Mustangs was a team made up of juvenile delinquents who were serving time in a detention facility.
Believing these kids needed a second chance, and realizing football as the perfect way to teach them, The Rock (Sean Porter in real life) forms a football program within the facility. He becomes the head coach and forms a schedule for them to play against high school teams. Make no mistake, all of these things were much easier said than done, but you'll have to find how it was all accomplished by watching.
If you win an Oscar in any major category, you officially beat out almost all other football movies based on true stories. Those are the rules. Sandra Bullock's captivating performance won her the Academy Award for Best Actress in The Blind Side, and for good reason. She was the main attraction but was also complemented by a great cast and story.
The Blind Side is based on the life of Michael Oher, a homeless high schooler who goes on to become an NFL football player. With the help of Sean and Leigh Anne Tuohy, Oher is given the tools and opportunity to overcome his past of trauma and adversity. This journey is portrayed in spectacular fashion in this 2014 hit. As uplifting and heartwarming as they come, The Blind Side will undoubtedly make it on your top ten all-time movie list.
Finally, my favorite of the bunch. Remember the Titans follows a high school football team in Alexandria, Virginia after it integrates in 1971. Denzel Washington takes the lead role of head football coach Herman Boone as he unites a racially divided community by leading the Titans to the state championship game. If Denzel being the lead role wasn't enough to get you to watch it (if anyone who fits that description even exists), there are several other reasons to give this a try.
I can think of no bigger selling point after Denzel than the fantastic soundtrack this movie features. Chock-full of 60s and 70s classics like "Ain't No Mountain High Enough," "Spirit in the Sky," "Peace Train," and "Up Around the Bend," this set list gives Guardians of the Galaxy a run for its money. The terrific cast, great soundtrack, and powerful messages cement this as one of the best football movies based on true stories ever, ever.
football
About the author
Huge sports fan, primarily hockey and football. Also a big TV and movie fan. Recent Marist graduate writing about whatever interests me!
Reader insights
Be the first to share your insights about this piece.
Add your insights