Best Baseball Players of All Time
Here is a sampling of some of the best baseball players to ever hit the diamond.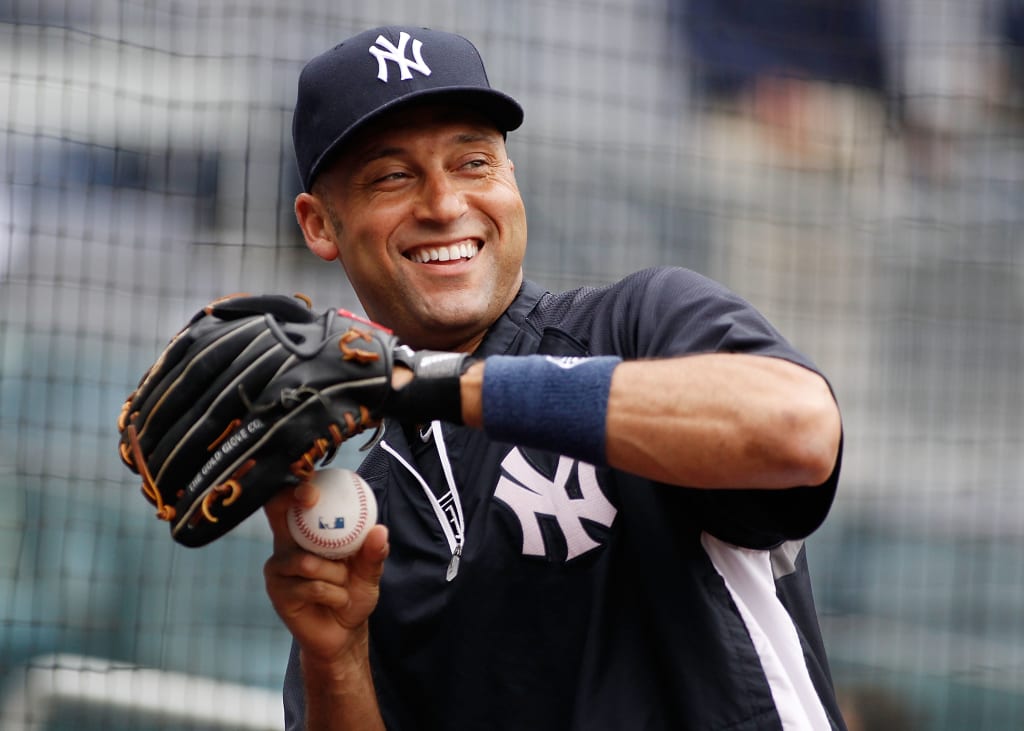 In the many generations since the founding of the sport, a number of phenomenal players have graced the baseball diamond. While there are so many greats to consider, there are a few outliers who can truly be called some of the best players to play the game. When considering the greatest to ever grace the diamond, so many statistics must be considered. As such, it was difficult to narrow down the greatest of all time, and some framework must be established for any such list. Like every sport, baseball has its super legends who go above and beyond the bar of greatness, setting new and sometimes unsurpassed standards. Accordingly, this list will be organized by position (not by ranking), proposing an all-time great starting lineup. Below are the ten best baseball players to ever play the game, by position, including a designated hitter for your dream baseball team.
Pitcher: Nolan Ryan
The undisputed strikeout king! Nolan Ryan is a larger than life baseball figure, whose record 27 years in the major leagues allowed him to set numerous records, some of which may never be beaten. For starters, Ryan is the all-time leader in strikeouts with a baffling 5,714 strikeouts. Though the future is unwritten, it is likely that this record will stand forever. Ryan exemplifies the old-school baseball legend, having pitched when complete games were a staple of baseball excitement. Today, even in an era of such strikeout pitching phenoms as Clayton Kershaw (or maybe Justin Verlander?), Noah Syndergaard, and Max Scherzer, the shortened starts, pitch counts, and innings limits that make up the modern game will assure that the Ryan's K record will endure. Put simply, no one will ever pitch as much for as long as Nolan Ryan. Though his ERA was a pedestrian .319, this is largely due to playing on losing teams, and is also a consequence toward his manic pursuit of strikeouts.
Catcher: Mike Piazza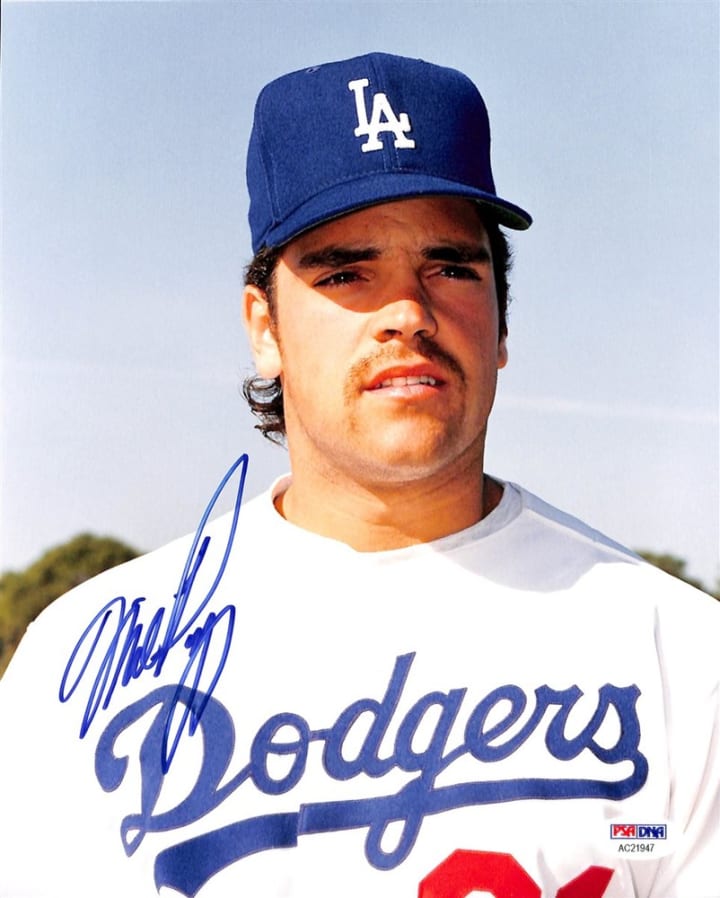 With 396 home runs at the position (427 total), a career batting average of .308, and a .545 career slugging percentage, Mike Piazza is considered "the greatest hitting catcher of all time." Piazza brought offensive explosiveness to a position which often sorely lacks it, and the National League as a whole. Piazza was a household name, and found himself at the center of many historic moments in the history of the Mets organization; such as, his 2000 World Series fight with Roger Clemens, and hitting the first home run after September 11th, 2001. Piazza was known for creating magic moments. Rather than languishing in the 8th spot before the pitcher, Piazza was an integral member of the batting order for both the Dodgers and the Mets. Piazza's offensive game united the power hitting of past catching legends like Gary Carter and Johnny Bench, while also producing a stellar batting average like Buster Posey and other modern "hitting catchers." All in all, no catcher, before or since, has managed to put together such dynamic and potent offense.
First Base: Lou Gehrig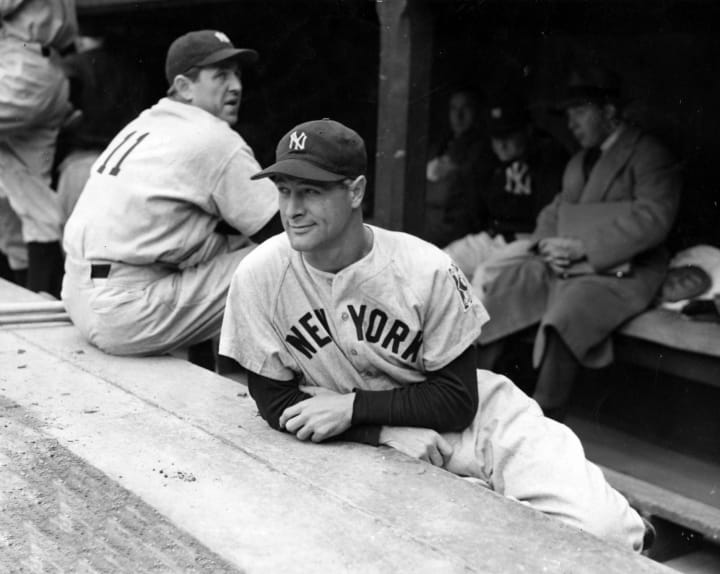 The self-proclaimed "luckiest man on the face of the earth" did not make it onto this list by any mere stroke of luck. An integral part of Babe Ruth's Yankees, Gehrig was a legend, and a hall of famer in his own right with a slash line of .340/.447/.632. Gehrig's .632 slugging percentage is the third best in baseball history, and combines with his fifth all time .447 on base percentage for a staggering 1.080 OPS, which is also third best. Gehrig was known for his fortitude and consistency, playing a record 2,130 consecutive games, during which time he hit all but 14 of his career runs batted in (1,981 of a 6th-place all time high of 1,995 RBIs) and all but one of his 493 career home runs. With these and so many other lofty statistics, it is hard to picture anyone else rounding out this spot in the list.
Second Base: Roger Hornsby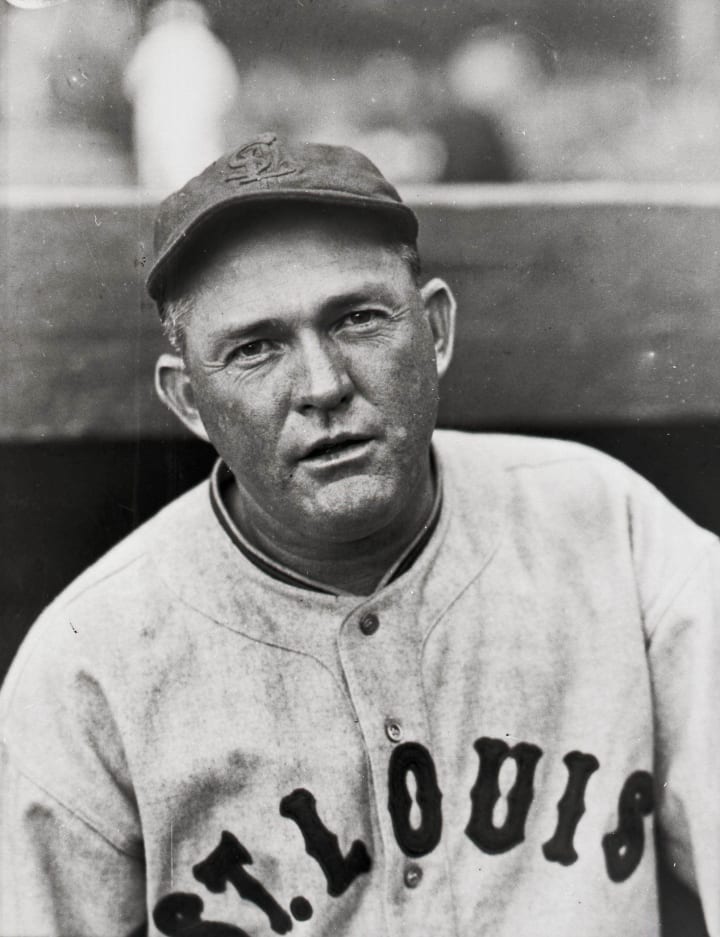 In terms of sheer offensive dynamism and reliability, few other second baseman truly even enter the conversation. As was the case with Lou Gehrig, Hornsby's numbers largely speak for themselves. As you may know, middle infielders are not typically power hitting beasts, and often strive for high-batting and on-base percentages. However, St. Louis Cardinals legend Roger Hornsby is the perfect example of the exception to this rule. Sporting a career slash line of .358/.434/.577 with a staggering 301 home runs, Hornsby was a hit machine, making up for an allegedly lackluster glove. As such an outlier, it is hard find all such stats in as great of balance elsewhere. Though not quite a 3,000 man, at 2,930 hits (and not the hit leader at the position) his overall statistics made him a dynamic and reliable hitter of the highest order, having hit .424 in his best season, one of three times he would hit .400 or better.
Shortstop: Derek Jeter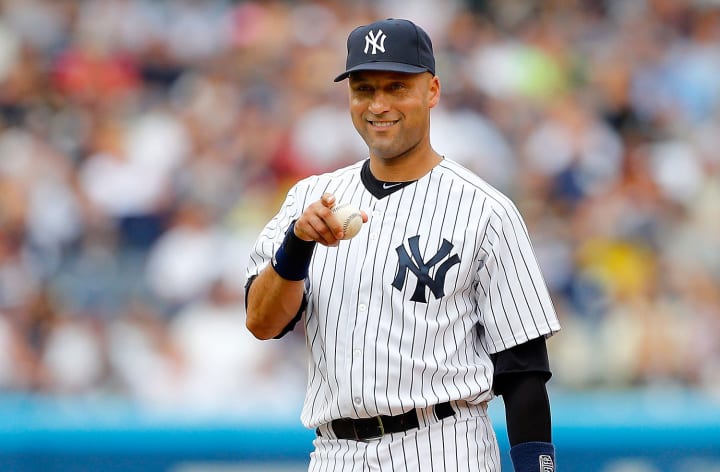 This one is going to be controversial. While Honus Wagner had a better career slash line (.328/.391/.467 to Jeter's .310/.377/.440), he was not a shortstop for his entire big league career, and had slightly fewer hits than Jeter (3,420 to 3,464). The long time team captain and lifeblood of the Yankees, he consistently beat the odds, bringing the team to five championships, and was the final Yankee to wear a single digit number (#2) which would later be retired in his honor. In an age of the sport where steroid-infused, power hitting run rampant, and other cheating and showboating left many fans disillusioned, Jeter stood as an example of the model player and public figure. Always a team player, Jeter's willingness to share the spotlight as well as his leadership qualities helped to cement his legacy as not only one of the best New York Yankees to play the game, but one of the best players to play baseball outright. Few others have managed to garner such unbridled respect from fans, teammates, and even rivals and rivaling fans.
Third Base: Adrian Beltre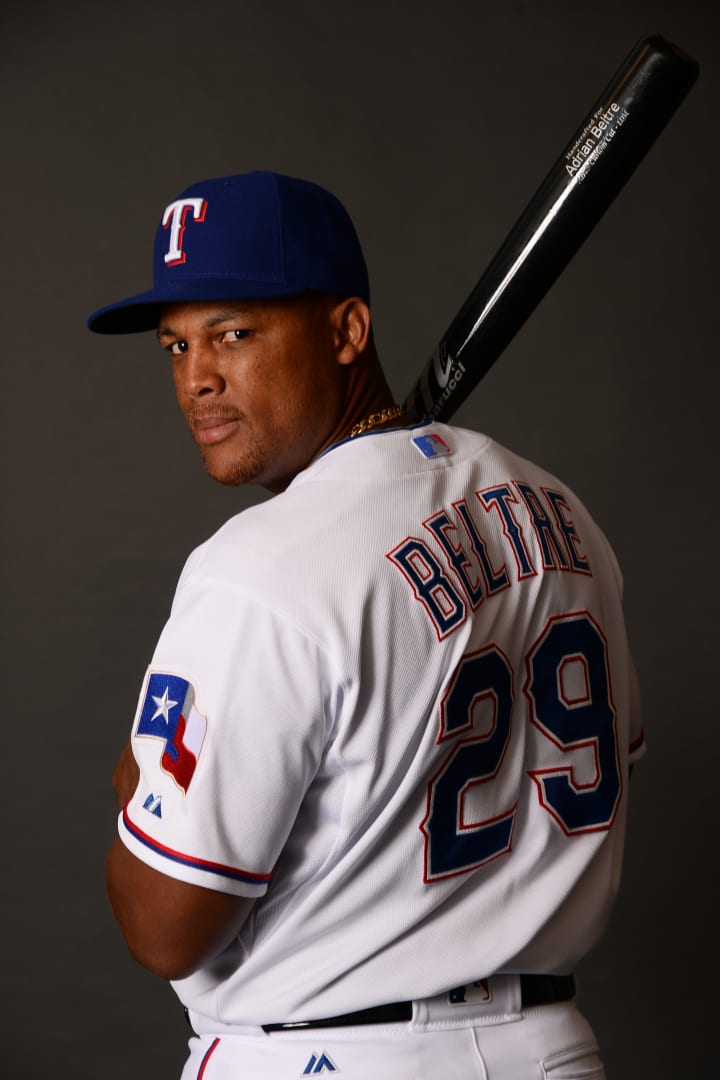 Known as the "hot corner," third base can take a great deal of speed and skill to man. With powerful line drives, hasty throws, and the occasional barehanded catch, it takes focus and sharpness to thrive at third. As such, the importance of solid defense is paramount, though offense is just as crucial. As such, it is perhaps time to consider an active player who has a fine balance of all necessary skills. In today's game, there are precious few active players who have made an undeniable case for Cooperstown. Adrian Beltre sports a career hit tally of 3,126 and counting (approaching Wade Boggs' 3,154), and a career slash line of .287/.340/.480. In addition to his already hall of fame worthy stats, Beltre is still not done. Though it is uncertain how much longer he will play, Beltre is eligible for free agency in 2019, and will certainly figure to add to his grand totals if he continues.
Left Field: Babe Ruth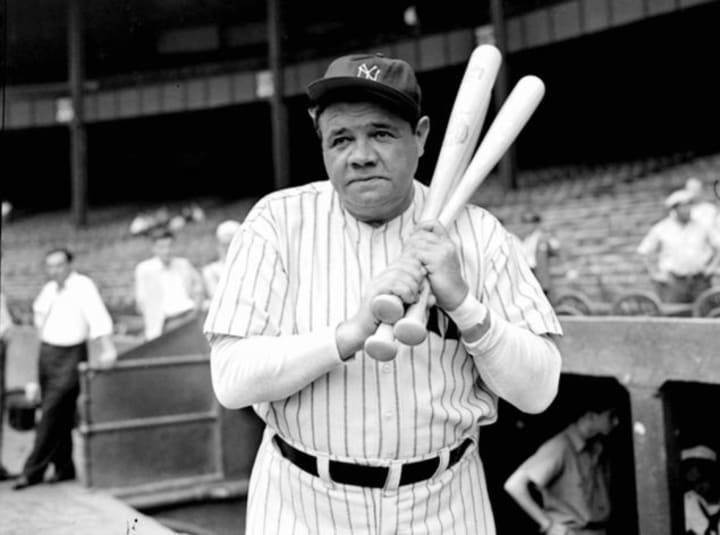 Who else could it be? Ted Williams? There have been many great left fielders in baseball history, and although not the greatest hitter to play the game, there is only one "Bambino." Yes, we all know all about the 714 homers, but the greatness only begins there. Babe Ruth was the consummate slugger, and would set standards that many would attempt to match, and only two* would surpass. Babe Ruth came to define the modern baseball offensive approach with his power bat. Ruth led the charge in an era where the home run would garner far more strategic importance and become far more prevalent. At the time, many ballparks had deeper and or taller fences than their modern counterparts, only adding to the significance of Ruth's achievements. Unsurprisingly, Ruth sported both the greatest slugging percentage of all time (.690) and the highest OPS of all time at 1.164. Beginning his career with the Red Sox as an excellent pitcher, it became apparent that his offensive prowess was far too great not to exploit; and thus, a legend was born.
*One being Barry Bonds, so really Just Hank Aaron.
Center Field: Ty Cobb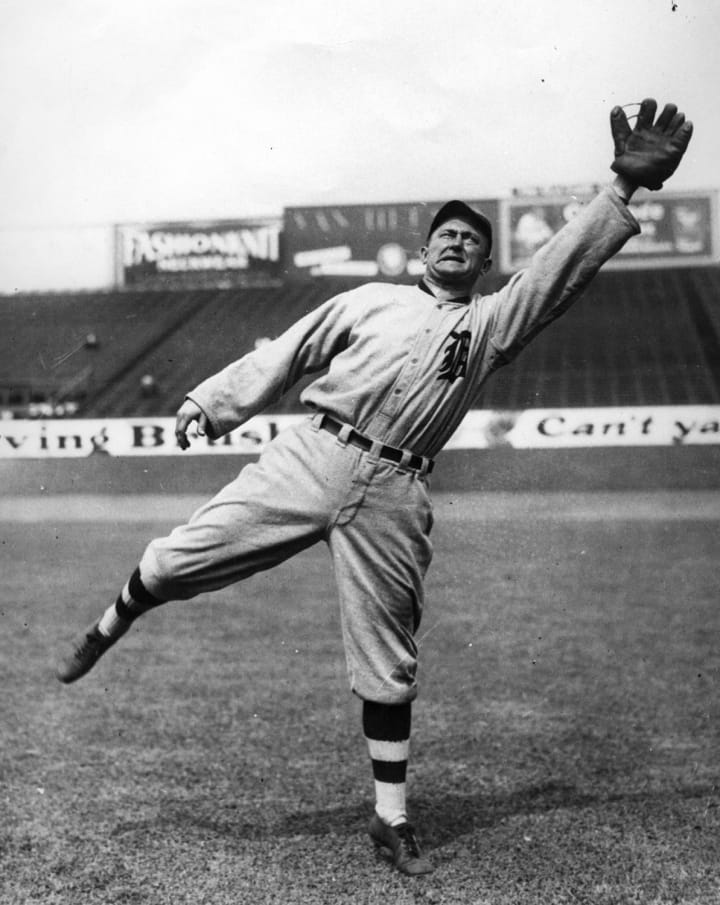 If Ruth was the blueprint for the modern hitting outfielder, Cobb was certainly emblematic of the old school game. Not well spoken of in history, Cobb was known for being very abrasive and is widely considered one of the great villains of baseball history. Having played from 1905 to 1928, Cobb played in an era where small ball reigned supreme. Unlike the other entries on this list, Cobb never wore a number as this practice was not standard until the 1930s. With 4,189 hits (second only in major league history to Pete Rose), an all-time high career batting average of .366 (with two seasons hitting .400 or better), 12 batting titles, and only 117 home runs, Ty Cobb is the antithesis of the modern outfielder. However, being essentially the best hitter for average of all time, his bat and propensity for stolen bases could, and, indeed, did find an indispensable place in this lineup.
Right Field: Hank Aaron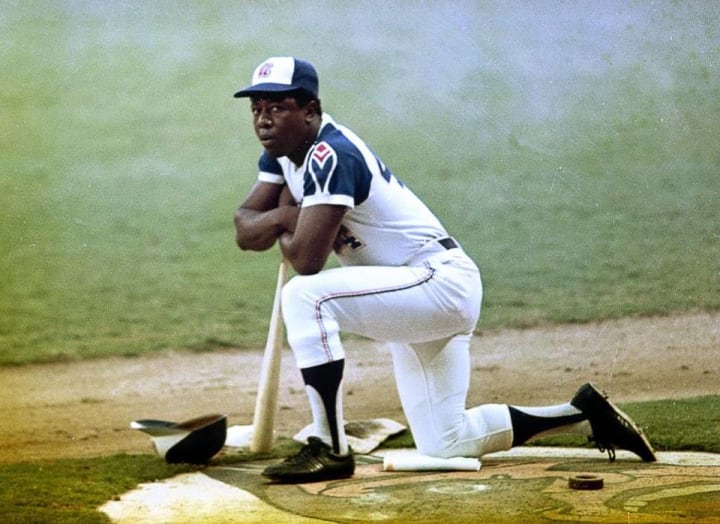 You may know him as the "true home run king" with 755 dingers. You may also know him as the RBI king, with an all time best 2,297. A dark horse statistic that he leads in is TB (total bases) at 6,856. Add an obscene 3,771 career hits to his statistics, and the other worthy choices seem to fade from consideration. Though his slugging percentage was only .555 to Ruth's best ever .690, this could partially be attributed to the fact that Aaron had far more hits than Ruth as well. Combining his 3,771 hits and career .305 batting average with his slugging prowess, Aaron is perhaps one of the most complete and dynamic hitters in the history of the game. Though his home run record would be surpassed by the disgraced Barry Bonds (a matter of much contention), Aaron largely remains recognized as the true all time leader in home runs.
Designated Hitter: David Ortiz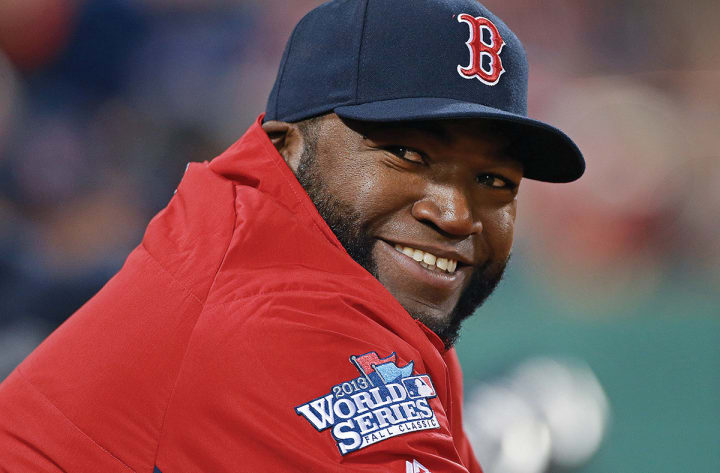 I know it's not really a position, but it is an integral part of the modern American League style of play, which is characterized by higher home run counts and higher pitching ERAs. Seen as a place to dump slow or defensively inept power hitters, the DH has a polarizing effect on people. Though the DH can often be a revolving door, there have been some exemplary players who have, more or less, made a career batting for the pitcher. The most shining example of a team who solved the designated hitter debacle is the Red Sox with David Ortiz, or also known as "Big Papi." Splitting time between DH and first base, Ortiz was primarily a DH, and hit a record 236 of his 541 home runs there. On top of it all, Ortiz retired in 2016 while he was still putting up impressive numbers with 38 home runs, a .315 batting average, and a .620 slugging percentage that season.
baseball
About the author
Fred Park is a writer, singer and guitarist with a deep passion for music, sports and history. Fred graduated from Purchase College in 2016 with a BA in history.
Reader insights
Be the first to share your insights about this piece.
Add your insights