Athletics: When barefoot Bikila became a global sensation
Ethiopia's first great marathon gold medallist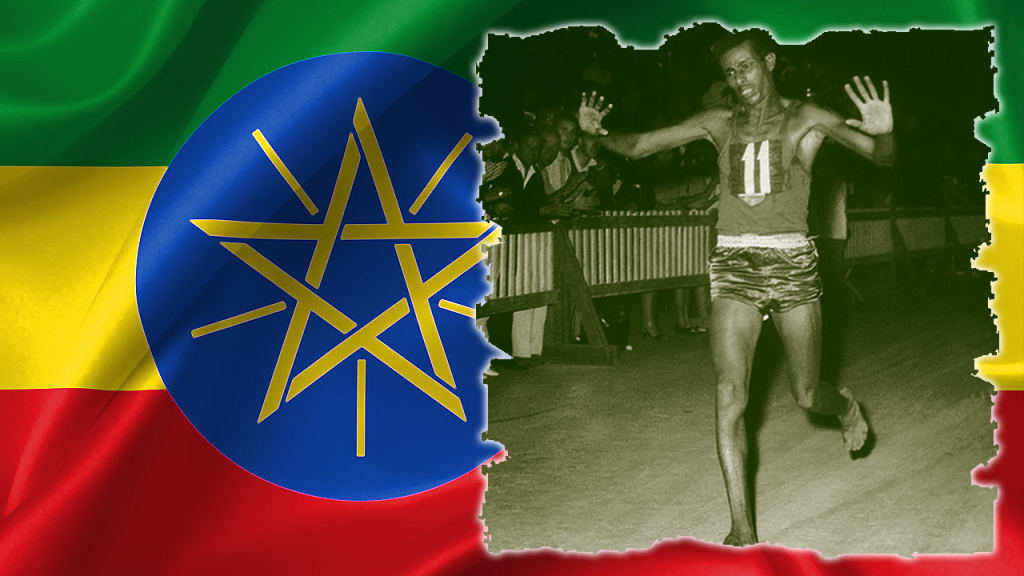 I know my father was a decent rugby player and an accomplished boxer during his national service, but I'm not really sure where his reverence for the world's greatest distance runners emanated from.
Growing up I remember him talking with great enthusiasm about the likes of Paavo Nurmi, Vladimir Kuts and Emil Zatopek… but one man stood out in the days before we sat down together and watched Mohammed Gammoudi, Kip Keino, Lasse Viren, Mamo Wolde, Emiel Puttemans and Miruts Yifter pounding the track and streets in Mexico, Munich and Montreal.
The man who'd really captured his imagination was a barefoot African runner who ran the streets of Rome in 1960, a few months before I was born, to claim the marathon Olympic gold medal in record time.
By the time he'd finished the event Abebe Bikila, the son of a shepherd from east Africa, was transformed into an international sensation and my father had become a huge fan.
Bikila was born on this day, 7 August, in 1932 in the northern Ethiopian village of Jato, known for its wheat production to make injera, a popular Ethiopian dish. As a shepherd's son he grew up herding cattle and sheep, and didn't begin competitive running until he was 24.
It's said he walked the 130 kilometres from his village to the capital Addis Ababa to look for work and found it as a soldier in the Ethiopian Imperial Guard, a unit that protected the country's ruler Haile Selassie.
While serving with the Imperial Guard, Bikila was spotted by Finnish-born Swedish coach Onni Niskanen, who'd been employed by the Ethiopian government.
He was sent to a high-altitude government training camp 6,000 feet above sea level where he ran a mix of cross-country and road races up to 32 kilometres, impressing his coach by outclassing Ethiopia's best, Wami Biratu, to win the 1960 Addis Ababa marathon.
His winning time of 2:21.23, faster than the existing Olympic record held by Zatopek, stunned Niskanen, who picked him, along with Abebe Wakgira, as the two Ethiopians to run in the Rome Olympics.
Having run and trained barefoot in Ethiopia, the 29-year old Bikila found running shoes uncomfortable and so decided to take on the cobblestone streets of the Italian capital with the soles of his feet.
As darkness descended over the city, Bikila and Moroccan runner Ben Abdesselam had left the rest of the field behind and with 500 metres to go to the finish the Ethiopian broke away, winning by 25 seconds.
He became the first sub-Saharan athlete to win gold in any Olympic sport, but he also won the event in a record time of 2:15:16.
"I wanted the world to know that my country, Ethiopia, has always won with determination and heroism," Bikila told reporters, who asked why he had run without shoes.
Fifth-place in the 1963 Boston Marathon broke a run of three marathon victories in Athens, Osaka and Kosice in 1961, before he returned to the top of the podium in the 1964 Addis Ababa marathon in a time of 2:16:18.
But about seven weeks before the 1964 Olympics in Tokyo, Bikila began to feel pain during training and was taken to hospital, where he was diagnosed with acute appendicitis which needed to be operated on.
Just a month later on 21 October he lined up on the streets of Tokyo, this time wearing Puma shoes, bidding to repeat his Rome success.
He began the race right behind the lead pack until about the 10 km mark, when he slowly increased his pace. At 15 km he was in third place behind Australia's Ron Clarke and Ireland's Jim Hogan. And he hit the front shortly before 20 km.
By 35 km Bikila was almost two-and-a-half minutes ahead of the field, with only Japan's Kokichi Tsuburaya able to stay within range of the breathtaking pace.
Bikila entered the Olympic stadium alone to the cheers of 75,000 spectators and he crossed the line in a time of 2:12:11.2, four minutes and eight seconds ahead of silver medallist Basil Heatley of Great Britain, who passed Tsuburaya inside the stadium.
Bikila was the first runner to successfully defend an Olympic marathon title and only he and Germany's Waldemar Cierpinski have won two gold medals in the event… both doing it back-to-back.
On his return to Ethiopia the emperor promoted him to the commissioned-officer rank of lieutenant and he was honoured with the Order of Menelik II, a Volkswagen Beetle and a house.
Bikila's last race was at the 1968 Olympics in Mexico City when he dropped out due a stress fracture. The race was won by his teammate Wolde, who was in no doubt Bikila would have won had it not been for his injury.
But for the third Games in succession an Ethiopian had carried the day to win gold in the marathon, a run that was broken in 1972 when Frank Shorter of the US claimed the title, with Wolde taking bronze.
Tragically in 1969 Bikila was involved in a car accident that left him paralysed from the waist down and he was never able to walk again. The car he was driving a gift from the emperor. But showing the determination and heroism that brought his first gold medal in Rome he switched to paraplegic sports, primarily archery.
"Men of success meet with tragedy. It was the will of God that I won the Olympics and it was the will of God that I met with my accident," Bikila said later. "I accepted those victories as I accept this tragedy. I have to accept both circumstances as facts of life and live happily."
He went on to participate in the International Paraplegic Games in Norway in September 1971, when his victory in the dog sled race was seen as further proof of the strength of his competitive spirit and determination.
He died on 25 October 1973, aged 41, from a cerebral haemorrhage as a result of the injuries he'd sustained four years earlier.
About the Creator
From Covid to the Ukraine and Gaza... nothing is as it seems in the world. Don't just accept the mainstream brainwashing, open your eyes to the bigger picture at the heart of these globalist agendas.
JOIN THE DOTS: http://wildaboutit.com
Reader insights
Be the first to share your insights about this piece.
Add your insights