ASAP, Future, Young Thug Sound Super-Incredible On 'Super Slimey'
The Atlanta MCs teamed up to drop a surprise project, and it didn't disappoint.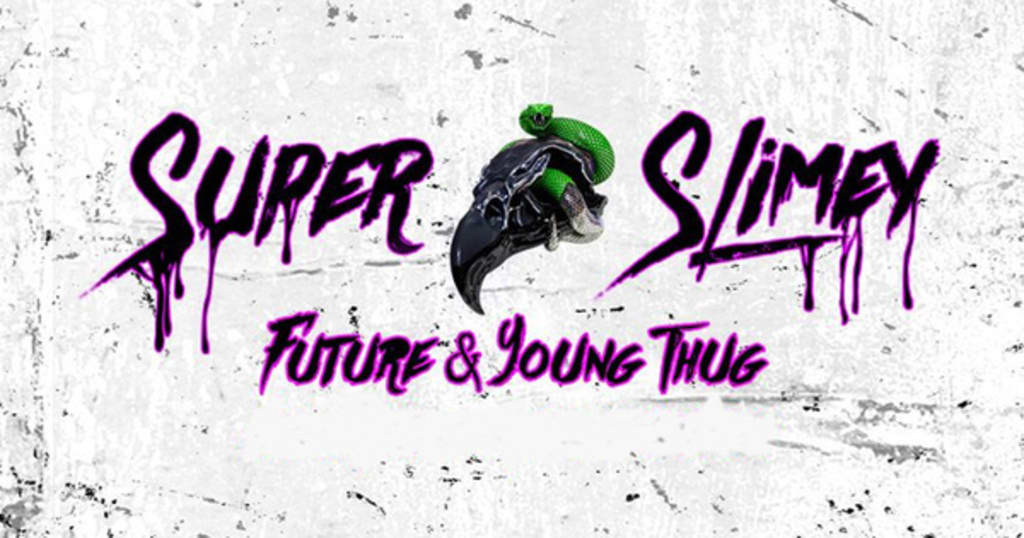 On Oct. 20, 2017, Future and Young Thug blessed the hip-hop community with a joint project titled Super Slimey. The 13-track mixtape (or album or whatever it is) is 99 percent Thug and Future, with Offset being the lone artist featured. Southside, Wheezy, and London On Da Track are just a few of the producers that worked on the project.
If you haven't yet listened to Super Slimey, go — go now. It's a great body of work, and that's coming from someone who doesn't listen to either artist. However, there are some things you have to look out for. First off, don't expect any elite lyricism or other-worldly concepts. This project is a just pure melody, but it sounds incredible. Both Future and Thug have made careers out of voice distortion, and their abilities to blend with the beat is what helps make up for any lack of lyrical depth.
Super Slimey is the third project that Future had released this year. It follows Future and HNDRXX, two albums that dropped a week apart from each other. I'll put it out there now — Future was much better on HNDRXX than he was here. For Thug, this tape follows Beautiful Thugger Girls which dropped on June 22 and Young Martha, a four-track EP produced by Carnage.
As a whole, Super Slimey is a solid tape with a couple of songs that slap super-hard. It won't be in my album rotation, but a few songs will make their way into the playlist I listen to when I work out.
"No Cap" - The opening track is a certified slapper. Its intro is melodic with suspenseful piano keys that do a great job of keeping you slightly on edge while also lulling you to sleep. Then the bass hits. Once that happens, Future spends most of the track just talking his shit. Thug doesn't make his appearance until about 50 seconds have gone by, and I don't know what he's saying, but it sounds incredible. Thug's oddball flow has become his trademark, but it's as if the engineer played his vocals in reverse on this track. Regardless, the bar is set high.
"Three" - DY of 808 Mafia and Southside did an exceptional job producing an up-tempo beat that fit the dynamic flows of both Future and Thug. Contrasting the opener, we have Thug starting, and his words are audible this time! There's nothing too extravagant; just him talking about women and jewelry. He's followed by Future, who goes from talking about his kids to "feeding shrimp to my shooters."
"All da Smoke" - The third track on the project is mellow compared to the two before it. Atlanta-based producer Richie Souf uses a smooth piano melody that doesn't attack the listener, and I feel that complements the lyrics masterfully. "All da Smoke" is about Future and Thug letting you know they have more money than you. That's it. Future contorts his voice enough to rhyme "Cartier frames" with "Cartier rings," and Thug lets us know that he spent "three hundred racks on a Bentley truck." Those are life goals if you ask me.
"200" - We have another simple track, but it's still constructed well. Young Thug on the chorus is absolutely hypnotizing, and his vocals mingle masterfully with the beat, which Wheezy and TrePounds co-produced. As for Future, he sounds how he did on HNDRXX. His lyrical content, however, isn't the same. He, just like Thug, is talking about all of the "hoes" he has — "I got at least 200 hoes" is the opening line of the hook; the third bar in Future's verse goes "I just an iPhone 8 and stored it with 200 hoes."
"Cruise" - Young Thug is a solo act on just two songs, and this is the first. Chef and BL$$D cooked up a record where Thug uses the chorus to talk about what his life would look like if he weren't rapping, and he follows that with a verse that has a different tone from the hook. It's a solid contrast and shows flexibility in Thug's flow. For every song he has where he speaks in cursive, there's a concoction where he's entirely coherent despite there being no deep substance to his work. That's the beauty of Young Thug.
"Patek Water" - Patek Philippe is a luxury watch company, and it symbolizes how much money Young Thug, Future, and Offset have made since becoming star rappers. The trio is super braggadocious on this track, and Offset serves as the lone feature on the project. I feel comfortable saying he was the best of the three. We only heard Future on the chorus and it very odd-sounding. Thug also helped on the hook, ad-libbing a fast-paced "thu thu thu" sound that is very tough to imitate. (Yes, I tried it.)
"Feed Me Dope" - If you thought the content of the track matched the title, you're correct. Will-A-Fool produced a record where Future is, well, rapping about getting dope fed to him and how he starts seeing ghosts. (My only gripe with this track is that the verse and the hook don't match. But that's okay because Future sounded great.)
"Drip On Me" - The eighth track on the project is Future and Thug talking about how much swag they have. I'm certain they're truthful. Its HNDRXX-esque vibe establishes a mood where you're just hanging out and not taking anything too seriously. Neither artist is attacking the beat; instead, they're casually rolling over it and not forcing their "drip" on anyone.
"Real Love" - We have reached an interesting point in the album. On "Real Love," there's speculation that Thug is addressing his relationship with Jerrika Karlae. If that's the case, it's the track on the album that differentiates itself from the rest because there's a purpose to it. A lot of the project is just shit talking and is meant to be sonically-pleasing, that's the lane that both Thug and Future occupy. It doesn't take away from anything, but this song gets extra points because of the alleged meaning behind it.
"4 Da Gang" - Just as I finished with "Fake Love," we get another track with a purpose. Future tackles this record by himself because it's in memoriam of his longtime engineer, Seth Firkins, who passed away on Sept. 23, 2017. Future then goes on to rap about how he uses his money to cope with the pain, but he spoils everyone around him and not himself; "Audemar on my daughter / She rocking her third Rolley I can't help but spoil her." It's a touching tribute to someone who has helped make Future's career what it is today.
"Killed Before" - I don't know the purpose of this song. However, I do know that Thug does this fascinating thing with his voice and holds the long "e" sound while making it… flutter? I guess that's the right way to describe it. It's very magical and satisfying to listen to because he does it on a beat that sounds like it would be playing on a boat near some tropical island. I gained a new appreciation for Thug after hearing him contort his voice like that.
"Mink Flow" - Wikipedia describes a mink as a "dark-colored, semiaquatic, carnivorous mammal," and this song has nothing to do with minks. If we're trying to draw parallels, I'll say that Thug and Future picked this title because they're eating the beat, which, I guess, would make sense.
"Group Home" - We've done it. We've made it to the end. The electrifying duo from Atlanta concludes their surprise project by talking about a couple of things that have made them who they are. For Future, it was street life. For Thug, it was an ex-girlfriend (or, as he tweeted to Genius, maybe it was someone else's situation). "Group Home" was a solid close to a project that left us wanting more.
Reader insights
Be the first to share your insights about this piece.
Add your insights