An Open Letter to Hue Jackson
From a Die-Hard Fan of the Cleveland Browns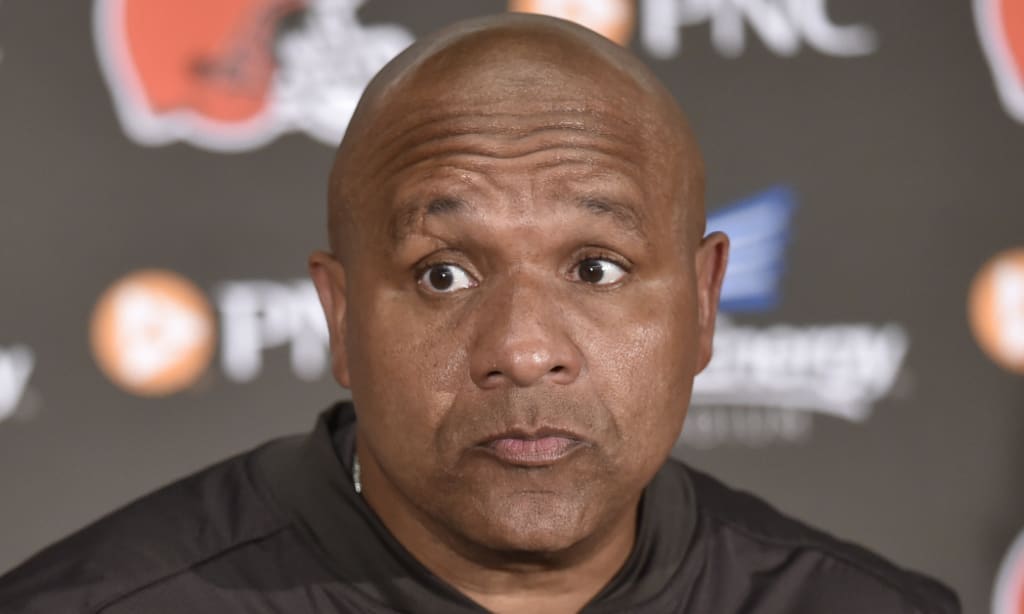 Well this is awkward.
Less than a full calendar year after you promised us we wouldn't repeat the embarrassing record of just one win and 15 losses a season ago, you go out that there and stink it up even worse. I mean, a lot worse.
0-16, Hue? Really?
I'm sure I don't have to be the one to remind you that the 2017 Cleveland Browns are just the second team in NFL history to go an entire regular season with zero wins.
So that makes your overall record as the head coach of the Browns a putrid 1-31. Now I'm not trying to be an ass, but my two year-old can mash buttons on my PS4 for an hour and muster something better than 1-31, but I digress.
The one thing that bothers me - I mean, besides your comical win-loss record as our coach - is that I still can't tell if our overall ineptitude is caused by a lack of talent or a lack of leadership. It's kind of hard to determine one without knowing the full scope of the other. To be completely honest, as a Browns fan, I want to believe that you can turn this around, unfortunately though, we just haven't seen enough proof to this point to be sure.
Let's take a look at the quarterback position, for example. When Browns owner Jimmy Haslam hired you two years ago it was contingent on the assumption that you were the top-rated assistant coach in the league. With all of the problems Browns QB's have had over the years, the fact that you were a "quarterback guru" (of sorts) was enticing for me. For all of us. But when you sit and look at the numbers, what have you done to improve production at that position?
Deshone Kizer this year was a disaster. No two ways around it. The only thing he did well - kind of - was not get hurt. The previous season with Cody Kessler for the year was even worse.
Of course many will read this and say that you never had an honest shot to compete with competent, real NFL teams, based upon the roster you were handed. I get that, and I don't hold you entirely responsible for this team's debacle.
Zero wins though, coach? None? Just one in the last two seasons? It's tough to put all of that on upper management.
Listen coach, I'm gonna bare-bones you right now: I need my football team to be better. Now.
We're not just talking about a couple of wins, here. I'm not even talking about going .500. As a die-hard fan of the Cleveland Browns I want - no, hell I DEMAND a competent, competitive, thriving football franchise moving forward!
We're tired of floating near the floor of the NFL. We're sick of being the butt of all football jokes. We want to win games! A lot of games! We deserve better! We're tired!
See Hue, you're here to begin your legacy. We know that, with this being the budding of your tenure as a head football coach on a professional level, we understand that your record and what you do with your time here in Cleveland is very important to you. So we know that you're trying. The problem is, we've had a ton of people who've come here to 'try.' We're tired of the trying.
We're ready for people who come here to 'do.'
Is that you, coach? Can that be you? Do you desire to end our football misery?
Or are you just going to 'try' and do better next year?
Here's to hoping that next year is your year, because I have a funny feeling that if it isn't it'll probably be your last as a head coach in northeast Ohio.