An Important Life Lesson I Learned from a High School Wrestling Match
"119 pounds... Brandon.. Mira Mesa"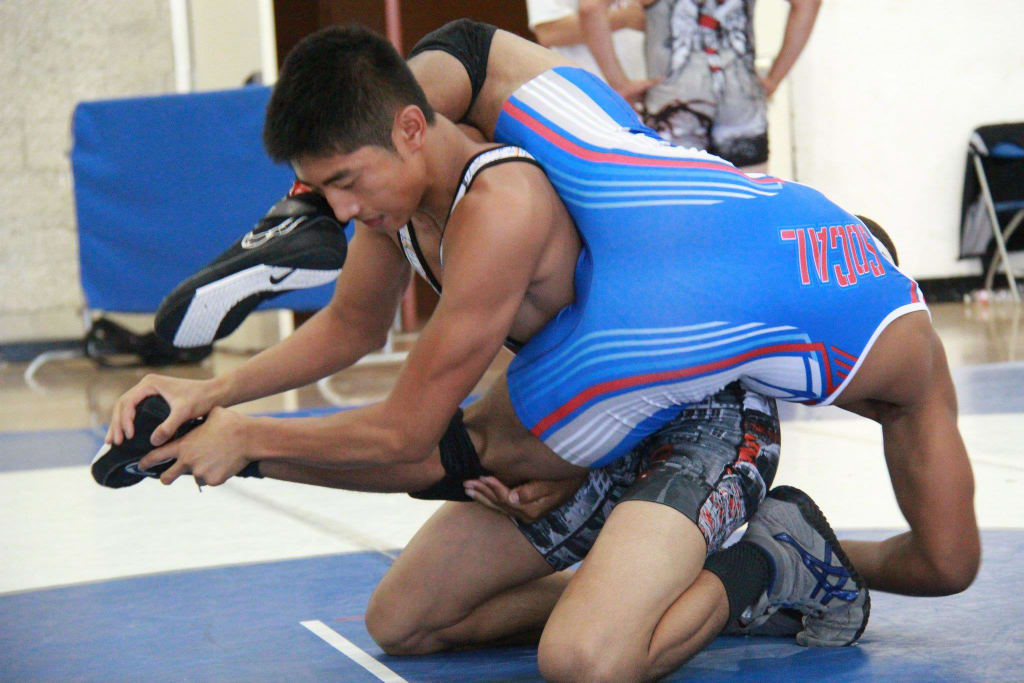 I walked to the coach and he handed me a sheet of paper with my opponent's name on it. It was my junior year of high school and I was wrestling in the quarterfinals at the San Diego regional tournament. I was a mediocre wrestler my sophomore year of high school, but after a summer of wrestling, a lot of my techniques finally meshed together, and I was fairly successful this season.
I immediately recognized my opponent's name on the bout because he had badly dismantled me earlier in the season, as well as the week prior at CIF. He was a senior so he had a year of experience on me. My opponent squared up and walked beside me as we went to the standby line. I anxiously awaited us to be assigned a mat to compete on.
A wrestling coach tournament volunteer grabbed my sheet of paper from me, said "Mat 6" as he pointed to a mat across the gymnasium. I nervously jogged over to the mat and started to prepare myself for the match.
My wrestling coach watched as I restlessly warmed up. He had enough... He walked towards me and sternly grabbed my arm. I turned around and I'll never forget the way he looked at me. My coach is usually very calm, cool, and collected; however, this time was different. He had the intensity of a thousand suns burning in his eyes.
"You can beat this guy. You wrestled scared last week. He is no better than you. You can beat him..."
I was so flustered. My coach hardly ever talked to me like this. I took a deep breath, straightened my back, nodded my head, and shifted my energy.
The referee called us to the center of the mat, signaled for us to shake hands, and then blew his whistle. I immediately shot in and successfully took my opponent down.
"2 points," the referee announced.
I wanted to win this match badly. This was my chance for redemption. The match was back and forth but by the middle of the third period, I was up 7-5. I was in really good shape but the match was so physically demanding, my forearms and calves burned with fatigue. My body was on the brink of exhaustion. I could hardly stand but it was the last 10 seconds of my match. In the final moments of the period, my opponent snapped my head down and scurried behind me.
"2 points," the referee declared.
My heart sank as I looked up and realized we were going into overtime. My body wearily stood up back to the center to start the extra overtime period. The referee blew his whistle and within moments, my opponent had taken me down.
I lost the match.
I timidly stood up, shook my opponent's hand, and stormed off the mats. My body collapsed down as I broke down into tears in the middle of the warm-up room. That match meant the world to me… I gave it everything I had... and I still came up short. There was no reward for being close to winning a match. The hard reality was I had lost.
My coach carefully walked over to me and stood by me. He was speechless as he had never seen me so emotionally invested in a wrestling match. I was heartbroken and he did not know what to say.
My coach softly said, "It is just a wrestling match, Brandon" as he gently put his hand on my shoulder and comforted me. I sadly picked up my things and headed to meet with my family as that was my final match for the day.
On the second day of the tournament the following morning, I lost the placement match and was knocked out of the tournament.
My season was over.
One Day at a Time
At the time, it felt like my world came crashing down. Even though I had given it everything I had, I was still really disappointed in the results. I dwelled on the "what ifs" as I rewatched the recording of the quarterfinal match.
I spent the rest of the school year wondering how far I could have gone in the tournament had I not lost. My morale had been knocked out of me when I wrestled the second day of the tournament and my coaches knew it.
Of all my wins and losses, this one match taught me the most about life. Of course, my wins felt great, but this one loss was the most impactful in my life. Yes, I was sad. Yes, this loss hurt.
However, you wanna know what happened after I lost this wrestling match?
Nothing.
I still had great friends, a great loving family, and my health. I was okay. The match meant so much to me in my head, but in reality, I was okay. Life moved on.
This experience taught me just how big things are in our heads, but in the end, we will all be fine. Life goes on. I am extremely grateful for this experience. It was a tough pill to swallow at first but it was what I needed at that young stage of my life.
I am so grateful to have lost that day. It showed me that sometimes, you can give it everything you got, fail, and then life will still be okay. The loss taught me so much about life especially because the following year during my senior year season, I suffered a season-ending personal injury.
I highly recommend any parents to talk to their teens about joining wrestling. Wrestling has taught me so much about discipline, hard work, and well... life. Not to mention, it is recognized as the world's oldest competitive sport!
I hope that my story has inspired more students to participate in wrestling. :-)