"Almost 100% Certain" Jagr Won't Be Retiring
Because honestly, who really believes he will?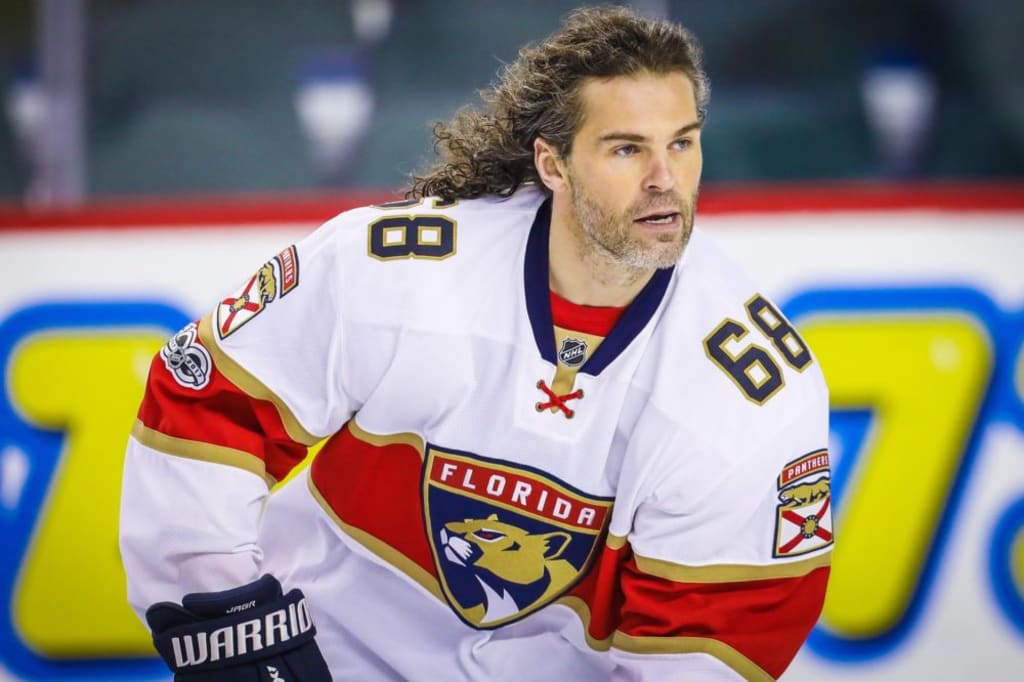 The 45-year-old ageless wonder finally has a home for 2017-18. But no matter what he says, this won't be his exit from hockey. (Image via The Hockey Writers)
Well, it finally happened. After an entire off-season of wondering where Jaromir Jagr would land, he finally signed with the Calgary Flames on Monday on a one-year, $1 million contract. It was a long time coming, and as I wrote back at the beginning of pre-season, the case could be made that Jagr deserved to be signed before most of the over-30 veterans who were signed to similar (or even larger) deals. At age 45, Jagr is coming off a season that is on par with or better than almost any of the veteran players signed this off-season to the same contract. And yet, perhaps because so many teams don't want to be left holding the bag when Jagr finally reaches his end, he remained unsigned until October 2nd, just a few days before the NHL season begins.
While the trepidation over signing Jagr makes sense to a certain degree, his production is only one of the great things he contributes to a team. Jagr's incredible work ethic has been very evident over the last 26 years of pro hockey, and his conditioning is second to none. That has made him a valuable locker room presence, as many of his former Florida Panthers teammates have attested. Whether it's walking around with ankle weights, throwing large medicine balls, or skating for hours after a game with weighted vests on, Jagr has made it his life's pursuit to stay as physically fit as possible for as long as possible. And the work has paid off. Jagr has maintained a very productive and long career that has almost never been derailed by any sort of injury or health concerns. In 23 NHL seasons, he has missed 10 games or more only four times.
In the article announcing his agreement with his ninth NHL team, Jagr said that he is "almost 100%" certain that this will be his final NHL season. Whatever that actually means, it appears—at least on the surface—that Jagr could be considering retirement. It's hard to blame him. Besides being old enough to be most of his new teammates' fathers (or, in the case of Matthew Tkachuk, having played with their fathers), Jagr had to wait all the way until October to finally find a place to play. As ridiculous as it is that only one team emerged to sign him and it took until opening weekend to do so, that's likely not a headache that Jagr intends to go through again next season. But does that mean his hockey days are over?
Not by a long shot.
Jagr had still been skating in the Czech Republic and, as part owner of HC Kladno, always has a fallback plan in terms of playing time. He can basically pay himself to play for Kladno whenever he damn well feels like it, and why shouldn't he? As recently as last week, he was still planning on suiting up for the Czech club before NHL interest came to a head and Calgary finalized a deal with him. If Jagr chooses not to come back to the NHL in 2018, there's no reason to believe that he won't have a pro team to play for elsewhere in the world, with HC Kladno leading the list of candidates.
But that's not to say that Jagr's NHL career will be over after this season either. Many will agree that Jagr's presence on the Flames makes them a better team as well. On a young team trying to make a deep playoff push, the presence of a veteran who has "been there and done that" is invaluable. His work ethic and gym rat mentality have proven to inspire other young players he's played with in Florida and elsewhere. Not to mention that his contribution to the team on the ice could also be a huge factor. On a speedy, young Flames team, Jagr's ice vision, puck control, and passing could make him an asset for goal scorers like Sean Monahan and Johnny Gaudreau, saying nothing of the special teams help he could offer as well. Having a calming, methodical, and expert presence like Jagr has proven to help goal production before. So if Jagr helps contribute to a playoff run on a team potentially already poised to be bound for the post-season, or even plays the hero when called upon, who's to say that he would not be offered another one-year deal?
Even if Jagr's NHL career is over after this season, there's no reason to believe he doesn't still have some hockey left in him. He said he wants to play till he's 50. Do we really have any reason to doubt him anymore?
Reader insights
Be the first to share your insights about this piece.
Add your insights