Adam Wainwright and Very Good (But Not Great) Pitchers
Adam Wainwright has had a stellar career so far — but as it stands, he looks to fall short of greatness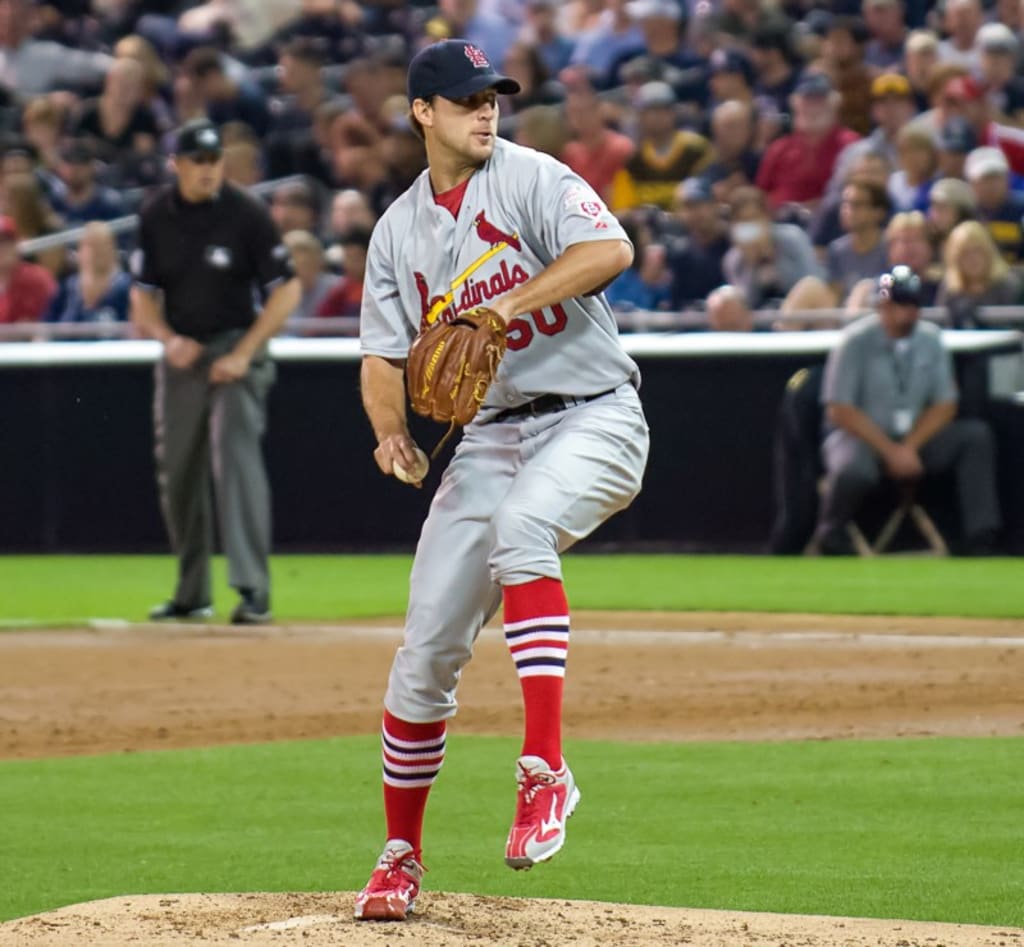 Dirk Hansen/Flickr
Adam Wainwright was a good pitcher. Hell, he was a great pitcher. From 2009 to 2014, he was 5th among starters in FIP and 6th in WAR. He's finished 3rd or higher in the NL Cy Young voting four times.
But when I say "Adam Wainwright was a good pitcher", I place the emphasis on the past tense, because it's starting to look like his era of consistent dominance is over.
A lot of this assertion is based on his 2016 — for the first time, we saw Wainwright really, truly struggle without an injury to blame. He jumped from an FIP of 2.88 in 2014 (Wainwright missed almost all of 2015 with a ruptured Achilles tendon) to 3.93 in 2016. His walks went up, his HR rate more than doubled, and he struck out hitters at a rate below his career average.
This assertion also comes from his spring training. I know, I know — Spring Training doesn't mean anything until it does. But it's hard to look at Wainwright's numbers and think that he's prepared to bounce back this season. Among qualifiers, Wainwright is 4th-to-last in ERA, 6th-to-last in WHIP, and 5th-to-last in BAA (I'd love to throw out some fielding independent numbers, but I can't find anything on FIP during ST — but you get the point. Wainwright has really struggled).
For Spring Training, Wainwright is the same company as R.A. Dickey, Phil Hughes, and Matt Cain. Given where he was in 2014, it's a definite step back.
I'd like to place Wainwright in different company, however — that of Tim Lincecum, or Jake Peavy, or Jered Weaver. Each of these pitchers had dominating stretches where they were among the best pitchers in the league — but due to injury, age, or wear and tear, fell apart after only a few seasons of dominance.
Lincecum was incredible from 2008 to 2011, holding the second best FIP among qualified starters during that span — 2.82. For comparison, only two pitchers posted a lower FIP across 2016 — Syndergaard and Fernandez. But thanks to wear and tear, likely caused by his unusual delivery, he can barely find a job in the majors aged 32. His Fangraphs profile reads, "Really? You just had to check out Lincecum's profile. Now go back to work," and calls him "worthless in all fantasy formats".
Before Lincecum was the most dominating pitcher in the west, it was Peavy. Peavy picked up 2 ERA titles, a Cy Young Award, and lead the Padres to 2 divisional titles — all before he turned 27. But success was hard to come by for Peavy after leaving the Padres — he had a few middle of the road seasons and one very good season for the White Sox, but never regained his form. He, too, looks like he's out of work in 2017.
Weaver is the same story as Peavy, just with a different team — the Angels. Weaver had 3 straight seasons where he finished in the top 5 in Cy Young Voting, and outperformed his FIP consistently. But injuries and velocity loss took their toll, and his FB velocity is down from the 90s to the low 80s. Most pitchers throw their change-ups faster than Weaver.
What do all of the above have in common? They all had dominating stretches of time — but weren't able to keep it up long enough for anyone to think of them as being "Hall of Fame" worthy. And Wainwright looks to be on the same path.
Who knows — maybe Wainwright could bounce back. The season after missing 2011 from TJ surgery, Wainwright looked human with a 3.94 ERA (even though his peripherals took a much smaller hit). But he asserted his ace-hood with a brilliant 2013 campaign immediately afterwards. Could history repeat itself?
At his age, though, it's doubtful. Dominance is tough to come by when you're 35, and it may soon be time for Wainwright to step aside and let the new generation of Cardinals pitchers take the reins.
Reader insights
Be the first to share your insights about this piece.
Add your insights