A Woman in Baseball
The Jackie Mitchell Story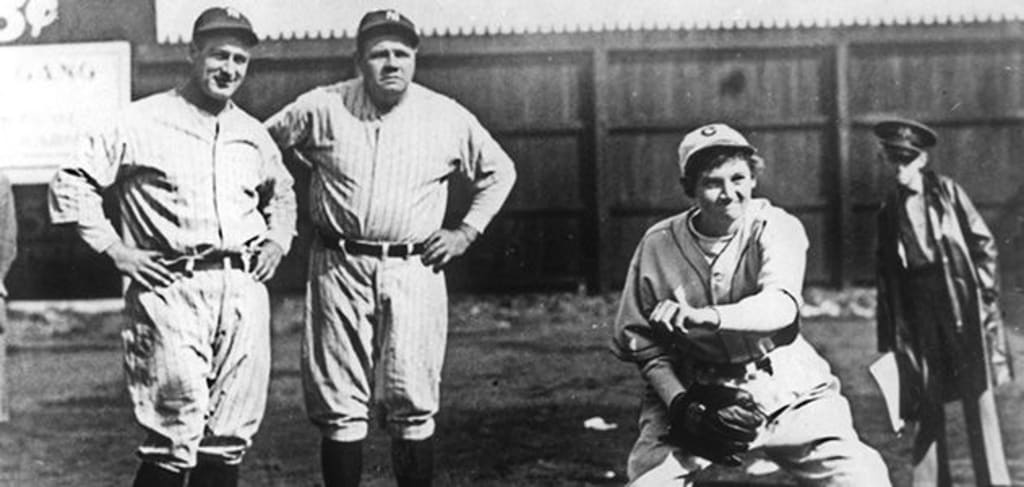 Babe Ruth & Lou Gehrig Watch Jackie Pitch
Living in a baseball town like St. Louis, people learn a lot about baseball. The New York Yankees have won the most World Series Championships. Marc McGwire hit 583 home runs in his career and had over 1,400 RBIs (runs batted in). Ozzie Smith was a 15 time All Star. Babe Ruth hit 714 home runs in his career but also led the league in strike outs 5 times. Everybody knows this.
However, there is one thing that is never talked about: The exhibition game of 1931.
On Thursday, April 2nd, 1931 a seventeen-year-old female pitcher for the Chattanooga Lookouts (a Class AA team) was called to the mound during an exhibition game with the New York Yankees. It was her first professional game and she proceeded to strike out 2 of the greatest names in baseball history. Not only did she strike them out, she did it back to back.
Jackie Mitchell was called to pitch in the first inning after the previous pitcher gave up a couple of hits. Her first pitch was to all-time great George "Babe" Ruth Jr (aka "The Sultan of Swat). It was called a ball. He swung at her next 2 pitches and missed them. Her final pitch was called a strike by the umpire. She struck him out in 4 pitches. Bested by a girl and a southpaw as well, it was rumored that he was upset. Next up to the plate was Lou "Iron Horse" Gehrig. He swung at and missed all 3 pitches she threw. He was out. Jackie had struck out 2 baseball legends in her first game. In spite of this monumental showdown: newcomer vs experienced or female vs male, the New York Yankees did win the game 14-4.
Ironically enough, even though the crowd roared and thoroughly enjoyed what she had done, baseball did not appreciate it at all. A few days after her pitching performance, the then baseball commissioner Kenesaw Landis declared that the game was too strenuous for women and voided her baseball contract with the Chattanooga Lookouts. Also a few days after the event both Lou Gehrig and Babe Ruth stopped by her spring training to watch her pitch.
Jackie continued to play baseball with a barnstorming team known as The House of David. However, she retired from baseball when she was 23. She was asked to come out of retirement to play in the All – American Girls Professional Baseball league in 1943 but decided not to. Her baseball career was short but very memorable to those that were there and those that passed down the events of the day. So memorable in fact that 30 years after her death in 1987 a live musical was created about her called "Unbelievable."
You may wonder how Jackie learned to pitch like a big leaguer. Growing up she had a neighbor by the name of Charles Arthur "Dazzy" Vance. "Who's he?" you might ask. He was a national league pitcher that held the strike out record for 7 years in a row. (1922 – 1928) That's who he was. His fastball was famous and his legendary "drop ball" (now known as a sinker or a breaking ball) was harder to hit than his fastball. So, growing up, Jackie learned from the best.
So, the next time you want to impress someone with your baseball knowledge and trivia or you want to impress someone in general, just remember: we all know about the Yankees, Ozzie Smith, Marc McGwire, Dazzy Vance, Ty Cobb, Hank Aaron and all the other legends. So, surprise them with the Exhibition Game of 1931 and Jackie Mitchell.