A Look Back: The HHH/HBK Rivalry
Commemorating the 20th anniversary of the best post-Attitude Era rivalry in WWE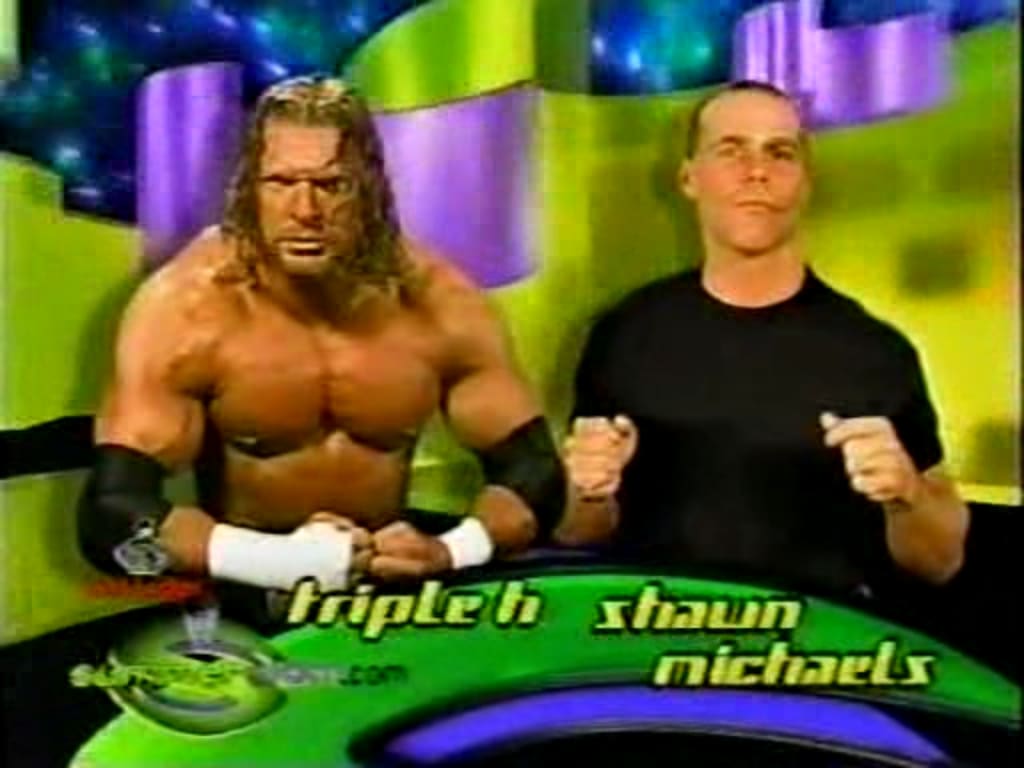 The timing of this couldn't be anymore perfect. A seismic shift in World Wrestling Entertainment has included Triple H taking over Creative, and the time is definitely right for me to bring up what I consider the best post-Attitude Era rivalry in WWE history: Triple H and Shawn Michaels' amazing feud. Hard to believe that was 20 years ago that this whole thing started, and this rivalry, when it began, was actually about five years in the making.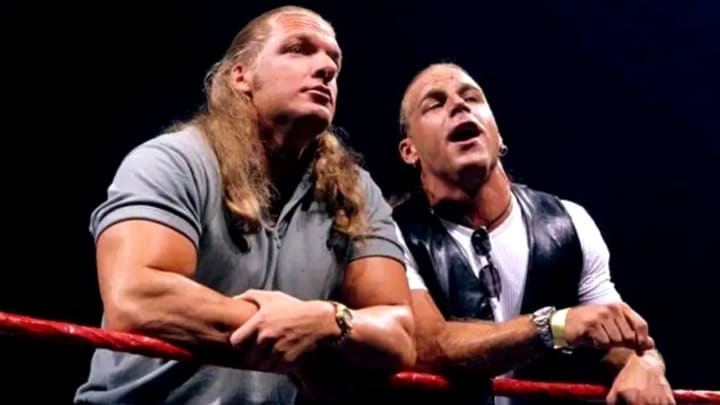 Backstory: We all know the history; Triple H and Shawn Michaels were the co-founders of the legendary group known as D-Generation X, which began in 1997. At the time, Michaels was the leader, but that didn't last too long. A back injury would bring Michaels' career to a premature end, but it would allow DX to continue with Triple H as the leader. In that run, the group went from being villainous to becoming heroic in 1998, but 1999 would see many betrayals, first by Chyna after that year's Rumble, but the biggest one came from Triple H at WrestleMania XV. The Game would be on the rise as a bad guy, going on to finally capture the WWF Championship for the first time in August of 1999, while leading a reunited and (again) villainous version of DX. Triple H would add four more runs as WWF Champion between 1999 and 2002.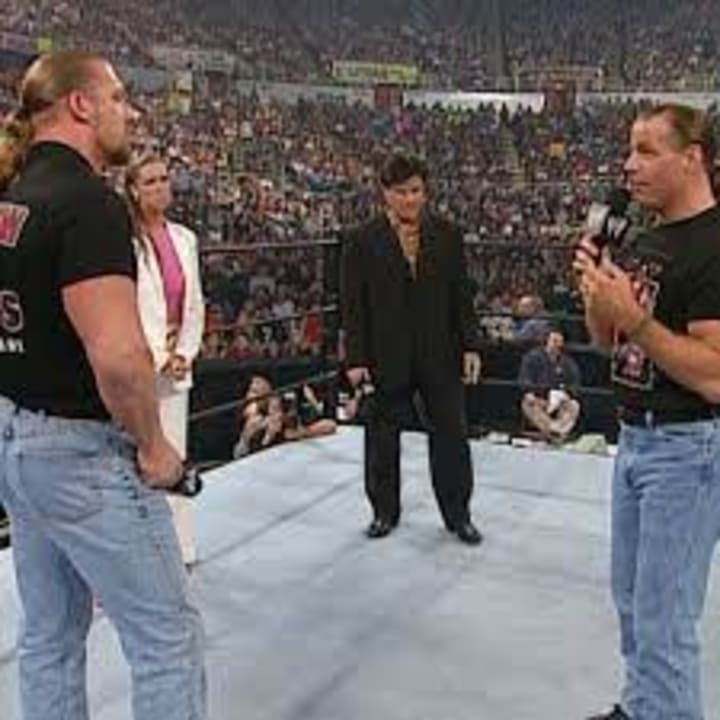 Vengeance 2002: As for Shawn Michaels, he made a number of sporadic appearances during his semi-retirement, which actually included being part of the NWO in 2002, but not for a long time. Which brings me to Vengeance in 2002, an event that saw Triple H (who was a few months removed from losing the Undisputed Championship) being forced to choose a brand during the early months of the original Brand Extension. After Eric Bischoff (Raw GM) and Stephanie McMahon (SmackDown GM) gave their pitches, The Game appeared to be headed to the blue brand...until HBK appeared. Michaels gave his own pitch, referring to his and Triple H's real life friendship to get him over to Raw, with the plan to reunite DX and mess with Bischoff. After hearing that, Triple H decided that he would be off to Raw.
The Betrayal: The introduction of Triple H and Shawn Michaels to Raw did not go as the latter wanted. The decision was made for HBK to be Triple H's manager, and upon hearing this, Michaels walked off, adding that he had a big problem with being told what to do. Triple H's attempt to calm his buddy down wasn't successful, but The Game returned later on and gave a surprise to Michaels, and when the DX music hit, we all knew what it was. It looked like we would see a big time DX reunion...until Triple H suddenly delivered a Pedigree to Shawn Michaels!
As The Game explained his actions, he received the news that Michaels was found attacked in the parking lot, leading Triple H to go on a search where he would accuse pretty much anyone he came across of being behind the assault. However, once Michaels appeared via satellite, the truth came out: Triple H was behind that attack as well. The Game admitted to the attack, claiming that he wanted HBK to be his manager because he would protect him, while adding that Michaels was weak and vulnerable. Michaels decided to challenge Triple H to a fight at SummerSlam, which would mark his first match since WrestleMania XIV--just over four years ago.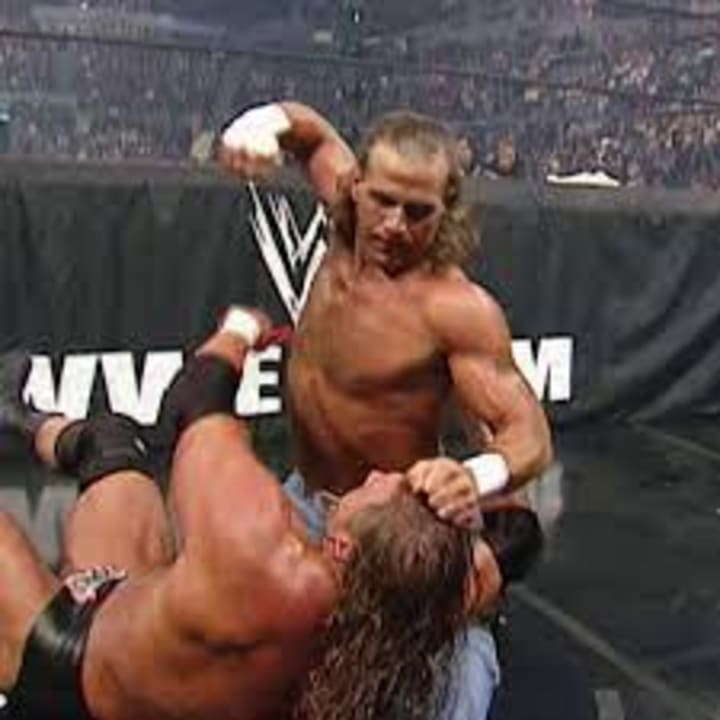 SummerSlam: After the match was made, Triple H made a bold admission: he and Michaels were never best friends. The Game claimed that he used Michaels to get to the top, while Michaels used him to stay on top. He also claimed that the cheering fans were the reason why he turned on Michaels, accusing them of making him weak and soft. The match for SummerSlam was a non-sanctioned match, which is the equivalent of a Street Fight, and it's a match I've watched many times. This was the first bout of their long rivalry, and so many stories were told. For Michaels, it was a comeback story, and it was portrayed as possibly being a one-off.
For Triple H, it was a tale of a man who was trying to surpass a longtime legend in Michaels, as he spent the entire build telling Michaels that his time was over, and The Game was the new "Showstopper." Unsurprisingly, HHH and HBK threw everything but the kitchen sink, but the bout ended with Michaels victorious. He couldn't celebrate his victory for long, as Triple H struck Michaels' back with a sledgehammer...twice.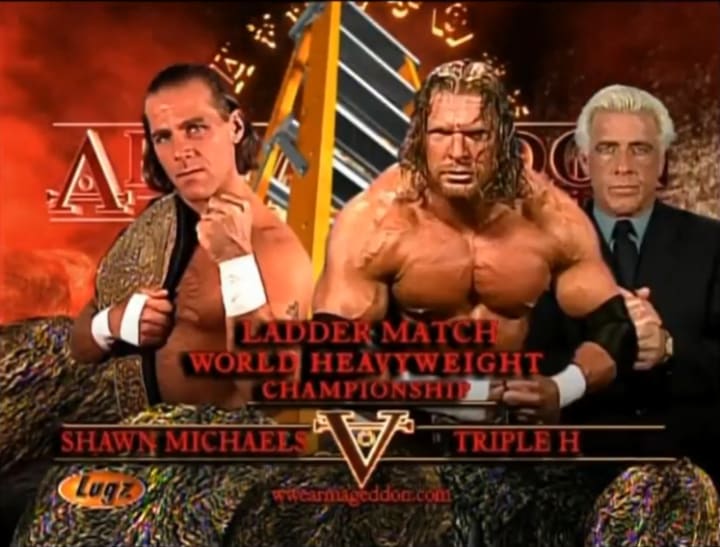 Survivor Series and Armageddon: On September 2, 2002, a new wrinkle ended up being added to this rivalry: the debut of the World Heavyweight Championship. That night saw the title awarded to Triple H, and after successful defenses against Rob Van Dam and Kane, Eric Bischoff announced the first ever Elimination Chamber match for that year's Survivor Series. Triple H would defend the title against Booker T, Kane, Rob Van Dam, Chris Jericho...and Shawn Michaels. Yes, Michaels was back to not only become World Champion for the first time in four years, but also to get his hands on Triple H.
HBK was able to succeed at both that night, as the Chamber came down to himself and Triple H, and after one hit of Sweet Chin Music, Michaels became champion, adding yet another first in his illustrious career. However, all Michaels' victory did was leave Triple H livid that he was dethroned as champion, and he angrily interrupted HBK's title defense against RVD on the following night's Raw. It was then decided that RVD and HHH would face off in an #1 Contender's match, with HBK as the official. Despite HBK's attempts to antagonize his main foe, he ended up having to make the three count in HHH's favor.
Their match took place at Armageddon, and it was Three Stages of Hell. The first fall was a Street Fight, which ended up being won by Triple H. The second fall was contested in a steel cage, which HBK ended up winning, leading to the third and final fall being decided in HBK's specialty: a Ladder Match. Despite that part, Triple H ended up winning the third fall, and the title, with some partial assistance from Ric Flair.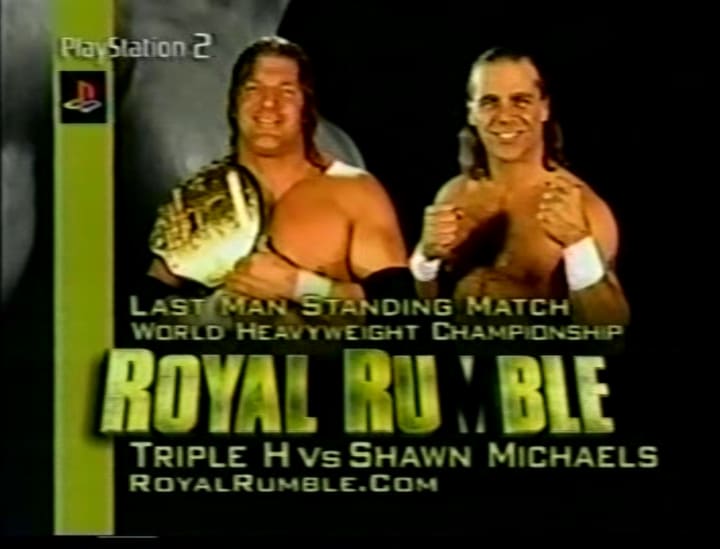 Royal Rumble 2004: Though HHH and HBK crossed paths a few times in 2003, their major feud actually subsided for most of that year. Michaels mostly feuded with Chris Jericho, Ric Flair, and Randy Orton, while Triple H ended up having Goldberg as a main foe and obstacle. After regaining the World Heavyweight Championship from Goldberg at that year's Armageddon, Triple H would be battling Shawn Michaels once again, with the last Raw of 2003 ending with the two combatants competing to a draw in a championship contest. It was later announced that The Game and The Heartbreak Kid would go at it at the Royal Rumble in a Last Man Standing Match, and as always, their past was used to build up this match. As we all know, the rules of a Last Man Standing Match are simple: the only way to win is to beat your opponent so badly that they can't make the referee's ten-count. Fittingly, neither of them made that count, resulting in another stalemate between these rivals.
Road to Bad Blood: Triple H and Shawn Michaels continuous attempt to one up each other was interrupted by a third party: Chris Benoit, who won the Royal Rumble and went to Raw to challenge for the World Heavyweight Championship. Triple H lost to title in a Triple Threat Match at WrestleMania XX when he submitted to Benoit, and in the Triple Threat Rematch at Backlash, it was Michaels' turn to submit to Benoit. After Backlash, Triple H was upset after learning that Michaels would get a one-on-one shot against Benoit, and on the night that the match took place, Triple H invaded the ring and delivered a Pedigree to Michaels, costing him the title.
Michaels' attempt at revenge a week later resulted in a suspension, but a week after that, a 20-man #1 Contender's Battle Royal took place, and it was down to Triple H and Kane, until Michaels entered and tossed The Game over the top rope. As a result, Kane won the title opportunity, Michaels got his payback, and Triple H was livid! The following week saw Triple H waiting for Michaels, and we would see the two rivals fight everywhere: outside the arena, inside Bischoff's office, and in the ring, after which Bischoff appeared and announced that Triple H and Shawn Michaels would face each other at Bad Blood, and it would be Hell in a Cell!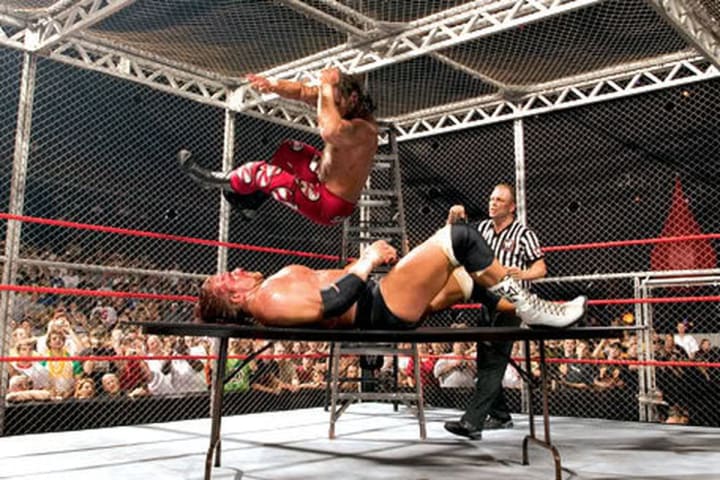 The Final Chapter: Earlier that evening, Michaels asked Bischoff if he had his match with Triple H, the way he wanted it, and as the end of that night's Raw revealed, he got exactly that. Michaels wanted a definitive end to their long-running feud, and nothing ends things better than Hell In A Cell. It was the perfect ending; they had been at each other's throats since the summer of 2002, and by the time this match was made, it would be a full seven years in the making. Even though both parties couldn't stand each other, they did agree on one thing: their latest chapter in their rivalry had to be their final one.
In typical HIAC fashion, it was brutal--very brutal. For obvious reason, the HIAC bout served as the main event of Bad Blood, and it properly told the story of two men who were looking to end their long-standing rivalry. Triple H entered the event unbeaten in HIAC matches, which included his notorious bout against Cactus Jack in 2000. After a long and grueling cell match, The Game maintained his unbeaten streak, defeating Michaels and putting the final nail in their bitter rivalry.
Aftermath: As promised, the two-year long rivalry between Triple H and Shawn Michaels came to an end at Bad Blood, and after the event, they engaged in separate angles for the rest of 2004 and all of 2005. They wouldn't cross paths again until 2006, which ended up seeing Triple H and Michaels reunite D-Generation X in a united front against Vince and Shane McMahon. As I said before, the rivalry between Triple H and Shawn Michaels was the WWE's best post-Attitude Era rivalry. It had everything: betrayal, a long backstory, and a vast amount of brutality. This was not your typical rivalry. None of their matches were standard one-fall one-on-one matches. They couldn't be. They had to be gimmick matches where the rules were thrown out. With the long history between them, and the way the rivalry began, Triple H and Shawn Michaels had to be in environments where they could throw literally everything at each other.
The rivalry proves that it's the best of friends that make the most bitter rivals, because they know each other like a book. We've seen many examples of this in the 20 years that have passed (with another big one being Trish Stratus and Lita), but the bar regarding best friend rivalries was set with Triple H and Shawn Michaels.
If you like this story, click the heart, and click the subscribe button for more of my stories! Tips and pledges would be greatly appreciated, as they help support my writing, but only if you want to do so!
fighting
About the author
Born on March 18, 1985. I am an avid fan of sports and wrestling, and I've been a fan of female villains since the age of eight. Also love movies--especially comedy and horror--and among my favorite TV shows are The Simpsons and Family Guy
Reader insights
Nice work
Very well written. Keep up the good work!
Top insights
Expert insights and opinions

Arguments were carefully researched and presented

On-point and relevant

Writing reflected the title & theme
Add your insights