5 NHL Players Who Came out of Nowhere
Sometimes it takes a lot of hard work and perseverance to get to where you need to be.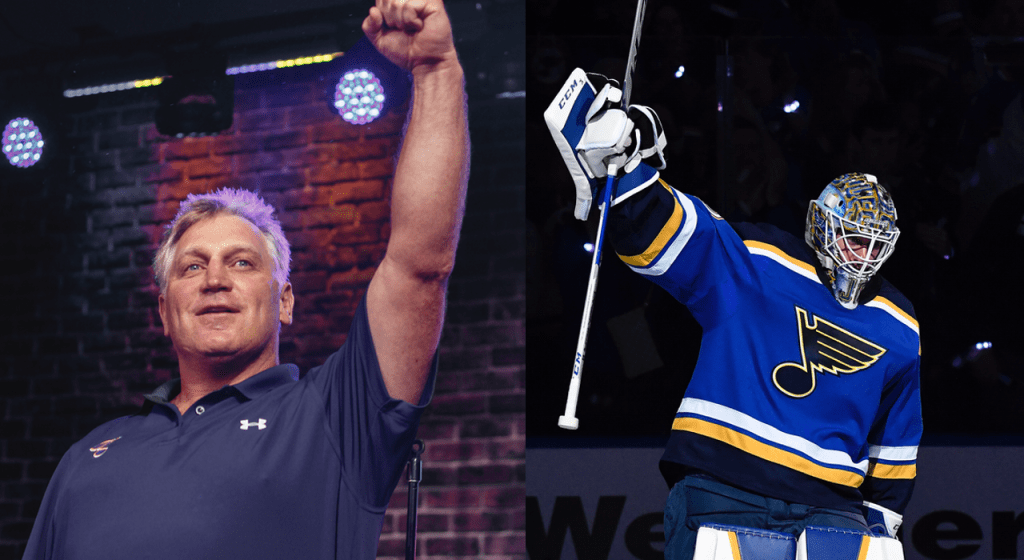 Brett Hull (left) and Jordan Binnington (right)
Hockey players practice almost their entire lives to reach the highest of levels—be it to America's National Hockey League (NHL), the Eurasian Kontinental Hockey League (KHL), Sweden's Elitserien (Swedish Elite League/SEL), Finland's SM-liiga, or any of the other various leagues out there. Most notable players started out when they were around four or five years old, and when coaches and managers draft them to an elite league, everyone watching expects huge things from them.
But what about the players who slip through the cracks?
Well of course, they can turn into some big hotshots too.
Here are 5 big shot hockey players who seemingly came out of nowhere, showing us that hard work will get you there, no matter how long it takes.
1. Brett Hull

It's hard to imagine Brett Hull as being on this list, but the son of the "Golden Jet" never actually started out as a big star.
Drafted sixth round in 1984 to the Calgary Flames, he bounced between playing with the Flames and their AHL affiliate in Moncton for about four years. He was not an amazing player; a little heavy (and not all muscle), not to mention a lack of confidence in him from everyone who watched. It wasn't until he was traded to the St. Louis Blues in 1988 when he started to shine.
In St. Louis, his skating and overall play improved, and he notched 228 goals between 1989-92, while also becoming the fifth player to make 50 goals in 50 games in the 1990-91 season. He holds records up there beside Wayne Gretzky, Maurice Richard, and Mario Lemieux, and won the Lady Byng Memorial Trophy (1990), the Hart Memorial Trophy (1991), and the Lester B. Pearson Trophy (1991).
Took him some time, but he eventually made it big in the NHL.
2. Alex Burrows

Burrows gained a reputation while with the Vancouver Canucks as one of the most hated players across the NHL, for more reasons than one. But there was no anticipation with his rep before he joined the NHL because he wasn't even drafted in the first place.
He played minors for a while, before being scouted by the general manager of the Manitoba Moose. He played a few games in the AHL before being sent back to the ECHL, and would go back and forth between the two before earning a contract with the Vancouver Canucks in 2006. Immediately upon entering the roster, he earned a total of 12 points as a rookie, spending most of his time irritating the opposing team and switching momentum wherever he could—showing himself less on the score clock, and more for the team. It wouldn't take long for him to reach a level where he would play with both Henrik and Daniel Sedin on the top line of the Canucks.
You could say his route to the NHL was a little unorthodox. He even played ball hockey while simultaneously bouncing around the ECHL and the AHL. Many attribute Burrows' route to hard work and perseverance; no doubt the reasons he was able to to climb the ranks.
3. Devan Dubnyk

Dubnyk came in at a time when the Minnesota Wild were desperate for a goaltender.
He started out in the ECHL with the Stockton Thunder in 2006, before being scouted and playing for the Edmonton Oilers AHL affiliate, the Springfield Falcons. He was called up to play for the Oilers in the 2009-10 season to back up Jeff Deslauriers after Nikolai Khabibulin was injured, but his career didn't really set off with them.
In 2014, he was traded three times, from Edmonton to Nashville, then to Montreal, then to Arizona. Right in the middle of the 2014-15 season, he was traded to the Minnesota Wild. The travelling was tough on his psyche, as it would be for anyone moving everywhere all at once—just the feeling of not being wanted by any team made it tough, especially when he really thought he was going to stay with Arizona for a while.
In Minnesota, his style worked with their play, and he became their starter. Beyond that now, he is known throughout the league for his play with the Wild, and is considered one of the top current goaltenders in the world.
In his case, it was a matter of keeping his head held high, despite the hardships, that got him to where he is today.
4. Luc Robitaille

Unlike other entries on this list, Robitaille started out strong in every start and every league he entered. But that didn't mean anyone expected it from him.
Robitaille was drafted ninth round—ninth round!—by the LA Kings in 1984; numbers alone that show no one expected much from him from the start.
Despite what was written down during the draft, he played three seasons in the QMJHL where he recorded 155 goals and 269 assists (total 424 points) in 197 games, a record enough for the QMJHL to create a Luc Robitaille Trophy in his honor, awarded to the player to score the most goals in a single season.
In his rookie season with the Kings, he scored 45 goals and had 39 assists in 79 games, earning him the Calder Memorial Trophy as Rookie of the Year in the 1986-87 season.
By the end of his career, he played on eight NHL All-Star teams, set points and goals records, and had his number retired by the LA Kings. He was inducted into the Hockey Hall of Fame in 2007, and won three Stanley Cups.
Robitaille and his skill had been there the entire time, but it took the 170 players drafted before him before any team could think him worthwhile.
5. Jordan Binnington

If you've been paying attention to the NHL over the past year, or even just during the playoffs, you'll know this name for sure. The star of the 2019 Stanley Cup Championship wasn't always such a huge name in St. Louis, though. In fact, he didn't have a name at all until just this year. If this list were made for anyone in particular, it would be because of this guy.
Like a Dubnyk, Binnington's name appeared when the St. Louis Blues were scrambling for a goalie. They had Brian Elliot for a while (who was so-s0 for them), and then they were planning to move to Jake Allen, who was expected to fit in Elliot's shoes.
That... did not go as planned, as Allen had been struggling for years, letting in simple saves and ultimately costing big games.
Bring in Binnington—similar to Burrows, he had to work his way up from the AHL and even below that for four years straight. The 25-year-old rookie spent over 200 games over six years playing AHL and minors, with one single appearance to back up Elliot in 2016. At his wits' end and believing his career to be over, he was finally called up to the Blues midway through the 2018-19 season.
In his single (so far) season in the NHL, he tallied a 1.6 goals-against average, along with a .937 save percentage; an incredibly impressive feat for a rookie goalie. He almost won the Calder trophy, having been in the running against Elias Petterson of the Vancouver Canucks and Rasmus Dahlin of the Buffalo Sabres. With the Blues, he was a major player in their first Stanley Cup win during the 2018-19 season, finally giving St. Louis the goaltending they had been needing.
Binnington spent his last years in minors getting stronger, especially over summer. They say he worked on his body and mind, readying himself for every game and every possibility. His teammates and everyone around him could see his development, and through it all, there's no wonder he made it as now one of the top goalies in the NHL.
References
Alex Burrows. (n.d.). In Wikipedia. Retrieved September 23, 2019, from https://en.wikipedia.org/wiki/Alex_Burrows
Brett Hull. (n.d.). In Wikipedia. Retrieved September 23, 2019, from https://en.wikipedia.org/wiki/Brett_Hull
Devan Dubnyk. (n.d.). In Wikipedia. Retrieved September 23, 2019, from https://en.wikipedia.org/wiki/Devan_Dubnyk
Harrison, D. (2019). Jordan Binnington: From almost an afterthought to "the guy" in the Blues' net. CBC. Retrieved from https://www.cbc.ca
LeBrun, P. (2016). Career salvation for Dubnyk did not come easy. TSN. Retrieved from https://www.tsn.ca
Luc Robitaille. (n.d.). In Wikipedia. Retrieved September 23, 2019, from https://en.wikipedia.org/wiki/Luc_Robitaille
Shpigel, B. (2019). How a fourth-strng goalie led the Blues to the Stanley Cup Finals. The New York Times. Retrieved from https://www.nytimes.com