2017-18 NHL Storylines to Watch
A big idiot tries to outline things that might be important about this season, like every other boring hockey blogger out there.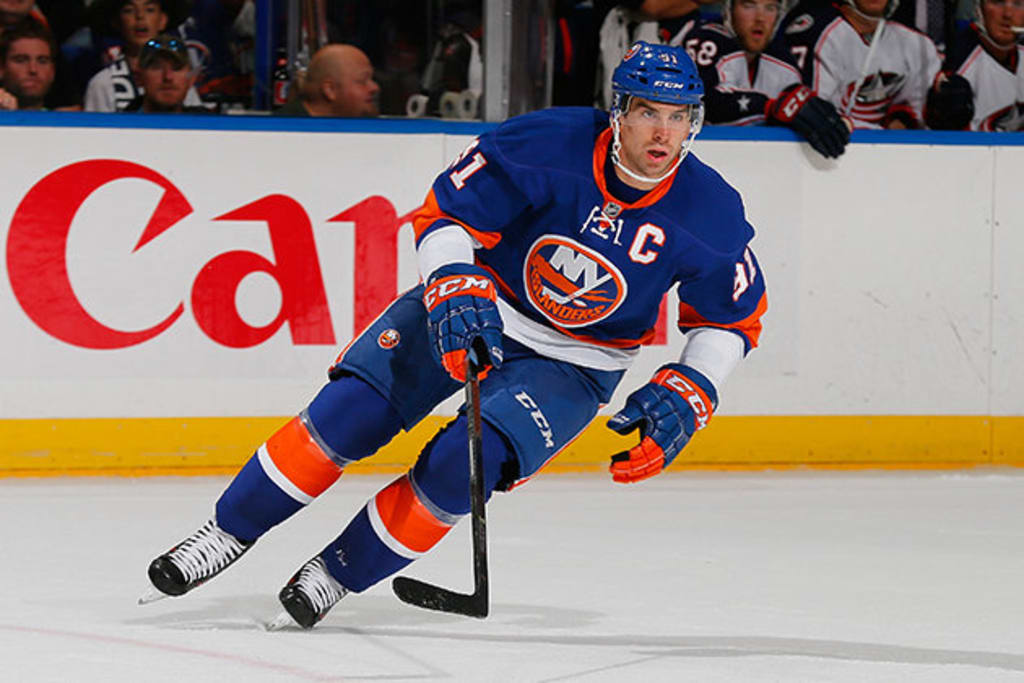 This guy might be on the move. Or he might not be. We'll find out eventually. (Image courtesy of Alchetron.)
Ah, my friends, I've just finished watching the end of the Islanders-Flyers preseason game that was streamed on the Islanders' website today. I only caught the third period and overtime, but my how I have missed hockey. I didn't even realize it, but watching it again gave me all the fuzzy feelings. Now I have to be sad that real hockey doesn't start for another three weeks, but chances are, if you're reading this, you feel my pain. My mouth waters for more.
This season, like every one before it, brings with it some extra baggage that becomes the target of media attention and speculation. I am going to try to address these stories without contributing to the echo chamber (*heard in distance* echo chamber!).
John Tavares is a Pending UFA
As teams open training camp this September, one star player is notably unsigned beyond the upcoming season. His name, if you haven't seen it already, is John Tavares, captain and driving force behind the New York Islanders.
Tavares is going into the final season of the 6-year, $5.5 AAV extension he signed back in 2011. Entering this offseason, it was thought that if Tavares didn't sign on July 1, the resulting concern would be large enough that a trade might have seemed like a necessity. Now, both team and player seem comfortable enough to ride out the season without a new contract, according to Newsday's Arthur Staple. In fact, Staple did a radio segment about a month ago, in which he confirmed the two sides haven't discussed financial specifics—but in a good way, if that makes sense.
Essentially, the only thing holding Tavares back from putting pen to paper is the Islanders' once-again unstable arena situation. Decades of uncertainty finally seemed answered with the team's move to Brooklyn's Barclays Center. Except it hasn't been working out for both sides, and it seems the Islanders will need to find a new home. Tavares is waiting to see what happens with New York State's RFP for the area surrounding Belmont Racetrack—it was thought that he was concerned with the team's ability to compete, but thinks the moves made this summer have gone a long way to increasing their chances—but with their future so far up in the air, it's understandable that Tavares is taking his time; it's not like he wouldn't have every team lined up outside his door should he remain unsigned on July 1, 2018. If the Islanders' situation does gain some clarity, the rest of the contract should come together very quickly.
Dale Tallon Takes Back Over the Florida Panthers, Bitterly Undoes Much of the Analytical Influence
Last summer, the Florida Panthers "promoted" Dale Tallon away from the position of GM, giving his title to Tom Rowe as the rest of the front office was filled out with former CanucksArmy writers (dubbed the "Computer Boys" after Steve Simmons displayed his notorious crotchety stupidity) known for their analytical work. In the time that the analytically-inclined were leading the charge, the Panthers re-made their roster in the mold of play-pushing forwards and offensive-minded defensemen, adding Jason Demers, Keith Yandle, Mark Pysyk, and Jonathan Marchessault while subtracting Erik Gudbranson and Dmitry Kulikov. Their moves were met with much praise from the new wave of media, but with skepticism and chagrin from those of the old wave.
Expectations were high for the new-look Panthers going into the 2016-17 season, but their chances were diminished early on with some long-term injuries to critical players, including young first-liners and former top-3 draft picks Alex Barkov and Jonathan Huberdeau. Hovering around .500, the Panthers fired coach Gerard Gallant just after Thanksgiving and replaced him with GM Rowe on an interim basis. They finished the year 35-36-11, fourteen points out of playoff position, and reinstalled Tallon as the front office czar. He responded by disposing of much of the team's offense from the previous season, for little to no return.
Jaromír Jágr was not re-signed (speaking of, no NHL team has signed him yet and it's a travesty that this still-1st liner in the league hasn't found a home because of his age). Marchessault was the Golden Knights' expansion pick, and was "enticement" for Vegas to also take Reilly Smith's contract off their hands for a 4th-round pick—I'm sure George McPhee is giggling after that robbery. Jussi Jokinen left as a free agent. And now, just today, second-pair defenseman Demers was dealt away to the Coyotes for 4th-line LW Jamie McGinn and nothing else. Reportedly, the Canucks worked out a deal for Demers that would've sent black-hole defenseman and Tallon favorite Gudbranson back to South Florida, but Demers put the kibosh on that one with his modified no-trade clause.
To put it shortly, Tallon was so pissy about the mediocre team he built being improved upon, that he re-made the mediocre team while getting rid of the the improvements for pennies on the dollar. I'm sure it will work fabulously—for me, anyway. Fabulously for me, in that the entertainment of their smoldering failure will sustain me through the year, especially if the Islanders bomb out.
Young Teams on the Rise
The Oilers and the Maple Leafs caught a quick taste of what the NHL postseason is like, led by young stars Connor McDavid and Auston Matthews, respectively. The two Canadian teams have languished somewhere between below-average and horrendous for the better part of the last decade, finally being rewarded (tongue-in-cheek because over the last decade, Edmonton was blessed with four 1st-overall picks and Toronto has always had the money and influence to compete) for their years of failure with the two greatest players of their generation.
McDavid is coming off a 100-point season and a trip to the second round of the playoffs, while Matthews looks to build on a 40-goal rookie season and first round playoff exit. The Oilers also boast No. 1-caliber center Leon Draisatl and one of the best defenseman in the league Oscar Klefbom, as well as former No. 1 overall pick Ryan-Nugent Hopkins. The Maple Leafs have young top-line wingers William Nylander and Mitch Marner, two former top-ten picks that have blossomed splendidly. These two teams, with another year of experience, might just be considered Stanley Cup contenders by some. I certainly would say they are, barring any major injuries.
Meanwhile, the Arizona Coyotes have seemingly been rebuilding perpetually, always finding a way to plummet toward the bottom of the standings. With Shane "Flying Elbows" Doan finally out of the picture, the team can finally fall into the wide-open embrace of Oliver Ekman-Larsson, a fantastic defenseman that has stuck by the organization that drafted him through some truly terrible times. His patience may have finally been rewarded.
The 'Yotes already had back-enders OEL and Jakob Chychrun, as well as forwards Max Domi, Anthony Duclair, in the picture. This season, U.S.-based phenom Clayton Keller and the "best of the Stromes" Dylan Strome are likely going to graduate to the NHL. In addition, whiz kid GM John Chayka has added No. 1 center Derek Stepan, likely-starting goaltender Antti Raanta, and top-four defenders Demers and Niklas Hjalmarsson to the squad for only picks and borderline players, giving the Coyotes a swell top-4 defense corps, a solid situation between the pipes, and potentially 4/6 of a lovely top-6 forward combination. Arizona may not be a contender yet, but they are tracking that way, and can certainly compete for a playoff spot this season.
And of course, the Carolina Hurricanes continue to boast one of the best young teams in the league, with Teuvo Teravainen, Jeff Skinner, Sebastian Aho, and Jordan Staal up front, as well as their amazing top-4 defense of Justin Faulk, Noah Hanifin, Brett Pesce, and Jaccob Slavin. They've been predicted as a young team to compete for a playoff spot for the last two or three seasons, and have been significantly helped by Bill Peters' excellent, play-pushing system, but have been hampered by a lack of depth and horrific goaltending.
Now, they've added Corsi God RW Justin Williams, quintessential 4th-line center Marcus Kruger, and probably-very-good starting goalie Scott Darling into the fold. GM Ron Francis is very tuned-in to his roster and knows that if he can't acquire the star he covets (rumors say he's been hard after presumptuous trade piece Matt Duchene but is hesitant to part with the requested Hanifin) then he must solidify the rest of his team. Williams, Kruger, and Darling do just that. The Metropolitan Division is still a bear, but one that is tamable this season. Seems like the perfect time for this club to weasel in.
So much to keep track of this upcoming season. Watching these stories play out will be an excellent sidebar to following the season standings, which I will write more about as October 4 approaches.
Reader insights
Be the first to share your insights about this piece.
Add your insights