18-1: 15 Years Later
Commemorating the 15th anniversary of the New York Giants' legendary victory in Super Bowl XLII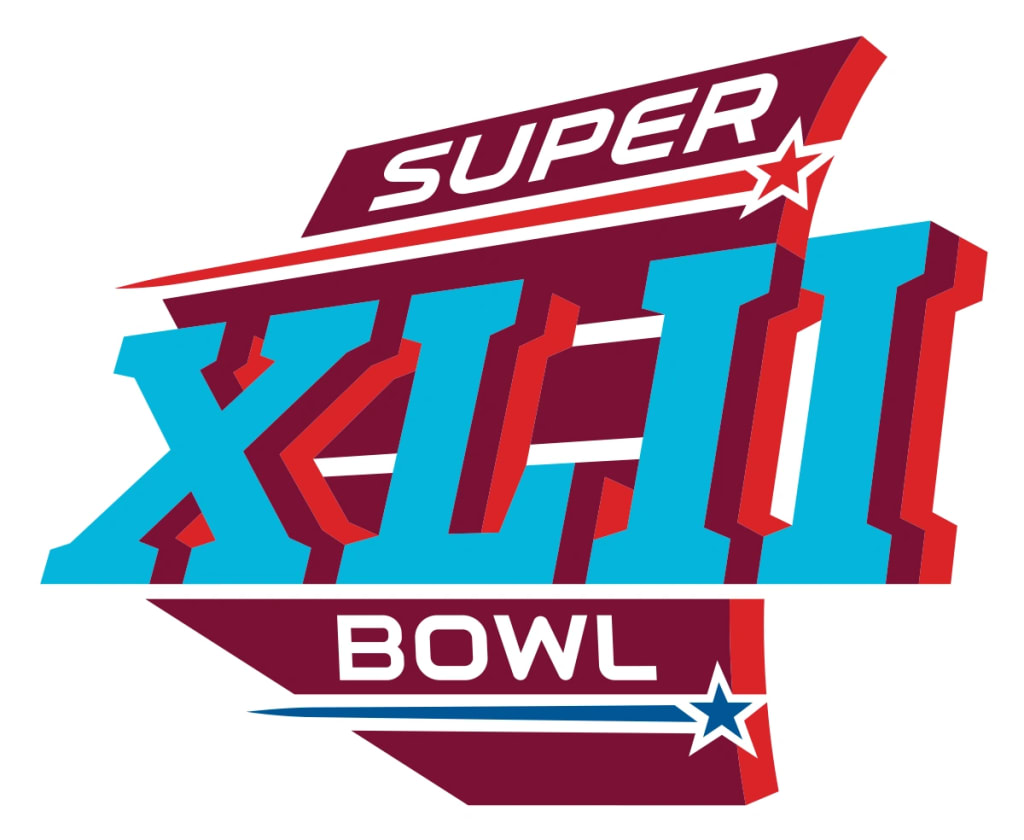 So of course, we have to talk about the big news from this week. Tom Brady has retired. Again. He says it's for good, but we know what happened the last time he said that. In any event, it's a 23-year career that is now in the books. Now that it's finally over, I think it's about time I finally admit something about Brady that I've denied for so, so long. I feel like the time is right to finally say it. Here goes:
Tom Brady...can't beat Eli Manning.
Whew! I feel so much better saying that. It had been weighing on me for so many years. Hard to believe, but today marks 15 years since Super Bowl XLII, the memorable meeting between the New England Patriots and the New York Giants. This put the Boston/New York sports rivalry on another level; Red Sox and Yankees fans actually had a reason to care about football, as their two teams were facing off in the biggest day of the sports calendar year.
The Patriots entered this game as three-time Super Bowl Champions; having won Super Bowls XXXVI, XXXVIII, and XXXIX. They were three-for-three in the Brady/Belichick era, but the 2007 season seemed to top all three of those years. It wasn't anything special; all they did in 2007 was not lose a game. The Patriots became the second team in NFL history to have a perfect regular season. 16 wins, no losses, no ties, with #16 coming on the road against the New York Giants. This was the year that Brady and Randy Moss became a historic QB/WR tandem, and that duo, along with the many other stars of that team, reached the Super Bowl with a chance to complete what would be the NFL's second-ever perfect season.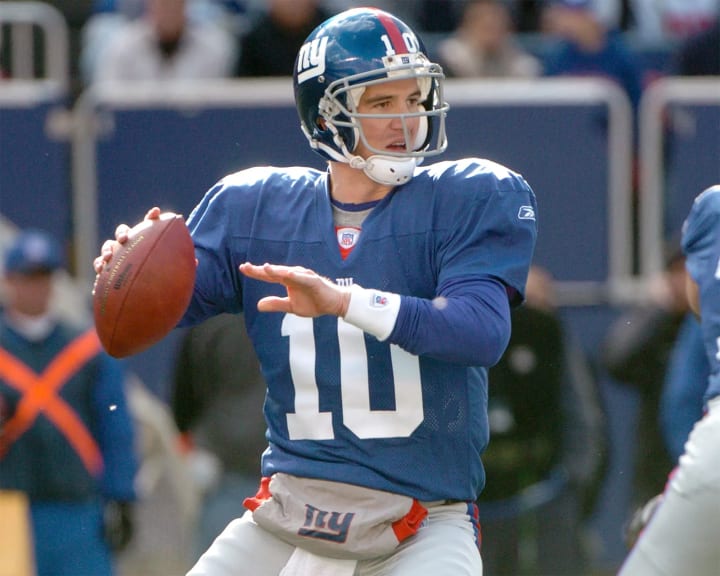 Of course, every Goliath has to have a David, and in 2007, it was definitely the New York Giants, led by Eli Manning. Entering that year, Eli was under a cloud of scrutiny from the get-go, and as usual, it was all unfair. We know the story. Eli was drafted by the San Diego Chargers, but he made it clear that he had no interest in playing with the Bolts and demanded a trade. So he ended up with the Giants, but he got skewered for his decision. Eli rose above it, though, and led the Giants to a Wild Card berth at 10-6. Not exactly a record that makes heads turn, but their January really drew some attention. After defeating the Tampa Bay Buccaneers on Wild Card Weekend, the Giants upset a Dallas Cowboys team who beat them twice in the regular season, and then went to Lambeau and defeated the Green Bay Packers in overtime (in what would be Brett Favre's final game as a Packer) to reach the Super Bowl for the first time in 17 years.
Super Bowl XLII took place on February 3, 2008 in Glendale, Arizona (where Super Bowl LVII will take place). The game started very quietly; a Giants field goal represented all of the first quarter's scoring, but it would be the Patriots who took the lead (7-3) at halftime. The third quarter was scoreless, but the fourth quarter saw the Giants regain the lead with a touchdown catch by David Tyree (remember that name). However, with 2:42 left, Randy Moss capped off a 12-play, 80-yard drive with a six yard TD catch of his own, and just like that, the Patriots were up 14-10 and were closing in on perfection.
Then...it happened.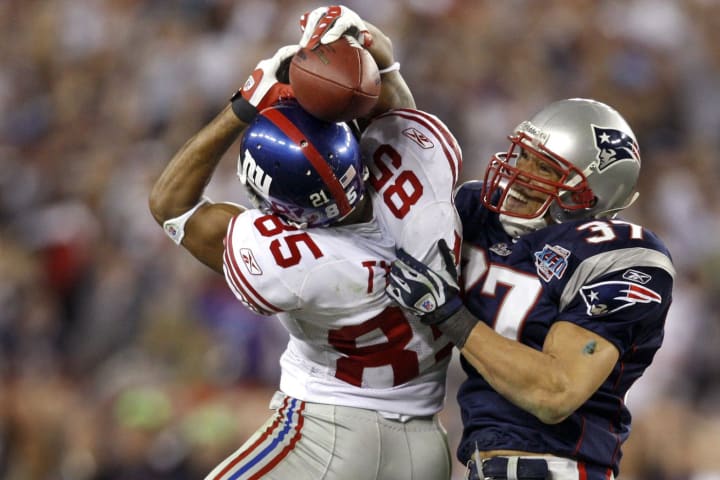 Every notable moment in NFL history is simply dubbed as "The (insert relevant noun here)." The Cleveland Browns were victims of "The Drive," and a year later, they were the victims of "The Drop." 30 years ago, the Buffalo Bills pulled off "The Comeback"; read my story about that here. When older football fans here talk about "The Catch," they think of Dwight Clark's touchdown catch against Dallas Cowboys, which sent the Niners to the Super Bowl. My generation's version came during that evening in Arizona; a desperation pass from Eli to David Tyree (told you to remember that name) was miraculously caught on the top of his helmet. That catch, many say, saved the Giants' season and continued their long drive, which was cemented with a 13-yard TD catch by Plaxico Burress. The Giants took the lead with 35 seconds left, and the Patriots' last attempt to keep hope for perfection alive...it stalled.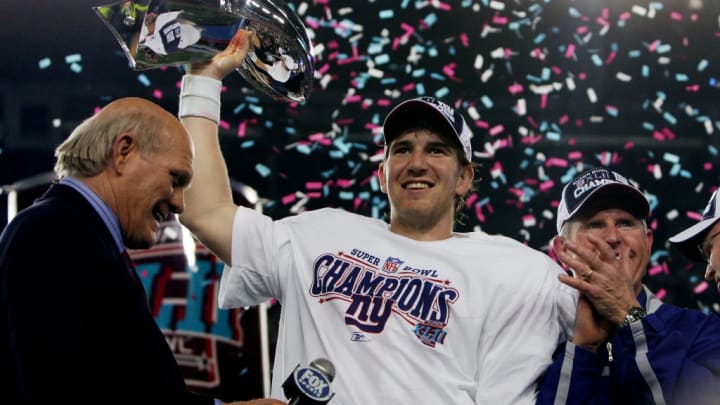 The New York Giants won Super Bowl XLII by a score of 17-14, winning their third Super Bowl Championship and first since their one-point win in Super Bowl XXV. Eli Manning was named Super Bowl MVP, mainly due to that final drive as time was winding down on their season. His stats that evening: 19/34, 255 yards, 2 TD (both in the fourth quarter), and one interception. With a ring and a SB MVP, you would think that Eli would get the respect that he deserved. You would think he would get that respect even after he beat Brady again four years later in Super Bowl XLVI. But sadly, he didn't.
Regarding Super Bowl XLII, there are still some people who have the gall to blame the defense for the loss. In a game where 31 combined points were scored, they say that the defense failed Brady. You know what Brady's numbers were in that game? He only threw 11 more yards than Eli, but needed 14 more attempts to get to 266 yards. The TD pass to Moss was the only one he had, and he actually finished with a lower QB rating than Eli did. Plain and simple, if 17 points beats you, it's the QB's fault, not the defense.
As for the disrespect to Eli, well, we all know why that is. The NFL media loves Brady too much, and they can't stand anyone who either outshines him or beats him when it counts. All of this is why I consider Eli Manning one of the most underrated quarterbacks in NFL history. Two time Super Bowl Champion, two time Super Bowl MVP, two big game victories over Brady, but massive, massive disrespect that isn't warranted. Oh well. At least Eli has all of those accolades, as well as the main one: being the 1 in the 2007 Patriots' 18-1.
Reader insights
Be the first to share your insights about this piece.
Add your insights