Will Zomato bring unsavory to the palate of IPO consummate
The pandemic helped the food delivery market to grown a lot and Zomato became the torchbearer of this sector. There is an introduction of inflammatory forces from the start-up world to the public market. There is some positive lead for the company like the spike in average order value and contribution margin. However, a closer look can reveal the falling revenue, trembling unit economy. Could Zomato be the numero uno in acing the public market?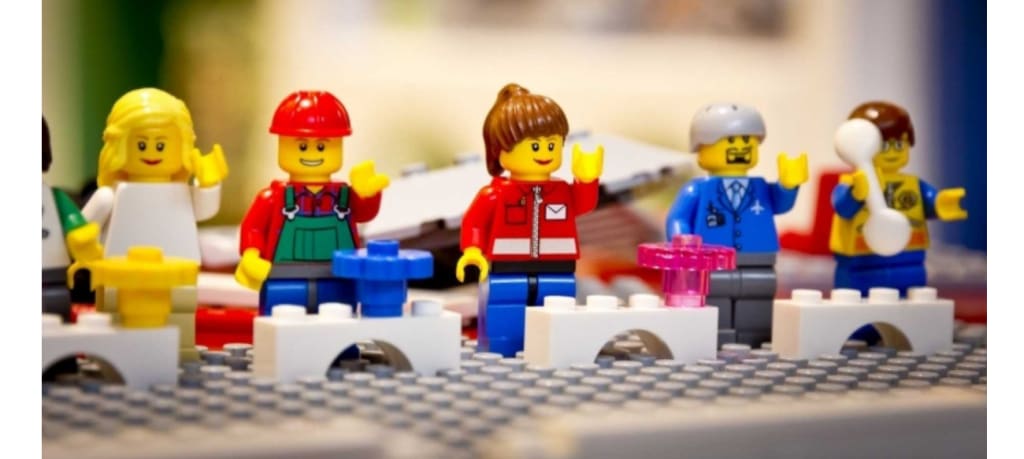 Zomato is all over the news after it filed its Draft Red herring prospectus, which is a procedure for an IPO(Initial Public Offering) in India. The company has issued a share of $1 billion as a primary issue and $100 million as a secondary.
It's come to no surprise if Zomato is looking for a higher valuation than its last funding round and will be stepping towards the benchmark of decacorn valuation milestone of $10 billion. It would be the first food tech company to cross such a milestone in India.
There is a catch while it comes to the valuation of a company by the public market. Unlike private investor/ private market, the public market considers the numbers/metrics for the valuation of a company rather than narrative. Traditional metrics like profitability, growth, and liquidity ratio are not the greatest strengths of Zomato.
Pandemic Opportunity
Like many others companies, Zomato has seen a boost for delivery business with new dynamics of work from home. There are some indicators that gave a positive scope of growth for investors to list the company in the public market.
Unit Economics Per Order
There is a sharp increase in contribution margin to positive as Average order value increase in FY20 to FY21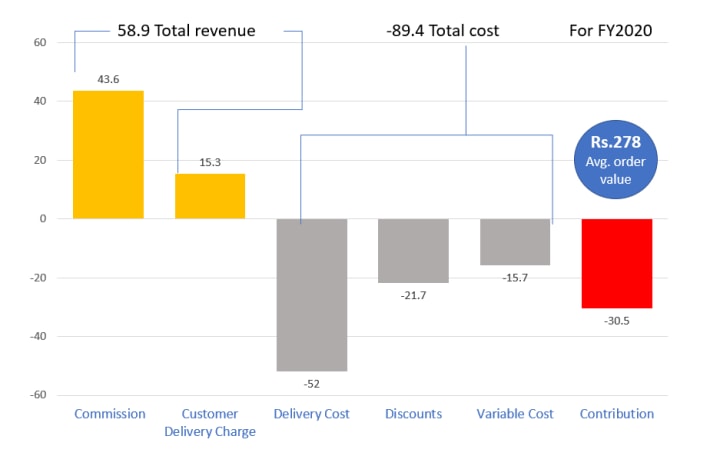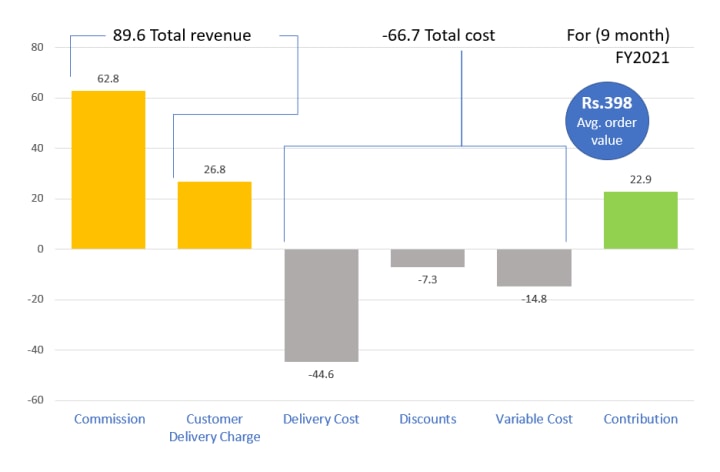 The Average order value has soared during the pandemic. From Rs. 278 in March 2020 to nearly Rs. 400 in March 2021. This is a critical milestone for any food delivery company operates in India.
Next lead is the contribution margin ( the difference between revenue and variable cost for each delivery) has gone positive. This figure has seen a significant increase from –Rs.30 to Rs.22 per order(till nine months March 2020-December 2020)
These numbers justified the boost from the pandemic but it's premature to celebrate that these numbers will add up to profitability.
Having a positive contribution margin is one sign of profitability but it doesn't explain the true picture. Despite a positive contribution margin during the nine-month period, the company has shown a loss of Rs 628 crore for this period. Although the unit economy increased but there is a red flag on the top line of Zomato. During the timeline of nine-month (March 2020- December 2020), the company reported revenue of Rs. 1,368 crore (Annualised to Rs. 1824 crore). There is a 33% fall from the previous FY which has shown a top line of Rs. 2473 crore. A sharp fall is shown in the monthly user transaction from 10.7 million to 5.8 million, which indicated Zomato's retained user is just above the halfway mark.
As Zomato is not a profitable company yet we need to check other parameters. DoorDash (in the USA), Deliveroo( in Europe) are the peer of Zomato. DoorDash is a loos-making startup yet it is listed. Unlikely profitability metrics, valuation has been done on the basis of revenue multiple (multiplying the topline by a certain figure). For DoorDash it is 17X.
If we apply the same multiple to Zomato, gives us a valuation of approximately $4 billion and it is significantly lower than its minimum target of $6.4 billion.
In contradiction to Zomato, Doordash's revenue grew more than 200% QoQ basis prior to the listing( two consecutive quarters). It is largely because of pandemics. But at the same time, Zomato has shown a considerable decrease in revenue to the comparable period. This clearly indicates the difference in dynamic indicators between the USA and India market.
Silent Beacon
By looking at Zomato's number for the quarter ending June 2020, Its contribution margin was Rs.29 with the lowest Gross Order Value in the last two years- Rs. 1,094 crore. In the next two quarters, the Gross Order Value increased but the contribution margin fell to Rs.22 (for the entire nine months), which is down by nearly 35%.
It shows as the volume of order increase, the company eventually will loss more money. This leaves Zomato to make a Hobson's choice between the top line and bottom line.
One more reason the Average order value shoots up is because of changing customer demographic. As people left their workplace from tier-1 cities to tier 2 and tier 3 cities, they are no longer prolific customers for Zomato. By default, the customer base is concentrated more on large families and richer. This may be the symptomatic reason for why AOV went up but once the market grows up these units of economics will no longer work and contribution margin will decrease.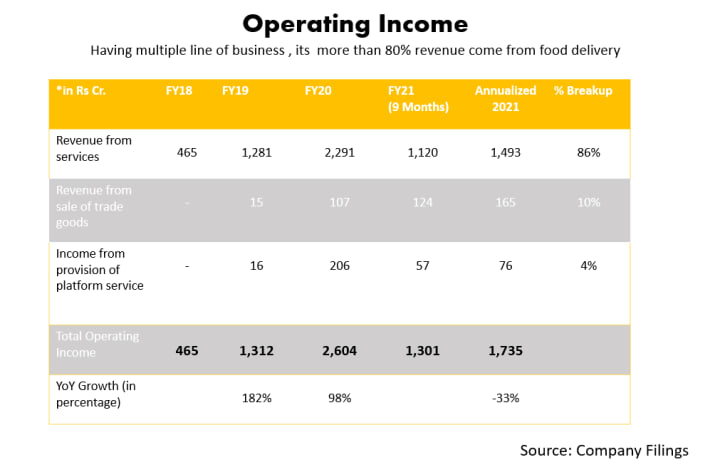 Commission and Customer delivery charge contributes 22.5% of the revenue of Zomato; DoorDash's corresponding components contribute half of this figure. Zomato's numbers are reported high because of pandemic and the duopoly market situation with Swiggy( which take rate figures are in the same range as Zomato). Once a new competitor comes to market, these numbers will show a downward trend because restaurants will partner with new companies, who offer less commission, and customers will choose the service based on lower delivery charges as compared to the current situation.
Amazon is looking for this market opportunity. But if this will happen, there will be a double whammy on both Zomato's unit economy and market share.
However, the battle is not started yet and it doesn't seem to be a cakewalk for Zomato. But for Indian retail investors, this will be a first-time opportunity to invest in a household name unicorn. It is a rare occasion when an Indian startup that is going to list is backed by an Indian company, Infoedge, which has the lion's share of it.
It will be a daunting challenge for Zomato to deliver profit quarter by quarter in this uncertain time.
Lead Image credit: Getty Images
References:
[1] https://www.bloombergquint.com/business/why-zomato-may-be-looking-at-ipo-valuation-of-at-least-64-billion
[2] https://www.zomato.com/blog/performance-report