What Is Inflation and How Does it Affect You?
Brooklynn Chandler Willy | San Antonio, Texas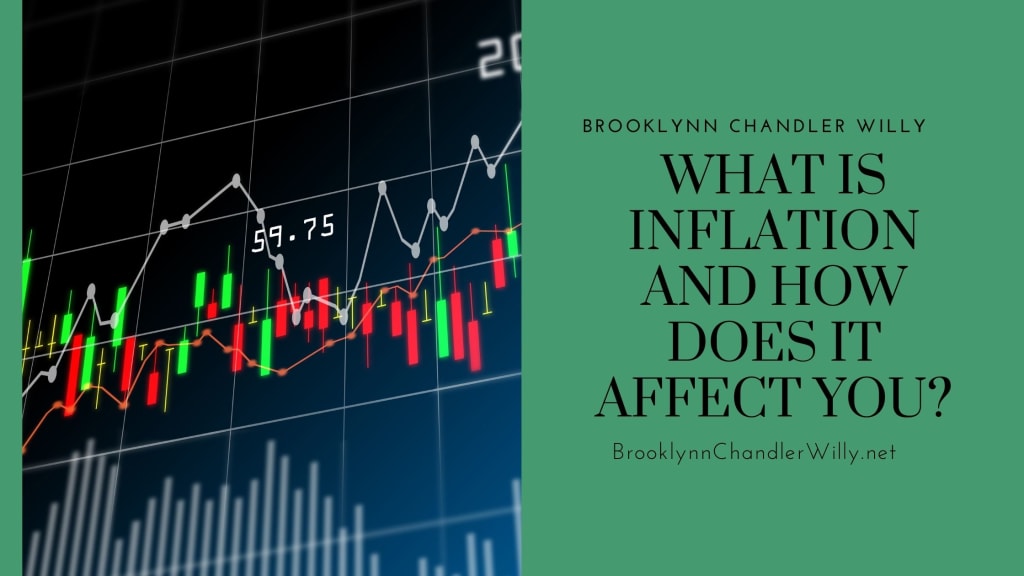 Brooklynn Chandler Willy | BrooklynnChandlerWilly.net
When you hear the word inflation in relation to economics, you may get worried. However, a normal amount of inflation is necessary for an economy. Healthy economies generating inflation is actually a good thing when it's minimal. Growing about 2 percentage points normally reflects a healthy increase in the economy's activity, normally happening because of a growing population. However, when inflation begins to rise outside of the rate of wage increases, we have a problem.
What exactly is inflation?
When looking at inflation in layman's terms, inflation is when the prices of goods and services increase. Inflation can happen because of things such as product shortages, labor shortages, and wage increases. It can also be caused by hikes in prices for raw materials and higher demand for products. Changes in policy decisions for issues such as interest rates, tariffs, and government spending can also increase inflation.
How bad can it get?
So now that we know what inflation is, the next logical question is how bad can it possibly get? And honestly, there's really no answer, as the limit doesn't exist. For example, Zimbabwe has suffered from such extreme hyperinflation that the country issued currency that was worth 100 trillion local dollars. But that extreme hyperinflation isn't happening here. When we look at a ten-year period, inflation has been kept more or less constant for the century. What cost $1 in 2011 only costs $1.19 in 2021. Good, right?
What does this mean for me?
When we look at the regular buyer, inflation means that the higher the rate of inflation, the less overall your money is worth. That's why when you talk to a financial advisor, they generally want you to invest some of the savings that you have. The money that you diligently keep in a piggy bank for a rainy day is bound to decline in value over the years. That's not to say that you're completely powerless. Normally, when inflation happens, wage increases can make all the difference.
What is the Consumer Price Index?
Normally shortened as CPI, the consumer price index is a way to gauge the overall rate of increasing prices. This figure is absolutely necessary when figuring out the rate of inflations. CPI is calculated by the Bureau of Labor Statistics by assessing the changes in prices of goods such as energy, food, and cars.
Inflation can be a scary thing for a lot of people, especially those who don't understand it. Hopefully, this article gave you a better understanding of inflation.
Indices are unmanaged and investors cannot invest directly in an index. Unless otherwise noted, performance of indices does not account for any fees, commissions or other expenses that would be incurred. Returns do not include reinvested dividends.
The Consumer Price Index (CPI) is a measure of inflation compiled by the US Bureau of Labor Studies.
ABOUT BROOKLYNN CHANDLER WILLY
Brooklynn Chandler Willy's career in financial services developed following the sudden and untimely death of her father. In life, he had been a life insurance salesman who – ironically – had no life insurance himself. She saw how difficult it can be – emotionally and financially – to lose a loved one without being prepared; she decided to dedicate her career to helping others put better plans in place and be prepared so asnot to be faced with a similar situation.
At Texas Financial Advisory, Brooklynn Chandler Willy and the entire team understand and appreciate how hard their clients work and the nest eggs that they've saved throughout their lives. The team will work with each client as a fiduciary and help take the uncertainty and stress out of retirement planning to create holistic plans that extend beyond the numbers. To learn more about if Texas Financial Advisory is right for you, please visit their website.
Alongside her job as the Host of the "Texas Financial Advisory Show," Brooklynn Chandler Willy hosts the "Texas Financial Advisory Show," airing weekends on WOAI 1200 AM and KTSA 550 AM. Through her show, Brooklynn shares the knowledge, insight, and expertise that she's accumulated across her career. Listeners tune in to hear examples of how a retirement income plan can help reduce income taxes, provide a legacy for heirs, and assure a steady income through the rest of life.
advice
About the author
Brooklynn Chandler Willy is a financial services professional specializing in Retirement Planning. Operating in San Antonio, Texas. She is the Founder and President of Texas Financial Advisory.
Reader insights
Be the first to share your insights about this piece.
Add your insights