Top Reasons Why You Should Get an SBI Credit Card
Learn SBI Credit Card Benefits and Features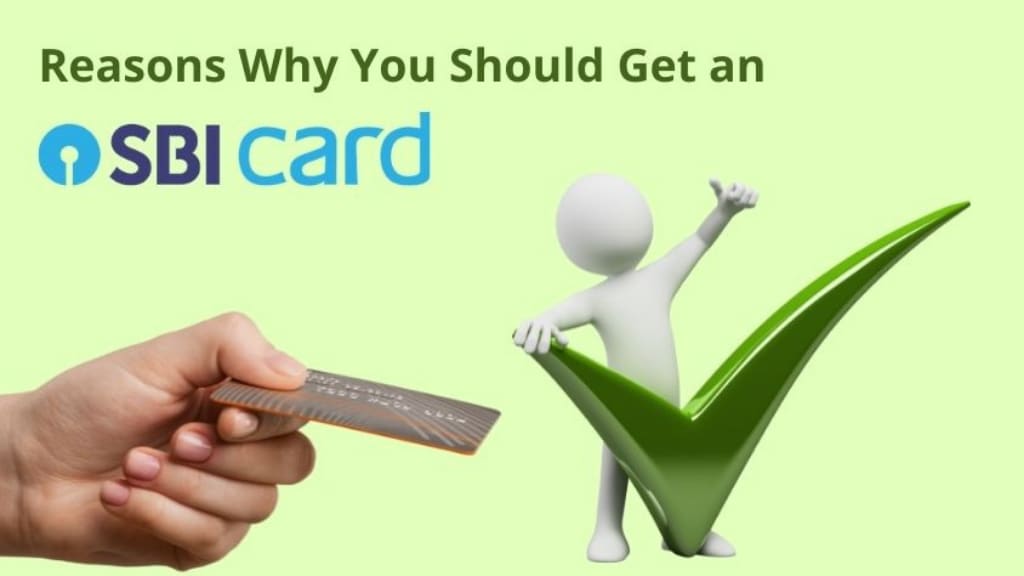 While looking for a credit card, one of the leading card issuers you will find is SBI Cards that has an ample range of credit cards covering basic credit cards to super-premium credit cards. SBI Credit Cards meet every need of the credit cardholders as you will find one of the best rewards credit cards in India by this issuer. Under this blog we have covered reasons as to why you should get an SBI Credit Card. Incentives like reward points, cashback, Airmiles, etc. are some of the highlights of the SBI Credit Cards. Keep reading to know the reasons why you should go for the SBI Credit Cards.
Here are 7 reasons to get an SBI Credit Card
Low-Interest Rates: One of the biggest advantages one can enjoy with the best SBI Credit Cards is the low interest charges. High interest rates no doubt can be burdensome. Among all the card issuers SBI Cards is the one that provide a lower interest rate on the outstanding balance. Lower interest rates for sure will take load off your shoulders, you can enjoy using credit cards and it will cut down your expenses.
Insurance: Who doesn't like getting insurance benefits without having to pay any premium for that. With credit cards you get this benefit. By paying the membership fees you get the insurance benefits which you can avail of anytime you are in the need. With SBI Cards you get individual personal accident death insurance cover, travel insurance, health insurance, card protection, etc.
Easy EMIs: Everyone wishes that they could convert their big spends into easy EMIs which let their financial health to breathe. With credit cards you get this facility which helps you in building a strong financial profile. You get 6/9/12/24/36 months of EMIs with an SBI Credit Card. At the time of paying for transactions with the SBI credit card you can select the EMI option.
Availability of Funds: Cardholders of SBI Credit Cards have the benefit of funds availability 24 round the clock. You can easily find SBI ATMs in every city that lets you withdraw cash from ATMs using your SBI credit card. However, one must bear in mind that withdrawing cash from ATMs using credit card attracts a cash advance fee.
Utility Bill Payments: SBI Cards provides you a number of channels to easily pay your utility bills using your credit cards. Moreover, on some credit cards you earn reward points on making the utility bill payments. With SBI Cards you get the facility of BillDesk that can be used 24x7 to pay the bills.
Varied Services: Services like netbanking services, mobile banking, missed call service, YONO by SBI, etc. are provided by the SBI Cards to its customers. You can use these services for paying credit card bills, utility bills, hotlisting credit cards, etc. anytime and from anywhere. You can find all these services at SBI Cards Official website here.
Other Benefits: With SBI Cards you can enjoy other benefits like credit card upgrades, add-on cards, etc. This is the another reason why one should definitely get an SBI Credit Card. This credit card issuer provides add-on credit cards completely free of cost and you can easily upgrade your basic SBI credit card to an upgraded credit card to enjoy more rewards and better privileges.
Bottom Line
With a parting thought, it is worth going for an SBI Credit Card. Apart from above mentioned reasons, you get benefits like welcome benefits, spend-based benefits, reward points, etc. on SBI Credit Cards. You can consider applying for SBI SimplySAVE credit card and SBI Elite credit card as they are the best credit cards of SBI Cards. You need to analyse your spending habits and financial health before applying for a credit card. Compare credit cards online and go for the one which suits your profile best. Being responsible is the key to maintaining a good standing account.
Share your experience with SBI Credit Cards in the comment section.