Top Five Stock Market Strategies to help you Invest
Investing in the stock market or any instrument has risk as free baggage; an investor should first plan and have a strategy to put the capital in the market.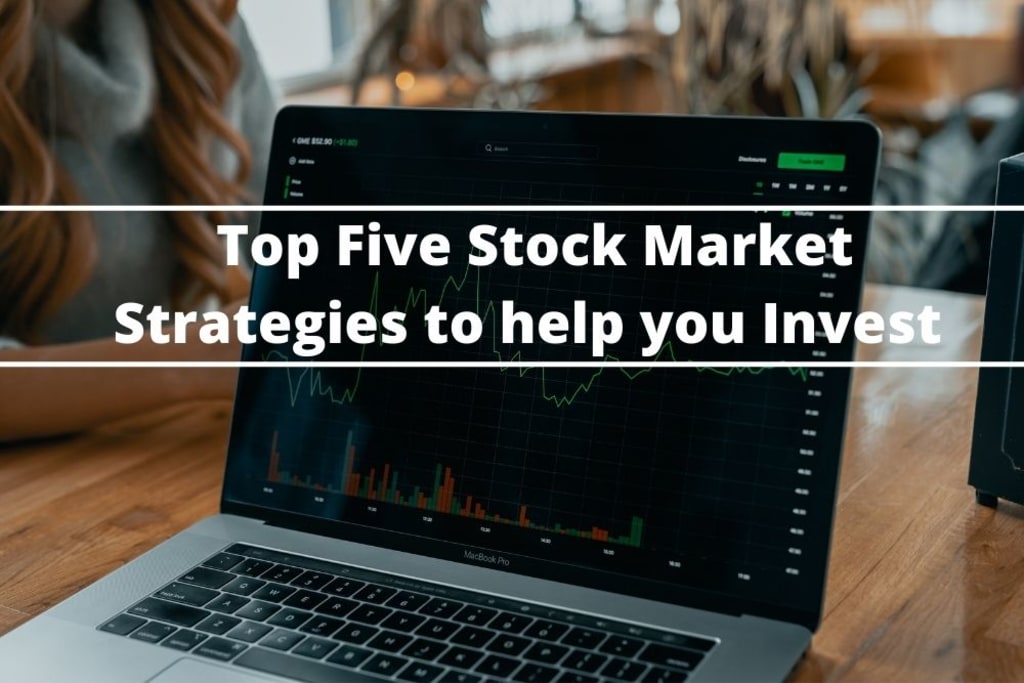 The Stock market is a Volatile market involving high risks and double profits depending on the market condition. Therefore, before investing in the trading market, you should have a little research done; never blindly invest. The second point to be considered is your financial situation; although the deposits are minimum, you should have excellent financial support.
Your goal for investment should be clear; say you are investing for trying your luck, for your future needs or retirement. This would help have a planned strategy of investment.
Risk Tolerance is also an essential factor; one with less tolerance power should invest small amounts of capital and expect fewer profits, as the risks are high with huge investments, so are the profits and loss. A person with responsibility for the home would like to trade or invest in retirement plans than a young person who would handle the turmoil.
A person can always plan, analyse, and have a strategy to invest in—the key points to be known which help in investing are explained below.
Value Investing
Value investors believe that the market is irrational, making them invest in the stock with less value. They bargain in the market for the stock, getting them at discounted value and making money out of it by further selling it in the market. For example, a stock is trading below its actual value; then, a value investor would purchase it for further selling.
Value investing is a long term investment game; Warren Buffet is considered the best example of a Value investor who works out his plan for sometimes a year before investing in the stock. However, investors should be ready for initial losses as the future profits should be the motive of time and energy.
Investment Tools
The most helpful tool of value investing is the price-to-earnings ratio (P/E) to determine the value of a stock. This is used by dividing the company's share price by the earnings per share of the company. Earnings per share are the company's profit divided by the outstanding shares.
A primary tool of value investment, most traders look for a company with low P/E. Some investors even suggest considering other tools as P/E could be wrong because of the false data shown by companies. There are Quantitative approaches to detect minor faults in data.
Look for Companies, not sticker symbols
A Company holds a position in the market that could be verified, and overall position is out in the market. But a stock with no information would be risk calling. So always look for a well established and long run company in the stock business for years of experience. A stock/share gives you a right on the company, so be the holder then investing randomly.
Momentum Investing
Momentum traders sell the shares while they are dropping and buy when in the momentum of growth. This could be risky in the market but gains your profit. They are excessively sharp and skilled investors who analyze the data of shares before making any purchase or sale.
As with every other share, they also have high risks, but a well studied and planned decision doubles the profits.
Plan and Analyze
Be ready for tricky situations, don't panic. The investor should know that the market is uncertain and make losses. The risk is present in trading, and in heat-of-the movement, no decision should be made. The first plan, analyse the market and consider the future of the share before selling or buying stocks. Take calculated steps as the risk is high.
Dollar Cost-Averaging
Dollar-cost averaging is a profitable strategy to invest in, a standard method of investing in the market in small amounts, requiring no oversights and an easy way to plan and invest. As the investments are automated and disciplined, there are regular increments from high to low.
With set parameters of investment time, the sum of investment and frequency of purchase, DCA is a wise choice to invest. It reduces the risk of the market. This plan is best for those having small amounts to invest. As most investors do not prefer to invest large sums of money, this technique is best.
Conclusion
Investing in the stock market or any instrument has risk as free baggage; an investor should first plan and have a strategy to put the capital in the market. A piece of detailed knowledge and basics of the trading market should be at your fingertips before buying shares or selling. A forecast should be done considering future markets, how your investments will perform if you feel it will be at a loss, then sell the shares as soon as possible. Risk is a significant part of the market, and sometimes high risks lead to profits.
Value Investing, Momentum Investing and Dollar cost-averaging are suitable for investments to start with. These investments could be analysed and planned for the long term benefiting the trader in the long run. Other than this, the investment should be based on company background and studies data. No, random and blind trading should be done; a friend said you invested will not work here. Carefully plan, study and invest.
Once your strategy is fixed, you can take the help of brokers available in the market; some of the best brokerage firms are ROinvesting which lets you trade and educate with videos and tutorials. Reinvesting has a wide range of instruments to trade with demo accounts to trade and practice like a live trader. The broker has three types of accounts, Silver, Gold and Platinum, having different features and platforms for trading.
stocks
Trending Brokers brings you the best genuine broker reviews and information on currency trading online, CFDs, and investment through authentic learning ...
https://trendingbrokers.com/