The Forgotten SPAC Stock
SFT Stock (Shift Technologies) Was A SPAC Before SPACs Were Cool.. Find Out Why It Has True 5x Potential!
SPACs, or Special Purpose Acquisition Companies have been very popular among retail investors. After all, they've seemed like a foolproof way to make money. Although a bad example after they were discovered to be fraudulent, Nikola Motors (NKLA Stock) brought the frenzy to SPAC investing. They also caused a slew of investors to pile into electric vehicle (EV) stocks. Shift Technologies (SFT Stock) came before Nikola's time, so they missed out on the SPAC hype. I believe this has presented a great buying opportunity for the company.
Although investing in Shift Technologies isn't a "sexy" investment, you're investing in a company that could very well take over the likes of Carvana (CVNA Stock). Carvana has a $48 billion valuation, while Shift has a $750 million valuation. It's easy to see how this sort of investment could return huge gains to investors willing to take the risk.
What Do They Do?
Carvana and Shift both do the same thing. They're leading the industry transformation from buying and selling used vehicles at physical dealerships, to buying and selling used vehicles completely online. The used car market is twice as large as the new car market, so there is a very large target market to go after.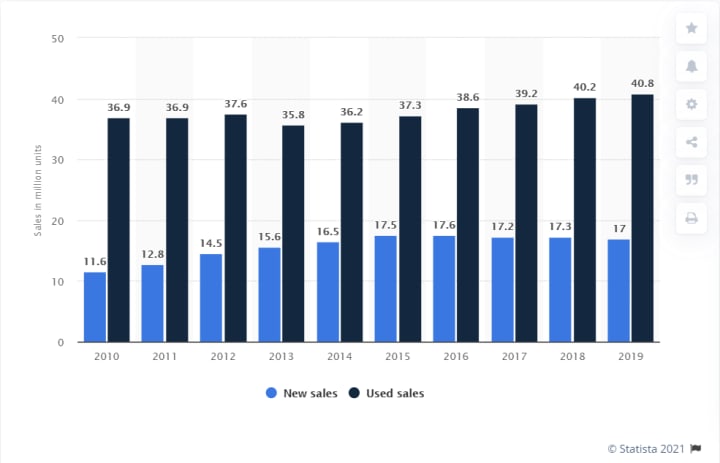 Furthermore, by investing in Carvana or Shift, you're really investing in Tesla's platform. Tesla doesn't have any physical car dealerships, and all new car buying at Tesla is done online. It only takes a quick look at their sales growth to see the platform is working! Online vehicle sales as a whole are just in their infancy, so it's easy to get excited about where the industry is going.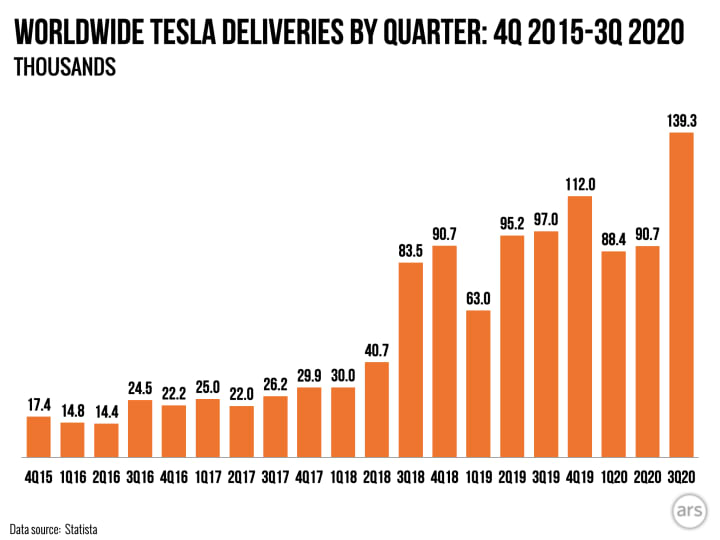 What's The Difference?
We've just established that Carvana and Shift are both in a great industry, so what makes Shift the better investment? For starters, Shift is a much smaller company. This can present much more upside for investors, but it can also increase the risk of the investment. While Shift is primarily operating on the west coast currently, Carvana is already operating in 24 states. To put that into perspective, Shift has penetrated 12% of the United States, while Carvana has penetrated 48% of the United States.
Furthermore, Shift receives better reviews from customers than any of its competitors. If Shift can continue to hire the right people, this will be the reason they can overtake Carvana. Even if Shift's growth remains slow, customers will continue to prefer Shift over Carvana thanks to their customer service. I would remain very bullish on Shift no matter how slow their growth is if they can keep the customers happier than any of the competition can. After all, do we really need accelerated expansion to new states if Shift is already projecting 163-174% Q4 revenue growth?
However, I think it's safe to say growth and expansion will be needed over time. Just recently, Shift expanded to new markets in Texas and Washington. Beyond vehicle sales revenue, Shift also offers financing, vehicle protection, and tire and wheel protection services that will also compound and add up to a fair chunk of revenue as they grow.
Valuation
As previously mentioned, Shift only has a $750 million valuation in comparison to Carvana's $48 billion valuation. Focusing on Shift, they're expecting to have brought in $194-197 million in revenue for the 2020 fiscal year. Quarterly revenue growth continues to set new records, and I see no reason Shift won't at least hit $400 million of revenue for the 2021 fiscal year. If this is the case, they're set to bring in over half of their current market cap in revenue for the current fiscal year. This in and of itself makes it pretty clear this is a great buying opportunity. I truly believe SFT has the potential to 5x in share price in the near future.
*I have never been offered, and never will accept compensation from a company for spotlighting their business and stock. These are my own thoughts, opinions, and ideas. This article should not be interpreted as financial advice.
Reader insights
Be the first to share your insights about this piece.
Add your insights