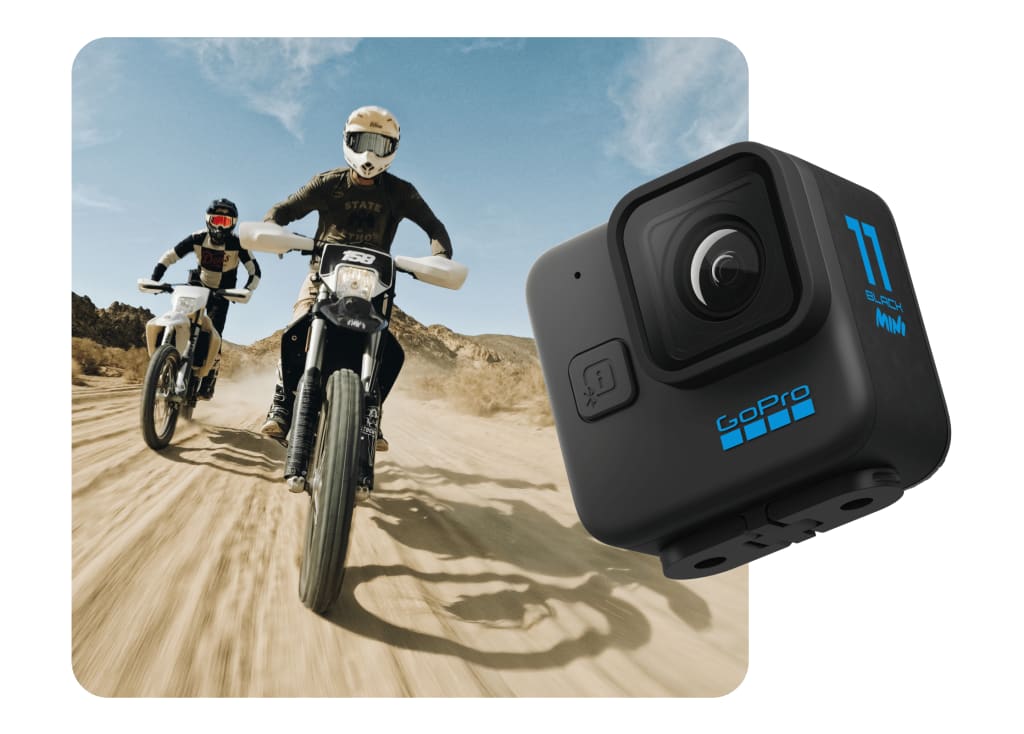 GoPro Hero11 Black Mini
GoPro, a name synonymous with action cameras, has been at the forefront of capturing life's most adventurous moments in stunning clarity. Over the years, GoPro has introduced a series of cameras, each one better than its predecessor, pushing the boundaries of what's possible in action videography. Let's take a closer look at some of the latest offerings from GoPro.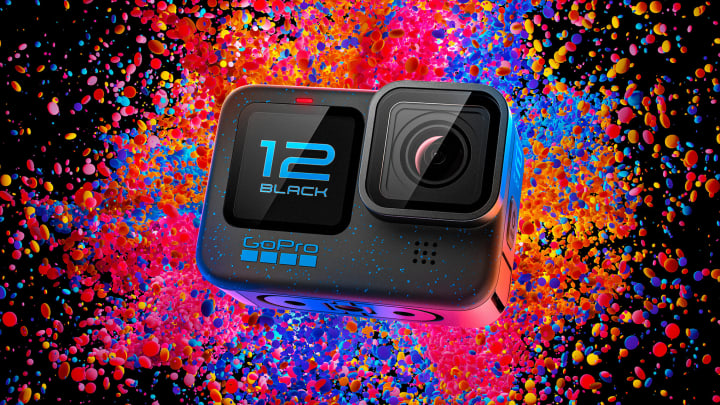 The GoPro Hero12 Black is the latest flagship action camera from GoPro, renowned for its high-quality action cameras. It builds upon the features of its predecessor, the Hero11 Black, and introduces several new improvements.
One of the key features of the Hero12 Black is its almost-square 8:7 aspect ratio sensor, coupled with the powerful GP2 processor. This combination allows for longer runtime and better image stabilization performance, making it ideal for capturing high-action sequences in stunning detail.
In addition to these hardware improvements, the Hero12 Black also introduces new software features. It supports 10-bit Log video, which provides greater flexibility in post-production color grading. It also offers wireless audio connectivity, allowing for more versatile audio recording options.
The GoPro Hero12 Black was released on September 13, 2023. Its robust set of features and improvements make it a compelling choice for both amateur and professional videographers looking to capture their adventures in the highest quality possible.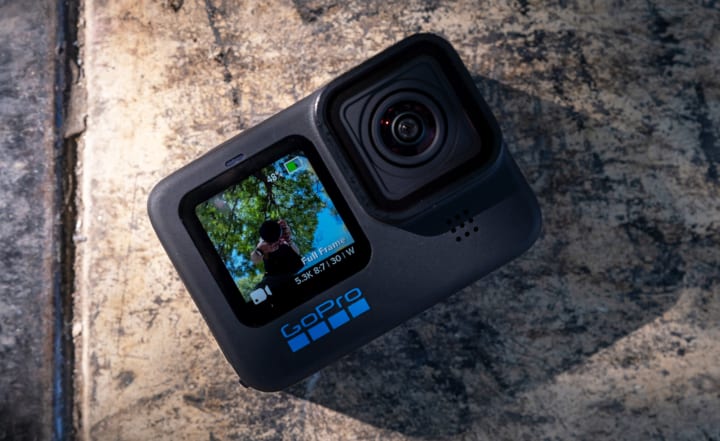 The GoPro Hero11 Black is an action camera that stands out for its ability to capture 5.3K60 footage with fantastic stabilization, all in a rugged, waterproof build. This makes it an excellent choice for adventurers who want to document their exploits in high quality.
One of the standout features of the Hero11 Black is its video capabilities. It offers great-looking 5.3K60 video, 4K120 and 2.7K240 slow-motion, providing a range of options for capturing action in stunning detail. The 10-bit color sampling and numerous time-lapse modes further enhance its video capabilities, offering more flexibility for creative videography.
Despite its compact size, the Hero11 Black doesn't compromise on durability. Its rugged build can withstand the elements, and it's waterproof, making it a reliable companion for outdoor adventures.
In summary, the GoPro Hero11 Black is a versatile action camera that combines high-quality video capabilities with a durable design, making it a popular choice for action videography.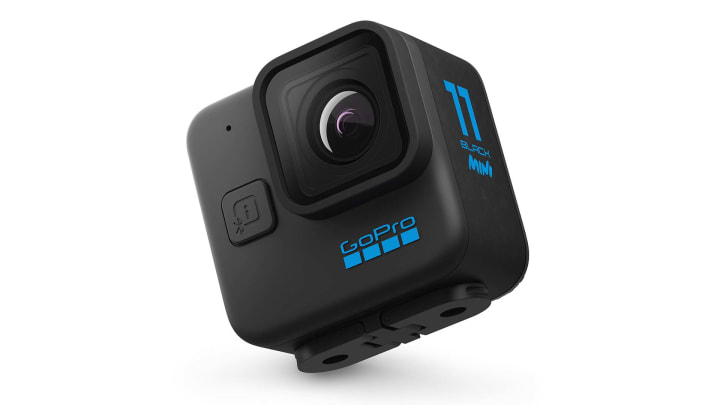 The GoPro Hero11 Black Mini is a compact version of the Hero11 Black, designed with portability and convenience in mind. It's aimed primarily at outdoor enthusiasts such as cyclists, skateboarders, skiers, and surfers who need a small action camera for attaching to a helmet or equipment.
Despite its smaller size, the Hero11 Black Mini doesn't compromise on features. It boasts nearly every feature of the Hero11 Black, making it one of the best action cameras around for shooting social media videos.
Its compact size makes it easy to carry around and mount on various surfaces, making it an ideal choice for those who are always on the go. Whether you're capturing a downhill ski run, a scenic bike ride, or a surf session, the GoPro Hero11 Black Mini ensures you won't miss a moment.
4. GoPro Hero10 Black Accessory Bundle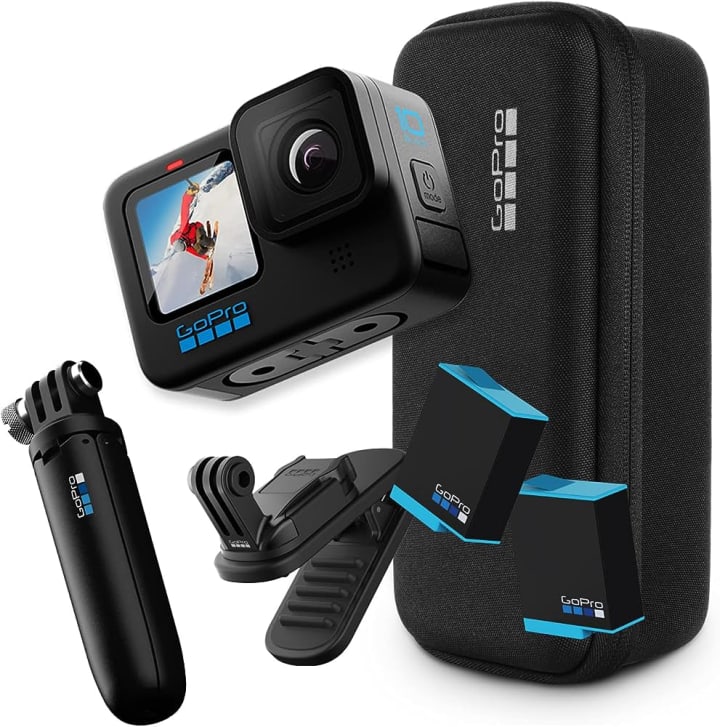 The GoPro Hero10 Black Accessory Bundle is a comprehensive package designed to enhance the functionality and convenience of your GoPro Hero10 Black camera. This bundle includes a wide range of mounting accessories, cases, protection solutions, underwater/floating addons, and grips/tripods.
These accessories allow you to mount your GoPro in various ways, providing flexibility in capturing different perspectives. The cases and protection solutions ensure your camera stays safe during your adventures, while the underwater/floating addons allow you to capture stunning footage in aquatic environments.
The grips and tripods included in the bundle provide stability during shooting, ensuring your footage is smooth and steady.
In essence, the GoPro Hero10 Black Accessory Bundle equips you with everything you need to make the most out of your GoPro camera, making it easier to capture compelling and immersive shots that are fundamentally impossible on traditional action cameras.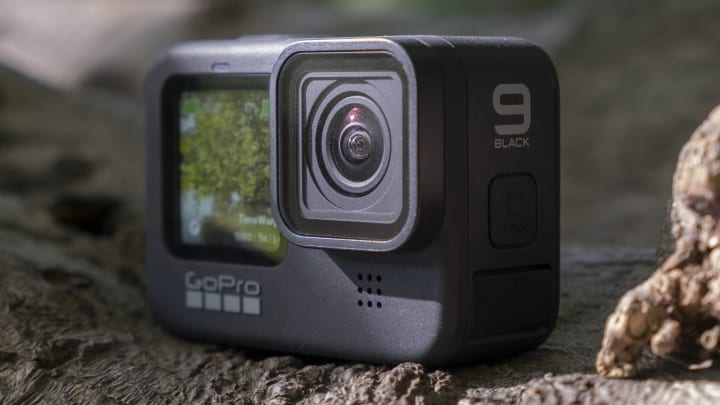 The GoPro Hero9 Black is a robust action camera that offers a range of features designed to capture high-quality footage in a variety of settings. It boasts a faster processor, better image stabilization, and higher resolutions than its predecessors. This makes it an excellent choice for capturing smooth, clear footage, even in high-action scenarios.
However, while the Hero9 Black does offer several new features, for most people its predecessor, the Hero8 Black, offers better value. This is because the new features introduced with the Hero9 Black don't collectively represent a big leap over what the Hero8 Black already offers. Therefore, unless the specific improvements of the Hero9 Black are crucial for your needs, the Hero8 Black may be a more cost-effective choice.
In summary, the GoPro Hero9 Black is a powerful action camera that pushes the boundaries of what's possible in action videography. Whether you're an adrenaline junkie looking to document your latest adventure or a professional videographer seeking to capture high-quality footage, the GoPro Hero9 Black is a tool worth considering.
6. GoPro Max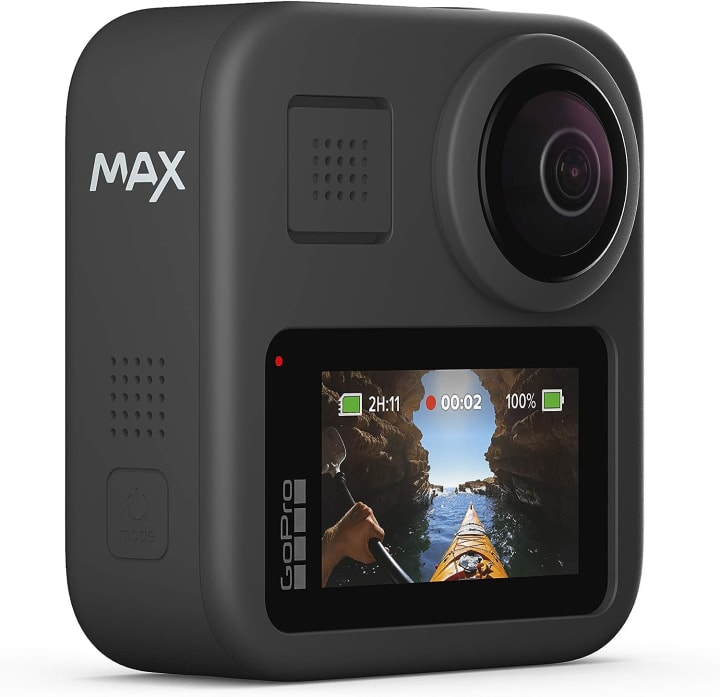 The GoPro Max is a 360-degree action camera that offers a unique way to capture your adventures. Unlike traditional action cameras that only record in one direction, the GoPro Max records in every direction at once, ensuring you never miss a moment.
One of the standout features of the GoPro Max is its ability to stitch two hemispherical video files together automatically. This feature is a massive timesaver and eliminates the need for complex post-production editing.
In addition to its 360-degree capabilities, the GoPro Max also integrates editing and reframing tools into the GoPro smartphone apps. This allows you to easily edit your footage on the go, making it even easier to share your adventures with friends and family.
In summary, the GoPro Max is more than just an action camera. It's a versatile tool that makes recording in every direction something that anyone can benefit from.
In conclusion, whether you're an adrenaline junkie looking to capture your latest adventure or a vlogger seeking to enhance your content with high-quality footage, there's a GoPro out there for you. Each model offers unique features designed to cater to different needs and preferences. So strap on your helmet, grab your GoPro and get ready to make every moment count!
About the Creator
Blogify is a blog dedicated to providing in-depth reviews, comparisons, and insights into products available on Amazon.
Reader insights
Be the first to share your insights about this piece.
Add your insights