CleanSpark Reports Another Record Breaking Quarter
Q1 Revenue Up 130% From $920K To $2.3M

CleanSpark Inc. (NASDAQ:CLSK) reported Q1 earnings before the bell this morning. Revenue more than doubled year-over-year, to $2.3 million. This was all done in a cyclically dry season for the microgrid industry, paired with COVID-19 restrictions. Historically, the months of October, November, and December only attribute about 10% of yearly revenues for the company. The company's current backlog sits at $7.3 million, up from a mere $800 thousand at the end of 2020. In addition, CleanSpark's current proposal pipeline sits at $25 million.
CleanSpark's newfound venture in its Bitcoin mining segment contributed 32% of quarterly revenues. This is significant, as CleanSpark only had its Bitcoin mining segment active for 21 days of the quarter. Starting at 1.4 BTCs per day, CleanSpark now projects it will increase mining to 6-9 BTCs per day. At today's price of $47,000 per Bitcoin, this would represent $115-150 million in revenue alone. At today's valuation of $650 million, those numbers make this look like a "no brainer" buying opportunity.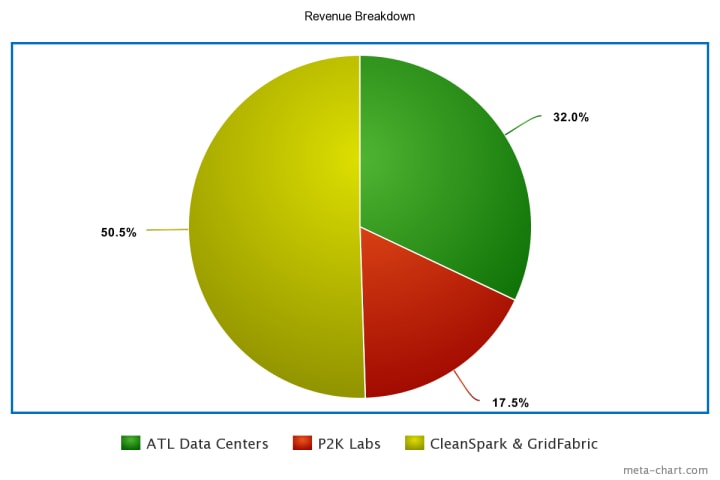 My Commentary
In comments made to shareholders, CEO Zachary Bradford and Executive Chairman S. Matthew Schultz state that their goal is to mine Bitcoins at the lowest rates nationwide, with a profit margin exceeding 80%. Although easier said than done, if they can accomplish such a feat, Bitcoin mining companies from all around would come flocking to them in demand for the microgrid hardware and software they provide. After all, that's what this acquisition of ATL Data Centers was intended for ~ a testbed proving what is possible in regards to benefitting Bitcoin miners.
Later in the commentary, the management team states that "we are also expanding our residential initiatives, including the launch of a new offering which we look forward to discussing in greater detail next week." One can only imagine what this could be... maybe another accretive acquisition by CleanSpark? The benefits of having a direct "in" to residential microgrids are fairly obvious. Residential microgrids provide software-heavy revenues, which is what CleanSpark shareholders have been looking for.
Lastly, I truly believe CleanSpark is on the brink of profitability. Bitcoin prices are increasing along with software revenues, which are both high margin businesses for the company. In fact, CleanSpark has 90% margin on its software offerings. As they begin to deploy their clean energy solutions to ATL Data Centers' facility, margin in their Bitcoin mining segment will also increase drastically. ATL Data Centers will be a cash cow for CleanSpark, fueling additional accretive acquisitions and growth in their legacy business of providing microgrid solutions.
CleanSpark continues to show shareholders growth that can only be found in a handful of companies. With 3 straight years of doubling revenues and continued 2021 revenue guidance raises, I see no cause for concern. As I previously stated, I believe CleanSpark is on the verge of profitability. There is no reason to fret, especially now that CleanSpark has paid off its significantly unattractive financing instrument.
I'm also looking forward to new updates from GridFabric, which is heavily involved with the electric vehicle industry. GridFabric also allows customers to sell their stored energy back to the traditional grid as a revenue stream. This is best seen in California, where they've experienced rolling blackouts for years. With CleanSpark and GridFabric's services, customers don't lose power and instead can earn revenue by supplementing the overloaded grid.
As a shareholder since ~$4.50, I haven't sold a single share of my core position. In my Robinhood portfolio alone, I own 3,500 shares of stock in the company. This equates to roughly $100,000 invested in the company, and I'm only 19 years old. I also manage several other stock market accounts which own a significant number of additional shares.
For my bullish thesis on the company, I've done several YouTube videos spotlighting the company. Click here to view my YouTube channel, and sift through my videos to learn more.
With Zachary Bradford and S. Matthew Schultz, I share extreme optimism for the future.
*I have never been offered, and never will accept compensation from a company for spotlighting their business and stock. These are my own thoughts, opinions, and ideas. This article should not be interpreted as financial advice.
Reader insights
Be the first to share your insights about this piece.
Add your insights