Brooklynn Chandler Willy on Working While Retired and How it Affects Your Social Security
Brooklynn Chandler Willy provides insight on what working while your retired will look like financially.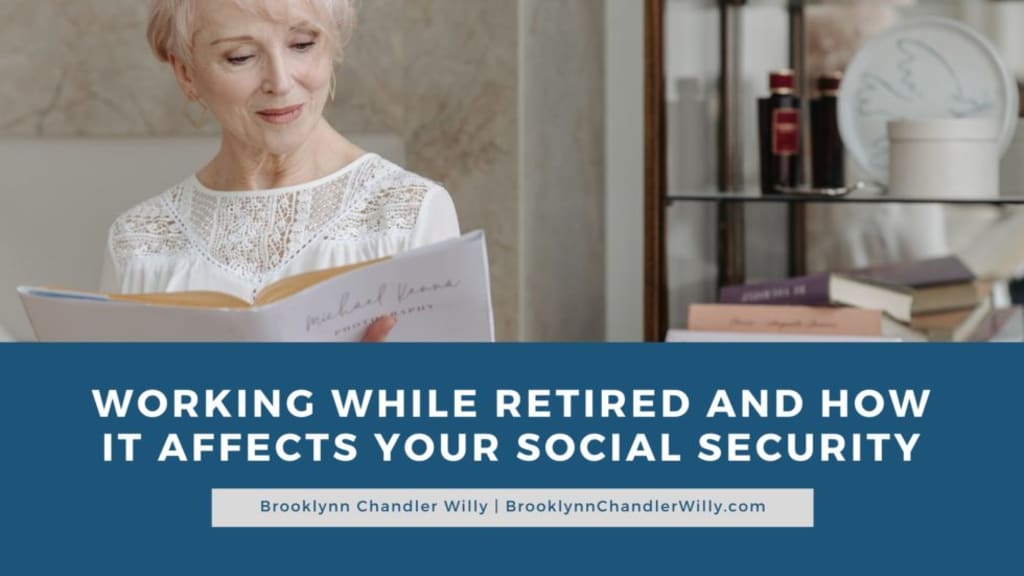 https://brooklynnchandlerwilly.com/working-while-retired-and-how-it-affects-your-social-security/
If you're still planning on returning to work after retirement, it's essential to understand how this could affect your health insurance and Social Security benefits. Whether you're planning on working for an extra income or just taking on something that you enjoy doing, it's important to remember that receiving a new paycheck could affect your coverage. Here are a few ways working while retired will affect your social security.
Social Security Reduction
Although your age is essential, reducing your Social Security benefits is temporary. The IRS will then calculate your benefit and provide you with credit for the months you didn't receive a payment. This means that you should not worry about a temporary payment reduction.
Working could reduce your Social Security benefits if you're not at your full retirement age (FRA) yet. For instance, if you're working and earning over the annual limit, you could lose up to $1 in benefits for every $2 you earn above.
Tax Benefits
Your modified adjusted gross income, which includes revenue from various sources such as working and paying taxes, affects your Social Security benefits. If your income exceeds a certain threshold, a more significant portion of your benefits is subject to income tax.
Paying Back for Benefits Later
Suppose you took advantage of a reduced rate of Social Security benefits before your full retirement age. In that case, you can pay back what you've already received or start new payments at a later date. Remember to pay back your benefit's total amount, including any taxes and Medicare premiums.
You only have the option to pay back your Social Security in the first 11 months of your benefits. The Social Security Administration also limits your repayment period to the first year after you receive your payments.
Health Insurance
One of the main reasons people under 65 stay in the workforce is that they can get group health insurance through their employers. If you're 65 or older and are already covered by Medicare, you should check with your company's human resources department to see if their coverage can help you pay for out-of-pocket expenses.
Enroll On Time
Medicare and the supplemental insurance known as Medicare Advantage have specific enrollment periods. If you miss these periods, you could be subject to late-payment penalties. If you have employer-based coverage, you may be able to sign up for both Medicare and supplemental insurance after reaching the age of 65 without penalties. However, ensure that you pay close attention to the enrollment periods for both Medicare and health insurance.
ABOUT BROOKLYNN CHANDLER WILLY
Brooklynn Chandler Willy's career in financial services developed following the sudden and untimely death of her father. In life, he had been a life insurance salesman who – ironically – had no life insurance himself. She saw how difficult it can be – emotionally and financially – to lose a loved one without being prepared; she decided to dedicate her career to helping others put better plans in place and be prepared so as not to be faced with a similar situation.
At Texas Financial Advisory, Brooklynn Chandler Willy and the entire team understand and appreciate how hard their clients work and the nest eggs that they've saved throughout their lives. The team will work with each client as a fiduciary and help take the uncertainty and stress out of retirement planning to create holistic plans that extend beyond the numbers. To learn more about if Texas Financial Advisory is right for you, please visit their website.
Alongside her job as the Host of the "Texas Financial Advisory Show," Brooklynn Chandler Willy hosts the "Texas Financial Advisory Show," airing weekends on WOAI 1200 AM and KTSA 550 AM. Through her show, Brooklynn shares the knowledge, insight, and expertise that she's accumulated across her career. Listeners tune in to hear examples of how a retirement income plan can help reduce income taxes, provide a legacy for heirs, and assure a steady income through the rest of life.
About the Creator
Brooklynn Chandler Willy is a financial services professional specializing in Retirement Planning. Operating in San Antonio, Texas. She is the Founder and President of Texas Financial Advisory.
Reader insights
Be the first to share your insights about this piece.
Add your insights