Analyst warns of banking crisis 'endgame' as Bitcoin falls with stocks
Investors show nervousness as U.S. regional banks contribute to significant losses in risk assets.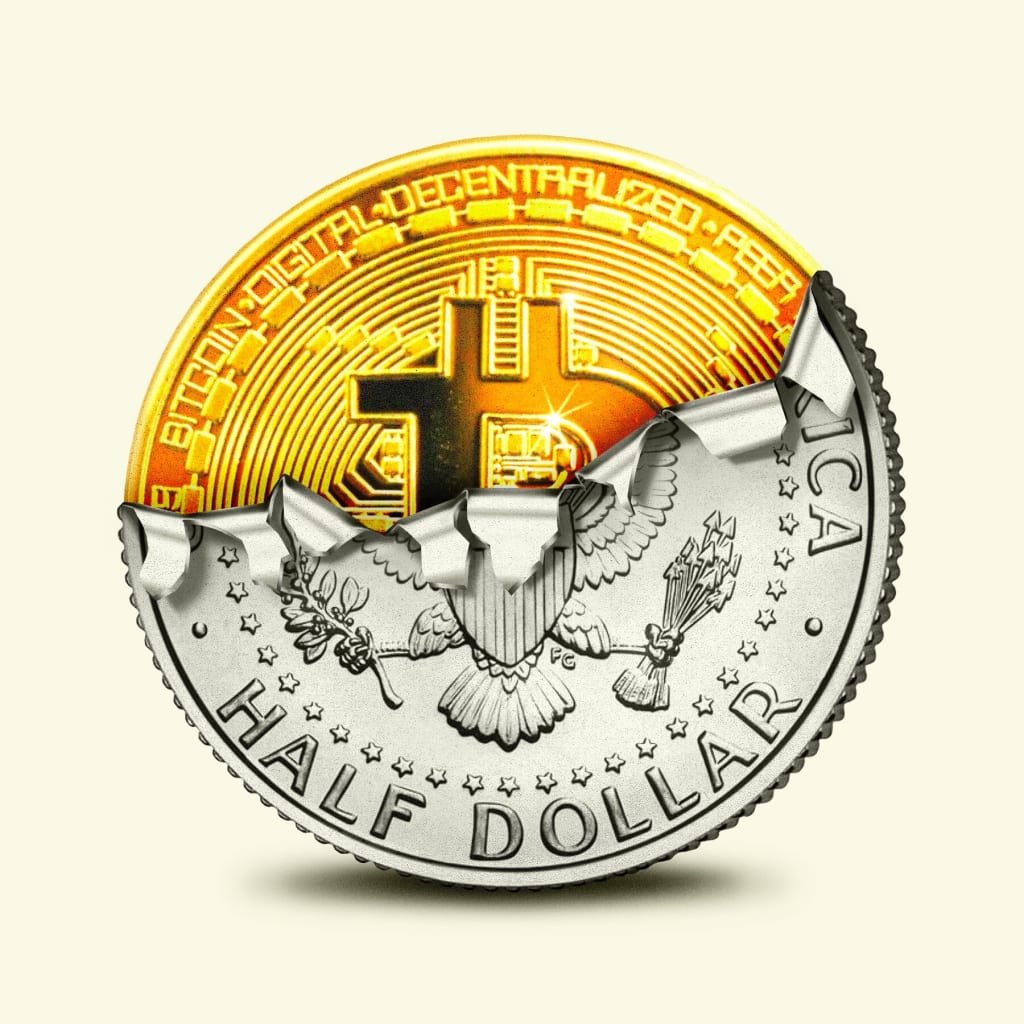 This post contains affiliate links, which means we may receive a commission if you click a link and purchase something that we have recommended. While clicking these links won't cost you any extra money, they will help us keep this site up and running! Thank you for your support.
On May 4th, as the US equities market showed signs of anxiety over the resurgent banking crisis, Bitcoin dropped below $29,000 during the Wall Street opening.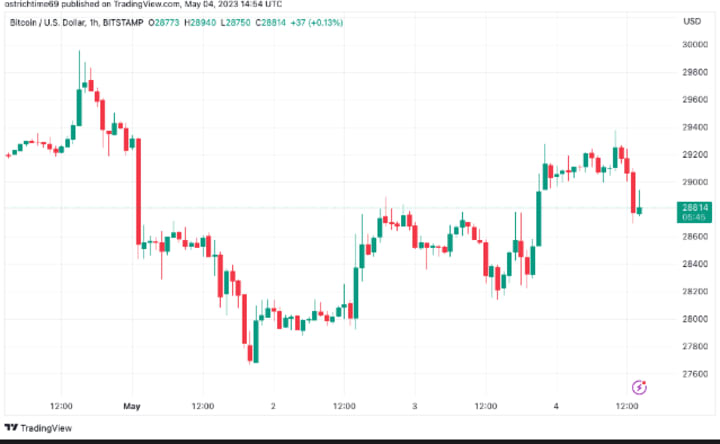 US banks overwhelmed with 'too much all at once'"
According to TradingView data, as the S&P 500 lost 0.7%, BTC/USD also suffered losses.
U.S. regional bank stocks experienced more chaos, with PacWest Bancorp leading the way with a 50% drop on the day, despite already major losses of 86.5% year-to-date.
The bank claimed its position was "solid." Despite reassurances from U.S. authorities about banking system stability, many analysts expressed doubts as the crisis persisted, causing confusion.
Within the last 24 hours:
1. PacWest Bank, $PACW, explores potential sale
2. Western Alliance Bank, $WAL, explores potential sale
3. First Horizon Bank, $FHN, cancels merger with TD Bank due to "regulatory concerns"
4. Fed says "banking system is sound"
5. No comment from…
— The Kobeissi Letter (@KobeissiLetter) May 4, 2023
"For the first time in weeks, equity markets are responding to the banking crisis," financial commentary resource The Kobeissi Letter wrote in part of Twitter coverage.
Kobeissi argued that the latest Federal Reserve interest rate hike, confirmed as 0.25% on May 3, had added fuel to the fire.
"Perhaps this is the equity market worrying that the crisis may not be isolated," it continued.
"The Fed rate hike is only making things worse."
In addition to PacWest, First Horizon and Western Alliance were two more major losers on the day, down 53% and 38%, respectively.
"Confidence in a financial institution is built over decades and destroyed in days," Bill Ackman, CEO of hedge fund management firm Pershing Square, continued in his own response.
"As each domino falls, the next weakest bank begins to wobble. Until investors are rewarded for betting on a wobbling bank, there will be no bid, and the best sale is the last price. We are running out of time to fix this problem."
In a dedicated blog post on the crisis, meanwhile, Marty Bent, founder of crypto media firm TFTC, described it as a point of no return.
"Everywhere one looks things look absolutely terrible for the US financial system. This feels like the endgame," he warned on May 3.
"I find it hard to believe there is anything that can be done to restore confidence in the system. No amount of backstopping, money printing, buybacks, consolidation, or World Wars will be able to put this genie back in the bottle. The Fed and the Treasury will try their hardest to make the public believe otherwise, but this is simply too much all at once."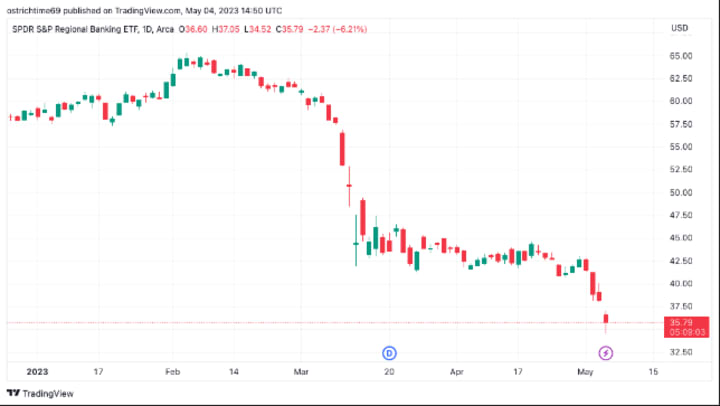 The significance of $28,800 BTC price highlighted by weekly chart
Turning to Bitcoin, BTC/USD found itself in an area of low liquidity at the time of writing, with large-volume traders staying away.
Data from the Binance order book uploaded to Twitter by monitoring resource Material Indicators showed bid liquidity slowly increasing above $28,000.
While some popular traders demanded higher returns to reach the $30,000 resistance level, others remained optimistic in the long term.
Rekt Capital, a popular trader and analyst, emphasized the current spot price levels as crucial for a successful reclaim operation, noting that BTC had held the $28,800 level as support for the week and had experienced aggressive buying in recent days.
"Reclaim of the $28800 level is technically in progress."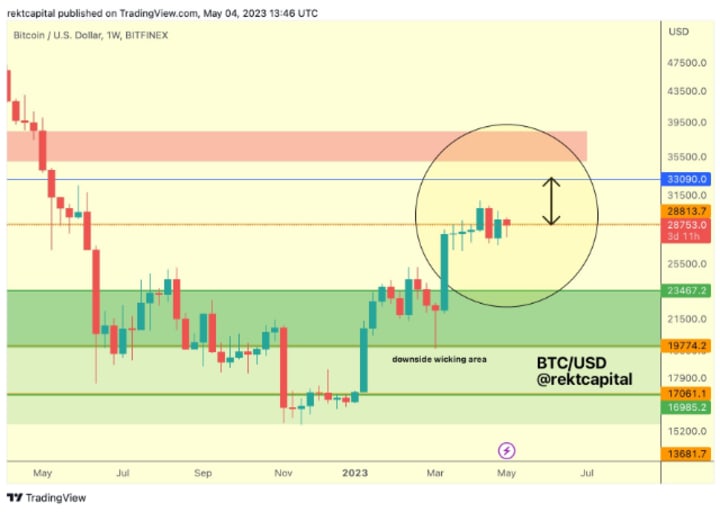 Are you ready to enter the world of cryptocurrenices?
Ready to enter the exciting world of cryptocurrency trading?
If so, we have great news for you! Our platform has partnered with Binance and Nexo two of the world's leading cryptocurrency exchanges, to provide our customers with a fast and secure way to buy and sell digital assets.
As an expert in the cryptocurrency industry, we understand the importance of having access to a reliable trading platform. That's why we have carefully selected Binance and Nexo because they both offer a robust trading engine, high liquidity, and a wide range of cryptocurrencies to choose from.
To get started, simply use our unique link to sign up for a Binance or Nexo account and start trading today. With our platform, you can stay up-to-date with real-time market data, manage your portfolio, and access advanced trading tools.
Don't miss out on this opportunity to take advantage of the explosive growth potential of the cryptocurrency market.
Join us on Binance or Nexo today and enjoy the benefits of using our affiliate link.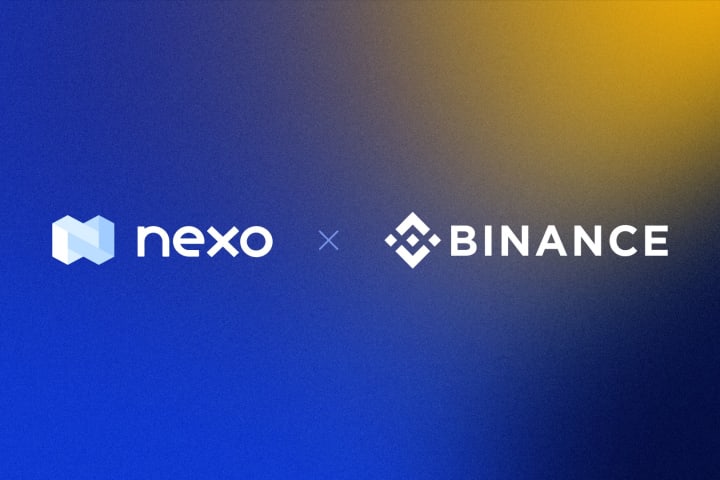 All Our Social Media:
Pinterest: https://www.pinterest.com/affilicore/
Facebook: https://www.facebook.com/profile.php?id=100089786415062
Instagram: https://www.instagram.com/affilicore/
TikTok: https://www.tiktok.com/@affilicore
Medium: https://medium.com/@affilicoremarket
Vocal Media: https://vocal.media/authors/affili-core
LinkTree: https://linktr.ee/affilicore
Twitter: https://twitter.com/AffiliCoreM
E-mail: [email protected]
About the Creator
Meet AffiliCore a versatile writer covering shopping, fitness, SaaS, business & investment, and travel. With engaging content and an eye for detail, AffiliCore helps readers make smart and informed decisions.
https://twitter.com/AffiliCoreM
Reader insights
Be the first to share your insights about this piece.
Add your insights