10 High Growth Stocks Down 30%+ To Buy NOW!
Growth Stocks Have Been Decimated, But With It Has Come Great Buying Opportunities
After months of high flying growth stocks setting new all-time highs, we have finally seen valuations come down for many stocks, specifically ones in the Nasdaq. Like many predicted, funds and institutional investors alike have flooded back into the safe, defensive stocks in the Dow Jones Industrial Average (DJIA), and out of tech stocks in the Nasdaq. Just yesterday, the DJIA was up 306.14 points (0.97%), while the Nasdaq was down 310.99 points (-2.41%). This sort of 'breather' was much needed for the Nasdaq, which has seen almost 100% return since the lows in March of 2020.
Two groups of stocks have been hit the hardest: Special Purpose Acquisition Companies (SPACs) and Electric Vehicle (EV) companies.
SPACs
Over the past couple of weeks, many SPACs have retreated to their Net Asset Value (NAV) at around $10 /share. SPACs are different from ordinary securities in that they represent a blank check company, looking to reverse merge with and bring a private company to the public markets. At NAV (an entity's value of assets minus its value of liabilities), retail investors are not pricing in any premium to the company that will be coming to the public markets -- no growth or revenues are priced in to the share price.
Obviously, this creates what seems like a great buying opportunity for SPACs, specifically ones that have announced a merger target. In particular, I cover Lucid Motors (CCIV Stock) and Lightning eMotors (GIK Stock) in my video. CCIV has seen its share price crater from $64.86 as a 52-week high, down to $24.26 today, over the past month alone. Lucid Motors is thought to be 'second in line' in the EV industry behind Tesla. With how big the EV industry is set to grow, there is room for both Tesla and Lucid in the market.
GIK Stock, or Lightning eMotors has seen its share price hit less than $10.50 just yesterday. This is from a high of $17.36 /share set just a couple of months ago. Since the NAV of SPACs is generally around $10 /share, the most you could lose by buying GIK at $10.50 would be 50 cents for every share you own. That is nothing. When making a risk/reward calculation when valuing SPACs, there has been lots of potential reward with minimal risk.
EVs
Though both Lightning eMotors and Lucid Motors are electric vehicle manufacturers, I included several more EV companies in this list of high growth stocks to buy. That's because it hasn't just been the SPACs getting crushed. We have seen the investor favorite, Tesla, get decimated from a 52-week high of around $900 /share, down to a low of around $550 /share, which was set just yesterday. Further, we have seen the overseas leader, NIO, get crushed from a 52-week high of around $67 /share, down to a low of around $35 /share, which was also set just yesterday.
In the electric vehicle industry, Tesla is the hands down leader in the United States, while NIO is the hands down leader in China. Both companies have had years of growth that was priced into their share price knocked off over the past couple of weeks. This has brought both of their valuations back down to earth, where the expectations aren't so high.
Beyond Tesla (TSLA Stock) and NIO (NIO Stock), I included Lordstown Motors (RIDE Stock) in the video. Lordstown Motors is set to bring the first electric, full-sized worktruck to markets. The Lordstown Endurance will beat even the Tesla Cybertruck to consumers' hands. When finding good companies to buy in industries that are growing as fast as the EV industry, it's best to find companies that either have a niche or a headstart on all of the competition.
Along with the traditional EV manufacturers, EV charging companies like Blink Charging (BLNK Stock) and ChargePoint (CHPT Stock) have also been crushed. Similarly, these EV charging companies had years of growth already priced into their share price before these last couple of weeks of the markets pulling back. Whether it's a traditional EV manufacturer or a company that focuses on the EV charging infrastructure, buying shares of these companies looks a lot more enticing than it did when the stocks were at 52-week highs.
Others
For the remaining 5 stocks (4 picks + 1 bonus pick), please refer to the video posted above. The bottom line is I could write all day about these tickers, but that wouldn't be so productive. Feel free to watch the video for more information on the stocks I mentioned in this article, along with the 5 I didn't mention.
Valuations on the high flying growth stocks have come back down to earth, and with it I have been buying shares of the companies I love for a discount. To see the 3 stocks I have been buying especially heavy, view this video. Greener pastures await those who have patience. As I like to say, patience pays. While some retail investors are flocking in fear, I'm buying more shares of the companies I love.
Warren Buffett says it best: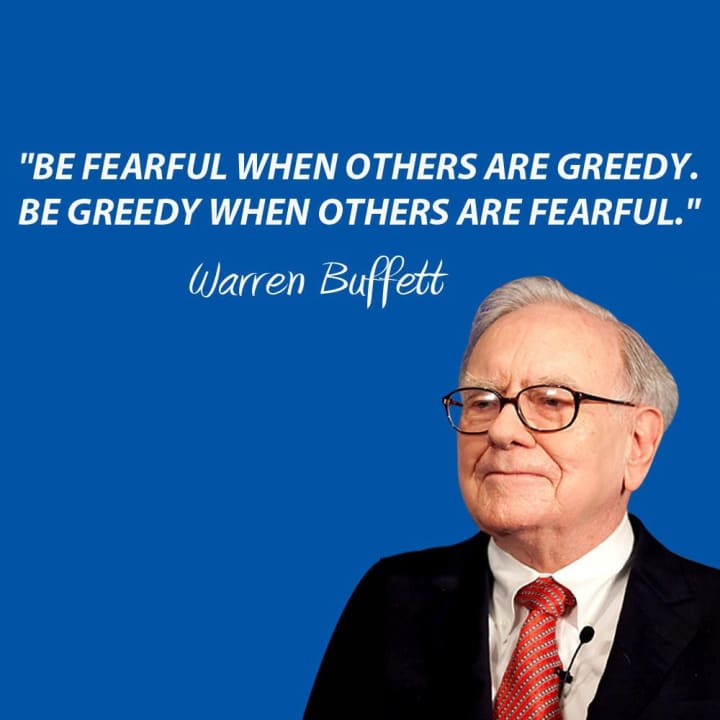 *I have never been offered, and never will accept compensation from a company for spotlighting their business and stock. These are my own thoughts, opinions, and ideas. This article should not be interpreted as financial advice.
stocks
20 year-old investor, with a small YouTube channel