Where will it lead?
Ask the Nazi's
Eighty-five years ago, the world was changing and for the worse. Nazi Germany was rising to power, the axis of evils were beginning to form. In 1936, in Berlin the Olympic games were already in progress. This was three years before the start of World War 2. I took a walking tour of Munich and they told us that at a pub in Munich that you had to give the Nazi salute on one side of the pub but not the other and that everyone walked around to avoid giving the Nazi salute. In 1936 an American, Jesse Owens won the Gold Medal for his event and Hitler wouldn't meet the medal winners from other countries just from Germany. The Olympic Commission told Hitler he had to meet all the gold medal winners or none at all, so he chose for none. In this photo you will see Owens proudly saluting the American Flag when the National Anthem was played. The Olympics should be free from politics. Picture Owens proudly saluting the American Flag.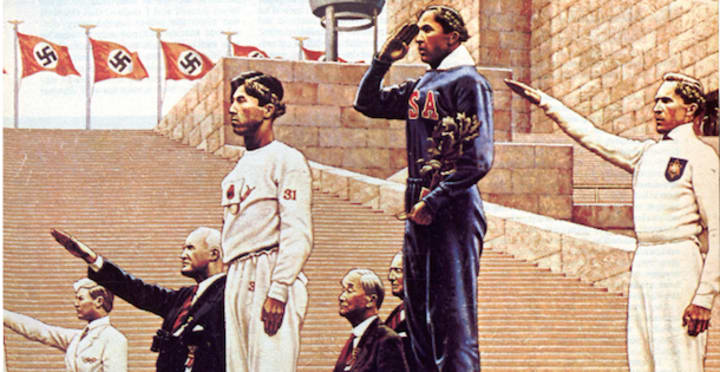 What did Jesse do in Germany in 1936? Jesse Owens was an American athlete. He is best remembered for his performance at the 1936 Berlin Olympics, where he won gold medals in the long jump, the 100- and 200-metre dashes, and the 4 x 100-metre relay. He was the first American track and field athlete to win four gold medals at a single Olympic Games. It didn't matter to me his color. All that matters is that he won. I refuse to let race determine anything. The African American community can look at this man and say he held true to the principles of the United States. They can also say that is someone I want my child to strive achieve after. This is also an issue that people need to pay attention too. The man proudly standing eighty-five years ago is standing for a country that stood for what you are kneeling for. If you pay attention to history every country that gets into trouble and is attacked, calls on America to assist in their defense.
Today we have athletes taking a knee in the name of protest. I didn't think the Olympics is where this is supposed to happen. In 1980, the United States boycotted the summer Olympic games over Russia's invasion of Afghanistan. Yesterday another Olympian refused to fight someone from another country because that country happened to be Israel. Where is the spirit of competition?
Now, this is happening to where you can't take photos of athletes taking a knee. https://www.si.com/olympics/2021/07/21/tokyo-olympics-social-media-team-banned-posting-athletes-taking-knee. This is s picture of the US Women's soccer team the other day. I salute the ones that still have the guts to stand. The ones kneeling, well they have the right to do so under the first amendment, but do you really want to show the world that you hate your country this much?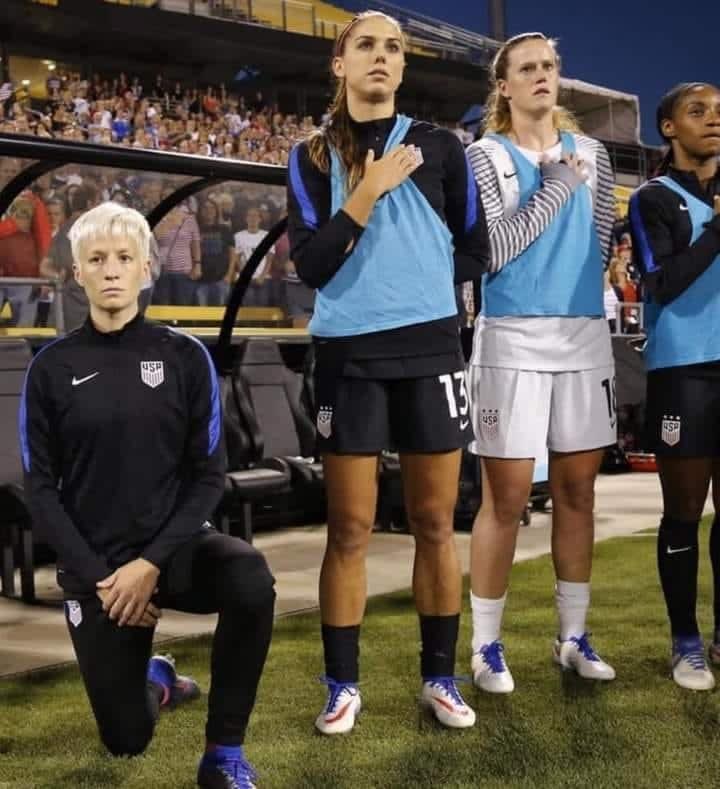 Everyone from major groups that has a different opinion as to what this flag means. They all agree it's racist, ask any veteran that has served and you will get a different view point. This all started with Colin Kaepernick and it isn't ending any time soon. I say don't disrespect the flag unless you risked coming home under one.
The Americans who desecrate our flag, speak negatively of our country has never lived in a country where real oppression happened. Has never been stationed in a country divided by the fall out of a war created by their leaders, nor seen the fall out of their decisions of so much hate. I have and I pray to God we never see it again.
Go to Belgium, they have a holiday called Liberation day, they celebrate the American's liberating their country from the Germans. Imagine being this boy's parent. As an American, I am very proud of him for what he did. As he stood on Omaha Beach envisioning our soldiers arriving on shore to rid the world of oppression, hatred and barbarism. https://youtu.be/8k9Si28k0Fk
Will we ever have another greatest generation again? I don't know. In this video, a grandfather is fed up with the destruction of, removal of memorials, so he decides to teach his grandchildren a history lesson and takes them to the movie theater. https://youtu.be/AgYLr_LfhLo
I haven't watched any Olympic games this summer because of the kneeling and the late hour at which they are on, but there was a time in which I as a child and an adult enjoyed the Olympics.