What's really happening in Ukraine? In the world?
As a neighbor of Ukraine..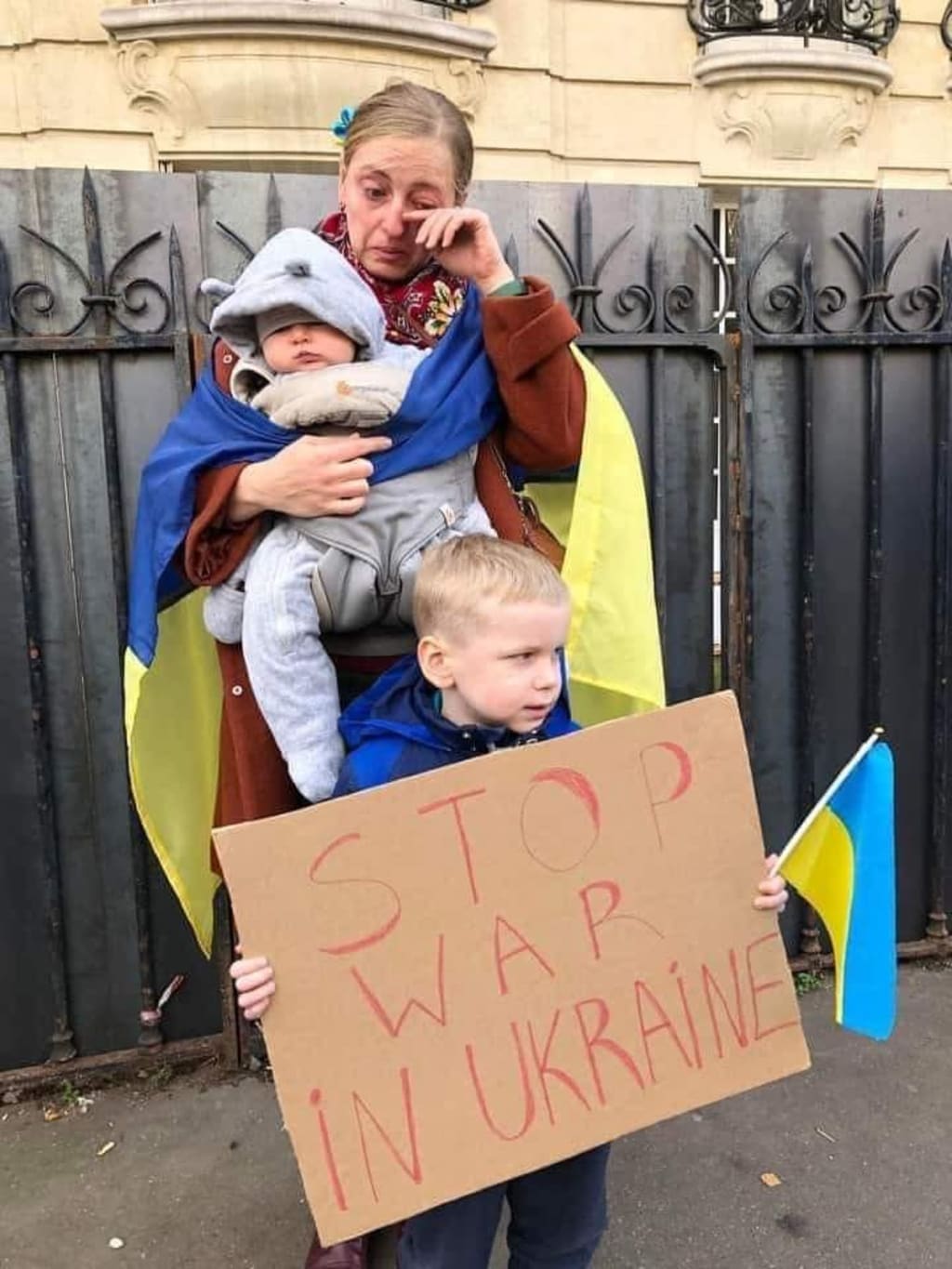 As a writer, I could have written about the tragic events in Ukraine from day one. As a human, a woman, a mother and a neighbor of the Ukrainians, however, I feel so much fear and pain that I still can't find the right words.
For starters, I'm shocked!
Shocked that in the 21st century we can still talk about a war, about the death of young men to carry out the orders of some tyrants, like two children who do not share a toy!
Shocked that the United States has started this conflict by claiming that they will be on Ukraine's side no matter what happens, and after military action by the Russians began, they fled like cowards.
I am shocked that Zelensky, the President of Ukraine, had such enormous stupidity and courage to confront Putin, that leader who frightens the whole world.
I am really amazed by the Russians protesting right now to claim that they do not want war, they are protesting even if they risk their freedom and even their lives.
But even more, I am shocked by those Russians and Ukrainians who really grow in their souls a mutual hatred, an unmotivated hatred in reality, because "how can brothers hate each other?" How can they believe the stories of the authorities and the false news!
My soul explodes with pain when I see the hatred between people, the hatred between relatives and friends grow.
I'm deeply disappointed with Fake News! So much false news that misleads people. They make fun of their grieving souls, they make fun of the suffering of millions of Ukrainians, and they try to make the most of it.
I'm disappointed that people share all the news they find without making sure it's true.
And here I will give an example "some say that Putin did not want to answer the phone when Zelensky called him on Thursday morning, others say the opposite"; "Some say about 20 or more Ukrainian soldiers have died on the island of snakes, while others say no one has died."
Who to believe? No one! You don't have to believe anything until you make sure it's 100% true! For our own good!
I am disappointed that these powerful leaders have not been able to reach a common denominator and have allowed the people to suffer, the people who did not want and will never want war.
Ukraine is full of fear, hatred and hope! But how do the Russians feel? Definitely a shame, a shame that they are powerless in this situation, because that is the reality. The people no longer make any decisions, no action by Putin depends on them, and not everyone understands that.
I can't stop my tears when I see heartbreaking images of refugee children under subways, bridges or freezing cold at customs. I look into the eyes of my 4-month-old baby and my heart bleeds at the thought that "I could have been me". what I can do now is express my admiration and love for them.
But there's always that light at the end of the tunnel ...
And here I am talking about us, Moldovans, Romanians!
Even if the banks and some real estate agents have decided to show their worst negative qualities, ordinary people have shown that kindness will always be above hatred, financial problems or fear!
Hundreds of Ukrainian refugees greeted customs, free transport and taxi, Facebook is full of ads about accommodation, medical care, taxi, all first aid needs, food and water, all for free, because we all suffer with them in these tragic moments.
I know many moldovans who have openly agreed to receive refugees to provide them with warm food, a bed and shelter, but above all, compassion and kindness, which in such times is more precious than any diamond.
Once again we have witnessed that whatever happens, we can save thousands of lives just by being PEOPLE.
Pain and hope, these are the feelings that now surround the whole world.
About the Creator
Communication and public relations student, Moldova
Instagram profile: maria.ostasevici;
mother of two awesome Dobermans.
BEST VERSION OF YOURSELF- THAT'S TRULY EPIC
Reader insights
Be the first to share your insights about this piece.
Add your insights