WAP vs. You Shook Me All Night Song
How Music Highlights White Privilege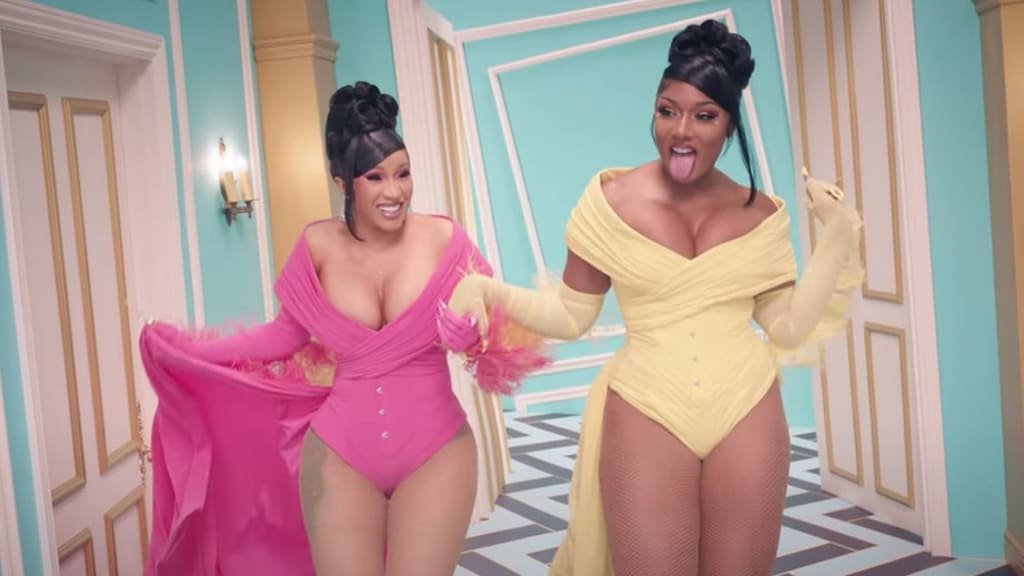 Cardi B. and Megan Thee Stallion
I absolutely love music. From the moment I was born, I was unknowingly being trained in good music. Funny (and true) sidebar story: My mom was terrified of SIDS. If you are old enough to know or remember anything about the 80's, there was a period of time were there was an increase of infants dying in their sleep. They sometimes called it "crib death," but it was SIDS which stands for Sudden Infant Death Syndrome, the sudden unexplained death of a child of less than one year of age. My mom had this idea that if she played music to me on the radio when I was sleeping, that somehow the music would call me back from the Light if my little baby Spirit decided it had had enough of this planet already. Irrational, I know. Makes no scientific sense, I know. Totally a mom-logic thing? Absolutely. And really kinda sweet in an odd way! But in reality, all that happened was that I was being subliminally programmed to good ass 70's and 80's music!
My dad was my second musical influence. He has a wide range and very eclectic taste in music. My dad used to play in a band as well. He loved and still loves music very passionately and passed that down to my sisters and I. We grew up in a house full of music. Like most Caribbean households, Saturday chores were done to a rooms full of music blasting. Everything from Bob Marley & The Wailers to Toots and the Maytals; Duran Duran, Parliament, Santana, Sting & The Police and everything in between. The best way that I can personally describe it is my mom introduced me to 80's music and my dad gave me in-depth lessons on it. My sisters and I would sit with my dad as he played his vinyls and cassettes and then eventually CD's and MP3's and have listening sessions where he would educate us about who the artists were, where they came from and what the songs were about if he knew. My sisters and I on both sides of my family have been exposed to exceptional music catalogues, from our grandparents down to our parents. My younger sister on my mom's side and I always joke that we are CHFI 98.1 FM babies, as that was my mom's favourite radio station and still is to this day. We went to sleep every night to the various hosts and had music playing all throughout the night. I always loved the late night after dark program on CHFI called "Lovers and Other Strangers," as it played the BEST love songs! Peter Cetera, Phil Collins, Sting and Paul Simon. The Neville Brothers, Journey, Peter Gabriel and Bryan Adams. All my favourite artists, who sang songs about love and love making for that matter. Into the 90's, it was Shania Twain, Faith Hill, Jann Arden, Sarah McLachlan, Corey Hart and Roch Voisine who influenced my sleep music. All singing songs about love, love making, heartbreak and relationship struggles in general. I remember when Faith Hill and her husband Tim McGraw wrote and sung a song called "Let's Make Love." The lyrics literally say "Let's make love all night long until all our strength is gone. Hold on tight, just let go. I want to feel you in my soul. Until the sun comes up, let's make love." I remember singing that song in the car with my parents, in stores when it came on, anywhere really. That song came out in 1999, so I would have been 14 going on 15. Not one person was afraid that I was going to turn into a hoe or that someone was going to look at me at that age and think I was actually inviting them to have sex or even that I wanted sex. It was a song sung by two consensual adults about their relationship. 
So why all this ruckus over "WAP," the new hip-hop song by Cardi B Feat. Megan Thee Stallion? I have been listening to various opinions about this song and people's feelings and reaction to it, and I cannot help but see the glaring hypocrisy when it comes to white or non-black POC singing the same kinds of songs. Take the song in the title of my article as a case and point. "You Shook Me All Night Long" by AC/DC is an absolute CLASSIC rock song. Even if you do not like or listen to rock music, most people recognize the song. The song is literally all about sex. It's about a man talking about a night with a woman who apparently did some wild things to him all night long. The opening verse of the song states:
She was a fast machine
She kept her motor clean
She was the best damn woman I had ever seen
She had the sightless eyes
Telling me no lies
Knockin' me out with those American thighs
Taking more than her share
Had me fighting for air
She told me to come but I was already there
'Cause the walls start shaking
The earth was quaking
My mind was aching
And we were making it and you
Shook me all night long
Yeah you shook me all night long
This song is played on classic rock stations ALL the time. I listen to them, so I know. But even more explicit than this is a song that used to play religiously on the airwaves in New York when I was in high school. It played on Z100.3 FM ALL the time. The song "Lick It" by 20 Fingers came out in 1995 but played on radio station rotations all throughout the late 90's. The song, which is sung by a white woman, goes as follows:
You gotta lick it (you gotta lick it)
Before we kick it (before we kick it)
You gotta get it soft and wet so we can kick it (so we can kick)
I met a real cutie
He had a nice tight booty
He seemed to be the frequent lover type
Let's cut right through the chase
Come on and get a taste
You've got to face it so that I can get high
Come on and show you're able
And go below my navel
Don't be a tease
Just give me what I like
I'm full of freakiness
So give my cat a kiss
And make it purr
So we can do this right
You know men are dogs
So go bark up someone else's tree
Yep. You read that right. Why did it not garner as much attention about it's lyrics as "WAP" has? Why were white women not getting on radio stations, talk shows and podcasts to discuss how white women's bodies and sexuality were being fetishized? Why wasn't anyone questioning whether white men would look at white women differently or somehow think they were valued less as a human simply because they sang this song? The answer is simple. White privilege. White people can sing songs like this and be looked at as "cute" or "cheeky," and these songs will play with alacrity. The media doesn't tear down these women or question their integrity and they move freely through their worlds. Unfortunately, Black people and Black women specifically are not afforded the same liberties. No matter how rich, famous, smart or successful we get as Black women, our lives are still open fodder for community gossip, speculation and unwanted opinion.
There are many issues within the Black community as those of us within it know, but one of the most pervasive in my opinion is our inability to give each other grace and allowance to live our lives on our terms. After everything we have been through for 401 years and counting, at times it seems like some of us are still enslaved to this idea that we all need to agree on what "we the black delegation" have decided is acceptable or unacceptable. While in no way are we a monolith and there are definitely tons of supporters of the song and a woman's right to do whatever she wants consensually, there still is something in our black ether with some of us where we hold our community to standards that we do not hold others to collectively. I hear this particularly in black media in the United States. While there are some hard core, militant Black people who stick to their morals, personal ethics and religious beliefs with an iron fist, they do not represent the whole community. There are a lot of us, particularly those in my millennial generation who just want to live our lives on our own terms. Period. We don't want or need the opinions of others unless we ask for it. So if we want to sing "WAP" all day, why is this a problem? Why is it even a topic of discussion or point of emphasis when white people sing about sex ALL the time? Is it because of how they sing about it? Is it because they aren't as provocative in their videos? Or is it simply because, perhaps subliminally, some of us have subconsciously accepted the reality of white privilege and therefore we give a pass unconsciously to white people for the very things we tear each other down for. Regardless of the reason, we as a community need to fix this. And we're not going to do this by tearing each other down because we have differing or opposing beliefs. There is a lot of unlearning and relearning that needs to happen in our community while we are moving through this Black Renaissance. We have to start doing the inner work and as we do so and hold each other up instead of always finding ways to tear each other down, we will start to see our outer world align with the changes within ourselves.
controversies
About the author
Certified Life Coach & Workshop Facilitator specializing in Self-Awareness, Emotional Intelligence and Emotional Resilience coaching. I also write a sometimes.