VOTE AMERICA EVERY VOTE COUNTS
Vote Like Your Life Depends On It.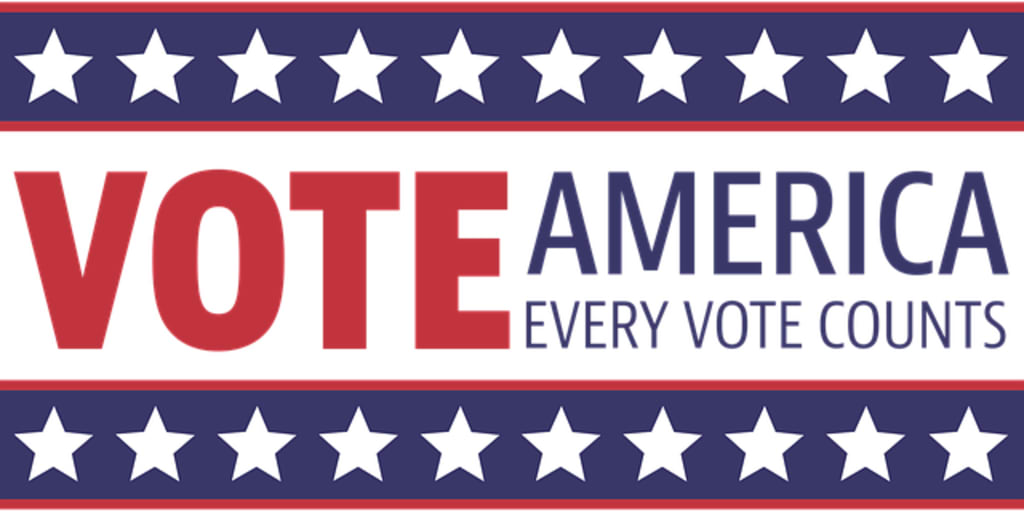 LIKE YOUR LIFE DEPENDED ON IT!
The Right to Vote is one of the most powerful rights that you could ever have as an American Citizen. You are not just voting a guy into office that would be the President of our country. It is more than just that, it is so much more. We are voting in an individual that will lead our country into greatness. "The Land of the Free and The Home of the Brave".
VOTING HISTORY TIMELINE IN AMERICA.

Late 1700's - First Americans to vote, a selected group of white landowners.

1869 - Congress passes the 15th Amendment giving African-American men the right to vote.

(a) - Louisiana grandfather clauses to keep former slaves and their descendants from voting

(b) - Mississippi, South Carolina, Alabama, and Virginia made clauses of their own following Louisiana "grandfather clauses".

1920 - Women wins the right to vote.

1940 - Jim Crow laws from literacy test and poll taxes.

- the 24th Amendment is adopted outlawing poll taxes

1960 - Southern States began creating obstacles to voting.

(a) - literacy test, poll taxes, English language requirements and more to deny the vote among people of color, immigrants and low-income

1965 - Voting Rights Act, prohibiting any practices that denies voting privileges to any race or ethnicity.
(a) - March 1965 – there was a protest organized to march from Selma Alabama to the state capital of Montgomery hoping to bring attention on the issue of voting by African Americans. The first march was halted by the attack of police and others. Know as "Bloody Sunday". March 24, 1965 thousands came arriving in Montgomery bringing national attention to the cause.
August 6, 1965 - President Lyndon Johnson, accompanied with Martin Luther King jr, Rosa Parks, and other icons of the civil rights movement signed the Voting Rights Act.

1970 - President Richard Nixon signed an extension of the Voting Rights Acts.

1971 - 26th Amendment - Prohibits states and the federal government from using age as a reason to deny the vote of anyone 18 years of age and older.
(a) - Voting age were 21 and older

(b) - during the 60's the Vietnam War, Student Activist started a movement to lower the voting age to 18 largely because Vietnam War was fought by people 18 and over draftees

1975 - Voting Rights Act expanded to protect language minorities.

1976 - President Gerald Ford signs an extension of Voting Rights Act.

1982 - President Ronald Reagan signs a 25 year extension of the Voting Rights AcT

(a) - Protection for people with disabilities.
1993 - "Motor Voter" – This law reads that states allow citizens to register to vote when they apply for driver's licenses, the state offer mail-in registration. and register to vote at offices.

2006 - President George Bush Jr. Signed an extension of the Voting Rights Act.

2011 - Restrictions to vote on the rise, In South Carolina, Texas, and Florida, and the Justice Department blocked the Voter ID Law.

June 25, 2013 - Shelby V. Holder - was a landmark decision of the US Supreme Court regarding the constitutionality of two provisions of the Voting Rights Act of 1965: Section 5, which requires certain states and local governments to obtain federal pre-clearance before implementing any changes to their voting laws or practices; and Section 4 (b), which contains the coverage formula that determines which jurisdictions are subjected to pre-clearance based on their histories of discrimination in voting.
2016 - Four years ago, four key states were order through the courts to remove any discriminatory restrictions that denies voters of color the Right To Vote. The four States were, Kansas, North Carolina, North Dakota and Texan. Also in 2016 the President elected, losing the popular vote, and he and his supporter made claims that great number of people voted illegally. There were only four documented case of fraud out of 135 million ballot cast.
2018 - State, local officials were building obstacles to continue to stop African Americans, immigrates, low income, and the powerless from voting. They closed thousands of polling places, in areas where there are people of color. Georgia Senate passed bills cutting voting hours in Atlanta.
As you can see, America has an extensive history in the Voting world. We have over came many obstacles as well as still holding on to some old bad habit. Sometimes old habits are hard to die, however we as a people must vote in the right person to help get rid of those old habits. The Right To Vote act was passed, signed, and renovated fifty five years ago, and we are still reverting back to old tactics to deny American Citizens the Right to Vote. We still have people being taunted and ridiculed at the voting poles where we have commercials on television asking that you contact the authorities if you are a victim of discriminatory acts while voting. There are groups that are trying to stop your right to vote by mail, a law that was passed twenty seven years ago.
We as a people of the United States of America must bring back the Honor and Prestige of the Presidency and the election process. We must research, analyze and dissect the two candidates up for office, and choose the Best Man for the job. The man that will be with the people and for the people. The man that will make the right choices for the greater good of our people and our country. A man that will understand that the needs of the many out way the needs of the few. A man that has the ability, wisdom, and knowledge on how to rebuild this economy. A man that will conquer this health care issue where all Americans are covered. A man that has a working plan that will reduce the deficient. A man that will know how to listen and learn how to control this new issue, "the pandemic". A man that is concerned about his country, it's people and not himself.
***WE HAVE ACHIEVED SOME GREAT GAINS IN VOTING RIGHTS, HOWEVER, FORMER ISSUES ARE STILL PREVALENT TODAY. SUCH AS DISCRIMINATION AT THE POLES, REGISTERING TO VOTE, AND CASTING BALLOTS. LET'S EXERCISE OUR RIGHT TO VOTE TO PREVENT HISTORY FROM CONTINUING TO REPEAT ITSELF. VOTE! VOTE! VOTE! SO ONE DAY WE ALL WILL HAVE A CLEAR, CLEAN, RIGHT, PRIVILEGED, AND DUTY TO…...
VOTE!*****
*Resources:
https://www.aclu.org/issues/voting-rights/voting-rights-act/history-voting-rights-act
*Videos – YouTube:
"Bloody Sunday" - https://youtu.be/Vn6uQBDAr_U
"Shelby V. Holder" - https://youtu.be/f0Hl6sOIVLo
"Vote like your life depends on it - https://youtu.be/D0PPFrboxt0
*Other Stories"
https://vocal.media/stories/aspca
https://vocal.media/stories/kandance-ferrari