Two For One Election Special
As Angelenos head to the polls to replace yet another disgraced member of the City Council, it is clear that ranked-choice voting is needed.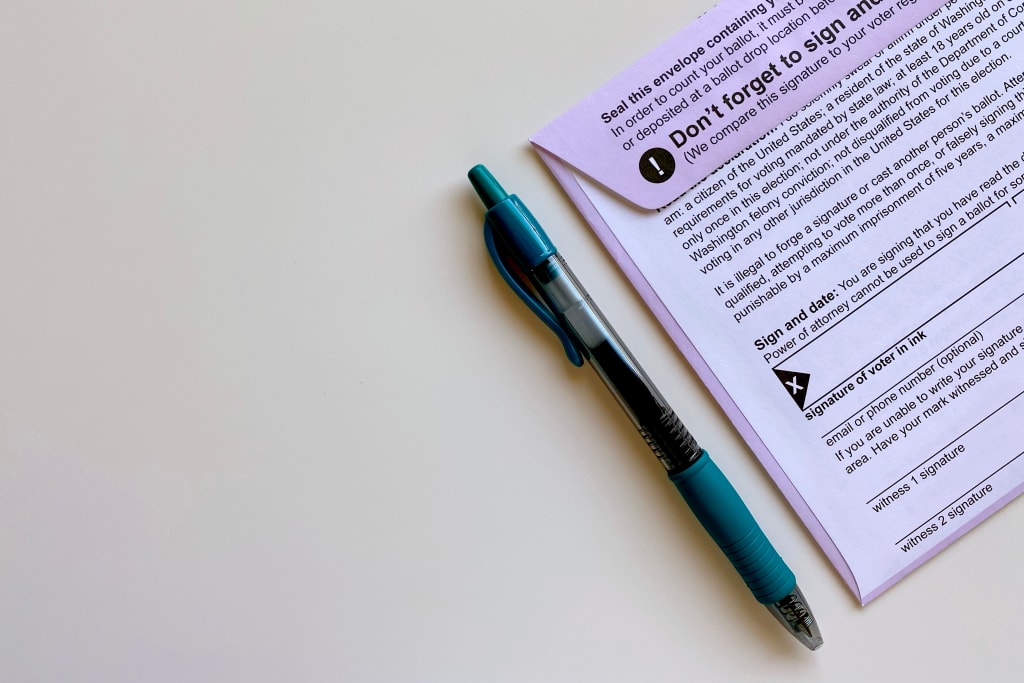 Photo by Tiffany Tertipes on Unsplash
"It is true that power corrupts. The hope at the polling stations and the actions of the elected representatives, unfortunately, often turn to be opposite. The power of ballot turns into the power of wallet. Some law-makers become law-breakers."

- Tsakhiagiin Elbegdorj
Being a member of the Los Angeles City Council "is an incredibly powerful job" that pays a salary of $218,000 a year plus perks. One would think that this would be enough to motivate them to do their best to hold on to their positions, but time after time residents find themselves without representation when their council members leave office before the end of their terms.
Currently, the sixth district's seat is vacant after Nury Martinez was caught revealing her bigotry and willingness to turn the redistricting process into a naked power grab. In City Council District 10, Mark Ridley-Thomas was suspended by his colleagues over a year ago after his indictment on federal corruption charges but continues to receive his salary.
In addition to the two missing elected representatives, the residents of CD12 wait for John Lee to be held accountable for his participation in Mitch Englander's corruption-fueled trip to Vegas as he is widely thought to be "City Staffer B" as named in his former boss' indictment. Kevin de Leon is unable to enter the council chamber without chaos erupting as he tries to outlast calls for his resignation after his involvement in the same conversation that forced Martinez to leave her post.
This revolving door of vacancies does not come cheap for the taxpayers in Los Angeles. The City Council has allocated $7.65 million for the election cycle that will be needed to replace Martinez. This includes both a primary and a run-off that will likely be needed as it will be nearly impossible for any of the candidates to achieve an outright victory of 50% of the vote plus one with 18 people on the ballot. The time needed to conduct this contest will also mean that the residents of the council district will go even longer without an elected representative.
The secretly taped conversation between Martinez, De Leon, and Gil Cedillo exposed not only casual bigotry but also put a magnifying glass on the corrupt way that council districts (and LAUSD School Board Districts) are drawn. It revealed "a sort of concerted effort to dilute the strength of Black voters" as a way of consolidating the participants' power. As a result of the backlash, the City Council is being forced to consider changes to the electoral process. By including Ranked Choice voting as part of the reforms voters would only have to go to the polls once, reducing costs and ensuring that residents spend less time without representation.
Under Ranked Choice, each voter selects up to three candidates on the ballot and notes their order of preference. When the votes are first counted, only the first choice is noted. If no candidate wins more than 50% of the vote, then the lowest vote-getter is eliminated. For the next round of tabulation, anyone who voted for the eliminated candidate has their second choice counted. This process is repeated until one candidate wins a majority of the votes.
Another advantage of this system is that it allows candidates to run without fearing that they would play the role of a spoiler. It would also allow voters a broader voice at the polls. In the 2016 presidential election, Berniecrats could have lodged a protest vote against a rigged primary by using their first and second choice votes for third-party candidates who were more closely aligned with their views without having to worry that this choice would help to elect Trump since it would still have helped to keep him under the 50% + 1 threshold. Putting Clinton as a third choice would have sent a clear signal that the voter was truly holding their nose as they placed the vote.
As noted by open-elections expert Lawrence Lessig, a Ranked Choice system would also help to reduce the reliance on negative campaigning. If candidates and their supporters "are unsure about whether they'll win on the first ballot, they have a strong incentive not to denigrate or insult the candidates whose second-rank votes they might want."
The multiple scandals that have rocked the Los Angeles City Council demonstrate a strong need for change within the halls of power. With the status quo clearly not working, bold steps must be taken to ensure that the needs of the citizenry are placed above the desire of our leaders to use power for their personal advantage. Enacting Ranked Choice voting would improve the process used to select our leaders while saving the taxpayers money. It must be considered during the reform process.
____________________________
Carl Petersen is a parent advocate for students with special education needs and public education. He was elected to the Northridge East Neighborhood Council and is the Education Chair. As a Green Party candidate in LAUSD's District 2 School Board race, he was endorsed by Network for Public Education (NPE) Action. Dr. Diane Ravitch has called him "a valiant fighter for public schools in Los Angeles." For links to his blogs, please visit www.ChangeTheLAUSD.com. Opinions are his own.
About the Creator
Carl Petersen is a parent advocate for students with SpEd needs and public education. As a Green Party candidate in LAUSD's District 2 School Board race, he was endorsed by Network for Public Education (NPE) Action. Opinions are his own.
Reader insights
Nice work
Very well written. Keep up the good work!
Top insight
Expert insights and opinions

Arguments were carefully researched and presented
Add your insights