Trump Has Been a Racist: Don't Get Distracted
Why 45's latest Twitter tirade deserves some attention, but not much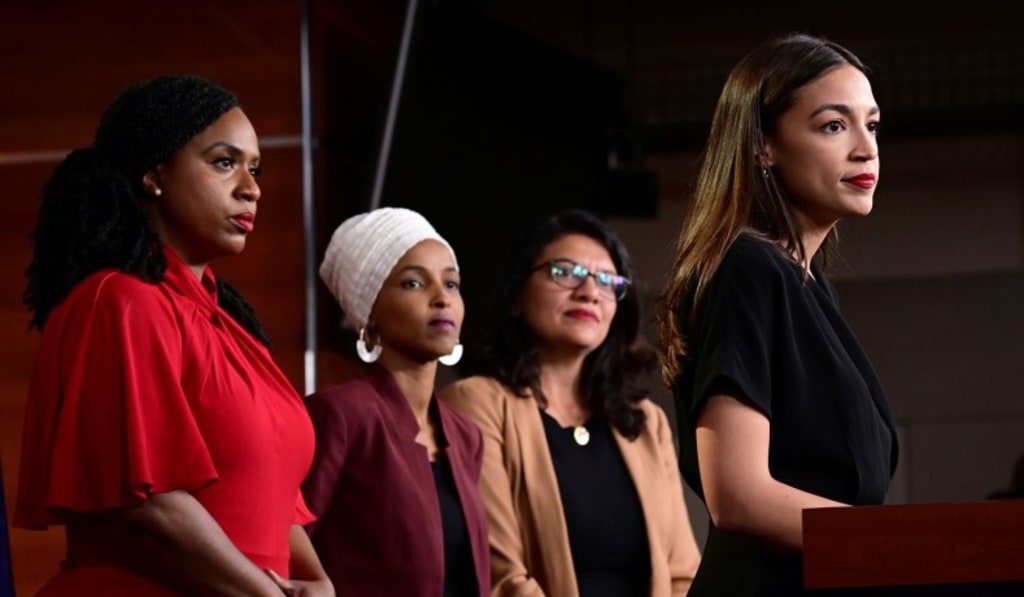 If it has not been clear that the President of the United States is racist, we certainly learned that he was in his latest Tweets.
He has spent the past couple of days unleashing racist attack, after racist attack on four progressive freshman congresswomen of color, known as The Squad, including Reps. Alexandria Ocasio-Cortez, Rashida Tlaib, Ayanna Pressley, and Ilhan Omar. Without mentioning them by name, Trump said on Sunday that the "'Progressive' Democrat Congresswomen, who originally came from countries whose governments are a complete and total catastrophe" should "go back" to where they came from.
While attention has been on his xenophobic, bigoted remarks, which are nothing new in this administration, his administration has advanced several anti-immigrant policies and narratives over the same period of time.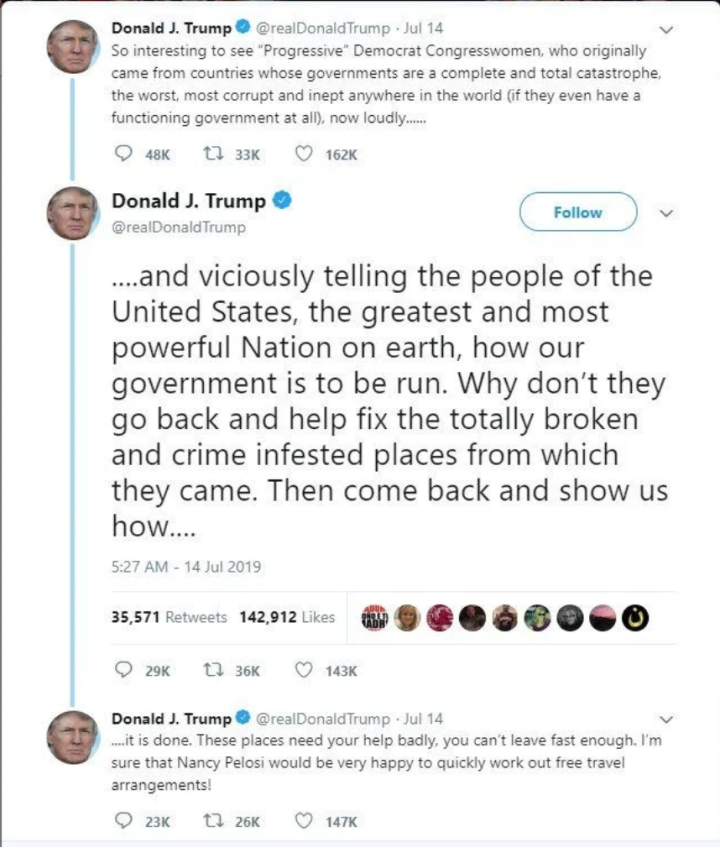 The congresswomen addressed Trump's comments in a recent press conference. Instead of defending themselves, The Squad stressed that instead of sparring with Trump over tweets, they are committed to working on issues that Americans were concerned about such as healthcare and the conditions in migrant detention centers.
"This is a disruptive distraction," said Rep. Pressley, "Don't take the bait."
"Weak minds and leaders challenge loyalty to our country in order to avoid challenging and debating the policy," said Rep. Ocasio-Cortez. "He doesn't know how to defend his policy, so what he does is attack us personally."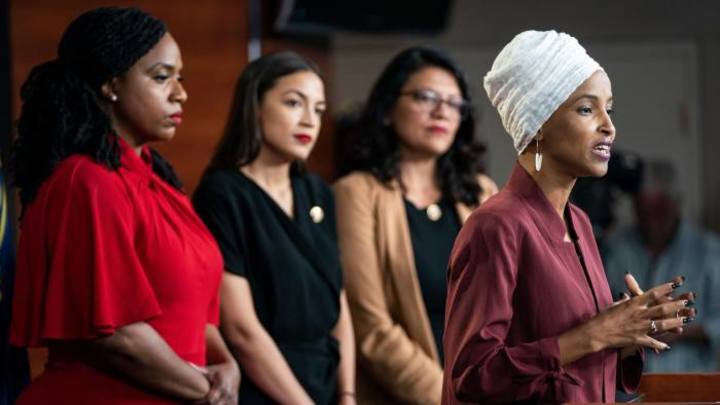 Meanwhile, the President claims he is "the least racist person that you've ever encountered," however both his statements, whether in an official capacity or in Tweet form, and his administration's policies show otherwise.
At the end of the day, it is policy that truly matters. While Trump attempts to distract with racist, yes, but petty goading of these congresswomen, his administration moved to pass the following policies.
The Trump administration moved to ban most refugees from seeking asylum. In an interim final rule, the Trump administration says migrants cannot claim asylum here in the US without first seeking refugee status "while in a third country through which they transited en route to the United States."
Meanwhile, both US and international law say that people can seek asylum out of fear of being persecuted in their home countries based on ethnicity, nationality, religion, political opinion, or belonging to particular social groups. It is perfectly legal to seek asylum regardless of whether a refugee arrives in the country with or without authorization, according to US Citizenship and Immigration Services.
This blanket rejection of asylum claims by this administration, simply because someone approaches the US via the Southern border, as opposed to say, flying in from Europe, is both inhumane, unfair and clearly bigotted. The US has obligations under international law to uphold the Refugee Convention and the ACLU is expected to sue soon over this policy.
In addition to banning asylum seekers at the Southern Border, this administration has also moved to begin small-scale ICE raids. This weekend saw raids in 10 cities including San Francisco, Los Angeles, Houston, Denver, Miami, New Orleans, New York, Baltimore, Chicago, and Atlanta, throwing entire thriving communities into fear.
Finally, this administration has attempted to downplay the deplorable and documented conditions happening at the Southern Border. Ken Cuccinelli, the acting director of the US Citizenship and Immigration Services (USCIS), actually laughed during a televised interview when asked whether the overcrowding at the detention centers was a human rights violation.
"How can you allow this to happen? If you don't have the resources, you can't detain these people, can you?" journalist Jonathan Karl of ABC News asked Cuccinelli. "Isn't that a basic human rights violation?"
Cuccinelli replied: "No, I mean, they're being fed." When he was told that the migrants don't even have enough space to lie down to sleep, Cuccinelli said: "That's a reality of facilities not designed to handle the swamping at the border."
Senior White House adviser Kellyanne Conway said similar things. Conway said conditions were fine at the centers that she visited in Texas. "I witnessed no overcrowding," Conway told Fox News Sunday. "I saw lots of supplies. I saw diapers. I saw food. I saw endless supplies of water."
(As an aside, Conway also spoke on the President's racist tweets. While attempting to defend the President, Conway was asked, by a White House reporter for Breakfast Media, Andrew Feinberg, who happens to be Jewish, "If the president was not telling these four congresswomen to return to their supposed countries of origin, to which countries was he referring?"
Conway asked him, "What's your ethnicity?"
"Why is that relevant?" Feinberg replied.
Through this exchange that turned into a tense back-and-forth where Conway said that "a lot of us are sick and tired of this country, of America coming last to people who swore an oath of office." Conway pretty much confirmed that Trump's initial tweets were, indeed, bigoted.)
However, the facts directly contradict what Cuccinelli and Konway have said. It's widely reported that migrant children have often been cruelly held in Border Patrol custody without basics such as adequate food, basic sanitary necessities like toothpaste and soap, or even space to sleep.
Rep. Ocasio-Cortez and other members of Congress, during a recent visit, very strongly condemned conditions in the detention centers, citing overcrowding. One account said that one center, women were forced to drink out of a toilet because there was no running water. Horror stories pour out of these centers, stories of overcrowding, deprivation, and an abundance of human rights violations that this administration must and will answer for.
These are the type of cold and callous policies established by this administration to those who are migrating from Central and South America.
Needless to say, it can be easily seen why a few racist tweets, while they do deserve discussion, do not deserve the whole of our attention. These trifling distractions deserve to be fanned away like the smokescreen they are so we can talk about the real issues this administration and its President attempt to distract us from.