Tories Accused of Piling Pressure on Broken System.
Conservatives Tinkering With Universal Credit.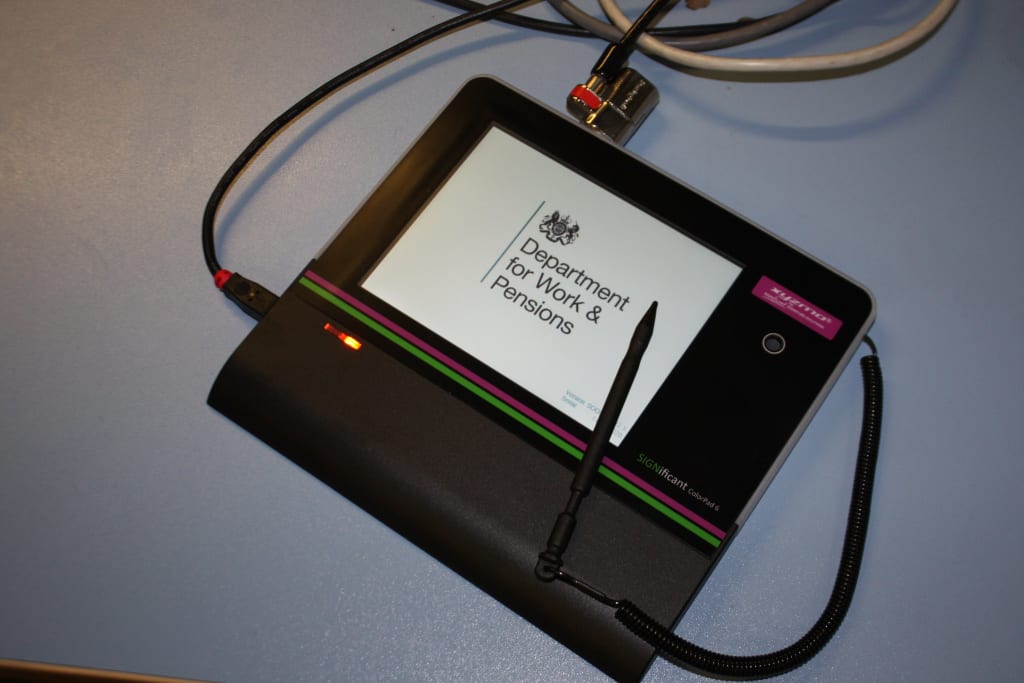 Electronic Signing Paid.
Universal Credit was the flagship benefits shakeup introduced by the then Department of Works and Pensions Secretary Iain Duncan Smith. In theory, the idea was a good idea. Replacing many benefits into one benefit. Claimants have to wait 5 weeks until they can access the first monthly payment. If they cannot wait they can ask for an advance payment. When their first payment comes through they have to pay it back.
People are expected to look for work, go on courses, or increase their hours if they are already working. The idea is to get people into work and not be dependent upon benefits if possible. However, you can still claim certain benefits if you are not earning enough.
However, sanctions are applied to people if their job coach feels they are not doing enough to look for work. Incidents have occurred, however, that show Universal Credit is not perfect. Many people have committed suicide because their money has been stopped. Or too much pressure is applied to look for work, go on courses, etc. The United Nations was investigating the UK for human rights abuses in regard to the regime of Universal Credit.
Jeremy Corbyn had he become the next Prime Minister vowed to scrap it. Putting in place a more tailored benefit for claimants. Alas, this did not happen and we are stuck with Universal Credit as it is. Now the government is threatening to shake up the benefits system yet again.
Apparently, families in receipt of UC will receive hundreds more Pounds from the end of June. Parents receiving the benefit will be able to access 50% more in childcare. As the government wants to encourage (or bribe) people into work or increase their hours.
Parents eligible will see their maximum payments be 951 Pounds for one child. Also, 1,630 Pounds for 2 or more children. This is an increase of 646 Pounds for one child or 1,108 Pounds for two or more children.
Parents will get their childcare costs paid upfront for the first month if they find a job or increase their hours. This again is so the government say to help those struggling or in debt.
Sir Keir Starmer like the previous Labour leader (Jeremy Corbyn) promised to scrap UC. However, Sir Keir will now reform the benefit instead. Making it fairer for those already in receipt of it. Many do think and still think that universal credit should be scrapped and replaced though.
Jeremy Corbyn said he would have looked at introducing UBI or Universal Basic Income. In theory, all would be able to receive it whether working or not. Obviously, issues would and will remain on how it would or can be funded. However, if introduced and successful today's benefits like Universal Credit could be scrapped.
As AI makes more inroads into the world of work the work system should be looked at again. How we look at work is still stuck in the 20th Century.
AI will make massive changes to the world of work and it seems the government isn't doing much to prepare us. What we do for a living and how we work will change in the blink of an eye. That's why we need to review employment in all sectors and modernise it for this century.
The Conservatives as well as those things mentioned are also planning a major shakeup. A major shakeup to universal credit in how it operates. However, Labour has accused the Tories of tinkering with an already broken benefits system. Like putting a sticking plaster over a wound that will not heal.
App
HO
About the Creator
I am a freelance writer currently writing for Blasting News and HubPages. I mainly write about politics. But have and will cover all subjects when the need arises.
Reader insights
Be the first to share your insights about this piece.
Add your insights