This devastating war could bring a new health crisis
Large numbers of people at risk of severe disease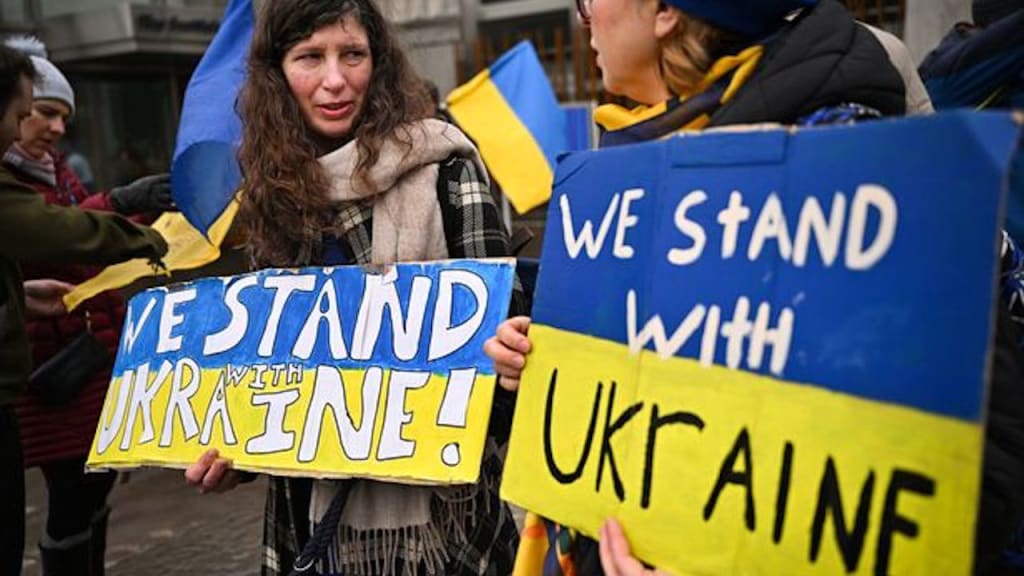 Since 2020, senior academics and commentators have been giving a wide range of opinions about the possible effects of the pandemic on the likely risk of interstate warfare and the chances of a novel Cold War. Another line of reasoning suggests that the COVD pandemic has built the foundation for an incidental 'pax epidemica' between the superpowers. According to Barry Posen, the global pandemic has inflicted considerable damage on all the great and middle powers to the extent that none will be in a position to prevail in war anytime soon, effectively calling off the chance of interstate war entirely.
Once again, we learn that predictions must be based upon experience or knowledge of historical data and not personal beliefs.
As soon as Russia invaded Ukraine, things took a dark turn. Refusing to learn from the past has caught us unprepared. This war will change history and the course of the pandemic as more COVID infections will spread in Ukraine, and other countries that border Ukraine with the risk of new mutations arising. However, no one seems to be concerned.
That could cost us dear.
People fleeing conflict are often vulnerable to infectious deseases sparking a concern that they may bring infections with them, contributing to the spread of disease no fault of their own.
And, as history has shown, warzones can provide perfect conditions for the transmission of infectious diseases. Infections can be sparked by a combination of factors, including a lack of government attention, a lack of access to health care, and the aggregation of large numbers of vulnerable individuals.
People in the Democratic Republic of the Congo (DRC) saw this happen during the Ebola outbreak of 2018-2020, especially in the eastern part of the country, which has been devastated by civil unrest and conflict. Ebola had a terrible and long-lasting outbreak, even though the government and international organisations tried to stop it.
A study that looked at how conflict affected public health measures to stop the spread of Ebola found that violence within the country (specifically, attacks on health care settings and clinical staff) significantly impacted vaccination efforts, isolation periods for those infected, and the behaviour of those affected for some time after the attack, prolonging outbreaks.
Years of conflict in Syria, Iraq, Yemen, and Libya, including attacks on hospitals and clinics, have left huge areas of each country without an operational healthcare system. Furthermore, many healthcare workers died in conflicts, resulting in a shortage of a skilled workforce. As a result, avoidable diseases such as measles, polio, and TB have resurfaced in Syria, and so has the spread of infectious diseases such as cutaneous leishmaniasis (known in Syria as "Aleppo Evil"), a condition carried by sandflies that causes disfiguring skin ulcers.
Yemen, the poorest country in the region, has been under relentless bombardment by a Saudi-led coalition since 2015, destroying infrastructure, including hospitals, and displacing millions. According to UNICEF, a child dies in Yemen every 10 minutes from a preventable illness.
During the conflict between Russia and Ukraine, people are forced into places where COVID infection rates are likely to get even worse. Both countries saw a big rise in COVID cases this winter. Russia had more than 180,000 positive cases on February 17, which was just a few days before it invaded Ukraine.
Having so many people with the virus makes it very likely that soldiers will bring it with them when they invade Ukraine, making it even worse.
More than 4.8 million COVID cases and 105,500 fatalities have been documented in Ukraine, with new cases climbing dramatically in January-February 2022, with a high of more than 43,000 positive cases in early February. However, given the conflicting interests of residents in both nations, the decrease is most likely related to a decrease in testing.
Vaccine supply chain issues in Eastern Europe have been a problem.
Misinformation about the vaccines could make it worse. A study has looked at Russia's role in the spread of misinformation about COVID-19, and it is not a stretch to say some of this could have found its way into Ukraine.
Since the invasion, fleeing citizens seeking refuge have resorted to public transportation. Social media has been flooded with images of large crowds at train stations and on carriages leaving cities.
Understandably, the main concern of Ukrainians is to escape harm, but the unfortunate reality is that the mix of large crowds and people crammed into trains all breathing the same air creates an ideal setting for an airborne virus like COVID to transmit.
To evade the horrors of the conflict, some have sought shelter in subway stations. Once again, this will result in enormous crowds, many of whom will lack the extra protection of immunizations, increasing the risk of infection.
As people near the borders of other countries, there is likely to be another bottleneck, which increases the risk of infection again.
Attacking infrastructure is a common tactic used in war to stop transportation and supplies and weaken a country. This will have unavoidable consequences for medical supplies in Ukraine, and it will be hard to avoid. It will be more difficult for civilians and military personnel to get health care and other emergency services if the infrastructure is getting worse.
At the same time, there have been allegations of its troops bombarding maternity units in Kyiv, as well as hospitals being compelled to relocate employees and facilities underground.
We say that there are no winners in war, though it is obvious that disease and viruses thrive in human conflict. As the crisis worsens, foreign aid organisations will need to cooperate more to keep critical health services functioning.
Equally important will be the world's political efforts to bring the conflict to an end so that healthcare systems can be rebuilt and return to caring for people in need.
Make no mistake, even though things have improved thanks to vaccines, therapeutic advances, and a wealth of knowledge about how COVID-19 works and spreads, we are still not out of the woods.
Reader insights
Be the first to share your insights about this piece.
Add your insights