THEODORE JOHN KACZYNSKI
THE UNABOMBER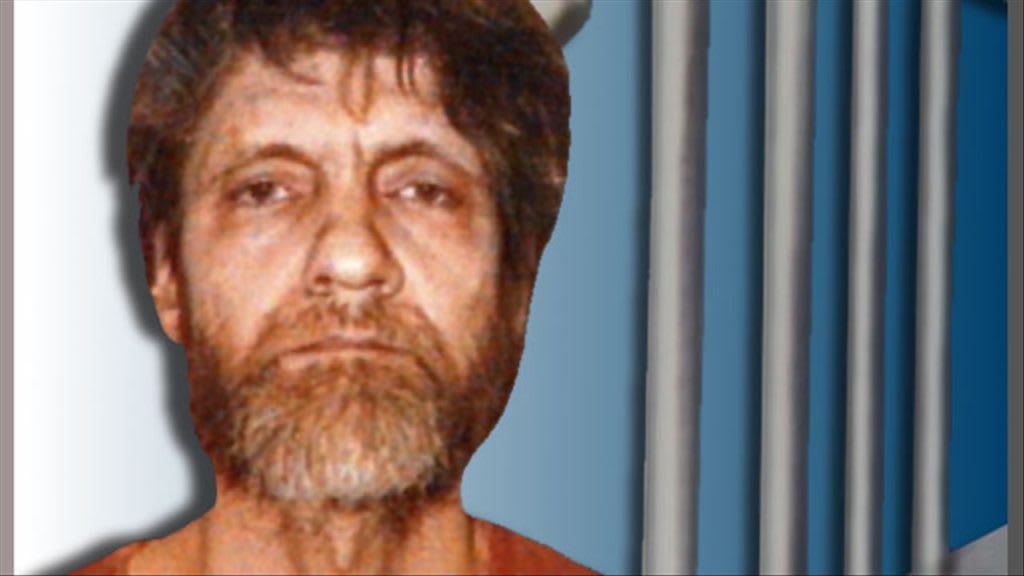 Theodore John Kaczynski
Theodore John Kaczynski was a domestic terrorist from 1978–1995 within the United States that the world would come to call him the Unabomber. This name was given to him by a Federal Bureau of Investigation (FBI) led task force in 1979 named after "University and Airline Bombing" after a homemade bombing attack on a Chicago university (FBI 2021). This manhunt would go on for another two decades, with the task force growing to over 150 members and paving the way towards Forensic Linguistics.
Theodore Kaczynski did not start as a domestic terrorist; he was known as Dr. Theodore Kaczynski, who worked at the University of California as a "mathematics prodigy." (Biography Editors 2021) Theodore's route to the doctor was one full of bullying and working towards accepting his father's love. Theodore was born on May 22, 1942, growing up in Chicago; he was considered "Exceptionally intelligent and seemingly contented as a baby…until he was nine months old and was hospitalized and isolated away for days due to an allergic reaction" (Clarke 2012, 313) since then his mother believe that trauma changed him. However, it was not until the fourth grade that his IQ was tested and within the "160 to 170 genius range, that his family moved to a better school and Theodore's father Turk pressured him academically, always making him feel not good enough (314).
Theodore excelled and was able to skip the sixth grade, where the older kids would constantly bully him, and he had trouble making friends, so instead, he would play and build gadgets (315). By 16, he attended Harvard University, where he fell for mathematics and writing (316). After completing Harvard, Theodore enrolled in the University of Michigan's mathematics program, where he obtained his doctorate; during this period, Theodore began to think about killing individuals that he did not like or made him feel disgusted.
During his time in Michigan, Theodore was unable to have successful sexual relationships and believed that he should have been a woman; while making an appointment with a psychiatrist to see about a sex change, he had lied and said he was avoiding the draft. However, that made him feel disgusted for not coping, and he turned that disgust towards hate for the psychiatrist. Ted stated, "I felt disgusted about what my uncontrolled sexual craving had almost led me to do, and I felt — -humiliated, and I violently hated the psychiatrist" (317). Theodore decided that instead of harming anyone, he would escape into the wilderness and away from civilization. After graduating from Michigan and working out of the University of California, he resigned in 1969, and in 1970 he built a one-room cabin in Great Falls, Montana, on 1.4 acres (320).
In Montana, Theodore learned he could not escape technology; logging companies had come in and began to tear down the forest; day in and day out, the noises of chainsaws and machinery would be heard throughout his cabin. Theodore had tried to isolate away from civilization to coax his anger, and instead, it came to his doorstep; he had decided to use technology against the "technophiles" in the form of lethal bombs.
In 1978, Theodore working in Chicago left his first homemade bomb at the University of Chicago; it was addressed to one of the professors, however, was opened by a security guard who sustained injuries, another bomb was sent the next year as Theodore returned to his cabin in Montana (Biography Editors 2021). It was here that Theodore would send over the next two decades 16 bombs that would kill three people and injure over two dozen others (Shapiro 2018).
Theodore Kaczynski began his path to extremism and wrote his ideologies in his manifesto, "Industrial Society and its Future," he believes that the Industrial Revolution had been a disaster, that technology was causing a destabilized society humans were unable to be happy. By technology continuing to advance, it would only cause more psychological suffering. A revolution needs to happen against the industrial system, and it may need to be done through violence. It would not be a political revolution, just one against the technological basis of society. Theodore focuses attention throughout his manifesto on the adverse effects of industrial technologies (Kaczynski 2018, 1).
Theodore used his ideas to channel his hatred towards the industry titans; he would go for figureheads that he felt were aiding in the digital revolution, believing that he was saving humanity (Brogle 2020). The targets he would choose ranged from Airlines, Universities, advertising executives that had to do with technology, the computer industry, and the California Forestry Association (FBI 2021).
Theodore's road towards radicalization is an excellent example of following Randy Borum's four-stage model of the Terrorist Mindset, labeled Borum's Pathway (Borum 2011, 39). Borum's model starts with Grievance; in this case, Theodore's first grievances began at the psychiatrist when he felt humiliated and decided that he could harm the psychiatrist. At this moment and time, Theodore had come up with a plan to walk away, and he completed this plan by saving the money and moving to Montana (Clarke 2012, 318).
However, when the logging companies and technology caught up with him, his grievances turned towards anti-technology. Leading to the second stage of injustice, Theodore felt that he could not get away from technology and it would cause the downfall of humanity, so he decided that since his coping mechanism was not working, he would lash out against technology with technology. Leading into step three, Target attribution, Theodore decided that the titans of technology were the ones to blame. Anyone that he felt was contributing to the rise of technology, which led to the final step in Borum's pathway, Distancing/Devaluation by Theodore making in his mind, these individuals are evil, which completed the process of radicalization (40) and would lead Theodore Kaczynski to be what the FBI described as, " A twisted genius who aspires to be the perfect, anonymous killer" (FBI 2021).
The FBI task force "made every possible forensic examination of recovering bomb components and studied the lives of victims in minute detail" (FBI 2021). The issue was Theodore learned that as he went in bomb-making and the bombs became very sophisticated, he learned how to make explosives from scrap material and wood, making everything by hand. Any purchases were made far away from his residence (Crime Museum 2021). Theodore was meticulous in leaving no forensic evidence that the FBI did not know if the bomber was male or female (FBI 2021).
Then in 1995, Theodore sent out his manifesto to the New York Times, Washington Post, and Penthouse magazine, stating, "If it was published, he would stop the bombing" (Clarke 2012, 324). This manifesto would end up being Theodore's downfall and would be the tool that brings forensic linguistics to the FBI. When the manifesto was published in news media David Kaczynski, Theodore's brother, recognized the writing and contacted the FBI (Clarke 2012, 324). He then provided them with a 23-page document of Theodore's previous work for comparison (Getz 2017).
This led to a new science being used called forensic linguistics. Linguistic analysis and applying scientific principles of language to present legal evidence is done by analyzing emails, texts, letters, and recorded speech, then used for investigations (Leonard, E. 2017, 881). In the Unabomber case, James Fitzgerald, an FBI profiler, would use forensic linguistics to compare the 23-page document to the manifesto and create an affidavit of sentence analysis, which would become the first-time forensic analysis led to a search warrant in a federal court (Getz 2017). One of Ted Kaczynski's sentences in the comparison was, "You cannot eat your cake and have it too. To gain one thing, you have to sacrifice another" (Crime Museum 2021), where most people would state, you cannot have your cake and eat it too.
This search warrant would go to capturing Theodore in April 1996, where investigators would find in his cabin, "A wealth of bomb components; 40,000 handwritten journal pages that included bomb-making experiments…one live bomb, ready for mailing" (FBI 2021). Theodore Kaczynski plagued the United States in domestic terrorist for over two decades, which created a task force of over 150 people, and allowed the FBI to bring a new tool to their wheelhouse.
Since the capture of the Unabomber, John Fitzgerald was the FBI's first forensic linguist. While forensic linguistics has, within the United States, solved cases from wiretapping to ransom notes and emails (Dawson 2004). Even the United Kingdom (U.K.) created the Centre for Forensic Linguistics in 2008 and has used over 500 reports for crimes while working on about 200 cases a year in forensic linguistics (The Parliamentary Office of Science and Technology 2015, 3).
References
Biography Editors. 2021. The Biography.com Website. May 3. Accessed October 1, 2021. https://www.biography.com/crime-figure/ted-kaczynski.
Borum, Randy. 2011. "Radicalization into Violent Extremism II: A Review of Conceptual Models and Empirical Research." Journal of Strategic Security 37–62.
Google, Courtney. 2020. Who were the Victims of Unabomber Ted Kaczynski's Acts of Terror? February 22. Accessed October 2, 2021. https://www.oxygen.com/true-crime-buzz/who-were-unabomber-ted-kaczynskis-victims.
Clarke, James W. 2012. Defining Danger: American Assassins and the New Domestic Terrorists. New Brunswick: Taylor & Francis Group.
Crime Museum. 2021. Ted Kaczynski: The Unabomber. October 2. Accessed October 2, 2021. https://www.crimemuseum.org/crime-library/terrorism/ted-kaczynski-the-unabomber/.
Dawson, Daniel. 2004. Language Trainers. October 2. Accessed October 2, 2021. https://www.languagetrainers.com/blog/using-forensic-linguistics-fighting-crime-unabomber/.
FBI. 2021. The Unabomber. October 1. Accessed October 1, 2021. https://www.fbi.gov/history/famous-cases/unabomber.
Getz, Dana. 2017. How 'Manhunt: Unabomber' Profiler James Fitzgerald Changed the FBI forever. August 29. Accessed October 2, 2021. https://www.bustle.com/p/does-james-fitzgerald-still-work-for-the-fbi-the-unabomber-profiler-has-active-career-76716.
Kaczynski, Theodore. 2018. Industrial Society and its Future. Pub House Books.
Leonard, Robert A., Ford Juliane E., and Tanya Christensen. 2017. "Forensic Linguistics: Applying the Science of Linguistics to issues of the Law." Hofstra Law Review.
Shapiro, Emily. 2018. How the Unabomber evaded capture for nearly 20 years and became America's 'most prolific bomber .'October 25. Accessed October 1, 2021. https://abcnews.go.com/US/unabomber-evaded-capture-20-years-americas-prolific-bomber/story?id=58738943.
The Parliamentary Office of Science and Technology. 2015. "Forensic Language Analysis." Post note 1–6.