The Present Era
Democratic Conventions 2016 and 2020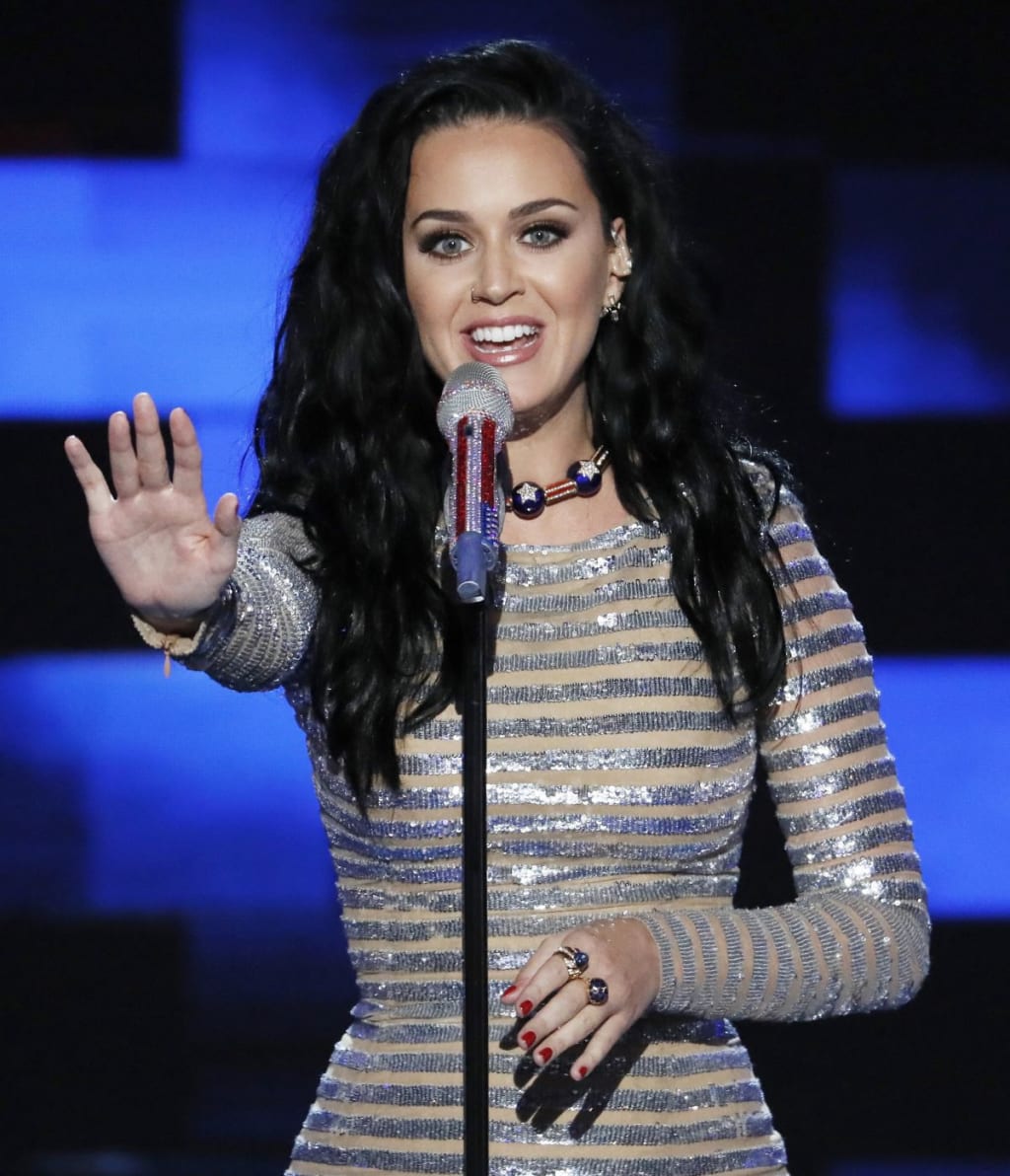 Katy Perry performed "Roar" right before Clinton accepted the nomination
The 19th in a series of 20 on the Democratic National Convention
2016: Stronger Together
Dates: July 25 – 28, 2016
Venue: Wells Fargo Center, 3601 South Broad Street, Philadelphia PA. Built in 1996, it is the home of the Philadelphia 76ers and Flyers. This was the first Democratic convention in Philadelphia since 1948.
Events: History was made as Democrats nominated former Secretary of State Hilary Clinton as President. Clinton had fought a battle royale with Vermont Senator Bernie Senators, but had a solid lead of 2205 to 1846 in delegates. Clinton was just shy of the 2382 delegates needed, but superdelegates put her over the top. South Dakota was the state that put Clinton over the top during the roll call.
Clinton chose Virginia Senator Tim Kaine as her running mate, and he was approved by acclamation.
Massachusetts Senator Elizabeth Warren was the keynote speaker. She blasted Donald Trump as a con artist who was only out for rich people (nailed that one).
Celebrity Watch: Katy Perry was the warm-up act for Hilary Clinton, performing "Roar." Other celebrities to be spotted: Bryan Cranston from "Breaking Bad", Sigourney Weaver, Angela Bassett and Meryl Steep.
My Convention: Awesome chocolate at a reception for the National School Boards Association. Actually finally seeing an acceptance speech in person after 28 years of attending conventions.
Election 2016: New York Con Man Donald Trump was able to successfully convince 63 million Americans he was qualified to be President. Clinton had 65.8 million people vote for her, but Trump won the electoral college 304 to 227. Trump won based on narrow victories in Wisconsin (23,000), Michigan (11,000) and Pennsylvania (44,000), together worth 46 electoral votes.
2020: Riding with Biden (Probably)
Dates: August 17-20, 2020 (Delayed from July 13 due to COVID-19)
Venue: Fireserv Forum, 1111 Vel Phillips Drive, MIlwaukee. Opened in August 2018, it is the newest sports arena in the country, home to the Milwaukee Bucks NBA team. This was a major factor in the DNC selecting it for the 2020 convention.
Primaries: Vermont Senator Bernie Sanders got off to a quick start, winning the Iowa Caucus, New Hampshire Primary and Nevada Caucuses. Former VP Joe Biden began his comeback winning the South Carolina Primary. He defeated Sanders handily in many of the contests on Super Tuesday (March 3). A week later, COVID was decalared a pandemic and threw everything into a cocked hat. Biden went over the threshhold of 1990 delegates in early June, after winning many of the delayed primaries.
Events: Obviously to be determined. Some likely predictions:
- Biden will get the presidential nomination on the first ballot.
- Biden will select a female running mate.
- The Democratic platform with be highly critical of Donald Trump.
The DNC did announce in Mid-June that large parts of the convention would be virtual, that most delegates would not come to Milwaukee, and that most convention events would be moved to the Wisconsin Center, a smaller venue a few blocks from FirServ Forum.
For the latest on convention 2020, check out: https://www.demconvention.com/plans-and-details/
November: Unless Trump's approval ratings see dramatic improvement in coming months, he could go down in one of the biggest flame-outs in US history. One can hope that the American people are not crazy enough to make the same mistake twice.