The Freedom's Ring of A Gentrified House
If I had my druthers...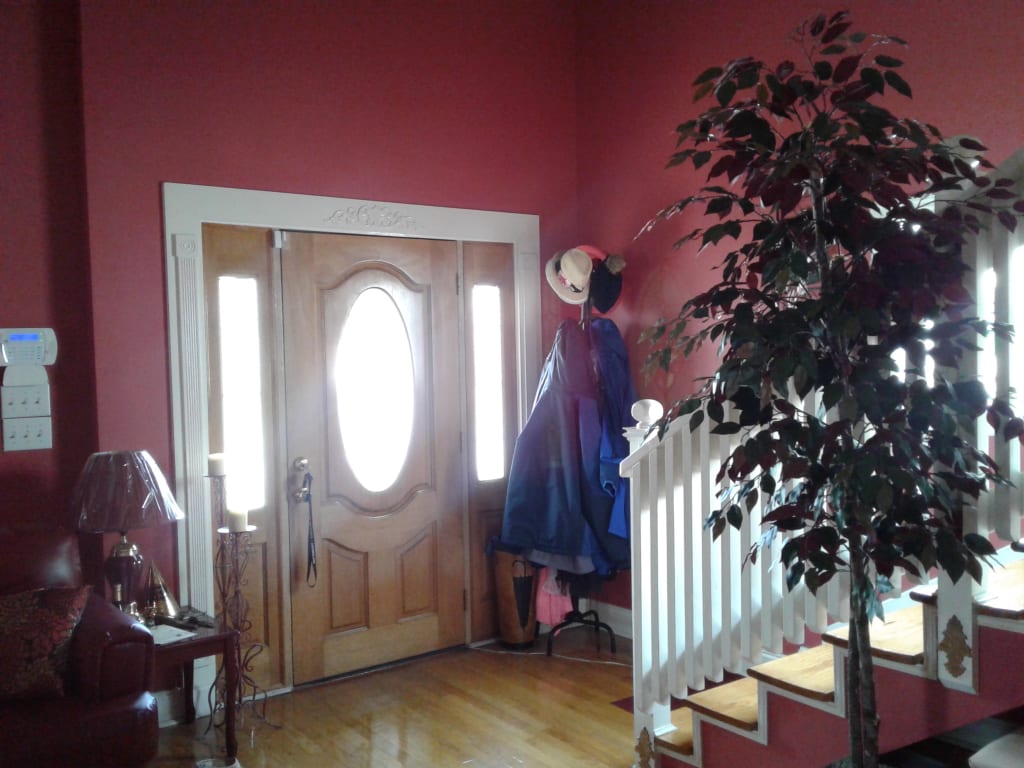 Small changes = Larger dreams.
My house doesn't need "things" to make it a dream home, nor does it need a remodel or a makeover or a staging crew.
It needs to be moved into a different neighborhood. That's it.
The neighborhood it lives in now (and I live in it) doesn't do its extravagant character justice.
The home was made by a retired fireman from a shell of a house built in 1900 that was located in one part of town and then moved to this one. It celebrated its 120th birthday this year.
Its former owner was a confederate "race soldier" who will likely tell us that his flag, which I found in an attic area, has nothing to do with race. It's just pure southern pride. Yeah.
Whatever.
The house sits in what used to be a "Whites Only" neighborhood when I was growing up. I remember distinctly because when the schools down south were finally forced to integrate 17 years after 'Brown -v- Board', I had to leave the segregated school of my childhood to go to East Highland grade school with the white kids, and never mind that I had already attended an integrated school up north before coming here.
Shortly thereafter, the neighborhood allowed "Black People On Approval Only."
Then came the day when the neighborhood changed its flava and the majority of its white homeowners took flight someplace else, pushing further north and leaving nothing behind except a lot of transitional people that they might once have referred to as "infill" or "influx".
They left their poorer titmouse kissing cousins behind; and over time, the oldest neighborhood in Columbus, Georgia became a hodgepodge of folks who allowed weeds to grow out of control, emptied lots to be turned into landfills, and basically left anything that was falling down absolutely falling down until the city ultimately had to come to terms with eminent domain and condemn them and order them torn down.
It is a neighborhood made of only a few moneyed white people in big houses who pretty much keep to themselves, but won't leave; and it has, since its "Whites Only" heyday, become mixed with middle income and poorer Black people who moved in "on approval" maybe 50 or 60 years ago; and far too many folks who are transitional and who get pushed all over the place because they have no earthly knowledge of what is good neighbor policy or how to respect the properties and lives of others.
Now, it's an open litter field for anyone looking for cheap "fix and flips" with comps that range everywhere from less than $10k to nearly $300k. It is also filled to the brim with slumlords who don't vet their residents, most of whom live in other states and don't have a reason to care what happens here. Or they are run by local slumlords who are part of the criminal element.
They make money off the crimes they pay others to commit for them, but they live on the other side of town in a "dream manse" of their own where their midtown drug-running labor board can't afford to move in next door to them.
Across the street and around the way, the criminal element is always somewhere nearby making residential life pretty miserable for everyone else, and it is getting worse by the minute.
My dream house moves mine -the home of my dreams that is a Mediterranean staycation that once gave me the sense that I was on a landlubber's cruise ship- simply needs some peace and quiet and its own greater space to live in.
What it needs is the loving touch of being moved and relocated somewhere significantly gentrified so it can be the shining example of intensely magnified paradiso-ish beauty that it was created to be, thus making its owner incredibly happy "'til death do us part."
If the mountain cannot come to Mohammed, maybe Mohammed will come to the mountain. But shhh… don't say that to the people who live where the house should be moved. I doubt the genteel antebellum south would want to hear the name of Mohammed, especially in the place where the house needs to rest.
I'm a private person, quiet and I make a great neighbor and an even better friend, one who minds my own business.
However, I'm in my dream home right now.
It just needs a change at a new address, with some good people to be around -my tribe- a people who know how to live well, be great neighbors, and keep as much of their business to themselves as I keep to mine.
It would rather be next door to a southern comfort confederate clown who is still trying to win a war that was lost a long time ago than in the middle of a disturbing place where its long old beauty is marred by those who don't understand the value of right of ownership and private citizenship
opinion
About the author
Since 1984. Newswriting, ideas, think tanks, philosophies. The Crucible is a concentrated undiluted thought process for people whose life process is above-board and unadulterated.
Reader insights
Be the first to share your insights about this piece.
Add your insights