The Black Media & Black Perspective: American Democracy's Top Mockeries
Featuring Guest Contributor Bashir Akinyele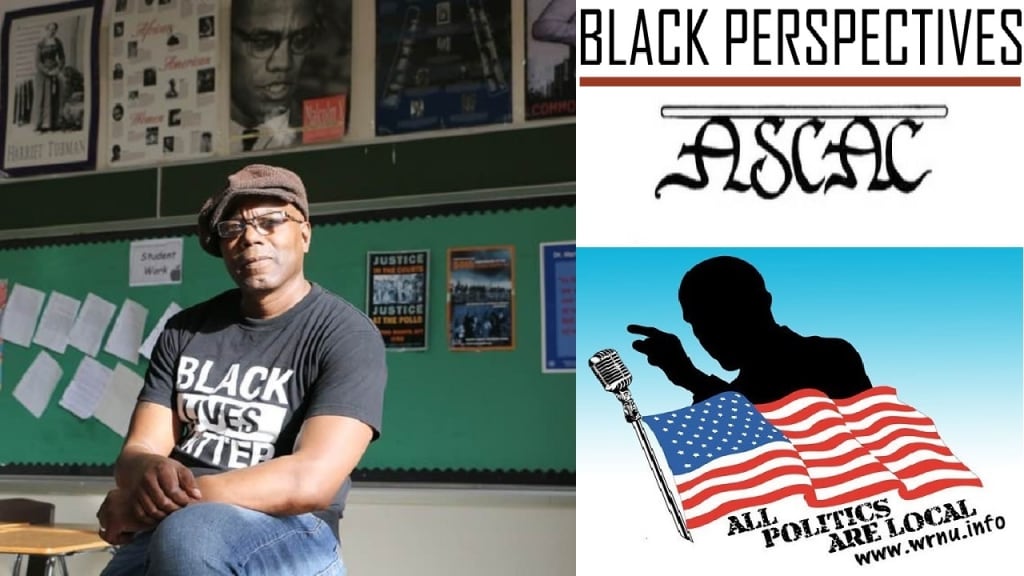 Courtesy of the Association for the Study of Classical African Civilizations
By Bashir Muhammad Akinyele
"Whoever controls the media, the images, controls the culture."
-Allen Ginsberg
As Afrikan people, we need to establish more cable news media platforms in America - to force the world to respect the diversity of Black perspectives, especially the radical, progressive, socialist, communist, Afrocentric, Black nationalist, and Pan-Afrikan views.
This must be done because White supremacist viewpoints control the narratives of mainstream media of the US. This hijacking of national communications channeling has distorted one of American democracy's most cherished civil liberties - the freedom speech. This fundamental principle in Americanism is not enjoyed by Afrikan people. We do not have the freedom to shape and mold political opinions about news (especially Black radical views) to the American people. Only White people and non- threatening Black people have the freedom to shape and mold opinions about news in America.
For instance, not a single entity within America's so-called "Big Four" of the mainstream press (NBC, ABC, CBS, FOX) sought Black radical opinions about Trump's failed insurrection on January 6, 2021. Trump, the duly elected 45th President of the United States of America, helped to orchestrate a failed coup d'état to stop democracy on January 6, 2021. Every four years, after the national US Presidential elections are over in November, the US government passes the electoral votes through the US Senate in Congress to certify the winning presidential candidate as the official American President.
This is America's democratic process for electing the executive branch of the US government. Trump's supporters organized a failed American coup to stop this democratic electoral process. This happened in the millennium to a country that boasts to the world as a bastion of the best democratic ideals on Earth. Fascism manifested its ugly head in the US. The ideology behind it was White supremacy and xenophobia. Unfortunately, the narratives in the mainstream media were centered on being shocked by the current turn of events. They presented to the world that this is not America.
But the Black narrative, particularly the Black radical view, differed greatly from mainstream America's perspective. Many Black perspectives, especially the Black radical view, argued that racist America is America. Many of us know that American democracy has been steeped in racist hypocrisies. Many Black perspectives did not view Trump's insurrection against the United States as a righteous movement to protect American democracy. But as some White Americans struggle to hold on to their false sense of White supremacy, a monopoly on systematic racism, and their anti-democracy views, they continue to control the lives of Black and Brown people.
And many Black perspectives exhibit a ripe understanding that both Republicans and Democrats use racism to dominate the Afrikan American community. This is why our analysis of America's coup, which was attempted by racists, was not given in the mainstream. Black voices, and (especially Black voices of resistance) are routinely prevented from being broadcast on the airways, tv, cable, and in print media in the United States. Unfortunately, our views are relegated down to social media, radical podcasts, pirate radio, blog talk radio, community radio, and various underground media sites.
Alternative Black voices, which cater to the typical conservative and liberal views, are hardly ever heard from by the broader American public or from the masses of Black people.
Systematic racism is so pervasive in America that it occurs on a daily and consistent basis. White people determine what Black media platforms are distributed in the Afrikan American community and in the rest of the United States. This is because Western culture does not respect Black lives. The West's culture also does not respect Black opinions about issues, which are circulated in America and around the world. Most of the Black perspectives and Black media personalities, which we see and hear in the mainstream press, are packaged to be non-threatening to White American hegemony and White people.
For example, Dr. Marc Lamont Hill, a respected Black political pundit, and Temple University professor, was fired from white-owned CNN for sharing an opinion supporting Palestinian people's human right to self-determination. Ryanne Persinger, a Philadelphia Tribune staff writer, reported the following passage in a Tribune article on Nov 29, 2018:
"Marc Lamont Hill, a Philadelphia native and professor of media studies and urban education at Temple University, was fired from his position as a commentator on CNN Thursday for what some perceived as anti-Israel remarks he made on Wednesday at the United Nations Headquarters. On Thursday, he took to Twitter to discuss his comments, saying:"
(as quoted by Persinger in the Tribune)
"My reference to 'river to the sea' was not a call to destroy anything or anyone. It was a call for justice, both in Israel and in the West Bank/Gaza. The speech very clearly and specifically said those things. No amount of debate will change what I actually said or what I meant." Hill continued, "Anyone who studies the region, or the history of Palestinian nationalism, knows that 'river to sea' has been, and continues to be, a phrase used by many factions, ideologies, movements and politicians. I genuinely believe in the arguments and principles that I shared in the speech. I also genuinely want peace, freedom and security for everyone. These are not competing ideals and values. I do not support anti-Semitism, killing Jewish people, or any of the other things attributed to my speech. I have spent my life fighting these things.'"
Dr. Hill's Black perspective on world politics threatens white domination. Therefore, he, and his opinion, were dismissed from the cable news airways. In the cable world, White people have a complete monopoly on this media business despite its large Black base. Comcast has 20.09 million subscribers. But Black people make up the majority of its users. Julia Stoll writes in Statista on January 13, 2021 about this race data. She reports:
"Among those who subscribed to a cable TV service in the United States as of February 2020, African Americans were the most likely ethnic group to currently subscribe, with 52 percent saying that they had an active subscription. Meanwhile, just 47 percent of White respondents said the same (https://www.statista.com/statistics/1118922/cable-subscribers-by-ethnicity/). "
Interesting statistics about cable and race. But since Black people do not own any cable distribution companies, and very few Black-owned media businesses such as a Black Comcast company, or a Black MSNBC, we are at the mercy of doing business only with white people. It seems that the safest place for Black people is for us to establish our own Black cable companies. The first wave of a push to establish Black-owned cable networks came from Robert Johnson. He created Black Entertainment Television (B.E.T) on January 25, 1980, in Washington, DC.
B.E.T enjoyed its long run as a Black- owned company until a White-owned company brought it from Johnson in 2000 for 3 billion dollars. The name of that company is Viacom Inc. They also own Music Television, known as MTV, and VH1. The second wave to challenge White power in cable is from the Afrikan American music mogul Cathy Hughes. She created TVOne on January 19, 2004. Janelle Harris writes in Mediabisto about Hugh's rise to power in Black media. Harris says:
Mogul" in its present overuse, is like the retired boxer of dictionary words: it used to pack a lot of punch, but now it's gotten kind of flaccid and nondescript. Cathy Hughes doesn't care much for the term either, especially when it's being used to describe her. I'm not a mogul. I hate that title because I'm still very much a work in progress," she insists. Still, its root definition seems a nail-on-the-head way to describe a woman who founded Radio One in 1980, growing it into the largest Black-owned radio chains in the country with 53 stations across 16 markets, oversaw it as CEO for 17 years, then launched its sister network TV One in partnership with Comcast in 2004 (https://www.mediabistro.com/interviews/so-what-do-you-do-cathy-hughes-founder-of-tv-one-and-radio-one/).
The next wave to demand a Black voice in the white cable monopoly world is Byron Allen. He is a successful businessman and entertainer. He led a challenged to white power in the cable world to create parody for Afrikan American cable businesses. He sued Comcast for $20 billion dollars over systematic racism - for blocking his many Black owners media companies from being broadcast on its systems. His case went all the way to the US Supreme Court.
Some of us may have not ever heard of Byron Allen, so let me enlighten your consciousness.
Allen broke into the entertainment business as a teenager. Allen performed in many comedy clubs in Los Angeles. It led him to making his first appearance on "The Tonight Show" at age 18. Allen was also famous for hosting the 1980s NBC hit "Real People."He then went on to create the Entertainment Studios in 1993. That company is now a multi--million dollar empire. It has a film division and nearly two dozen television properties, including the Weather Channel. Allen acquired it in 2018 for $300 million.
Unfortunately, he lost his lawsuit against Comcast. However, he was able to push White owned cable systems to carry some of his media companies.
On June 11, 2020, the Los Angeles Times reported on Allen's lawsuit defeat. Times staff writer Meg Janes says:
"Los Angeles media mogul Byron Allen has ended his high-profile legal battle over alleged racism by cable juggernaut Comcast Corp. after a five-year campaign that reached the U.S. Supreme Court. Allen has long maintained that Philadelphia-based Comcast refused to offer his TV channels in its cable bundles because he's Black. His suit, filed in 2015, sought $20 billion. Comcast has denied the allegations. But with the settlement, announced Thursday, Allen achieved his goal by gaining carriage for three of his cable channels — Comedy.TV, Recipe.TV and JusticeCentral.TV — on Comcast's Xfinity cable television packages. Comcast also agreed to extend the distribution deal for the Weather Channel (https://www.latimes.com/entertainment-arts/business/story/2020-06-11/byron-allen-comcast-settle-racism-lawsuit?_amp=true)."
Allen's struggles against Comcast opened the door for Sean "Puffy" Combs, a wealthy Afrikan American hip hop entrepreneur in the music business, to start Revolt TV- an American rap music oriented digital cable television network. It was founded on October 21, 2013.
Before Allen immersed himself in his war against Comcast, Oprah Winfrey established her own network called OWN-an Afrikan American centered multinational basic cable channel jointly owned by Discovery Inc. and Harpo Studios. It launched on January 1, 2011, replacing the Discovery Health Channel. But OWN is not Black owned anymore. Madeline Berg, a Forbes Magazine staff writer reports on December 22, 2020:
"Oprah Winfrey has once again cashed out some of her ownership of the OWN cable network—this time selling 20.5% to the network's majority owner, Discovery DISCA, in exchange for 1.34 million shares of Discovery stock, worth about $36.5 million on Tuesday. Winfrey will remain the CEO and chief creative officer of her namesake network. Representatives from OWN and Discovery confirmed the deal (https://www.forbes.com/sites/maddieberg/2020/12/22/oprah-winfrey-just-sold-most-of-her-stake-in-her-own-cable-network/amp/). "
Unfortunately, since Johnson, Hughes, Winfrey, Allen, and Combs did not have any 24 Black news companies; our views are still at the discretion and supervision of White people.
Although some cable systems are now broadcasting (such as a recently-established Black-owned news channel called Black News Network), the struggle continues to build 24-hour Black news stations, which provide the Afrikan American perspective as it operates under the contradictions of White supremacy in American democracy. If we do not establish more Black cable news stations, and Black cable companies, White people will continue to only tell Eurocentric narratives to America and the world. Our narratives will continue to be drowned out by the White dominate culture.
After 401 years in this capricious nation, we as Black people are still locked in a long march for America and the world to hear and respect our voices and our opinions. That is not real democracy.
Bashir Muhammad Akinyele is a History and Afrikana Studies teacher at Weequahic High School in Newark, NJ. He is also the co-coordinator for ASCAC's (the Association for Study of Classical African Civilizations) Study Group Chapter in Newark, NJ. (https://ascac.org/)
activism
About the author
Victor Trammell is a digital media producer, freelance journalist, and author. Mr. Trammell primarily covers current events at the Your Black World Network for online news. Formerly, he was a writer for the Michael Baisden Show.
Reader insights
Be the first to share your insights about this piece.
Add your insights